Good Morning, ,

Today is Sunday, August 28

Have FUN!
DearWebby

Todays Bonehead Award:
Ohio Robber Attacked 7-Eleven Employee with Nacho Cheese
Details at Boneheads
______________________________________________________
Today, August 27, in 
1609 Delaware Bay was discovered by Henry Hudson. 

More of what happened on this day in history.


| | |
| --- | --- |
| If you can help with the cost of the Humor Letter, please donate what you can! | |
______________________________________________________ When a stupid man is doing something he is ashamed of, he always declares that it is his duty. --- George Bernard Shaw (1856 - 1950) The less skilled the player, the more likely he is to share expertise about the golf swing. --- Socratex A golf match is a test of your skill against your opponent's blind luck. --- Socratex ______________________________________________________ If you like the Humor Letter, please vote!
______________________________________________________
If you can help with the cost of the Humor Letter, please donate what you can!
And then she said... "I was worried that my mechanic might try to rip me off. I was soo relieved when he told me that all I needed was blinker fluid. Naturally, I got the organic, biodegradable kind, even though it was a bit more expensive." ______________________________________________________ The obituary editor of our newspaper is not one to admit his mistakes easily. One day he got a phone call from an irate subscriber. The caller complained that his name had been printed in the obituary column. "Really?" replied the editor calmly. "Where are you calling from?" ______________________________________________________ Thanks to Milly for this picture from France
______________________________________________________
An INTERNATIONAL BONEHEAD AWARD has been earned by
Derrickka Dixon, 28, Toledo. Ohio Ohio Robber Attacked 7-Eleven Employee with Nacho Cheese After issuing an appeal to the public, Ohio cops have identified the woman who allegedly threw a container of nacho cheese at a 7-Eleven owner who caught her stealing merchandise. In a Facebook post yesterday, the Toledo Police Department included three surveillance images of the suspect, who was wearing a Spiderman t-shirt, shorts, and blue socks with white stars. According to a police report, after being confronted by Jitendra Singh, 49, the woman attacked the 7-Eleven owner, tearing money from his hands before throwing "a container of nacho cheese" at him. The woman then "fled in a maroon Chevy with a black male." Upon posting an "Attempt to identify" notice, cops determined that the suspect in the August 18 incident was Derrickka Dixon, a 28-year-old Toledo resident. In comments on the Toledo Police Department's Facebook page, Dixon's husband Tray, 33, claimed that the police account was "all wrong. She didn't steal nothing." He added that, "The media lie every day." In addition to issuing a robbery arrest warrant for Dixon, cops are also seeking to collar her spouse, who allegedly threatened to kill Singh during the 7-Eleven incident (and was driving the Chevy). Dixon is seen above in a mug shot taken after an arrest last year. Singh was not injured by the airborne nacho cheese. ______________________________________________________ Tech Support Pits From: Sharon RE: Taking Computer apart Dear Webby, In this letter in the tech dept you said it was a good idea to vacuum out your computer. How do you do that? I really am hesitant to take anything apart for fear I won't get it back together right. Thanks, Sharon Dear Sharon Turn the computer off, but don't unplug it. It's safer if it is properly grounded. Don't unplug anything, but look at the back of the computer. You will see that most of the plugs and cables are closer to one of the side walls than the other. They are closer to the "floor" side. The opposite side is the "lid" side. Usually the lid has thumbscrews or larger screws than the floor side, or a locking lever. Unscrew the two or three screws on the lid or push the locking lever. Then you can slide it backwards and open it easily. Set it aside flat on the floor. If you don't, it will fall over and scare you right when you are under the table. When that happens, it's quite hilarious for the onlookers. Now take a vaccum cleaner and put the narrow crevice tool on it, if you have one. Vacuum out the inside of the computer, preferably without quite touching anything in there. The dust and the dustbunnies and spiderwebs are all lightweight and vacuum up easily. Then put the vacuum away so that you don't trip over it, find the lid and re-attach it. Carefully empty the vaccum cleaner and retrieve the vacuumed up lid screws and use them to secure the lid. That's all there is to it. Have FUN! DearWebby _____________________________________________________
___________________________________________________ The Irish priest was at the altar one dreary Sunday morning, addressing his congregation with a vehement sermon that alcohol was the work of the devil. "As an example," he stated during his sermon, "If you were to lead a donkey to a bowl of water and a bowl of whiskey, from which would he drink?" A grizzled old Mick at the back of the church spoke up: "Aye, Father, for sure he'd drink from the water." The priest, elated, said, "Very good, my son. And can you tell me WHY he'd drink from the water?" The Irishman at the back of the church replied, "Sure I can tell ye' why, Father. Because he's an ass." ___________________________________________________ If you can help with the cost of the Humor Letter, please donate what you can!
______________________________________________________ Daily tip from Thriftyfun.com Summer Fresh Tomato Pie for One By ~gloria [95 Posts, 152 Comments] This is a very juicy pie. It's tomatoes after all, so be prepared for drippage! If you don't care for tomato skins like me, they pull right off with your fork. Just double the recipe and use a regular pie plate, if you want a big pie to share. Hope you will love this as much as I do. All you need to make this scrumptious summer treat is pictured below. Prep Time: Approx. 30 minutes Cook Time: 30 minutes Total Time: Approx. 1 hour Yield: 1 or 2 servings Ingredients: 4 -5 unbaked crescent rolls. 1-2 fresh tomatoes, sliced 1/4" thick. 1/2 cup mayonnaise 1/2 cup shredded sharp cheddar crumbled bacon bits (optional) finely sliced basil (optional, but who wouldn't?) Kosher salt fresh ground pepper Steps: Coat a #3 (the little guy) cast iron skillet with cooking spray. Press the crescent roll dough onto the bottom and sides of the skillet; joining any gaps with your fingertips. Layer tomato slices to cover the bottom. Sprinkle the basil, salt and pepper over the tomato. Add bacon, or not, as you choose. Mix the mayo and cheese together and plop on top of the tomatoes. Spread to completely cover the tomatoes. Bake at 375 degrees F. on the rack just below middle for about 30 mins. Watch for browning of crescent edges and cheesy top. That's when you know it's ready. Summer Fresh Tomato Pie for One Allow to cool maybe 15 mins. if you can stand the wait. I usually enjoy the first half right there at the counter.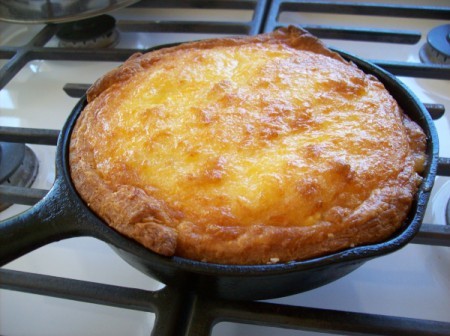 ______________________________________________________
Ophelia Dingbatter's News
No sermon and not suitable for church, just jokes and fun for grownups. Read it on line or subscribe. If you subscribe, look for the double opt-in confirmation request.

___________________________________________________ Travelling through Pennsylvania can be interesting. Locally, you can find yourself in Frugality, but you might go through Coupon to get there. You can find Dallas, but don't expect any Cowboys. Likewise, you won't find any Bronocs in Denver. There is no palace in Buckingham, nor any troops in Lebanon. You can attend school at Indiana University of Pennsylvania or you can go to Wyoming and California without actually crossing a state border. While the Amish may be known for their conservatism, the town names are often anything but that. We could start with West Middlesex, but why start in the middle. You can go all the way to Intercourse, but that won't take you to Paradise—you can't get there from here. Watch out, though, if you get lost on the way to Paradise, you may end up in Blue Ball, and that could be painful. Worse yet, after driving all day, you may end up with only Bird-In-Hand. No street signs to help you there, and the fun is whatever you make of it. ___________________________________________________
| | |
| --- | --- |
| | Blonde on radio |
____________________________________________________ A minister, a priest and a rabbi were discussing when life begins. "Those of my faith," said the minister, "believe that life starts when the heart begins to beat." "We take a different view," said the priest. "We believe life starts at the moment of conception." "Well," said the rabbi, "it is our belief that life starts when the kids move out and the dog dies." ____________________________________________________ BOY : Since we met, I can't eat or drink... GIRL : Why not ? BOY : I'm broke. GIRL : If we become engaged will you give me a ring? BOY : Sure, what's your phone number? ____________________________________________________
| | |
| --- | --- |
| | This amazing bridge was part of the Inca pathways and is rebuilt every year. |
____________________________________________________

Today on August 28 in
1609 Delaware Bay was discovered by Henry Hudson. 

1619 Ferdinand II was elected Holy Roman Emperor. His policy
of "One church, one king" was his way of trying to outlaw
Protestantism. 

1774 The first American-born saint was born in New York
City. Mother Elizabeth Ann Seton was canonized in 1975. 

1830 "The Tom Thumb" was demonstrated in Baltimore, MD. It
was the first passenger-carrying train of its kind to be
built in America. 

1833 Slavery was banned by the British Parliament throughout
the British Empire. 

1907 "American Messenger Company" was started by two
teenagers, Jim Casey and Claude Ryan. The company's name was
later changedto "United Parcel Service." 

1916 Italy's declaration of war against Germany took effect
duringWorld War I. 

1917 Ten suffragists were arrested as they picketed the
White House. 

1922 The first radio commercial aired on WEAF in New York
City. The Queensboro Realty Company bought 10 minutes of
time for$100. 

1939 The first successful flight of a jet-propelled airplane
took place. The plane was a German Heinkel He 178. 

1963 Dr. Martin Luther King, Jr., gave his "I Have a Dream"
speech at a civil rights rally in Washington, DC. More than
200,000 people attended. 

1972 Mark Spitz captured the first of his seven gold medals
at the Summer Olympics in Munich, Germany. He set a world
record when he completed the 200-meter butterfly in 2
minutes and 7/10ths of a second. 

1990 Iraq declared Kuwait to be its 19th province and
renamed Kuwait City al-Kadhima. 

1995 The biggest bank in the U.S. was created when Chase
Manhattan and Chemical Bank announced their $10 billion
deal. 

1996 A divorce decree was issued for Britain's Charles and
Princess Diana. This was the official end to the 15-year
marriage. 

1998 The Pakistani prime minister created new Islamic order
and legal system based on the Koran. 

2004 George Brunstad, at age 70, became the oldest person to
swim the English Channel. The swim from Dover, England, to
Sangatte, France, took 15 hours and 59 minutes. 

2008 In China, the Shanghai World Financial Center
officially opened. The observation decks opened on August
30. 

2014 Google announced its Project Wing. The project was
aimed at delivering products across a city using unmanned
flying vehicles. 

2016  smiled.

Go to TOP
If you can help with the cost of the
Humor Letter, please donate what you can!


Well, , that's all for today.


Have FUN !
Dear Webby from Webby.com
Please give a friend a subscription to the Humor Letter



If the greeting on top does NOT have your first name, or at least
your favorite nickname, please tell me. I can correct that in two
seconds and greet you properly from then on.

If you want to give a gift subscription to a friend, but don't have time to
subscribe her or him, just hit REPLY and tell me. I will gladly enter them
for you and send them a confirmation request.

To reply to me personally, just hit REPLY
or write to humor@webby.com

If you don't want to receive the Webby Humor Letter,
please unsubscribe by clicking the link below:
You are currently subscribed with this address:

---
Unsubscribe from the regular HTML version:
UNSUBSCRIBE from the regular version
---
Unsubscribe from the LARGE FONT HTML version
UNSUBSCRIBE from the Large Font version
---
|
Recommended Resources
---

Protect up to 3 PCs with NEW Malwarebytes Anti-Malware Premium!
---
Find a human
Bypass voice menus
---
Web Tools
handy program downloads

---
---
Babelfish Translator
---
¥ £ $ ?
Currency Converter

---
Urban Legends
Truth or Hoax?
Check before believing chain letters

---
Virus Hoaxes
---
Virus / Trojan / Malware Info
Straight from McAfee Threat Center

---
FREE HTML Course !
---
Get the REAL McAfee
at incredible discount!
used and
Highly recommended
by Dear Webby



---
This
Undeleter
will easily and securely recover deleted files from hard drives, flash drives, USB external drives, Zip drives, Firewire drives, digital camera cards, and more. This powerful recovery software can recover deleted files from most data loss scenarios.
Is your data worth recovery?
---
---
---
Roboform, still the best password manager.
Still FREE
Highly recommended by DearWebby
FREE, no fuss download!

---
Domain Name
Registration
$10 for .com, .net, .org, .biz, .us, .ca
(.ca $10, if you also order hosting, otherwise .ca is $20, still cheaper than elsewhere)
---
YOUR OWN
Postcard Site ! You too can easily have a postcard site for business or fun.


---
If you like the Dear Webby Daily Humor Letter, please vote for it at the Cumuli Ezine Finder:
---
---

Ads are $50 per week for subscribers only.
$250 per month for anybody else.

---
---
Dear Bubba
All is forgiven. I still love you. Please come back!
Ps. Congratulations on your lottery win!
Your Betty-Sue
---
That could be YOUR ad for $50 per week.
Subscribers only!

---
Nudist Colony of Alberta
Closed for the season

---
Space Weather
Solar storms, Auroras

---
Thesaurus
---
---
Sky Map: the interactive planetarium of the Web

---
Sky Watch: Calendar of celestial events

---
Weather Underground
Maps and Satellite

---

Click a meal to a homeless vet!

---
HungerSite
A free click donates a cup of food to a hungry person.


---
The number of mammograms donated thanks to clicks has dropped quite noticeably when these two ladies went away. So here they are back, working hard to get you to click. Donate by clicking on them!

BreastCancer Site
A free click helps to donate mammograms to women who can not afford one.

---
Feed the Animals!
Animal Rescue
---
---
---
Privacy Policy
---
Unique visitors since 1/1/11
---

Have FUN
Dear Webby
CEO of Webby, Inc
DearWebby @ webby.com
Box 646
Black Diamond, AB T0L 0H0
Canada