Good Morning, ,
Today is Thursday, June 11

Have FUN!
DearWebby


______________________________________________________
Today's Bonehead Award goes to a
German teenager who made a wrong turn expecting
tank to stop. It stopped on her car's hood.
Details at Boneheads

Today in
1979 Bryan Allen flew the Gossamer Albatross, man powered, 
 across the English Channel. 
More of what happened on this day in history at History
______________________________________________________

If you can help with the cost of the Humor Letter, please donate what you can!
What others think of us would be of little moment did it not, when known, so deeply tinge what we think of ourselves. --- Paul Valery (1871 - 1945) The brain is a wonderful organ. It starts working the moment you get up in the morning and does not stop until you get into the office. --- Robert Frost It is a far, far better thing to have a firm anchor in nonsense than to put out on the troubled sea of thought. --- John Kenneth Galbraith ______________________________________________________ After watching the movie Cinderella, five-year-old Sarah started using her pinwheel as a magic wand, pretending she was a fairy godmother. "Make three wishes," she told her mother, "and I'll grant them." Her mom first asked for world peace. Sarah swung her wand and proclaimed the request fulfilled. Next, her mother requested for a cure for all ill children. Again, with a sweep of the pinwheel, Sarah obliged. The mother, with a glance down at her rather ample curves, made her third wish, "I wish to have a trim figure again." The miniature fairy godmother started waving her wand madly. "I'll need more power for this!" she exclaimed. ______________________________________________________ Resume Blunders "My intensity and focus are at inordinately high levels, and my ability to complete projects on time is unspeakable." "Education: Curses in liberal arts, curses in computer science, curses in accounting." "Instrumental in ruining entire operation for a Midwest chain store." "Personal: Married, 1992 Chevrolet." "I have an excellent track record, although I am not a horse." "I am a rabid typist." "Created a new market for pigs by processing, advertising and selling a gourmet pig mail order service on the side." "Exposure to German for two years, but many words are not appropriate for business." "Proven ability to track down and correct erors." "Personal interests: Donating blood. 15 gallons so far." "I have become completely paranoid, trusting completely nothing and absolutely no one." "References: None, I've left a path of destruction behind me." "Strengths: Ability to meet deadlines while maintaining composer." "Don't take the comments of my former employer too seriously, they were unappreciative beggars and slave drivers." "My goal is to be a meteorologist. But since I possess no training in meteorology, I suppose I should try stock brokerage." "I procrastinate--especially when the task is unpleasant." "I am loyal to my employer at all costs...Please feel free to respond to my resume on my office voicemail." "Qualifications: No education or experience." "Disposed of $2.5 billion in assets." "Accomplishments: Oversight of entire department." "Extensive background in accounting. I can also stand on my head!" Cover letter: "Thank you for your consideration. Hope to hear from you shorty!" ______________________________________________________ Thetiger Click through for the big picture
---
If you like the Dear Webby Daily Humor Letter, please vote for it at the
Ezine Finder:
Thanks for your votes!
---
An INTERNATIONAL BONEHEAD AWARD has been earned by
German girl 18, Lippe, near Berlin, Germany

She fought a tank, and the tank won German teenager who made a wrong turn expecting a tank to stop. It stopped on her car's hood. A teenage driver took a wrong turn and got run over by a British tank which crushed the front of her car in Berlin, Germany on Monday. The 18-year-old German, who luckily survived the incident, found herself in the path of a convoy of English tanks that were driving along the aptly-named Panzerringstrasse, or "Tank Ring Street," local police in Lippe said in a statement. They always drive the same route for practise. The 24-year-old British driver of the tank did not manage to stop his vehicle and ended up running over the Toyota and flattening the hood. The teenager was able to get out of the vehicle without any injuries -- except to the wallet of whoever paid for the car. The total damage is expected to cost around 12,000 Euros ($13,359). Since the colliasion was her fault, the British Army won't pay for the damage. The tank did not sustain any serious damage and not much fell off. ______________________________________________________ Tech Support Pits From: Jorge Re: Malwarebytes asking for IE6 Dear Webby Dear Webby Good morning!! Guten morgan! Buenos díos! Hope all is going well with you and yours... Every day for the last couple of weeks Windows is telling me that there are new updates available. When I download what they've got, it's the same thing. Looks like Windows can find some malware and destroy it, but it's got a copy hidden somewhere... Time to bring in heavier artillery... So I was checking out your MalwareBytes offer. All looks O.K. except this... Software Requirements: Windows Vista/Windows7/Windows 8/Windows 8.1 (32 bit or 64 bit) Windows XP (Service Pack 2 or later, 32-bit only) Internet Explorer 6 or newer Hm-m... I've got Explorer 8 or so I believe, but I never use it (don't trust it!). What I use is the latest version of FireFox. Is that/would that be a problem/an issue? Kindest personal regards, Jorge Dear Jorge It's not YOUR computer calling for that, it's Microsoft PUSHING that, whether you need or want it or not. Like that X10 icon they push onto some people. It's not you needing it. Re Malwarebytes: Like XT, IE6 is the very lowest scraping of the barrel. Of course you can use a better browser! It works just fine on my Chrome, always has, and probably works just as well on FF. Just if you use IE, don't use a version below IE6. Not a big deal. Have FUN! DearWebby _____________________________________________________
______________________________________________________ Little Johnny was reading from a Hans Christian Anderson book. "Miss Figpot?" Little Johnny asked, "is m-i-r-a-g-e pronounced marriage?" "No Johnny," sighed the teacher. "But it should be." ______________________________________________________ Two women are discussing marriage, and one says, "We've been married 10 years, and every night my husband has complained about dinner. Not one night without complaining about the food." "That's awful," the other woman says. "That must really bother you." "No, not in the slightest," says the first one. "You must be a saint," her friend says. "Why should I object?" the first one says. "A lot of people don't like their own cooking." _________________________________ If you can help with the cost of the Humor Letter, please donate what you can!
______________________________________________________ Daily tip from Thriftyfun.com Keep Sneakers Snug I can't believe that I never knew this until the salesperson at my shoestore told me when buying sneakers! I did always wonder why some sneakers had very long laces. Those top holes on many pairs of sneakers are to make a 'lace lock' hoop with the laces.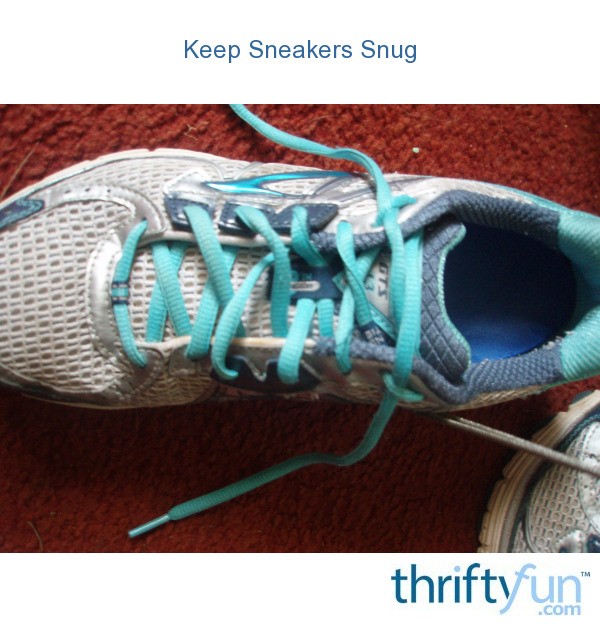 You need to make a loop at the top two holes, criss cross the laces then thread them into the loop and pull downward to tighten. Really holds the sneakers on so they don't shift around while walking/running, or for little kids so they don't lose their sneakers in the grocery store! :D Source: My local sneaker store By Donna [245] ______________________________________________________
Ophelia Dingbatter's News
No sermon and not suitable for church, just jokes and fun for grownups. Read it on line or subscribe. If you subscribe, look for the double opt in confirmation request.

_____________________________________________________ >From Kate My mother always told me I wouldn't amount to anything because I procrastinate. I said, "Just wait." _____________________________________________________ One day a salesman stopped by the Jammer Jones farm, knocked, and Jammer's wife Frannie came to the door. "Is your husband home, Ma'am?" he asked. "Sure is. He's over to the cow barn." "Well, I got something to show him, Ma'am. Will I have any difficulty finding him?" "Shouldn't have any difficulties. He's the one without horns." ____________________________________________________
| | |
| --- | --- |
| | Pets can be so funny! |

Today in 
1099 Crusade leaders visited the Mount of Olives where they 
 met a hermit who urged them to assault Jerusalem. 
1442 Alfonso V of Aragon was crowned King of Naples. 
1665 England installed a municipal government in New York. 
 It was the former Dutch settlement of New Amsterdam. 
1812 Napoleon's invasion of Russia began. 
1897 Carl Elsener patented his penknife. The object later 
 became known as the Swiss army knife. 
1898 Philippine nationalists declared their independence 
 from Spain. 
1900 The Reichstag approved a second law that would allow 
 the expansion of the German navy. 
1901 Cuba agreed to become an American protectorate by 
 accepting the Platt Amendment. 
1918 The first airplane bombing raid by an American unit 
 occurred on World War I's Western Front in France. 
1923 Harry Houdini, while suspended upside down 40 feet 
 above the ground, escaped from a strait jacket. 
1926 Brazil quit the League of Nations in protest over 
 plans to admit Germany. 
1937 The Soviet Union executed eight army leaders under 
 Joseph Stalin. 
1944 Chinese Communist leader Mao Tse-tung announced that 
 he would support Nationalist leader Chiang Kai-shek in 
 the war against Japan. 
1963 "Cleopatra" starring Elizabeth Taylor, Rex Harrison, 
 and Richard Burton premiered at the Rivoli Theatre in 
 New York City. 
1967 State laws which prohibited interracial marriages 
 were ruled unconstitutional by the U.S. Supreme Court. 
1975 Indian Prime Minister Indira Gandhi was found guilty 
 of corrupt election practices in 1971. 
1979 Bryan Allen flew the Gossamer Albatross, man powered, 
 across the English Channel. 
1985 Wayne "The Great One" Gretsky was named winner of the 
 NHL's Hart Trophy. The award is given to the the league 
 Most Valuable Player. 
1986 South Africa declared a national state of emergency. 
 Virtually unlimited power was given to security forces 
 and restrictions were put on news coverage of the unrest. 
1987 U.S. President Reagan publicly challenged Mikhail 
 Gorbachev to tear down the Berlin Wall. 
1992 In a letter to the U.S. Senate, Russian Boris Yeltsin 
 stated that in the early 1950's the Soviet Union had shot 
 down nine U.S. planes and held 12 American survivors. 
1996 In Philadelphia a panel of federal judges blocked a 
 law against indecency on the internet. The panel said that 
 the 1996 Communications Decency Act would infringe upon 
 the free speech rights of adults. 
1998 Compaq Computer paid $9 billion for Digital Equipment 
 Corp. in largest high-tech acquisition. 
2009 In the U.S., The switch from analog TV trasmission to 
 digital was completed.
2015  smiled.
[ view entry ]
( 11 views ) |
permalink
|
print article
|
( 3 / 1062 )
---
<<First
<Back
| 42 | 43 | 44 | 45 | 46 | 47 | 48 | 49 | 50 | 51 |
Next>
Last>>