Good Morning, ,
Today is Saturday, June 20
Longest day, shortest night. Watch where the sun rises
and sets, and mark it on a window or door frame.
                                                   

If you can help with the cost of the Humor Letter, please donate what you can!
Have FUN! DearWebby ______________________________________________________ Today's Bonehead Award goes to a Drunk, who drove himself to Kentucky police station, asked for DUI arrest Details at Boneheads Today in 0451 Roman and Barbarian warriors brought Attila's army to a halt at the Catalaunian Plains in eastern France. More of what happened on this day in history at History ______________________________________________________ All power corrupts, but we need the electricity. --- Socratex Be ashamed to die until you have won some victory for humanity. --- Horace Mann (1796 - 1859) ______________________________________________________ If you like the Humor Letter, please vote!
______________________________________________________ A man is celebrating his 100th birthday, so the editor of the local newspaper sends a reporter over to do a feature story on the old timer. The reporter begins by asking the old tried and true question, "To what do you attribute your longevity?" "Well, young lady," the gentleman says, "I never smoked more than a pack of cigarettes a day, never got drunk and didn't over-eat. I didn't get up too early every morning, but I sure stay up and active past midnight." "But, I had an uncle who did exactly the same," the reporter says, "and he only lived to be 80. How do you account for that?" "He didn't keep it up long enough," says the centenarian. ______________________________________________________ A man traveling down a country road was forced to stop before a giant puddle covering the entire road. Looking to the side of the road, the man noticed a farmer leaning on a fence. "Think it's safe to cross?" the man asked. "I reckon so," replied the farmer. The car was immediately swallowed by the puddle as the man drove in. In fact, it was so deep that he had to roll his window down to swim out of his car back to the surface. As his head broke the surface the man said to the farmer, "I thought you said I could safely drive through this puddle!" "Well, shoot!" said the farmer, scratching his head. "It only come up chest-high on my little ducks!" ______________________________________________________
Click through to the big picture ______________________________________________________

If you like the Dear Webby Daily Humor Letter, please vote for it at the

Ezine Finder:
Thanks for your votes!
---
An INTERNATIONAL BONEHEAD AWARD has been earned by
Christopher L. Stewart, 26, Hopkinsville, Kentucky
Man drove himself to Kentucky police station, asked for DUI arrest Authorities say a man drove under the influence of alcohol to a small-town Kentucky police station, where he requested that officers arrest him. The Kentucky New Era (http://bit.ly/1MNoFOI) reports that 26-year-old Christopher L. Stewart drove Tuesday night to the station in Hopkinsville, near the Tennessee border, and slammed on his brakes, nearly hitting a police cruiser. The newspaper reports that Stewart approached officers and said he was ready to go to jail for DUI. The paper says he told police he drank a pint before driving to the station. Police say Stewart also attempted to drink a closed bottle of fuel injector cleaning fluid, but officers stopped him. He was charged with driving under the influence. ______________________________________________________ Tech Support Pits From: Mini Re: Why zip? Dear Webby, I have heard about zip files since I was a kid, but never understood the need for them. Well, I was a bit spoiled and always had good connections, but sometimes chafed at the length it took to download something, but never enough to worry about zipped stuff. What is it all about? Mini Dear Mini Having a much smaller file is only one part of it. Remember the Converter, that I recommended earlier in the week? It is a zip file of only 160 KB. The size of a small, mug-shot size picture. However, that zip contains more than one file. The program and a readme text. That is the real beauty of zip files. You can bundle a whole bunch of stuff into one zip file, so that the user does not have to download many different files. When the zip file is extracted, then you get all the individual files again. Some zip programs allow you to zip entire folders or even files from different folders into a self-extracting exe file, that does not require a zip program to extract the files. Quite often zip programs allow you to make zip files, that require a zip program to extract the files, and only their paid-for Pro version allows you to make self-extracting exe files. Usually you don't need that unless you are writing programs or do accounting and need to send a bundle of spreadsheets. In that case, though, the small fee for the Pro version is justified. The exception might be sending 758 pictures in 14 folders from your vacation to gramma, and not wanting to trouble her with getting a zip program to unzip the bundle. For just plain unzipping of single folders you don't need any program. Windows does that quite nicely. Browse to the zipped folder using Windows Explorer. Right click on the zipped folder. Click on "Open with". Choose Windows Explorer. A window will open showing the contents of the folder. You can then drag and drop or copy and paste the file(s) to a location of your choice. OR Right click on the zipped folder. Click "Extract all files". A destination window will open allowing you to browse to where you want your files extracted. Once you've chosen your destination click the "Extract" button. It's not as complicated as it seems. Once you have done it a few times, it becomes really easy. For zipping up files, though, you still need a program like Winzip or 7zip. Have Fun! DearWebby _____________________________________________________
______________________________________________________ From a church bulletin: "A new loudspeaker system has been installed in the church. It was given by Bert, one of our loyal members, in honor of his wife." ______________________________________________________ A Methodist minister meets three Baptist deacons on the golf course and invites them to come to his church some Sunday ...and not too many weeks thereafter, just as services are starting, they show up. Attendance was good in the small Methodist church, and there wasn't a pew available; several church members were already seated on folding chairs. When the minister, just starting the service, saw the three Baptist deacons enter, he leaned down from the pulpit and stage-whispered to the nearest usher, "Please get three chairs for my Baptist friends in the back." The usher, hard of hearing, leaned closer and said, "I beg your pardon?" "Get three chairs for my Baptist friends," repeated the minister, but the usher strained closer with a puzzled look still on his face. Once more the minister tried, speaking slowly and distinctly. "Three chairs. For the Baptists," he enunciated. The usher's face lit up in comprehension, and he turned to face the congregation. "All right, everybody," he called out to the assembled worshippers. "Three cheers for the Baptists!" _________________________________ If you can help with the cost of the Humor Letter, please donate what you can!
______________________________________________________ Daily tip from Thriftyfun.com Make a Seed Sprouter for Salads Sprouting jars are about $20 in your local healthfood store. Instead, pick up either a sheet or a pre-cut plastic needlepoint canvas from your local dollar or craft store and cut them to fit the top your Mason jar and screw on with the canning ring! Ta-Da!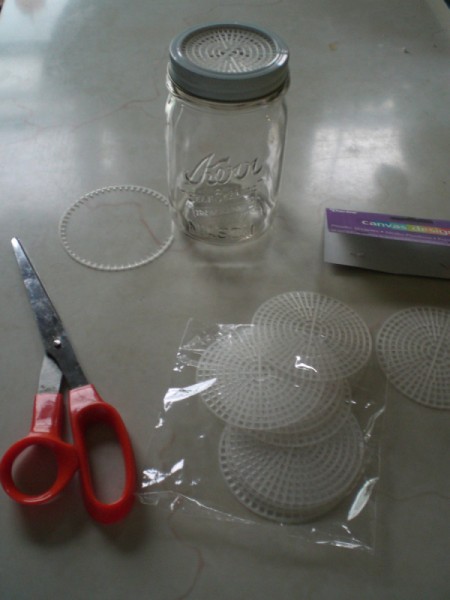 Now you can sprout your seeds for salads or to start seeds for your garden in it! By Donna [249] ______________________________________________________
Ophelia Dingbatter's News
No sermon and not suitable for church, just jokes and fun for grownups. Read it on line or subscribe. If you subscribe, look for the double opt in confirmation request.

_____________________________________________________ In the faculty lounge of an elementary school, some teachers were talking about reincarnation. One teacher remarked "If there's anything to the idea of reincarnation, I know what I'd like to come back as." "OK, tell us what," said a couple of colleagues. "I'd like to come back," said the teacher, "as a really nasty childhood disease." _____________________________________________________ Joe and his wife get along just great, except that she's a "backseat driver" second to none. After years of putting up with her pestering, he finally decided he'd had enough and advised her that he would no longer drive with her in the car. Later that day, on his way home from doing some shopping at the mall, he heard his cell phone ring as he was merging onto a freeway. It was his wife calling. By chance, she had entered the freeway right behind him. "Honey," she said, "your turn signal is still on. And put on your lights; it's starting to rain." His foot slipped accidentally from the gas to the brake pedal. Crunch! ____________________________________________________
| | |
| --- | --- |
| | The beautiful Butchart Gardens of Victoria BC. I could so easily get lost in all that beauty. |

Today in 
0451 Roman and Barbarian warriors brought Attila's army to 
 a halt at the Catalaunian Plains in eastern France. 
1397 The Union of Kalmar united Denmark, Sweden, and 
 Norway under one monarch. 
1756 In India, 150 British soldiers were imprisoned in a 
 cell that became known as the "Black Hole of Calcutta." 
1782 The U.S. Congress approved the Great Seal of the US. 
1791 King Louis XVI of France was captured while attempting 
 to flee the country in the so-called Flight to Varennes. 
1793 Eli Whitney applied for a cotton gin patent. He 
 received the patent on March 14. The cotton gin initiated 
 the American mass-production concept. 
1837 Queen Victoria ascended the British throne following 
 the death of her uncle, King William IV. 
1898 The U.S. Navy seized the island of Guam enroute to 
 the Phillipines to fight the Spanish. 
1923 France announced it would seize the Rhineland to 
 assist Germany in paying its war debts. That did not 
 go over well.
1943 Race-related rioting erupted in Detroit. Federal troops 
 were sent in two days later to end the violence that left 
 more than 30 dead. 
1967 Muhammad Ali was convicted in Houston of violating S
 elective Service laws by refusing to be drafted. The U.S. 
 Supreme Court later overturned the conviction. 
1977 The Trans-Alaska Pipeline began operation. 
1983 The U.S. Supreme Court ruled that employers must treat 
 male and female workers equally in providing health benefits 
 for their spouses. 
2002 The U.S. Supreme Court ruled that the execution of 
 mentally retarded murderers was unconstitutionally cruel. 
 The vote was 6 in favor and 3 against. 
2015  smiled.
[ view entry ]
( 10 views ) |
permalink
|
print article
|
( 3 / 804 )
---
<<First
<Back
| 42 | 43 | 44 | 45 | 46 | 47 | 48 | 49 | 50 | 51 |
Next>
Last>>