Good Morning, ,
Today is Friday, September 11
Time to wear a bit of red to show your support for the troops!


Have FUN!
DerWebby


With THIS LINK you get 50% off!
Check out the 4 top versions at http://webby.com/mac There is one that even protects your phones, not just computers and tablets!
If you can help with the cost of the Humor Letter, please donate what you can!
______________________________________________________ Today's Bonehead Award goes to an Oregon man arrested for torching an apartment full of people Details at Boneheads Today, September 11, in 2001 In the U.S., four airliners were hijacked and were intentionally crashed by Muslim extremists. Two airliners hit the World Trade Center in New York City, NY. One airliner hit the Pentagon in Arlington, VA. Another airliner crashed into a field in Pennsylvania. About 3,000 innocent people were killed. Now various US universities are teaching that the 9/11 attacks were the fault of the US and that the al Qaeda terrorists are the real victims. See NY Post 2015/09/06/ 2012 Terrorists attacked the U.S. consulate in Benghazi, Libya. The American ambassador and four former marines, who had been working nearby and rushed to defend the US ambassador, but were denied airborne support, were brutally murdered and ten others were injured. Airborne support was there and ready, but ordered to hold off. Secretary of State Hillary Clinton fell on her head a few weeks later and could not remember that order. The Marines will always remember. More of what happened on this day in history at History ______________________________________________________ Anything too stupid to be said is sung. --- Voltaire (1694 - 1778) Take the diplomacy out of war and the thing would fall flat in a week. --- Will Rogers (1879 - 1935) Good judgement comes from experience. Experience comes from bad judgement. --- Jim Horning ______________________________________________________ If you like the Humor Letter, please vote!
______________________________________________________ Getting away from their high-stress jobs, a couple spends relaxing weekends in their motor home. When they found their peace and quiet disturbed by well-meaning, but unwelcome, visits from other campers, they devised a plan to assure themselves some privacy. Now, when they set up camp, they place this sign on the door of their RV: "Insurance agent. Ask about our term-life package." ______________________________________________________ was waiting on a London street corner. An attractive English girl was passing by when a gust of wind blew her dress above her waist. 's comment was: "A bit airy...." Hearing this, the girl replied indignantly, " 'ell yes! What did you expect ..... feathers?!" ______________________________________________________
______________________________________________________ Classmates at college were lamenting the cost of long distance phone service and debating the relative advantages of AT&T, MCI, and Sprint. "I've found CTC to be the cheapest plan around," offered one. "CTC? Who are they?" "You know, like," she responded, "Call Them Collect." ______________________________________________________

If you like the Dear Webby Daily Humor Letter, please vote for it at the

Ezine Finder:
Thanks for your votes!
---
Reported by Noella
An INTERNATIONAL BONEHEAD AWARD has been earned by
Joshua Aaron Bigsby, 28, Portland, Oregon
Oregon man arrested for torching an apartment full of people An arson suspect is shown on surveillance video carrying a gasoline can moments before witnesses saw him use a lighter to start an apartment fire, according to prosecutors. Joshua Aaron Bigsby, was invited to the apartment after meeting the tenants late Friday and into early Saturday morning at the Fortune Star Lounge in southeast Portland, according to court documents filed by Multnomah County Deputy District Attorney Annie Shoen. A fight broke out between some of the tenants and Bigsby, who was asked to leave. Bigsby and "his companions" left, but he returned a short time later and forced his way into the apartment with "an old style lighter in one hand and a gas can in the other," according to Shoen's affidavit. One of the witnesses inside the apartment told investigators she watched the resident try to hold the door closed while Bigsby kicked in the door and poured gasoline on him, according to court documents. The witness said she saw Bigsby light the victim on fire. The woman retreated and jumped out a second-story window. At least four adults and two sleeping children, ages 3 and 6, were inside the apartment when the fire was set, according to court records. The video that investigators were able to get allegedly showed Bigsby carrying a gas can, go out of view of the camera, and then run back into view. Bigsby lost a shoe that appeared to be on fire. Investigators learned of Bigsby after some of the people who had met him at the lounge said he introduced himself as "Josh Bigsby," according to court documents. Portland Fire & Rescue investigator Rich McGraw was able to compare Bigsby's Facebook page and the surveillance and confirmed they appeared to be the same person, court documents state. By Sunday, officers learned of Bigsby's address and took him into custody. Bigsby appeared in court Tuesday and a not guilty plea was entered on his behalf. He has been charged with 7 counts of first-degree arson and one count each of second-degree assault, first-degree burglary, first-degree criminal mischief, and recklessly endangering another person. He is scheduled to be back in court on September 16. ______________________________________________________ Tech Support Pits From: Richi Re: Speeding up a computer Dear Webby, I am wondering if there are any programs that really speed up the computer?I have glary utilities but it doesn't seem to do the job,do those actually work and speed up the computer? Have a gr8 day.love your letter... tyvm Richi Dear Richi The Glary utilities may have some parts, that might be useful to you, but they are not known for speeding up anything. About the only one that does more than waste time and put on a cute song and dance is PC-Mechanic. See the blue banner on the Humor Letter. It actually did speed up my machine. No program will add more processor speed, RAM or hard drive space. There are some tricks you CAN use, though. UNinstall ALL programs, that you are not using. Most people have programs, that they once tried, or downloaded and were going to try some day. Get rid of them by using their UNinstaller, or uninstall them from the control panel. You can also use the free Revo Uninstaller They use space on the hard drive, and clutter up the registry, and almost every program also comes with a bunch of fonts. They are usually quite useless, but use RAM whenever that program is loaded. If it is a program that loads automatically, even though you haven't used it for many years, that is a total waste of RAM. Get rid of it! Then run a program like PC-Mechanic to get rid of their registry fragments. Once you have gotten rid of all the not used programs, defrag the hard drive. Defragler from the same people who gave us CrapCleaner, does a pretty good job, better than the built in Windows defrag. Keep in mind, during defrag everything slows down. It's AFTER the defrag that you will notice the improvement. Have FUN! DearWebby _____________________________________________________
______________________________________________________ One day, a foreign family arrived in New York City. This was the first time out of their native village, and it didn't take long before the wife got lost. The husband asked a passerby for help and was told to go to the police and report it. When he got there, a police officer asked him for the wife's description. "What's that?" asked the man. "Well, you see a description is telling what something looks like. For example, my wife is 25-years-old, 5'11", 140 lbs, 38-25-36 measurements. Now, what can you tell me about your wife?" "Maria can wait, lets go look for yours!" ______________________________________________________ If you can help with the cost of the Humor Letter, please donate what you can!
______________________________________________________ Daily tip from Thriftyfun.com Organizing Spice Tins I was at my friend Erin's house for dinner over the weekend and I noticed she had her spice tins displayed in this super creative way. She bought rare earth style magnets at Fred Meyer and stuck all her spice tins to the side of her fridge using 2 magnets per tin. Magnetic spice tins are really popular right now, but require buying a whole new set. Erin said she really liked the idea and had been thinking of purchasing them until she realized all her spices were all ready in tins. Another great tip she shared with me is that she turns the tins around when they are empty so she knows to buy more of that spice to fill the tin back up. This is a great way to organize your spice tins up and out of the way. I also love the way they look displayed on the side of the fridge.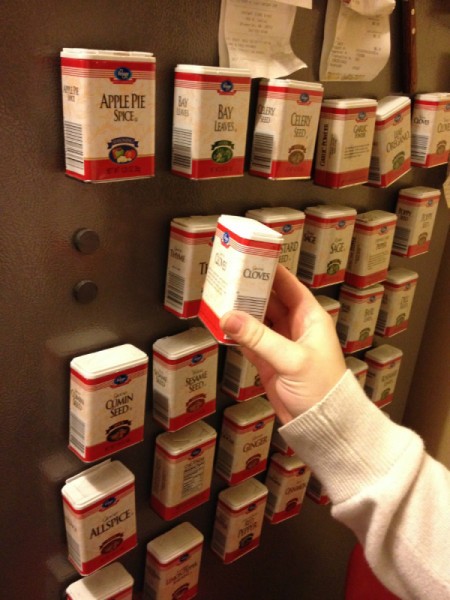 ______________________________________________________
Ophelia Dingbatter's News
No sermon and not suitable for church, just jokes and fun for grownups. Read it on line or subscribe. If you subscribe, look for the double opt-in confirmation request.

_____________________________________________________ Joe's daughter's eighth grade history class planned a visit to the US capital. Unfortunately, she was not greatly enthusiastic about a trip that she considered too "educational" to be fun. However, on their return, Joe was pleased to hear how she and her classmates had been filled with awe and emotion as they gazed at the Washington Monument. "To think, dad," she marveled. "We were standing right where Forrest Gump stood." ___________________________________________________ ____________________________________________________ A man really loved a woman, but he was just too shy to propose to her. Now he was up in his years and neither of them had ever been married. Of course, they dated about once a week for the past six years, but he was so timid he just never got around to suggesting marriage much less living together. But one day, he became determined to ask her the question. So he calls her on the phone, "June." "Yes, this is June." "Will you marry me?" "Of course I will! By the way, who are you?" ____________________________________________________
| | |
| --- | --- |
| | A triple nave stave Church in Norway built between 1180 and 1250 AD. I wonder what kind of wood it was built of to last so many centuries. |

Today, Sept 11, in
1297 Scotsman William Wallace defeated the English forces of 
 Sir Hugh de Cressingham at the Battle of Stirling Bridge. 
1499 French forces took over Milan, Italy. 
1609 Explorer Henry Hudson sailed into New York harbor and 
 discovered Manhattan Island and the Hudson River. 
1695 Imperial troops under Eugene of Savoy defeated the 
 Turks at the Battle of Zenta. 
1709 An Anglo-Dutch-Austrian force defeated the French 
 in the Battle of Malplaquet. 
1714 Spanish and French troops broke into Barcelona 
 and ended Catalonia's sovereignty after 13 months of seige. 
1777 American forces, under General George Washington, were 
 forced to retreat at the Battle of Brandywine Creek by 
 British forces under William Howe. The Stars and Stripes 
 (American flag) were carried for the first time in the battle. 
1814 The U.S. fleet defeated a squadron of British ships in 
 the Battle of Lake Champlain, VT. 
1842 1,400 Mexican troops captured San Antonio, TX. The Mexicans 
 retreated with prisoners. 
1855 The siege of Sevastopol ended when French, British and 
 Piedmontese troops captured the main naval base of the Russian 
 Black fleet in the Crimean War. 
1875 "Professor Tidwissel's Burglar Alarm" was featured in the 
 New York Daily Graphic and became the first comic strip to 
 appear in a newspaper. 
1877 The first comic-character timepiece was patented by the 
 Waterbury Clock Company. 
1883 The mail chute was patented by James Cutler. The new 
 device was first used in the Elwood Building in Rochester, NY. 
1897 A ten-week strike of coal workers in Pennsylvania, WV, and 
 Ohio came to an end. The workers won an eight-hour workday, 
 semi-monthly pay, and company stores were abolished. 
1904 The U.S. battleship Connecticut was launched in New York. 
1910 In Hollywood, the first commercially successful electric 
 bus line opened. 
1926 In Honolulu Harbor, HI, the Aloha Tower was dedicated. 
1936 Boulder Dam in Nevada was dedicated by U.S. President 
 Franklin D. Roosevelt by turning on the dam's first 
 hydroelectric generator. The dam is now called Hoover Dam. 
1941 U.S. President Franklin D. Roosevelt gave orders to 
 attack any German or Italian vessels found in U.S. defensive 
 waters. The U.S. had not officially entered World War II at this time. 
1941 Charles A. Lindbergh brought on charges of anti-Semitism 
 with a speech in which he blamed "the British, the Jewish and 
 the Roosevelt administration" for trying to draw the United 
 States into World War II. 
1941 In Arlington, VA, the groundbreaking ceremony for the Pentagon 
 took place. 
1952 Dr. Charles Hufnagel successfully replaced a diseased aorta 
 valve with an artificial valve made of plastic. 
1959 The U.S. Congress passed a bill authorizing the creation of 
 food stamps. 
1965 The 1st Cavalry Division (Airmobile) arrived in South Vietnam 
 and was stationed at An Khe. 
1974 "Little House On The Prairie" made its television debut. 
1977 The Atari 2600 was released. It was originally sold as the 
 Atari VCS. The system was discontinued on January 1, 1992. 
1985 A U.S. satellite passed through the tail of the 
 Giacobini-Zinner comet. It was the first on-the-spot sampling 
 of a comet. 
1990 U.S. President Bush vowed "Saddam Hussein will fail" while 
 addressing Congress on the Persian Gulf crisis. In the speech 
 Bush spoke of an objective of a new world order "freer from 
 the threat of terror, stronger in the pursuit of justice, and 
 more secure in the quest for peace". 
1991 Soviet President Mikhail Gorbachev announced that thousands 
of troops would be drawn out of Cuba. 
1997 Scotland voted to create its own Parliament after 290 years 
 of union with England. 
1998 Independent counsel Kenneth Starr sent a report to the U.S. 
 Congress accusing President Clinton of 11 possible impeachable 
 offenses. 
1999 The Wall Street Journal reported that Bayer Corp. had quit 
 putting a wad of cotton in their bottles of aspirin. Bayer had 
 actually stopped the practice earlier in the year. 
2001 In the U.S., four airliners were hijacked and were intentionally 
 crashed. Two airliners hit the World Trade Center, which collapsed 
 shortly after, in New York City, NY. One airliner hit the Pentagon 
 in Arlington, VA. Another airliner crashed into a field in 
 Pennsylvania. About 3,000 people were killed. 
2012 Terrorists attacked the U.S. consulate in Benghazi, Libya. 
 The American ambassador and four former marines, who had been 
 working nearby and came to help but were denied airborne support,
 were brutally murdered and ten others were injured. Airborne 
 support was there and ready, but ordered to hold off.
2015  smiled.
[ view entry ]
( 10 views ) |
permalink
|
print article
|
( 3 / 1323 )
---
<<First
<Back
| 40 | 41 | 42 | 43 | 44 | 45 | 46 | 47 | 48 | 49 |
Next>
Last>>