Good Morning, ,
Today is Wednesday, November 25


With THIS LINK you get 50% off!
Check out the 4 top versions at http://webby.com/mac There is one that even protects your phones, not just computers and tablets!
If you can help with the cost of the Humor Letter, please donate what you can!
Today's Bonehead Award goes to a Texas man arrested for assaulting his girlfriend because she would not smell his armpits. Details at Boneheads ______________________________________________________ Today, November 25, in 1715 Sybilla Thomas Masters became the first American to be granted an English patent for cleaning and curing Indian corn. More of what happened on this day in history at History ______________________________________________________ Get your facts first, and then you can distort them as much as you please. --- Mark Twain (1835 - 1910) The reason grandparents and grandchildren get along so well is that they have a common enemy. --- Sam Levenson ______________________________________________________ If you like the Humor Letter, please vote!
______________________________________________________ The following was overheard at a recent party. "My ancestry goes all the way back to Alexander the Great," said one lady. She then turned to a second woman and asked, "How far does your family go back?" "I don't know," was the reply. "All of our records were lost in the flood." ______________________________________________________ Children seldom misquote you. In fact, they usually repeat word for word what you shouldn't have said. ______________________________________________________
______________________________________________________

If you like the Dear Webby Daily Humor Letter, please vote for it at the

Ezine Finder:
Thanks for your votes!

______________________________________________________ >Reported by Wayne
An INTERNATIONAL BONEHEAD AWARD has been earned by
Robinson Pinilla-Bolivar 24, Midland, Texas
Texas man arrested for assaulting his girlfriend because she would not smell his armpits. A man in Midland, Texas was arrested on charges of assault for allegedly assaulting his girlfriend for refusing to smell his armpit. According to News West 9, 24-year-old Robinson Pinilla-Bolivar asked his girlfriend to smell his armpit, and when she refused, an argument erupted. During the argument, police said Pinilla-Bolivar punched the woman in the back of the head and attempted to stab her with a knife. The victim fled to the office of the apartment complex the pair was in. Police said Pinilla-Bolivar then began dragging the woman from the office, but fled when he learned police had been notified and officers were en route. He was later arrested amid a traffic stop and charged with aggravated assault with a deadly weapon. ______________________________________________________ Tech Support Pits From: Jean Re: Get rid of installed programs Dear Webby, My internet experience is severely limited in comparison to yours. I have only worked with two email systems. One a government mainframe, that was obsolete even before it went online, and Yahoo. Consequently, Yahoo is far superior in my opinion. I have used it for years and years. With the exception of a few mishaps, I am content to work with Yahoo's time frame/system. I do have annoyances with the viruses, & etcetera, I've managed to find but have been able to survive. I appreciate your concern about my inability and/or desire not to change. I am one of those, "if it works, don't fix it" types. Plus I hate change. Being on the internet, this is not a good quality, but it is me. I do have a gmail account but have not been able to access it. If I cannot access it, what good is it? Now to the problem: You are talking way above my head here. How does one find out what AVG calls the add-on? How does one find if McAfee has the add on? Or if it is an Add-on from Firefox? I like easiest first please. I apologize for my ignorance but all my training has been in different areas and hasn't melded together yet. Thank you for your patience. Did Facebook ever allow your DearWebby page back on line? From what little I have read on it, very little that is, they should have. I am not good there either. Sincerely, Janice Dear Janice I can understand your desire to not change. I have used Eudora for email since 1993, and don't plan to change in the forseeable future. With your Gmail account, come onto Skype and I will step you through setting that up correctly. I use a Gmail account on the side and know how it works. My Skype handle is dearwebby. Re the AVG add-on, first check FireFox Add-Ons. Click on the 3 horizontal bars for the menu. Click on the icon, that looks like a puzzle piece. That shows all your add-ons. If you see any in there, that you are not using any more, remove them. That should make it easier to search through them and spot anything related to AVG. When you find that, remove it. Weeding out the add-ons will speed up your browsing quite nicely. If you still get the AVG nuisance on the browser tabs or icons, then you have to get nasty. Click on START Paste into the run line: appwiz.cpl and hit ENTER. After a while "Programs and Features" from Control Panel, All Control Panel Items, Programs and Features, opens. It's just a shortcut. If you prefer, you can slowly mouse to there. Once that has opened, you can look at all the applications installed. Look for anything starting with AVG. Unless you are planning to get McAfee, don't remove the AVG virus scanner. Look for something like "AVG Web". Once you have removed that, your FireFox won't trundle all the way back to AVG's server to check if a web site has been approved by them. If somebody often goes to dangerous sites, then they should install Malwarebytes. It checks sites quite fast and unobtrusively. Re FaceBook: No, they still insist that I use my passport name, not the name everybody knows me by. Well, that saves me at least five minutes a day. Have FUN! DearWebby _____________________________________________________
______________________________________________________ Jenifer's big formal wedding was fast approaching and she was delighted to hear that her Mom, Sheilah, just after a nasty divorce, had finally found the perfect mother-of-the-bride dress. Two days later, she was shocked to learn that her father's new wife, Fawn, had purchased the same dress. She asked her Fawn to buy another dress since her Mom had already altered hers to fit better. Fawn refused. After two more weeks of frustrating shopping, Sheila found a dress that was not as nice as the first, but would serve. When asked by a friend what she would do with her original dress, she grinned and replied, "I'm wearing it to the rehearsal dinner!" ______________________________________________________ If you can help with the cost of the Humor Letter, please donate what you can!
______________________________________________________ Daily tip from Thriftyfun.com Clothespin to Store Earbuds This is a great tip I found on Pinterest to keep earbuds from getting tangled in a drawer or your purse. Put the earbuds in the space where the clamp opens. Wind the wires around the prongs. Weave in the end so it doesn't unravel.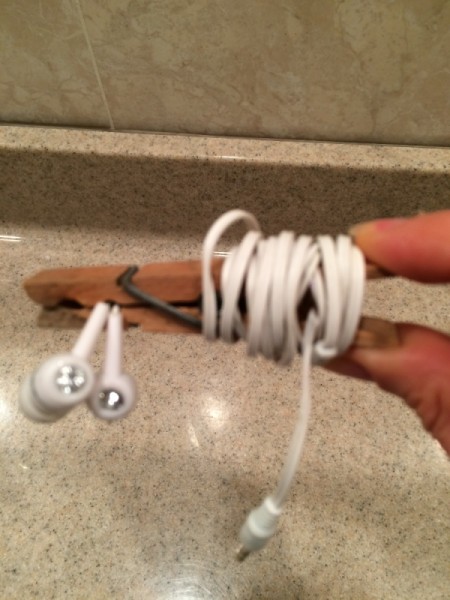 Source: Pinterest By Judy [26] ______________________________________________________
Ophelia Dingbatter's News
No sermon and not suitable for church, just jokes and fun for grownups. Read it on line or subscribe. If you subscribe, look for the double opt-in confirmation request.

_____________________________________________________ >From Jean Michigan State Police announced the discovery of an arms cache of 200 semi-automatic rifles, along with 250,000 rounds of ammunition, 10 anti-tank missiles, 4 grenade launchers, two tons of heroin, $12 million in cash, and a ring of 14 prostitutes, all in a housing project behind the Detroit Public Library. Detroit folks were stunned. A community organizer said, "We is shocked" "We never knew we had a library." ___________________________________________________
| | |
| --- | --- |
| | blooming cacti |
____________________________________________________ >From Elsie Two men came to my house to install some new floor covering in the kitchen. Once they had moved the stove and refrigerator out of the way, it was not long before the job was done. As they were getting ready to leave, I asked them to put the heavy appliances back in place. The two men demanded $45 for this service, stating it was not in their contract. I really had no choice but to pay them. Shortly after they left, however, the doorbell rang. It was the two men. They asked me to move my car, which was blocking their van. I told them that was not in the contract, but that I would gladly do it for $50. ____________________________________________________ One day a father called his 6 children together and asked, "Now tell me, who has been most obedient during last week and did everything mother asked?" In one voice they all replied, "You, daddy." ____________________________________________________ Noella's Blunders Thanks to Linda B for her blunder today: I was visiting some friends who live at the Grand Canyon. Missing my own dog, I took theirs for a short walk. It was getting dark, and let me just say, when it gets dark out there, it gets DARK! Not even starlight because of the cloud cover. Their street was basically a circle so what could go wrong? Besides I could use the flashlight on my cell phone. However, I discovered my cell phone battery was as close to dead as it could get. Next thing I knew I was lost - on a circle street! The only available light was from passing cars, which I was trying to flag down hoping to see if anyone could tell me my location. At one point a car looked liked it was headed straight for us, so we stepped off the road and fell smack into a ditch! My first inkling that I wouldn't be walking anywhere was after crawling out and trying to put my weight on my ankle - it just flopped over. I kept trying to flag down cars, and before long a Ranger stopped; then more appeared. At that point, everything stopped, traffic and all. One ranger took the dog home, another wrote the report and two more stopped traffic. I swear they multiplied right before my eyes! A little over an hour and three ambulances later I arrived at the hospital in Flagstaff. Both bones in my ankle were broken, and my heel had been pushed forward and so far to the left it might as well have been in Utah. Of course none of that mattered, because by then I was higher than a kite and everything was hysterically funny! They have good drugs in those ambulances, and even better ones in the hospital. My happy ending: After a couple of months in physical therapy, I'm walking without assistance and without a limp! Linda Noella ____________________________________________________
| | |
| --- | --- |
| | This Grave In Paris Is Packing A Secret. |

Today, November 25, in
1715 Sybilla Thomas Masters became the first American to 
 be granted an English patent for cleaning and curing 
 Indian corn. 
1758 During the French and Indian War, the British captured 
 Fort Duquesne at what is now known as Pittsburgh. 
1783 During the Revolutionary War, the British evacuated 
 New York. New York was their last military position in 
 the U.S. 
1837 William Crompton patented the silk power loom. 
1850 Texas relinquished one-third of its territory in 
 exchange for $10 million from the U.S. to pay its public 
 debts and settle border disputes. 
1867 Alfred Nobel patented dynamite. 
1884 J.B. Meyenberg received the patent for evaporated milk. 
1936 The Anti-Comintern Pact, an agreement between Japan 
 and Germany, was signed. 
1947 Movie studio executives meeting in New York agreed to 
 blacklist the "Hollywood 10," who were cited a day earlier 
 and jailed for contempt of Congress when they failed to 
 cooperate with the House Un-American Activities Committee. 
1955 In the U.S., the Interstate Commerce Commission banned 
 racial segregation on interstate trains and buses. 
1970 Japanese author Yukio Mishima committed ritual suicide 
 after giving a speech attacking Japan's post-war constitution. 
1976 O.J. Simpson (Buffalo Bills) ran for 273 yards against 
 the Detroit Lions. 
1983 Mediators from Syria and Saudi Arabia announced a cease-fire
 in the PLO civil war in Lebanon. 
1986 U.S. President Reagan and Attorney Gen. Edwin Meese 
 revealed that profits from secret arms sales to Iran had been 
 diverted to rebels in Nicaragua. National Security Advisor 
 John Poindexter resigned and Oliver North was fired. 
1990 Poland held its first popular presidential election. 
1992 The Czech parliament voted to split the country into separate 
 Czech and Slovak republics beginning January 1, 1993. 
1993 Egyptian Prime Minister Atef Sedki escaped an attempt 
 on his life when a bomb was detonated by Islamic militants 
 near his motorcade. 
1998 Britain's highest court ruled that former Chilean dictator 
 Augusto Pinochet, whose extradition was being sought by Spain, 
 could not claim immunity from prosecution for the crimes he 
 committed during his rule. 
1998 President Jiang Zemin arrived in Tokyo for the first visit 
 to Japan by a Chinese head of state since World War II. 
1998 The IMF (International Monetary Fund) approved a $5.5 
 billion bailout for Pakistan.
2015  smiled.
[ view entry ]
( 11 views ) |
permalink
|
print article
|
( 3.1 / 92 )
---
<<First
<Back
| 37 | 38 | 39 | 40 | 41 | 42 | 43 | 44 | 45 | 46 |
Next>
Last>>