Good Morning, ,
Today is Wednesday, January 27

Have FUN!
DearWebby


With THIS LINK you get 50% off!
Check out the 4 top versions at http://webby.com/mac There is one that even protects your phones, not just computers and tablets!
If you can help with the cost of the Humor Letter, please donate what you can!
Today's Bonehead Award goes to a NC Woman charged with aggravated violence after she assaulted hubby with nunchucks, when he refused to have sex with her. Details at Boneheads ______________________________________________________ Today, January 27, in 1880 Thomas Edison patented the electric incandescent lamp. History ______________________________________________________ The most perfidious way of harming a cause consists of defending it deliberately with faulty arguments. --- Friedrich Nietzsche (1844 - 1900) I want to live my life so that my nights are not full of regrets. --- D. H. Lawrence ______________________________________________________ If you like the Humor Letter, please vote!
______________________________________________________ >From Jean A dinner speaker was in such a hurry to get to his engagement that when he arrived and sat down at the head table, he suddenly realized that he had forgotten his false teeth. Turning to the man next to him he said, "I forgot my teef." The man said, "No problem." He reached into his pocket and pulled out a pair of false teeth. "Try these," he said. The speaker tried them. "Too loose," he said. The man then said, "I have another pair - try these." The speaker tried them and responded, "Too tight." The man was not taken back at all. He then said, "I have one more pair. Try them." The speaker said, "They fit perfectly." With that he ate his meal and gave his speech. After the dinner meeting was over, the speaker went over to thank the man who had helped him. "I want to thank you for coming to my aid. Where is your office? I've been looking for a good dentist." The man replied, "I'm not a dentist. I'm an undertaker." ______________________________________________________ ______________________________________________________ The case concerned a will Kelly was a witness. "Was the deceased," asked the attorney, "In the habit of talking to himself when he was alone?" "I don't know," said the Irishman. "Come now man, you don't know and yet you pretend you were intimately acquainted with the deceased?" "Well, Mr. Lawyer," said Kelly, "I never happened to be with him when he was alone." ______________________________________________________
______________________________________________________

If you like the Dear Webby Daily Humor Letter, please vote for it at the

Ezine Finder:
Thanks for your votes!

______________________________________________________
An INTERNATIONAL BONEHEAD AWARD has been earned by
Sondra Earle Kelly, 51, Charlotte, North Carolina Woman charged with aggravated violence after she assaulted hubby with nunchucks, when he refused to have sex with her. A woman allegedly battered her husband with nunchucks because he refused to have sex with her. Sondra Earle-Kelly, 51, is alleged first to have hurled ceramic figurines at her lover when he refused stop watching TV and go to bed with her. Then she reportedly grabbed a pair of nunchucks and began to beat him with them. Police found blood on the walls of the couple's apartment. Earle-Kelly, who was also said to have taken a tranquiliser tablets over the course of the evening, has been charged with aggravated domestic violence. She spent the night in a Charlotte, North Carolina police cell and is to appear in court next month. ______________________________________________________ Tech Support Pits From: Dora Re: How to deal with power outages Dear Webby You used to live in the bush and probably know. What is the best way to cope with long power outages aside from buying new laptop batteries every 3-4 months ? Dora Dear Dora Well, I didn't really learn about power outages until I moved to the city. In the bush I had solar panels that charged my batteries and a home-made inverter to turn that into regular household electricity. You can do the same thing in town, but instead of expensive solar panels, just get an automotive style battery charger. And a car battery. For the inverter you can buy one or a bunch of those Statpower or similar car adapters that plug into the cigarette lighter and produce regular household electricity. Run your computer off that adapter and you will never notice power outages. Whenever there IS power, the battery charger will charge the battery, but the battery will always provide juice to the adapter. An added fringe benefit is that the battery will absorb any surges coming down the line. For a Laptop and a light get a 150 Watt inverter, for a desktop with a small monitor get a 500 Watt inverter, and for a desktop with a large monitor get a 600 Watt inverter. One or two car batteries will easily carry you over any power outages. You can reduce power consumption by using LED or compact spiral fluorescent lights. Home Depot sells LED ceiling lights, that produce very bright light for an entire room and have totally negligible power consumption. If you just need light for your desk, get a "Z" arm desk light and put a 7 Watt compact fluorescent into it. The best place to keep your batteries and charger is in a flower box outside a window. You can cover them with some empty egg cartons and grow your salad herbs in those. The warmth coming from the charger will extend the season for them quite remarkably. Have FUN! DearWebby _____________________________________________________ Overheard while waiting in line at the bank: Don't wear your glasses on a blind date. You'll look better, and he will too. ______________________________________________________ If you can help with the cost of the Humor Letter, please donate what you can!
______________________________________________________ Daily tip from Thriftyfun.com Meatloaf "Cupcakes" Who says you can't play with your food? Have a little fun with boring meatloaf by shaping them like cupcakes! Top with mashed potatoes and a dot of ketchup on top. Gave everyone a laugh when I served it. It could also be a cute April Fool's dinner for the family. Approximate Time: 45 minutes Yield: 16 individual cupcakes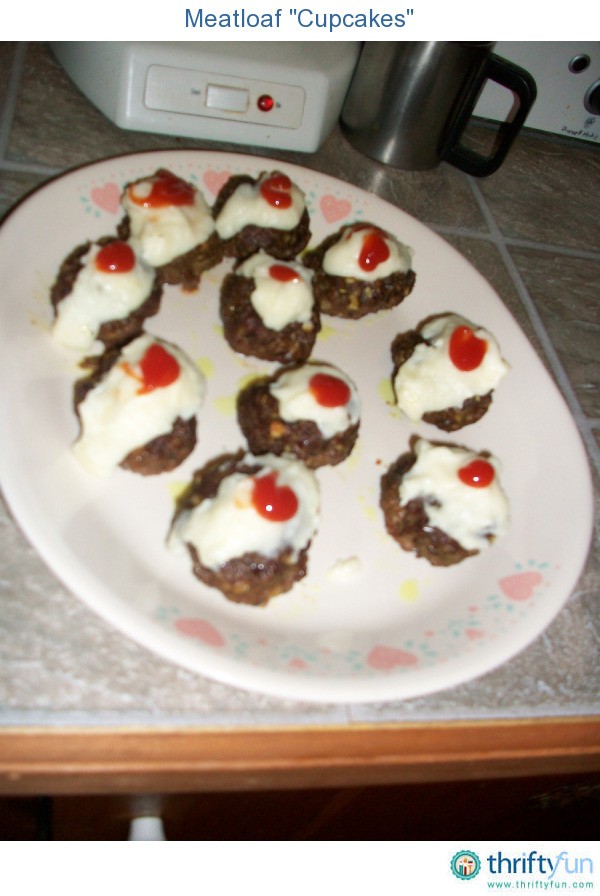 Ingredients: 1 1/2 lb ground meat (I used beef) 1/2 cup bread crumbs pinch of your favorite spices (I use fresh basil, garlic, cumin) 1/2 onion, diced 1 egg instant mashed potatoes for "icing ketchup Steps: Mix together meat with spices, egg, and bread crumbs. Meatloaf "Cupcakes" Form into small balls the size of your palm, and add to muffin tins. Cook at 375 degrees F for 30 to 45 minutes or until done to your liking. Whip up some mashed potatoes Place one big dollop of potatoes on top of individual meatballs. You may use a pastry bag if you really want them to look like icing. I used an ice scoop. Dot the mashed potatoes with a "cherry" of ketchup on top. Note: I actually froze one tray of six for later use since we were only 3 people and didn't need all those 'cupcakes' at one meal. By Donna [308] To get less shrinkage and more flavor, you can use stuffing instead of the bread crumbs. Since stuffing is usually already seasoned, you can cut back on the salt, that is missing in the above recipe. Have FUN! DearWebby ______________________________________________________
Ophelia Dingbatter's News
No sermon and not suitable for church, just jokes and fun for grownups. Read it on line or subscribe. If you subscribe, look for the double opt-in confirmation request.

_____________________________________________________ >From Ann While carpenters were working outside the old house I had just bought, I busied myself with indoor cleaning. I had just finished washing the floor when one of the workmen asked to use the bathroom. With dismay I looked from his muddy boots to my newly scrubbed floors. "Just a minute," I said, thinking of a quick solution. "I'll put down newspapers." "That's all right, lady," he responded. "I'm already potty-trained." ___________________________________________________
| | |
| --- | --- |
| | cool questions to ask Siri |
____________________________________________________ On vacation one year I went to a resort in Wyoming. As part of the usual activities, a neighboring ranch invited guests from our resort to participate in a cattle drive. After watching 25 make-believe cowpokes whooping and hollering, I rode up to the ranch owner and asked her how many cowboys it normally takes to drive a herd of that size. "One," she replied, "and a dog." ____________________________________________________ A mouse returned from the laboratory to his cage and told a fellow mouse, "I've finally got Dr. Snooker trained." "You have?" asked the other. "Yes, explained the first mouse. "Every time I press down the bar, he gives me food." ____________________________________________________
| | |
| --- | --- |
| | Chinese Human Kaleidoscope |

Today, January 27, in
1606 The trial of Guy Fawkes and his fellow conspirators began. 
 They were executed on January 31. 
1880 Thomas Edison patented the electric incandescent lamp. 
1900 In China, foreign diplomats in Peking, fearing a revolt, 
 demanded that the imperial government discipline the Boxer 
 rebels. 
1926 John Baird, a Scottish inventor, demonstrated a 
 pictorial transmission machine called television. 
1943 During World War II, the first all American air raid 
 against Germany took place when about 50 bombers attacked
 Wilhlemshaven. 
1944 The Soviet Union announced that the two year German 
 siege of Leningrad had come to an end. 
1945 Soviet troops liberated the Nazi concentration camps 
 Auschwitz and Birkenau in Poland three weeks after German 
 troops had abandoned them. 
1948 Wire Recording Corporation of America announced the 
 first magnetic tape recorder. The 'Wireway' machine with 
 a built-in oscillator sold for $149.50. 
1951 In the U.S., atomic testing in the Nevada desert began 
 as an Air Force plane dropped a one-kiloton bomb on 
 Frenchman Flats. 
1967 At Cape Kennedy, FL, astronauts Virgil I. "Gus" Grissom, 
 Edward H. White and Roger B. Chaffee died in a flash fire 
 during a test aboard their Apollo I spacecraft. 
1967 More than 60 nations signed the Outer Space Treaty which 
 banned the orbiting of nuclear weapons and placing weapons 
 on celestial bodies or space stations. 
1973 The Vietnam peace accords were signed in Paris. 
1977 The Vatican reaffirmed the Roman Catholic Church's ban 
 on female priests. 
1981 U.S. President Reagan greeted the 52 former American 
 hostages released by Iran when Reagan won the presdency 
 at the White House. 
1984 Wayne Gretzky set a National Hockey League (NHL) record for 
 consecutive game scoring. He ended the streak at 51 games. 
1985 The Coca-Cola Company, of Atlanta, GA, announced a plan 
 to sell its soft drinks in the Soviet Union. 
1992 Former world boxing champion Mike Tyson went on trial 
 for allegedly raping an 18-year-old contestant in the 1991 
 Miss Black America Contest. 
1997 It was revealed that French national museums were holding 
 nearly 2,000 works of art stolen from Jews by the Nazis 
 during World War II. 
1998 U.S. First Lady Hillary Rodham Clinton appeared on NBC's 
 "Today" show. She charged that the allegations against her 
 husband were the work of a "vast right-wing conspiracy." 
1999 The U.S. Senate blocked dismissal of the impeachment 
 case against President Clinton and voted for new testimony 
 from Monica Lewinsky and two other witnesses. 
2002 A series of explosions occurred at a military dump 
 in Lagos, Nigeria. More than 1,000 people were killed in 
 the blast and in the attempt to escape. 
2003 Altria Group, Inc. became the name of the parent company 
 of Kraft Foods, Philip Morris USA, Philip Morris 
 International and Philip Morris Capital Corporation. 
2010 Steve Jobs unveiled the Apple iPad.
2015  smiled.
[ view entry ]
( 5 views ) |
permalink
|
print article
|
( 3 / 2160 )
---
<<First
<Back
| 35 | 36 | 37 | 38 | 39 | 40 | 41 | 42 | 43 | 44 |
Next>
Last>>