Good Morning, ,
Today is Friday, March 25
Time to wear a bit of red to show your support for the troops!


Thank you, Donna!



Remember what  Easter is all about?


Have FUN!
DearWebby


With THIS LINK you get 50% off!
Check out the 4 top versions at http://webby.com/mac There is one that even protects your phones, not just computers and tablets!
SPECIAL EASTER EGG from McAfee McAefee Total Protection $29.99 March 25 - 28
If you can help with the cost of the Humor Letter, please donate what you can!
Today's Bonehead Award goes to a Decatur teacher charged with sex with 2 students Details at Boneheads ______________________________________________________ Today, March 25, in 0421 The city of Venice was founded. More of what happened on this day in history. ______________________________________________________ A liberal is a person whose interests aren't at stake at the moment. ---Willis Player ______________________________________________________ If you like the Humor Letter, please vote!
______________________________________________________ A preacher retired and moved to the country to enjoy life and practice his hobby of yard work. Needing a lawn mower, he headed into town to buy one. On the way he saw a sign advertising a lawn mower for sale. He stopped at the house and a young lad came out to greet him. The preacher asked about the lawn mower and the kid said it was behind the house. The two went to look at the lawn mower. The engine was sputtering along at idle speed. The preacher increased the speed of the engine and mowed a few strips. Satisfied that the mower would do the job they settled on a price of $75.00. Later in the day, the young lad was riding his bicycle when he spied the preacher pulling on the engine starter rope. The kid stopped and watched for a couple of minutes. He asked, "What's wrong?" The reply came, "I can't get this mower started. Do you know how?" The kid said, "Yep." "Well, then how do you do it? Tell me!", the preacher yelled. The kid replied, "You have to cuss it." The preacher rose up indignantly. "Now you listen here. I am a preacher and if I ever did cuss, not saying I have, I've forgotten how to do it after all these years." With a wise look on his face , the kid said, "Preacher, you keep on pulling that rope and it'll all come back to ya." ______________________________________________________ ______________________________________________________ Son: Is it true, Dad, I heard that in some parts of Africa a man doesn't know his wife until he marries her? Father: That happens in every country, son. ______________________________________________________ Thanks to Lillemor for her Easter Tree
______________________________________________________

If you like the Dear Webby Daily Humor Letter, please vote for it at the

Ezine Finder:
Thanks for your votes!

______________________________________________________
An INTERNATIONAL BONEHEAD AWARD has been earned by
Naysha Barre-Parrilla, 24, and Carrie Cabri Witt, 42, Decatur, Alabama Alabama teacher charged with sex with 2 students Decatur police have arrested a local teacher accused of having a sexual relationship with at least two students. Carrie Cabri Witt, 42, is charged with two counts of a school employee engaging in a sex act or deviant sexual intercourse with a student under the age of 19. Witt teaches history, psychology and social studies at Decatur High School. She also coaches girls' golf and junior varsity cheerleaders, according to the school's website. Police received information on March 17 that Witt had been involved in a sexual relationship with at least one student under the age of 19. Detectives interviewed numerous people and found there was a second victim in this case. Detectives contacted Witt at her home on Monday. She was brought to the Decatur Police Department for questioning. At the conclusion of the interview, Witt was placed under arrest. Her charges are class B felonies. Witt was booked into the Decatur City Jail and later transferred to the Morgan County Jail in lieu of a $10,000 aggregate bond. ______________________________________________________ Tech Support Pits From: Carol Re: Graphics program for cloning Dear Webby Do you know of an inexpensive photo program that has a "clone" feature? I really enjoy your posts on FB as well as the Humor Letter. Thanks... Carol Dear Carol I use an old copy of Paint Shop Pro, that you can still get on eBay. It has a clone brush to, for example, move a bush in front of your mother-in-law or a butterfly onto a grand daughter. If you have the time to learn the program, download GIMP. https://www.gimp.org/downloads/ GIMP is the most complete graphics program, and is free. However, because it does EVERYTHING, it can be confusing to beginners. If you want to clone from one picture to another, expand the canvas size of the picture. Do not zoom it, leave it the same size, just widen the canvas, so that you have empty space beside the picture. Then paste for example a donkey in there, and then clone from the donkey to some relative, who is out of favor. Cloning a braying donkey's mouth onto the loudmouth brother in law is TOO easy and tempting! When done, crop the picture and discard the extension. You will be surprised how much fun the Clone brush can be! Have FUN! DearWebby _____________________________________________________ The graduate with a Science degree asks, "Why does it work?" The graduate with an Engineering degree asks: "How does it work?" The graduate with an Accounting degree asks: "How much will it cost?" The graduate with a Social Science degree asks: "Do you want fries with that?" The graduate with a Literature degree asks: "Can you vote for Broom Hilda so Obama won't get deported?" ______________________________________________________ If you can help with the cost of the Humor Letter, please donate what you can!
______________________________________________________ Daily tip from Thriftyfun.com Plastic Drink Bottle for Watering Seeds By ShirleyE [60 Posts, 52 Comments] Seeds and seedlings of course need watering carefully so they don't get battered or washed about. If you don't have a small watering can you can use a drink bottle. Carefully make holes in the lid. This is best done with a drill bit, but if you don't possess a drill you can use pointed scissors. Be very careful if using scissors as they can slip or pierce quite suddenly and injure you. Make sure you use a wooden board and press the scissor point directly downwards. Now you can fill the bottle, replace the lid and use it like a watering can.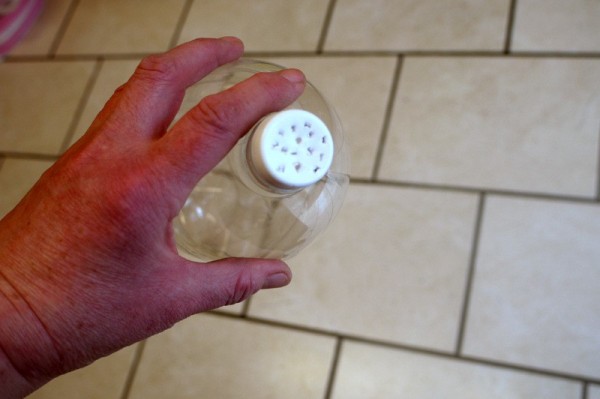 Using a drillbit or a preferably hot nail is much safer. Scissors have a tendency to suddenly close or do other unexpected things. They are made for cutting, not for drilling. You can heat a piece of coathanger wire or hay wire over a candle and safely melt permanent holes into the plastic cap. Have FUN! DearWebby ______________________________________________________
Ophelia Dingbatter's News
No sermon and not suitable for church, just jokes and fun for grownups. Read it on line or subscribe. If you subscribe, look for the double opt-in confirmation request.

_____________________________________________________ A rather Posh Lady was sauntering around an exclusive London art gallery when she stopped by one particular exhibit. "I suppose this picture of a hideous witch is what you would call modern art?" she sneered in a very pompous manner. "No, Ma'm," replied the gallery assistant, "it's what we call a mirror." ___________________________________________________
| | |
| --- | --- |
| | watch the hamster |
____________________________________________________ The young couple invited their aged parson for Sunday dinner. While they were in the kitchen preparing the meal, the minister asked their son what they were having. "Goat," the little boy replied. "Goat?" replied the startled man of the cloth, "Are you sure about that?" "Yep," said the youngster. "I heard Ma say to Pa: 'Let's have the old goat for dinner this Sunday.'" ____________________________________________________ The good bishop knew very well that not only did everyone in his small town look to him for an example, but that all too often, all eyes were on him as potential fodder for the local gossip mill, as well. This could be wearing; but usually, he was able to provide the good example and escape the tattlers. One night, however, after a long, hard day, a social obligation beckoned on top of his church responsibilities, and he came to a sudden stopping place. His hostess, noting that he looked tired, asked with concern, "A spot of tea, Bishop?" "No, thank you," he managed. "No tea." "Ah," she said. "Coffee, then?" "No coffee either, thank you." In the spirit of conspiracy, she leaned closer and murmured, "I could bring you a scotch and soda in an opaque mug?" "My dear, this is my last word: NO soda." ____________________________________________________
| | |
| --- | --- |
| | Street art portraits. |

Today on March 25
0421 The city of Venice was founded. 
1306 Robert the Bruce was crowned king of Scotland. 
1409 The Council of Pisa opened. 
1634 Lord Baltimore founded the Catholic colony of Maryland.
1655 Puritans jailed Governor Stone after a military victory 
 over Catholic forces in the colony of Maryland. 
1655 Christian Huygens discovered Titan. Titan is Saturn's 
 largest satellite. 
1669 Mount Etna in Sicily erupted destroying Nicolosi. 
 20,000 people were killed. 
1807 The first railway passenger service began in England. 
1807 British Parliament abolished the slave trade. 
1813 The frigate USS Essex flew the first U.S. flag in battle 
 in the Pacific. 
1820 Greece freedom revolt against anti Ottoman attack 
1821 Greece gained independence from Turkey. 
1856 A. E. Burnside patented Burnside carbine. 
1857 Frederick Laggenheim took the first photo of a solar eclipse. 
1865 The SS General Lyon at Cape Hatteras caught fire and sank. 
 400 people were killed. 
1895 Italian troops invaded Abyssinia (Ethiopia). 
1901 The Mercedes was introduced by Daimler at the five-day 
 "Week of Nice" in Nice, France. 
1901 It was reported in Washington, DC, that Cubans were 
 beginning to fear annexation. 
1902 Irving W. Colburn patented the sheet glass drawing machine. 
1902 In Russia, 567 students were found guilty of "political 
 disaffection." 95 students were exiled to Siberia. 
1905 Rebel battle flags that were captured during the American 
 Civil War were returned to the South. 
1905 Russia received Japan's terms for peace. 
1907 Nicaraguan troops took Tegucigalpa, the capital of Honduras. 
1909 In Russia, revolutionary Popova was arrested on 
 300 murder charges. 
1911 In New York City, 146 women were killed in fire at the 
 Triangle Shirtwaist Company in New York City. The owners of 
 the company were indicted on manslaughter charges because some 
 of the employees had been behind locked doors in the factory. 
 The owners were later acquitted and in 1914 they were ordered 
 to pay damages to each of the twenty-three families that had sued. 
1913 The Palace Theatre opened in New York City. 
1915 21 people died when a U.S. F-4 submarine sank off the 
 Hawaiian coast. 
1940 The U.S. agreed to give Britain and France access to all 
 American warplanes. 
1941 Yugoslavia joined the Axis powers. 
1941 The first paprika mill was incorporated in Dollon, SC. 
1947 A coalmine explosion in Centralia, IL, killed 111 people. 
1953 The USS Missouri fired on targets at Kojo, North Korea. 
1954 RCA manufactured its first color TV set
1957 The European Economic Community was established with the 
 signing of the Treaty of Rome. 
1960 A guided missile was launched from a nuclear powered 
 submarine for the first time. 
1970 The Concorde made its first supersonic flight. 
1975 King Faisal of Saudi Arabia was shot to death by a nephew. 
 The nephew, with a history of mental illness, was beheaded 
 the following June. 
1982 Wayne Gretzky became the first player in the NHL to score 
 200 points in a season. 
1983 The U.S. Congress passed legislation to rescue the U.S. 
 social security system from bankruptcy. 
1986 U.S. President Ronald Reagan ordered emergency aid for the 
 Honduran army. U.S. helicopters took Honduran troops to the 
 Nicaraguan border.
1990 Estonia voted for independence from the Soviet Union. 
1991 Iraqi President Saddam Hussein launched a major counter-
 offensive to recapture key towns from Kurds in northern Iraq. 
1992 Soviet cosmonaut Sergei Krikalev returned to Earth after 
 spending 10 months aboard the orbiting Mir space station. 
1993 President de Klerk admitted that South Africa had built 
 six nuclear bombs, but said that they had since been dismantled. 
1994 United States troops completed their withdrawal from Somalia. 
1995 Boxer Mike Tyson was released from jail after serving 3 years. 
1996 An 81-day standoff by the antigovernment Freemen began at a 
 ranch near Jordan, MT. 
1998 A cancer patient was the first known to die under Oregon's 
 doctor-assisted suicide law. 
1998 The FCC nets $578.6 million at auction for licenses for new 
 wireless technology. 
1998 Quinn Pletcher was found guilty on charges of extortion. 
 He had threatened to kill Bill Gates unless he was paid $5
 million. 
2004 The U.S. Senate voted (61-38) on the Unborn Victims of Violence Act
2016  smiled.
[ view entry ]
( 5 views ) |
permalink
|
print article
|
( 3 / 895 )
---
<<First
<Back
| 34 | 35 | 36 | 37 | 38 | 39 | 40 | 41 | 42 | 43 |
Next>
Last>>