Good Morning, ,

Today is Tuesday, May 24

Have FUN!
DearWebby


With THIS LINK you get 50% off!
Check out the 4 top versions at http://webby.com/mac There is one that even protects your phones, not just computers and tablets!
If you can help with the cost of the Humor Letter, please donate what you can!
Today's Bonehead Award goes to Two Tennessee ministers nabbed in child-prostitution sting Details at Boneheads ______________________________________________________ Today, May 24, in 1543 Nicolaus Copernicus published proof of a sun-centered solar system. That did not go over well. More of what happened on this day in history. ______________________________________________________ Opportunity is missed by most people because it is dressed in overalls and looks like work. --- Thomas A. Edison (1847 - 1931) Millions long for immortality who do not know what to do with themselves on a rainy Sunday afternoon. --- Susan Ertz The only thing that saves us from the bureaucracy is inefficiency. An efficient bureaucracy is the greatest threat to liberty. --- Eugene McCarthy _____________________________________________________ If you like the Humor Letter, please vote!
______________________________________________________ A Scotsman was visiting a friend in the mountains of Canada. The first morning in the cabin, he awoke and stood by the window admiring the scenery. Suddenly, he noticed a huge animal walk by. "Och, whut's thaaat?" he said. His Canadian friend looked out and said, "Oh, that's a moose." "Och! If thaaat's a moose, hoo big are your cats aroond here?"
With THIS LINK you get 50% off!
Check out the 4 top versions at http://webby.com/mac There is one that even protects your phones, not just computers and tablets!

"What's the use of having a train schedule if the trains are always late?" complained an irate passenger to the railroad engineer. "How would we know the trains were late, if we didn't have a schedule?" replied the engineer. ______________________________________________________ From the Olden Days when we had floppy drives: Customer: "You've got to fix my computer. I urgently need to print a document, but the computer won't boot properly, and the secretary has gone home already." Tech Support: "What does it say?" Customer: "Something about an error and non-system disk." Tech Support: "Look at your machine. Is there a floppy inside?" Customer: "No, but there's a sticker saying there's an Intel inside." Tech Support: "hmmmm, Have a look at the front of the computer. Does it have an ATM slot like at a bank machine? If there is a button sticking out there, then you are behind in your ID ten T tax. Are you familiar with that?" Customer: "Yes, of course. I know all about that. We have a 10 T network here." Tech Support: "Excellent. Normally you would pay the ID-10-T tax on-line, but since you can't get on-line, I'll have to take your VISA over the phone. We'll just charge it $10 for now, and tomorrow your secretary can bring it up to date. What is your VISA number?" .....VISA info... OK, Sir, now look for that ATM button again, and push it in really hard." Customer: "Something black popped out!" Tech Support: "Excellent ! You are doing great, Sir! Now go back to the keyboard and hold down these 3 keys together: CTRL ALT DEL, just for a second or so." Customer: "Its's starting properly now! " Tech Support: "Excellent! Leave a note for the secretary to re-imburse you for the ID-10-T tax payment you made." Customer: "Thanks, I'll do that." ----------- If somebody leaves you a note to reimburse him or her for the IDIOT TAX that they paid, now you know what that is all about. ______________________________________________________
Johnston Canyon, Banff ______________________________________________________

If you like the Dear Webby Daily Humor Letter, please vote for it at the

Ezine Finder:
Thanks for your votes!

______________________________________________________
An INTERNATIONAL BONEHEAD AWARD has been earned by
Two Tennessee ministers nabbed in child-prostitution sting Jason Kennedy, 46, Knoxville Tennessee Zubin Parakh, 32 Clinton, Tennessee Two Knoxville-area ministers face felony charges for seeking sex with underage girls as part of an undercover sting operation targeting human trafficking and prostitution this week. Jason Kennedy, 46, of Knoxville was charged Thursday with felony human trafficking and patronizing prostitution and trafficking after he and Zubin Parakh answered online advertisements specifically offering sex with an underage girl, said Mark Gwyn, director of the Tennessee Bureau of Investigation. Kennedy was a children's minister at Grace Baptist Church in the Knoxville suburb of Karns, Tenn., until his arrest; his name had been scrubbed as of Friday from the church's website, Twitter and Facebook feeds. Also charged with felony trafficking is Parakh, 32, of Clinton, who served as creative pastor with LifeHouse Church in Oak Ridge, according to a cached version of the church's website. By Friday afternoon, references to Parakh also had been taken off his church's site. Kennedy has been fired from his job at Grace Baptist, according to a statement the church released Friday afternoon. "The actions of the children's pastor for which he has been arrested were part of his life outside the church, and we have received no questions or concerns related to his conduct within the church or its ministries," church officials said. A background check, done before Kennedy was hired 2˝ years ago, and the minister himself indicated no problems. Kennedy was one of two charged with felony trafficking because he specifically sought out an underage girl, authorities said. The trafficking charge is normally a Class B felony, which could mean eight to 30 years in prison and a fine of up to $25,000; however, authorities said they will enhance it to a Class A felony, which could mean 15 to 60 years in prison and a fine of up to $50,000, because their sting operation took place within 1,000 feet of a church. Another church is next door to the Best Western motel where Knoxville police officers conducted the three-day sting, the fifth operation of its kind in Tennessee to serve as a crackdown on human trafficking. Kennedy remained in Knox County jail Friday in lieu of $50,500 bond. He is accused of responding via text message to an online ad posted on backpage.com offering sex with two females including one that undercover agents said was "15, going on 16," according to arrest warrants. After arriving at the motel, Kennedy stated that "he wanted to have sex with both the underage juvenile and the other female in the room," placed $100 on the counter, removed his pants and was taken into custody. Kennedy, a married father of three, was responsible for ministry for the church's children from birth through fifth grade, according to a cached page of the church's website from Feb. 13, 2015. Parakh initially was one of 26 men cited for patronizing prostitutes and released, according to spokeswoman Susan Niland of the Tennessee Bureau of Investigation. But authorities since secured a warrant for his arrest on a felony trafficking charge although he had not yet been re- arrested Friday afternoon. "We wanted to make sure there is no safe place to hide for criminals who would victimize the most vulnerable among us," Gwyn said. The Southern Baptist Convention lists Grace Baptist Church, celebrating its 100th year this year, as having more than 4,000 members with an average attendance of almost 2,500 people. The affiliation of Baptist churches has resources online to help a church's staff check the backgrounds of potential hires, but any background check will fall short if a person has no previous arrests. Parakh, a Chattanooga native, is a longtime friend of LifeHouse Church's lead pastor, who arrived at the Oak Ridge church in 2010, according to a cache of that church's website. The agents who posted advertisements on backpage.com received more than 300 inquiries, including more than two dozen contacts for the ad involving an underage girl, officials said. ______________________________________________________ Tech Support Pits From: Franklin RE: Got mugged by W10 Dear Webby Last Saturday, after many months of no problems, Microsoft decided to take over her laptop and install win 10. I stopped the install, but now she gets a "warning" her win 7 is bogus and we cannot get a desktop background to stay. when she leaves the desktop to do something she comes back to a blank background and insinuations her copy was not purchased from Microsoft. What can be done as I cannot find our install disk? Thanks for your humor. Dear Franklin It is better to let it finish the mugging and then do an UNinstall. Just make sure you don't do the "Cleanup to save disk space", that it recommends. That dumps the W7 files. I wrote about it on May 19. A date easy to remember, the day before my birthday. I wrote: ================== Dear Esme DON'T clean up to free space after they sleaze in W10! Just do these steps. Open up Settings via the Start menu or the taskbar icon. Click Update & Security and then move to the Recovery section. Under the Go back to Windows 7 or Go back to Windows 8.1 heading, click Get started and you'll be guided through the rest of the process. That's pretty well all you have to do. If you want to read more about it, go to Details are at http://betanews.com/2015/08/17/how-to-u ... indows-10- and-go-back-to-windows-7-or-8-1/ ============ If she did the "Cleanup" and cremated Lazarus, then you can save all important files onto a removable drive or camera chips, and restore to factory default. You may have to call the computer maker's tech support and let them step you through restoring the factory default. That totally formats the machine, including the BIOS, and will make it like the day it was sold to you. That is why you have to copy any and all importart files onto other media. For programs, back up the downloaded setup files. You will have to re-install them after the format. Calling the Taliban at Microsoft is usually a total waste of time. Just follow the instructions above, and if that does not help, restore to factory default. Good Luck! DearWebby _____________________________________________________ A small boy was standing near an escalator in a department store watching the moving handrail. "Is there anything wrong?" asked a saleslady. "Nope," he said, I'm just waiting for my gum to come around again. ______________________________________________________ If you can help with the cost of the Humor Letter, please donate what you can!
______________________________________________________ Daily tip from Thriftyfun.com Recipe: Spiked Persimmon Cake By attosa [203 Posts, 485 Comments]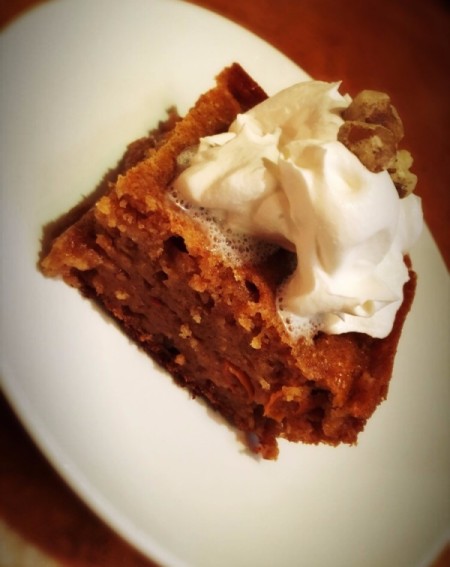 This is one of my favourite cakes to make around the holidays, or any time it's cold. The flavours are so comforting and the added alcohol gives a kick of warmth. Approximate Time: 1 hour Yield: 10 servings Ingredients: 5 super ripe persimmons 1 1/2 cup flour 1 tsp baking powder 1/2 tsp baking soda 1 tsp salt 1/2 tsp ground nutmeg 1 tsp ground cinnamon 1 tsp orange zest 1 cup milk 1 cup sugar 2 eggs 2 Tbsp melted butter 1/4 cup rum or brandy whipped cream, ice cream, nuts for topping (optional) Steps: Preheat oven to 350°F. Pull out the stems of the persimmons. Using a spoon, scoop out the persimmon pulp and add to a bowl (throw out the skins). Mash the pulp with a fork Mix the flour, baking powder, salt, baking soda, nutmeg, cinnamon, and orange zest in a large bowl. Add the persimmon, milk, sugar, and eggs in another bowl and mix until blended. Add the melted butter and alcohol. Stir the flour mixture into the wet mixture little by little, making sure it's very well combined. Pour this mixture into a greased baking dish. Bake for 40-45 minutes. Use a toothpick to poke it, it's ready when it comes out clean. You'll also know its ready when the edges of the cake pull away from the baking dish and your home smells amazing! Expect it to be crispy at the edges, and extremely moist in the middle. Serve with whipped cream or ice cream and sprinkle of nuts. Source: A spin off a cross between my mother's persimmon bread and a recipe for brandy banana bread. ______________________________________________________
Ophelia Dingbatter's News
No sermon and not suitable for church, just jokes and fun for grownups. Read it on line or subscribe. If you subscribe, look for the double opt-in confirmation request.

_____________________________________________________ We were listening to a lecture on psychic phenomena in our Comparative Religions course. Our instructor told us about a woman who contacted police working on a missing-persons case. "She gave eerily detailed instructions on where to find the body," the teacher said. "In fact, the detectives did find the body just as she had described. Now what would you call that kind of person?" While the rest of us pondered the question, a sheriff's officer taking the course raised his hand and replied, "A suspect." ___________________________________________________
| | |
| --- | --- |
| | frog tries to catch fly on smart phone |
____________________________________________________ There were these two guys out hiking when they came upon an old, abandoned mineshaft. Curious about its depth they threw in a pebble and waited for the sound of it striking the bottom, but they heard nothing. They went and got a bigger rock, threw it in and waited. Still nothing. They searched the area for something larger and came upon a railroad tie. With great difficulty, the two men carried it to the opening and threw it in. While waiting for it to hit bottom, a goat suddenly darted between them and leapt into the hole! The guys were still standing there with astonished looks upon their faces from the actions of the goat when a man walked up to them. He asked them if they had seen a goat anywhere in the area and they said that one had just jumped into the mineshaft in front of them! The man replied, "Oh no. That couldn't be MY goat, mine was tied to a railroad tie." ____________________________________________________ One of the world's greatest scientists was also recognized as the original absent-minded professor. One day, on board a train, he was unable to find his ticket. The conductor said, "Take it easy. You'll find it." When the conductor returned, the professor still couldn't find the ticket. The conductor, recognizing the famous scientist, said, "I'm sure you bought a ticket. Forget about it." "You're very kind," the professor said, "but I must find it, otherwise I won't know where to get off. I forgot where I am supposed to be going today!" ____________________________________________________
| | |
| --- | --- |
| | How in the world does he mold stone like this? |

Today on May 24
1543 Nicolaus Copernicus published proof of a sun-centered 
 solar system.
1607 Captain Christopher Newport and 105 followers found 
 the colony of Jamestown at the mouth of the James River 
 on the coast of Virginia.
1624 After years of unprofitable operation Virginia's 
 charter was revoked and it became a royal colony.
1689 The English Parliament passed Act of Toleration, 
 protecting Protestants. Roman Catholics were specifically 
 excluded from exemption.
1764 Bostonian lawyer James Otis denounced "taxation without
 representation" and called for the colonies to unite in 
 demonstrating their opposition to Britain's new tax measures.
1798 Believing that a French invasion of Ireland was 
 imminent, Irish nationalists rose up against the British 
 occupation.
1830 The first passenger railroad service in the U.S. 
 began service.
1844 Samuel F.B. Morse formally opened America's first 
 telegraph line. The first message was sent from 
 Washington, DC, to Baltimore, MD. The message was 
 "What hath God wrought?"
1878 The first American bicycle race was held in Boston.
1883 After 14 years of construction the Brooklyn Bridge 
 was opened to traffic.
1930 Amy Johnson became the first woman to fly from 
 England to Australia.
1941 The HMS Hood was sunk by the German battleship Bismarck 
 in the North Atlantic. Only three people survived.
1954 The first moving sidewalk in a railroad station was 
 opened in Jersey City, NJ.
1976 Britain and France opened trans-Atlantic Concorde 
 service to Washington.
1994 The four men convicted of bombing the New York's 
 World Trade Center were each sentenced to 240 years 
 in prison.
1999 39 miners were killed in an underground gas 
 explosion in the Ukraine.
2000 Five people were killed and two others wounded 
 when two gunmen entered a Wendy's restaurant in Flushing, 
 Queens, New York. The gunmen tied up the victims in the 
 basement and then shot them.
2000 The U.S. House of Representatives approved permanent 
 normal trade relations with China.
2000 A Democratic Party event for Al Gore in Washington 
 brought in $26.5 million. The amount set a new record.
2001 Temba Tsheri, 15, became the youngest person to reach the summit of Mount Everest. 
2016  smiled.



[ view entry ] ( 6 views ) | permalink | print article |
( 3 / 444 )
---
<<First
<Back
| 32 | 33 | 34 | 35 | 36 | 37 | 38 | 39 | 40 | 41 |
Next>
Last>>