Good Morning, ,

Today is Monday, August 1

Have FUN!
DearWebby



Todays Bonehead Award:
Indiana woman stabs hubby because he did 
not bring home donuts
Details at Boneheads
______________________________________________________
Today, August 1, in

1774 - Oxygen was isolated from air successfully by chemist
Carl Wilhelm and scientist Joseph Priestly. 

More of what happened on this day in
history.


If you can help with the cost of the Humor Letter, please donate what you can!
______________________________________________________ Television has raised writing to a new low. --- Samuel Goldwyn (1882 - 1974) "I think the bottom-line difference between being single and married is this: When you're single you're as happy as you are. When you're married, you can only be as happy as the least happy person in the apartment." ---Tom Hertz ______________________________________________________ If you like the Humor Letter, please vote!
______________________________________________________ Bill Clinton, Hillary Clinton and George W. Bush died and found themselves standing on the other side of the Jordan River looking across at the Promised Land. Saint Peter was standing on the other side and shouted over to the three surprised Americans, "Contrary to what you have been taught, each of you will have to wade across the Jordan River." As he saw their perplexed looks, he assured them by saying, "Don't worry. You will sink only proportionally, according to your sins on earth. The more you have sinned, the more you will sink into the water." The three American sages of political lore looked at one another, trying to determine who would be the first brave soul to cross the Jordan River. George W. Bush volunteered to go first. Slowly he began to wade out into the river, and slowly the water began to get higher and higher, reaching to his waist. George began to sweat, thinking of all his sins that were coming back to haunt him. He was beginning to wonder if he would ever see the other side. Finally, after what seemed like an eternity, he began to emerge on the river's other bank. As he ascended to the other side, he looked behind him to see who was next. A shock of surprise registered on his face as he saw Hillary Clinton almost in the middle of the river, and the water was only up to her ankles. He turned to Saint Peter and exclaimed, "I know about Hillary Clinton, and she has sinned much, much more than that!" Before Saint Peter could reply, Hillary Clinton, by now knee deep in the water, was shouting: "Bill is sinking! Bill is sinking!" Bill Clinton was nowhere in sight, so Bush yelled back to Hillary Clinton, who was by now waist deep in the water: "How would you know?" "I'm standing on Bill's shoulders!"
If you can help with the cost of the Humor Letter, please donate what you can!
A man goes to a doctor for a routine physical. The nurse starts with the basics. "How much do you weigh?" she asks. "Oh, 'bout One-sixty-five." he says. The nurse puts him on the scale. It turns out that his weight is 187. The nurse asks, "Your height?" "Oh, 'bout six feet," he says. The nurse checks and sees that he's only 5 feet 8 3/4 inches. She then takes his blood pressure, and it's very high. "High!" The man explains, "Of course it's high. When I came in here, I was tall and lanky. Now, durnit, I'm short and overweight!" ______________________________________________________ Thanks to Gloria for this one: I was in the kitchen one day, trying to reach the baking powder on the top shelf of a cabinet. Being only five feet tall, I had to stretch, but still couldn't grab the box. Fortunately, I have two six-foot-tall sons whom I often call to come to my rescue. "Hey, Brian!" I yelled to my second son, who was in the living room. "Will you get your tallness in here and get this for me?" "Sure, Mom," he remarked as he bounded into the kitchen. "But next time, I'd prefer the title, 'Your Highness'." ______________________________________________________
Alberta from FB ______________________________________________________

If you like the Dear Webby Daily Humor Letter, please vote for it at the

Ezine Finder:
Thanks for your votes!

______________________________________________________
An INTERNATIONAL BONEHEAD AWARD has been earned by
Michelle Nelson, 37, New Albany, Indiana Indiana woman stabs hubby because he did not bring home donuts A woman is in jail after police found her husband bleeding from a stab wound in his chest in New Albany on Friday. When police responded to the 200 block of Graybrook Lane around 11:30 a.m., they found the man sitting against a tree holding a T-shirt against his chest, according to the police report. The T-shirt was soaked in blood. The man told police he had gone to pick up doughnuts for his wife, 37-year-old Michelle Nelson, New Albany, but the store didn't have the type of doughnut she normally gets. When he returned home without doughnuts, Nelson reportedly "got upset at him for not know[ing] what else she liked after being together for several years." The man told police the argument escalated and he tried to leave the home. Nelson allegedly blocked the door and the man pushed her out of the way. That's when Nelson reportedly lunged at her husband while holding a grill fork. The fork punctured the man's chest. The man told police he pulled the fork out of his chest and left the home. Nelson allegedly followed him out the door and continued yelling at him. A neighbor later told police they hear arguing and saw Nelson chasing her husband down the street. The neighbor said blood was running down the man's chest. The neighbor also noted that the couple had been fighting about every day recently. The man was taken to Floyd Memorial Hospital and treated for non-life threatening injuries, according to the report. Police told the man that he may face a battery charge and that the couple's child was taken into custody by the Indiana Department of Child Services. Nelson is preliminarily charged with aggravated battery. She was booked into the Floyd County jail on a $75,000 cash- surety bond. ______________________________________________________ Tech Support Pits From: Betty RE: Protect Address Book Dear Webby, You seem to know more about computors than anyone that I know and I don't like sending chain letters but will this really work? ------------------------------------------- Here is a copy of an email message I received from a friend. It might help you protect your Address Book. HOW TO PROTECT YOUR ADDRESS BOOK! I learned a computer trick today that's really ingenious in its simplicity. As you may know, when/if a worm virus gets into your computer it heads straight for your email address book blah, blah, blah... In the window where you would type your friend's first name, type in "A". For the screen name or email address, type "AAAAAAA@AAA.AAA". Blah, blah, blah.... If everybody you know does this then you need not ever worry about opening mail from friends. Pass this on to all your friends. Do you Yahoo!? ---------------------------------- Betty B Dear Betty Silly stuff like that is a complete waste of time. How would the mail program know that ".AAA" is not one of those wacky new hillbilly domains that the spammers are advertising, like ".new", ".inf", ".kid", ".prn", ".boz", etc.? There is NO substitute for a proper anti-virus program. Whenever you read "Pass this on to all your friends.", then you KNOW it is just some prankster testing your gullibility, and harvesting addresses. After all, if you fall for THAT hoax, then there is no limit to what kind of silly stuff can be sold to you. Have FUN! DearWebby _____________________________________________________
___________________________________________________ An expert on whales was telling friends about some of the unusual findings he had made. "For instance," he said, "some whales can communicate at a distance of 300 miles." "What on earth would one whale say to another 300 miles away?" asked a sarcastic member of the group. "I'm not absolutely sure," answered the expert, "but it sounds something like 'Heeeeeeey! Can you hear meeeeee?'." ______________________________________________________ If you can help with the cost of the Humor Letter, please donate what you can!
______________________________________________________ Daily tip from Thriftyfun.com Clean Stainless Steel with Magic Eraser By Judy Pariser S. [131 Posts, 126 Comments] I got this terrific stainless steel whistling tea kettle at the church thrift shop yesterday for $2 (half price sale.) It was full of grease and dirt. The black handle had some white residue on it. I figured for $2 I could take a chance and see how the steel part cleaned up with a soap-filled pad. I assumed the handle would always be stained, but I could live with it. The lady working there told me to use a Magic Eraser instead of steel wool to clean it. I use the knock-offs from the dollar store. Within 2 minutes the entire kettle, including the bottom and handle, looked like new, and I only used half of one pad. I wish I had taken before pictures, but you can see the beautiful after results.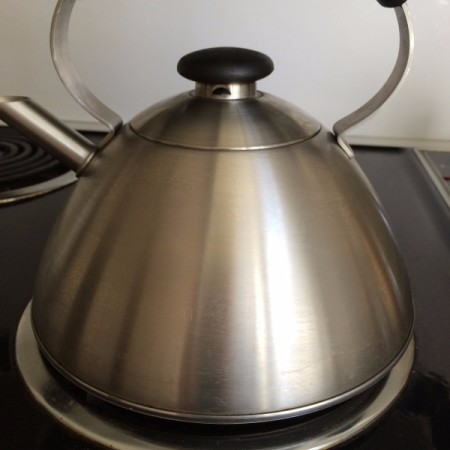 ______________________________________________________
Ophelia Dingbatter's News
No sermon and not suitable for church, just jokes and fun for grownups. Read it on line or subscribe. If you subscribe, look for the double opt-in confirmation request.

_____________________________________________________ A minister, a priest and a rabbi were discussing when life begins. "Those of my faith," said the minister, "believe that life starts when the heart begins to beat." "We take a different view," said the priest. "We believe life starts at the moment of conception." "Well," said the rabbi, "it is our belief that life starts when the kids move out." ___________________________________________________
| | |
| --- | --- |
| | A genius says good bye |
____________________________________________________ A golfer is in a competitive match with a friend, who is ahead by a couple of strokes. The golfer says to himself: "I'd give anything to sink this next putt." A stranger walks up to him and whispers: "Would you give up a fourth of your sex life?" The golfer thinks the man is crazy and that his answer will be meaningless but also that perhaps this is a good omen and will put him in the right frame of mind to make the difficult putt and says, "OK." He sinks the putt. Two holes later he mumbles to himself: "Boy, if I could only get an eagle on this hole." The same stranger moves to his side and says, "Would it be worth another fourth of your sex life?" The golfer shrugs and says, "Sure." He makes an eagle. Down to the final hole. The golfer needs yet another eagle to win. Though he says nothing, the stranger moves to his side and says, "Would you be willing to give up the rest of your sex life to win this match?" The golfer says, "Certainly." He makes the eagle. As the golfer walks to the club house, the stranger walks alongside and says, "You know, I've really not been fair with you because you don't know who I am. I'm the devil, and from now on you will have no sex life." "Nice to meet you," says the golfer. "My name's Father O'Malley, and my balls are buried in Vietnam." ____________________________________________________ Bob bought a dog the other day, a really smart one! However, Bob's not really that bright. He named him "Stay". At first he had fun to calling him... "Come here, Stay! Come here, Stay!" Now the dog just ignores me and keeps typing. ____________________________________________________
| | |
| --- | --- |
| | Unlikely animal friendships. |

Today on August 1
1498 - Christopher Columbus landed on "Isla Santa"
(Venezuela). 

1774 - Oxygen was isolated from air successfully by chemist
Carl Wilhelm and scientist Joseph Priestly. 

1834 - Slavery was outlawed in the British empire with an
emancipation bill. 

1873 - Andrew S. Hallidie successfully tested a cable rail
car. The design was done for San Francisco, CA. 

1893 - Shredded wheat was patented by Henry Perky and
William Ford. 

1894 - The first Sino-Japanese War erupted. The dispute was
over control of Korea. 

1907 - The U.S. Army established an aeronautical division
that later became the U.S. Air Force. 

1914 - Germany declared war on Russia at the beginning of
World War I. 

1936 - Adolf Hitler presided over the Olympic games as they
opened in Berlin. 

1943 - In the Solomon Islands, the U.S. Navy patrol torpedo
boat PT-109 sank after being hit by the Japanese destroyer
Amagiri. The boat was under the command of Lt. John F.
Kennedy. Eleven of the thirteen crew survived. 

1944 - In Warsaw, Poland, an uprising against Nazi
occupation began. The revolt continued until October 2 when
insurgent forces surrendered. 

1946 - In the U.S., the Atomic Energy Commission was
established. 

1953 - The first aluminum-faced building was completed. It
was the first of this type in America. 

1957 - The North American Air Defense Command (NORAD) was
created by the United States and Canada. 

1973 - The movie "American Graffiti" opened. 

1975 - The Helsinki accords pledged the signatory nations to
respect human rights. 

1995 - Westinghouse Electric Corporation announced a deal to
buy CBS for $5.4 billion. 

2006 - Cuban leader Fidel Castro turned over absolute power
when he gave his brother Raul authority while he underwent
an intestinal surgery.

2016  smiled.



[ view entry ] ( 10 views ) | permalink | print article |
( 3 / 596 )
---
<<First
<Back
| 30 | 31 | 32 | 33 | 34 | 35 | 36 | 37 | 38 | 39 |
Next>
Last>>