Good Morning, ,

Today is Thursday, Sept 22

Have FUN!
DearWebby

Todays Bonehead Award:
Suspect's Distinctive Adams Apple Helps Lead To 
Grand Theft Arrest
Details at Boneheads
______________________________________________________
Today, September 22, in 
1792 The French Republic was proclaimed. 

See More of what happened on this day in history.


| | |
| --- | --- |
| If you can help with the cost of the Humor Letter, please donate what you can! | |
______________________________________________________ It's a small world, but I wouldn't want to paint it. --- Steven Wright (1955 - ) "The squeaky wheel doesn't always get greased; sometimes it gets replaced." --- John Peers ______________________________________________________ If you like the Humor Letter, please vote!
______________________________________________________ Standing at the edge of the lake, a fisherman saw a woman flailing about in the deep water. Another man was standing on the shore screaming for help. The fisherman ran over to the man. "Help!" the other man started, "I can't swim! My wife's drowning! I'll give you $1000 if you save her!" The fisherman jumps in the water, swims powerfully out to the drowning woman, puts his arm around her, and swims back to shore. Depositing her at the feet of the man, the fisherman coughs up water, then says, "[cough] ok, bud, where's my 'grand'?" "But, this is my *mother-in-law*!" The fisherman reaches into his pocket with a frown and says, "Just my luck. Ok, how much do I owe you?" ______________________________________________________ A farmer named Muldoon lived alone in the countryside with a pet dog which he loved and doted on. After many long years of companionship, the dog finally died so Muldoon went to the parish priest:"Father, my dear old dog is dead. Could you be saying a mass for the creature?" Father Patrick replied, "I am so very sorry to hear about your dog's death. But, unfortunately we cannot have services for an animal in the church. However, there's a new denomination down the road, no telling what they believe, but maybe they'll do something for the animal." As he was leaving, Muldoon said, "I'll go right now. Do you think $500 is enough to donate for the service?" Father Patrick: "STOP! Stop! Stop! Why didn't you tell me the dog was Catholic?!" ______________________________________________________
>From FB ______________________________________________________

If you like the Dear Webby Daily Humor Letter, please vote for it at the

Ezine Finder:
Thanks for your votes!

______________________________________________________
An INTERNATIONAL BONEHEAD AWARD has been earned by
Landon Hall, 26, St Petersburg, Florida Suspect's Distinctive Adams Apple Helps Lead To Grand Theft Arrest An accused thief's distinctive "man bun" helped lead to his apprehension in connection with the swiping of video surveillance cameras from a Florida business, according to a court filing. Police charge that Landon Hall, 26, last week stole four video cameras from the Villa Laundromat in St. Petersburg. Hall allegedly removed the cameras from their mounts while concealing his face with a "yellow colored pocket square" and a shirt. Hall's efforts to hide his face were not successful, according to a sheriff's deputy who noted that, "The defendant also had a very distinct 'man bun.'" Seen above, Hall was identified by a cop with whom the suspect had multiple prior contacts. Hall was collared Sunday afternoon for grand theft. He is locked up in lieu of $2000 bond on the felony charge. Hall's lengthy rap sheet includes busts for trespassing; retail theft; narcotics possession; robbery; loitering; credit card fraud; burglary; and possession of drug paraphernalia. Prior mug shots indicate that Hall's "man bun" is a recent tonsorial touch. ______________________________________________________ Tech Support Pits From: Farah RE: Gifts that are not mushy Dear Webby, Do you have any tips for gifts that are not mushy? Farah Dear Farah Sure. Here are some that will be appreciated for a long time: A USB hub to cut down on the under the desk crawling, head bashing and cussing: $2 - $20 Compact Flash Memory chips for cameras and floppy replacement, depending on size: $2.95 - $250 A Compact Flash Memory reader for people who haven't got one yet: $4.95 - $20 A wrist rest: $5 - $500 By the way, you can easily make a VERY nice wrist rest yourself. Get a really soft, old leather jacket from a second hand store. As long as one sleeve is still OK, it makes no difference how bad the rest is. Cut the best keyboard +2" length section from the best sleeve. Turn it inside out and sew one end closed. Trim the other end so that you have a flap that you can tuck in. You may have to do a bit of sewing there to finish the lining and the cut. Turn it right side out again. Take an old towel and fold it so that it will slide into the sleeve and pad it up to about 2 inches. Slide the towel in with a ruler and cut it to length. Tuck in the flap and it's done. Makes a very snazzy looking and very comfortable executive wrist rest. Have FUN! DearWebby
One night, a lady stumbled into the police station with a black eye. She claimed she heard a noise in her back yard and went to investigate. The next thing she knew, she was hit in the eye and knocked out cold. An officer was sent to her house to investigate, and he returned 1-1/2 hours later with a black eye. "Did you get hit by the same person?" his captain asked. "No," he replied. "I stepped on the same rake."
| | |
| --- | --- |
| If you can help with the cost of the Humor Letter, please donate what you can! | |
Daily tip from Thriftyfun.com Repot Herbs to Bring Inside By Donna [351 Posts, 366 Comments] I always pot some of my herbs to bring in during the cold weather, then you have fresh herbs all year long! Here's a photo of this year's herbs to come in soon!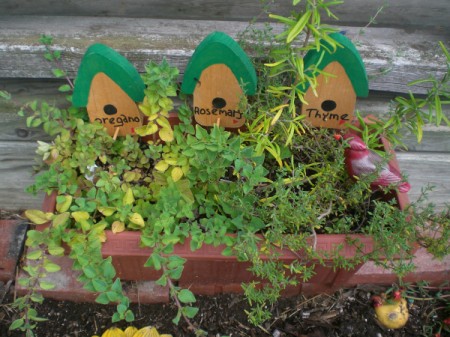 Ophelia Dingbatter's News
No sermon and not suitable for church, just jokes and fun for grownups. Read it on line or subscribe. If you subscribe, look for the double opt-in confirmation request.

A hospital posted a notice in the nurses' mess saying: "Remember, the first five minutes of a human being's life are the most dangerous." Underneath, a nurse had written: "The last five are pretty risky, too."
| | |
| --- | --- |
| | Animals and mirrors |
____________________________________________________ A woman was having a medical problem - her husband snoring. So she called the doctor one morning, and asked him if there was anything he could do to relieve her "suffering." "Well, there is one operation I can perform that will cure your husband, but it is really rather expensive. It will cost $1000 down, and payments of $450 for 24 months, plus payments for extras." "My goodness!" the woman exclaimed, "sounds like leasing a new sports car!" "Humm," the doctor murmured, "too obvious, huh?" ____________________________________________________ Here is an old classic that just came back: The new preacher, at this first service, had a pitcher of water and a glass on the pulpit. As he preached,he drank until the pitcher of water was completely gone. After the service, someone asked an old woman of the church, "How did you like the new pastor?" "Fine," she said, "but he's first windmill I ever saw that ran on water." ____________________________________________________
| | |
| --- | --- |
| | Brilliant realistic wall murals. |
____________________________________________________

Today on September 22 in
1792 The French Republic was proclaimed. 

1862 U.S. President Lincoln issued the preliminary
Emancipation Proclamation. It stated that all slaves held
within rebel states would be free as of January 1, 1863. 

1903 Italo Marchiony was granted a patent for the ice cream
cone. 

1914 Three British cruisers were sunk by one German submarine
in the North Sea. 1,400 British sailors were killed. This
event alerted the British to the effectiveness of the
submarine. 

1927 In Chicago, IL, Gene Tunney successfully defended his
heavyweight boxing title against Jack Dempsey in the famous
"long-count" fight. 

1949 The Soviet Union exploded its first atomic bomb
successfully. 

1955 Commercial television began in Great Britain. The rules
said that only six minutes of ads were allowed each hour and
there was no Sunday morning TV permitted. 

1966 The U.S. lunar probe Surveyor 2 crashed into the moon. 

1980 A border conflict between Iran and Iraq developed into a
full-scale war. 

1986 U.S. President Ronald Reagan addressed the U.N. General
Assembly and voiced a new hope for arms control. He also
criticized the Soviet Union for arresting U.S. journalist
Nicholas Daniloff. 

1988 Canada's government apologized for the internment of
Japanese-Canadian's during World War II. They also promised
compensation. 

1990 Saudi Arabia expelled most of the Yememin and Jordanian
envoys in Riyadh. The Saudi accusations were unspecific. 

1992 The U.N. General Assembly expelled Yugoslavia for its
role in the war between Bosnia and Herzegovina. 

1994 The U.S. upgraded its military control in Haiti. 

1998 The U.S. and Russia signed two agreements. One was to
privatize Russia's nuclear program and the other was to stop
plutonium stockpiles and nuclear scientists from leaving the
country. 

1998 U.S. President Clinton addressed the United Nations and
told world leaders to "end all nuclear tests for all time".
He then sent the long-delayed global test-ban treaty to the
U.S. Senate. 

2016  smiled.



[ view entry ] ( 3 views ) | permalink | print article |
( 3 / 540 )
---
<<First
<Back
| 28 | 29 | 30 | 31 | 32 | 33 | 34 | 35 | 36 | 37 |
Next>
Last>>