Good Morning, ,

Today is Friday, Sept 23
Time to wear a bit of red to show your support for the troops!


Have FUN!
DearWebby

Todays Bonehead Award:
Indiana woman offered meth for sale in wrong-number 
text to police officer
Details at Boneheads
______________________________________________________
Today, September 23, in 
1780 John Andre, a British spy, was captured with papers
revealing that Benedict Arnold was going to surrender West
Point, NY, to the British. 

See More of what happened on this day in history.


| | |
| --- | --- |
| If you can help with the cost of the Humor Letter, please donate what you can! | |
______________________________________________________ Life is a moderately good play with a badly written third act. --- Truman Capote (1924 - 1984) ______________________________________________________ If you like the Humor Letter, please vote!
______________________________________________________ A lady lost her handbag in the bustle of shopping. It was found by an honest little boy and returned to her. Looking in her purse, she commented, "Hmmm.... That's funny. When I lost my bag there was a $20 bill in it. Now there are twenty $1 bills." The boy quickly replied, "That's right, lady. The last time I found a lady's purse, she didn't have any change for a reward." ______________________________________________________ 2017 Launch Flash Sale MTP $29.99
______________________________________________________ After putting her children to bed, a mother changed into old slacks and a droopy blouse, put the green mud-pack on her face, the teeth-whitening cartridge in her mouth and proceeded to wash her hair and stick curlers into it. As she heard the children getting more and more rambunctious, her patience grew thin. At last she threw a towel over her head and stormed into their room, putting them back to bed with stern warnings. As she left the room, she heard her three-year-old say with a trembling voice, "Who was that monfter ?" ______________________________________________________ Thanks to Lillemor for this picture from Sweden
______________________________________________________

If you like the Dear Webby Daily Humor Letter, please vote for it at the

Ezine Finder:
Thanks for your votes!

______________________________________________________
An INTERNATIONAL BONEHEAD AWARD has been earned by
Shelby Eicks, 20, Indianapolis, Indiana Indiana woman offered meth for sale in wrong-number text to police officer Authorities in Indiana said they arrested a woman accused of sending a police officer a wrong-number text offering meth for sale. The Johnson County Sheriff's Office said Shelby Eicks, 20, allegedly sent a text message offering to sell and deliver meth to a number belonging to a New Whiteland Police Department officer. Undercover detectives exchanged messages with Eicks and she allegedly sold them half an ounce of methamphetamine for $575 at a fast food restaurant Sept. 10. The detectives scheduled a second meeting with Eicks for Sept. 15, and she arrived at the location with an offer to sell 17 prescription pain pills to the investigators for $135. Eicks was arrested on charges of dealing methamphetamine and dealing a controlled substance. ______________________________________________________ Tech Support Pits From: Helen RE: netsvcs using too much CPU Dear Webby, I just noticed this week that 50% of my cpu is constantly being used by Microsoft netsvcs. I looked online but the answers I saw were very confusing. Is there a way to fix this? Thank you, Helen Fist scan your machine with Malwarebystes That should stop further damage. Then go to Appuals and tediously repair the damage, that has been done already. That involves downloading a few files from Microsoft, and deleting some junk files. It's not difficult and not rocket science, just a bit tedious. After that, svchost (netservices) should be way down the list and not even show on the first page. Your machine will run much faster and you won't have to reboot it every day . Have FUN! DearWebby
The newlyweds had decided to take Amtrak's "Car Train" to Florida, so they would have the mobility of being able to use their own vehicle on the honeymoon. They settled into one of the train's upper berths together and cuddled. As the night progressed, the new bride was heard to say quite excitedly a number of times, "I just can't believe that we're finally married, Dewayne." After about the 3rd time in five minutes, a voice came out of the dark below them: "Dammit, Dewayne! Will you please CONVINCE her, so we can all get some sleep?"
| | |
| --- | --- |
| If you can help with the cost of the Humor Letter, please donate what you can! | |
Daily tip from Thriftyfun.com Peanut Butter Banana Puffed Rice Squares By attosa [244 Posts, 548 Comments] This is a little twist on a Krispie Treat. Using puffed rice, bananas and peanut butter give it a lovely velvety texture. You can substitute crisped rice for the puffed rice, if you like. This recipe also doubles perfectly, just use a bigger pan or dish. Prep Time: 2 Cook Time: 2 Total Time: 20 Ingredients: 3 cups puffed rice 1 Tbsp butter 6 oz marshmallows 1/2 banana 1/3 cup peanut butter 1/3 cup chocolate chips Steps: Lightly grease an 8 x 6 inch baking dish and set aside. In a microwavable bowl, heat up butter and peanut butter in 30 second increments until butter has melted. Mash the half banana. Add it to your peanut butter mixture. Mix well. Add the marshmallows to the bowl and return to the microwave. Heat at 30 second increments until melted. Peanut Butter Banana Puffed Rice Squares Add puffed rice. Stir well until completely coated by marshmallow peanut butter mixture. Pour into your greased dish and press in tightly. Put chocolate chips in a microwave safe bowl and heat at 30 second increments until melted. Pour on top of the pressed rice mixture.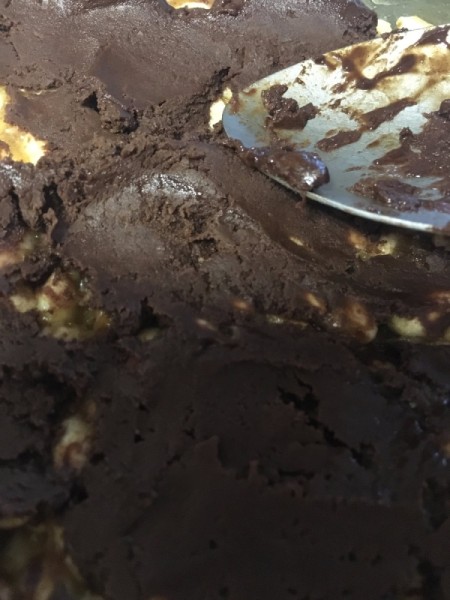 Place in the freezer for about 10 to 15 minutes to set. To avoid the dreaded dry and mealy look of the chocolate, don't overheat and wait for it to LOOK melted. Add a bit of butter to the chips and stir vigorously after 45 seconds. That way it will produce a strong, smooth and shiny cover. Have FUN! DearWebby
Ophelia Dingbatter's News
No sermon and not suitable for church, just jokes and fun for grownups. Read it on line or subscribe. If you subscribe, look for the double opt-in confirmation request.

Little Johnny came home from school one day and said, "Mom, the teacher asked me today if I had any brothers or sisters." "And what did she say when you told her you were an only child?" his mom asked. And Little Johnny said, "Well, she just let out a deep breath and said, 'Thank goodness'."
| | |
| --- | --- |
| | National Anthem by Madison Rising |
____________________________________________________ An analyst was listening to a voluptuous beauty with a problem of her own. "It's liquor, doctor," she sobbed. "I'm really a very nice girl, but just as soon as I've had a drink or two, I become uncontrollably passionate and I want to make love to whomever I happen to be with." "I see," the analyst said thoughtfully. "Well, suppose I just mix us up a couple of cocktails here and then you and I can sit down, nice and relaxed, and discuss this compulsive neurosis of yours." ____________________________________________________ Angus has been at a pub all night drinking. The bartender finally says that the bar is closed. So he stands up to leave and falls flat on his face. He figures he'll crawl outside and get some fresh air and maybe that will sober him up. Once outside he stands up and falls flat on his face. So he crawls home and at the door stands up and falls flat on his face again. He crawls through the door and up the stairs. When he reaches the bed, he tries one more time to stand up. This time he falls right into bed and is sound asleep. He awakens the next morning to his wife standing over him shouting at him. 'So, you've been out drinking again!!' 'How did you know?' he asks. 'The pub called, you left your wheelchair there again.' ____________________________________________________
| | |
| --- | --- |
| | This creature looks like a poor dog that starved to death to me. What do you think? |
____________________________________________________

Today on September 23 in

1642	The first commencement at Harvard College, in Cambridge,
MA, was held. 

1779 John Paul Jones, commander of the American warship Bon
Homme, was quoted as saying "I have not yet begun to fight!" 

1780 John Andre, a British spy, was captured with papers
revealing that Benedict Arnold was going to surrender West
Point, NY, to the British. 

1806 The Corps of Discovery, the Lewis and Clark expedition,
reached St. Louis, MO, and ended the trip to the Pacific
Northwest. 

1845 The Knickerbocker Base Ball Club of New York was formed
by Alexander Joy Cartwright. It was the first baseball team
in America. 

1846 Astronomer Johann Gottfried Galle discovered the planet
Neptune. 

1930 Flashbulbs were patented by Johannes Ostermeier. 

1951 The first transcontinental telecast was received on the
west coast. The show "Crusade for Freedom" was broadcast by
CBS-TV from New York. 

1952 The first Pay Television sporting event took place. The
Marciano-Walcott fight was seen in 49 theaters in 31 cities. 

1952 Richard Nixon gave his "Checkers Speech". At the time he
was a candidate for U.S. vice-president. 

1957 Nine black students withdrew from Little Rock Central
High School in Arkansas due to the white mob outside. 

1964 The new ceiling painting of the Paris Opera house was
unveiled. The work was done by Russian-born artist Marc
Chagall. 

1973 Overthrown Argentine president Juan Peron was returned
to power. He had been overthrown in 1955. His wife, Eva
Duarte, was the subject of the musical "Evita." 

1981 The Reagan administration announced its plans for what
became known as Radio Marti. 

1986 Japanese newspapers quoted Prime Minister Yasuhiro
Nakasone as saying that minorities lowered the "intelligence
level" of America. 

1990 Iraq publicly threatened to destroy Middle East oil
fields and to attack Israel if any nation tried to force it
from Kuwait. 

1991 U.N. weapons inspectors find documents detailing Iraq's
secret nuclear weapons program. The find in Baghdad triggered
a standoff with authorities in Iraq. 

1993 The Israeli parliament ratified the Israel-PLO accord. 

1993 Blacks were allowed a role in the South African
government after a parliamentary vote. 

1999 A 17-month-old girl fell 230 feet from the Capilano
Suspension Bridge in North Vancouver, British Columbia. The
girl had bruises but no broken limbs from the fall onto a
rocky ledge. 

2016  smiled.



[ view entry ] ( 8 views ) | permalink | print article |
( 3.1 / 668 )
---
<<First
<Back
| 28 | 29 | 30 | 31 | 32 | 33 | 34 | 35 | 36 | 37 |
Next>
Last>>