Good Morning, ,

Today is Saturday, Sept 24

Have FUN!
DearWebby

Todays Bonehead Award:
NC woman posts selfie and fatally rams garbage truck.
Post and BOOM.
Details at Boneheads
______________________________________________________
Today, September 24, in 
1869 Thousands of businessmen were financially ruined after a
panic on Wall Street. The panic was caused by an attempt to
corner the gold market by Jay Gould and James Fisk. 

See More of what happened on this day in history.


| | |
| --- | --- |
| If you can help with the cost of the Humor Letter, please donate what you can! | |
______________________________________________________ Talk sense to a fool and he calls you foolish. --- Euripides (484 BC - 406 BC) The easiest way for your children to learn about money is for you not to have any. --- Katharine Whitehorn The most wasted of all days is one without laughter. --- e e cummings (1894 - 1962) ______________________________________________________ If you like the Humor Letter, please vote!
______________________________________________________ By the time Ted arrived at the football game, the first quarter was almost over. "Why are you so late?" his friend asked. "I had to toss a coin to decide between going to church and coming to the game." "How long could that have taken you?" "Well, I had to toss the stupid coin about 150 times." ______________________________________________________ 2017 Launch Flash Sale MTP $29.99
______________________________________________________ During a county-wide drive to round up all unlicensed dogs, a patrolman signalled a car to pull over to the curb. When the driver asked why he had been stopped, the officer pointed to the big dog sitting on the seat beside him. "Does your dog have a license?" he asked. "Oh, no," the man said, "He doesn't need one. He doesn't drive on the highway." ______________________________________________________
Frost in the morning ______________________________________________________

If you like the Dear Webby Daily Humor Letter, please vote for it at the

Ezine Finder:
Thanks for your votes!

______________________________________________________
An INTERNATIONAL BONEHEAD AWARD and a Darwin Award has been earned by
Courtney Ann Sanford, 32, High Point, North Carolina NC woman posts selfie and fatally rams a garbage truck head on. Click - BOOM Courtney Ann Sanford, a 32-year-old from North Carolina, was so excited when Pharrell William's massive hit "Happy" came on the radio that she took a selfie and posted it to Facebook while driving. A moment later she rammed a garbage truck, head-on.
Courtney was killed instantly. With her two college degrees and a promising healthcare career, she would have dedicated her life to caring for others. Instead, she will be remembered as a dead bonehead. The post that read "The happy song makes me HAPPY" was still visible on the phone's screen when the police found it in the wreckage. ______________________________________________________ Tech Support Pits From: Helen RE: netsvcs using too much CPU Dear Webby, I just noticed this week that 50% of my cpu is constantly being used by Microsoft netsvcs. I looked online but the answers I saw were very confusing. Is there a way to fix this? Thank you, Helen Fist scan your machine with Malwarebystes That should stop further damage. Then go to Appuals and tediously repair the damage, that has been done already. That involves downloading a few files from Microsoft, and deleting some junk files. It's not difficult and not rocket science, just a bit tedious. After that, svchost (netservices) should be way down the list and not even show on the first page. Your machine will run much faster and you won't have to reboot it every day . Have FUN! DearWebby
A DC-10 had an exceedingly long rollout after landing with his approach speed a little high. San Jose Tower: "American 751 heavy, turn right at the end of the runway, if able. If not able, take the Guadalupe exit off Highway 101 and make a right at the light to return to the airport."
| | |
| --- | --- |
| If you can help with the cost of the Humor Letter, please donate what you can! | |
Daily tip from Thriftyfun.com Chinese Shrimp and Vegetables By Jackie H. [183 Posts, 62 Comments] Chinese Shrimp and Vegetables By Jackie H. [183 Posts, 62 Comments] This is a great delicious healthy dish filled with aroma and flavor of wonderful shrimp and fresh vegetables! It is a very easy and quick dinner to make! Ingredients: 3 cups long grain white rice, cooked as directed 1 lb either fresh raw shrimp or cooked (large) 2 Tbsp olive oil or sesame seed oil 2 medium sweet onions, thick sliced 4 stalks of celery, cut diagonally 1/2 cup carrots, sliced 1 green pepper, sliced 1 red pepper, sliced 1 small head of broccoli, broken up in pieces 1 small piece of fresh ginger, peeled, grated 1 bunch of bok choy, cut up diagonally 4 cloves garlic, minced 1 pkg fresh bean sprouts or canned 1 can water chestnuts, drained Sauce 1/2 cup soy sauce 1/2 cup water 1 Tbsp lemon juice 1/2 cup brown sugar 1/4 tsp black pepper 2 tsp (heaping) ground ginger (to taste) a little more if you like spicy 1/2 tsp garlic powder 2 Tbsp cornstarch 1/4 cup water Steps: Cook rice according to package, and make your sauce ahead of time, stirring well until the sugar is dissolved very well. Set aside! Mix sauce ingredients in a cup. Clean and prepare all the vegetables. Using a deep covered skillet, add olive oil. Do not heat until all the vegetable are in the skillet. You want all the veggies crisp, or at the same doneness. When all veggies are in the skillet (except for bean spouts and shrimp), turn the heat on high only until the pan starts to sizzle. Stir constantly so the oil is coating all. You will see the veggies start to cook done. When they start to look like they are cooking, pour the well mixed sauce over the veggies, and stir well. If it looks like it could use a little more sauce, just add a 1/2 cup of water. When the sauce starts boiling turn it down to simmer and add the mixed cornstarch and water and stir rapidly, and remove from the heat. Add the shrimp, and stir well. Place the bean sprouts over the top of the mixture and cover. They will steam and stay a bit crisp. Serve over a bed of long grain whire rice. Enjoy!:)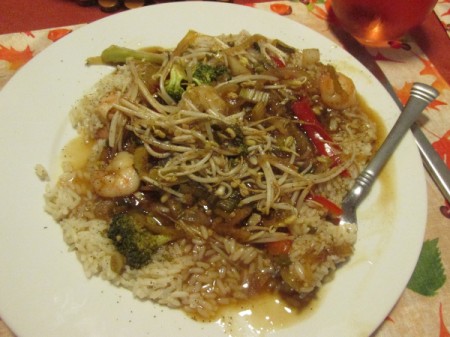 Ophelia Dingbatter's News
No sermon and not suitable for church, just jokes and fun for grownups. Read it on line or subscribe. If you subscribe, look for the double opt-in confirmation request.

When I lived in a dorm, one of the favorite intramural sports was water fights. Dousing and bombarding one another with water from squirt guns, glasses, balloons, even wastebaskets. Since each room had a sink, there was endless ammunition. The most frequent target was the Resident Assistant. Approaching his room one afternoon, he noticed his door was ajar. Looking up, he saw a pail of water balanced on the door's edge, ready to fall on him. As he took down the pail and emptied it into his sink, he thought, "Those crazy guys actually thought they could fool me with that old gag!" It was then he realized we'd loosened the drainpipe beneath the sink and turned the first "U" part so that it was aimed at his crotch.
| | |
| --- | --- |
| | could have been a love story |
____________________________________________________ From Kathy: For our flight to the Far East, my wife and I checked in at the Korean Air counter at Los Angeles International Airport. As the smiling Korean woman processed our tickets, my wife asked, "Are they good seats?" "They are very good seats," the airline worker replied. "You will be sitting next to a handsome gentleman, and your com- panion will be seated beside a beautiful lady." ____________________________________________________ Leroy had gone to his secretary's apartment for some hot over-time. He was astonished to wake up and find that it was three in the morning. "My God!" he shouted, "My wife is going to kill me!" Unsure of how he would explain it, he ran out to the nearest pay phone and called his wife excitedly. "Honey, thank God !" he began, "Don't pay the ransom. I escaped!" "That's what YOU think, you fool!" She replied. "I paid them $500 to let you escape!" ____________________________________________________
| | |
| --- | --- |
| | If you don't have canvas I guess a hand will do. |
____________________________________________________

Today on September 24 in
1789 The U.S. Congress passed the First Judiciary Act. The
act provided for an Attorney General and a lower federal
courts. 

1869 Thousands of businessmen were financially ruined after a
panic on Wall Street. The panic was caused by an attempt to
corner the gold market by Jay Gould and James Fisk. 

1915 "The Lamb," Douglas Fairbanks first film, was shown at
the Knickerbocker Theater in New York City, NY. 

1929 The first all-instrument flight took place in New York
when Lt. James H. Doolittle guided a Consolidated NY2 Biplane
over Mitchell Field. 

1933 "Roses and Drums" was heard on WABC in New York City. It
was the first dramatic presentation for radio. 

1955 U.S. President Dwight Eisenhower suffered a heart attack
while on vacation in Denver, CO. 

1957 U.S. President Eisenhower sent federal troops to Little
Rock, AR, to enforce school integration. 

1960 The first nuclear powered aircraft carrier was launched.
The USS Enterprise set out from Newport News, VA. 

1961 "The Bullwinkle Show" premiered in prime time on NBC-TV.
The show was originally on ABC in the afternoon as "Rocky
and
His Friends." 

1963 The U.S. Senate ratified a treaty that limited nuclear
testing. The treaty was between the U.S., Britain, and the
Soviet Union. 

1968 "The Mod Squad" premiered on ABC-TV. 

1995 Three decades of Israeli occupation of West Bank cities
ended with the signing of a pact by Israel and the PLO. 

1996 The United States, represented by President Clinton, and
the world's other major nuclear powers signed a
Comprehensive
Test Ban Treaty to end all testing and development of nuclear
weapons. 

2001 U.S. President George W. Bush froze the assets of 27
suspected terrorists and terrorist groups. 

2016  smiled.



[ view entry ] ( 10 views ) | permalink | print article |
( 3 / 316 )
---
<<First
<Back
| 28 | 29 | 30 | 31 | 32 | 33 | 34 | 35 | 36 | 37 |
Next>
Last>>