Good Morning, ,

Thank you, Sig!

Today is Tuesday, Sept 27

Have FUN!
DearWebby

Todays Bonehead Award:
Crime Stoppers president charged in $3M pot bust 
Details at Boneheads
______________________________________________________
Today, September 27, in 
1825 George Stephenson, an English steem engine builder,
operated the first locomotive that hauled a passenger train. 
See More of what happened on this day in history.


| | |
| --- | --- |
| If you can help with the cost of the Humor Letter, please donate what you can! | |
______________________________________________________ Anybody who has doubts about the ingenuity or the resourcefulness of a plumber never got a bill from one. --- George Meany A fanatic is one who can't change his mind and won't change the subject. --- Sir Winston Churchill I respect faith, but doubt is what gets you an education. --- Wilson Mizner ______________________________________________________ If you like the Humor Letter, please vote!
______________________________________________________ A hooded robber burst into a Texas bank and forced the tellers to load a sack full of cash. On his way out the door a brave Texas customer grabbed the hood and pulled it off revealing the robber's face. The robber shot the customer without a moment's hesitation. He then looked around the bank and noticed one of the tellers looking straight at him. The robber instantly shot him also. Everyone else, by now very scared, looked intently down at the floor in silence. The robber yelled, "Well, did anyone else see my face?" There were a few moments of utter silence in which everyone was plainly afraid to speak. Then one old man tentatively raised his hand and said, "My mother-in-law got a pretty good look at you." ______________________________________________________ 2017 Launch Flash Sale MTP $29.99
______________________________________________________ Thanks to Roland for this delightful classic: Anyone who has ever dressed a child will love this one! Did you hear about the Texas teacher who was helping one of her kindergarten students put on his cowboy boots? He asked for help and she could see why. Even with her pulling and him pushing, the little boots still didn't want to go on. Finally, when the second boot was on, she had worked up a sweat. She almost cried when the little boy said, "Teacher, they're on the wrong feet." She looked and sure enough, they were. It wasn't any easier pulling the boots off than it was putting them on. She managed to keep her cool as together they worked to get the boots back on -- this time on the right feet. He then announced, "These aren't my boots." She bit her tongue rather than get right in his face and scream, "Why didn't you say so?" like she wanted to. And, once again she struggled to help him pull the ill- fitting boots off his little feet. No sooner they got the boots off and he said, "They're my brother's boots. My Mom made me wear 'em." Now she didn't know if she should laugh or cry. But, she mustered up the grace and courage she had left to wrestle the boots on his feet again. Helping him into his coat, she asked, "Now, where are your mittens?" He said, "I stuffed 'em in the toes of my boots." ______________________________________________________
You did WHAT? ______________________________________________________

If you like the Dear Webby Daily Humor Letter, please vote for it at the

Ezine Finder:
Thanks for your votes!

______________________________________________________
An INTERNATIONAL BONEHEAD AWARD has been earned by
Jon-Paul Fuller, 44, Leamington, Ontario Crime Stoppers president charged in $3M pot bust The president of an Ontario chapter of Crime Stoppers was forced out of his position this week, after police charged him in connection with a large marijuana grow-operation. Windsor & Essex County Crime Stoppers voted Thursday, to remove Jon-Paul Fuller the day after Ontario Provincial Police raided greenhouses in Leamington, Ont. Police said they found more than 2,900 marijuana plants with an estimated value of $2.9 million, along with 41 kilograms of harvested marijuana worth about $180,000. "It's difficult to accept, very shocking, but nonetheless we're moving forward," said Charlie Hotham, who preceded Fuller as president and was reinstated on Thursday. "We don't want to let one person take away from the good deeds that Crime Stoppers does," he added. Hotham said the Crime Stoppers board is not involved in the day-to-day operation of the tip line, which allows people to offer information on crimes without contacting police. Fuller is charged with production of marijuana and possession for the purpose of trafficking. Also charged is Doc Van Phan, 53, also of Leamington. Fuller had also recently been president and CEO of Aphria — a licensed medical marijuana production company based in Leamington — from February 2013 to May 2014. More recently, Fuller's page identifies him as the president of "CAFR Corp" since July 2015. The company is described as "Assisting MMPR patients" — a reference to Marijuana for Medical Purposes Regulations. ______________________________________________________ Tech Support Pits From: Joyce RE: bad return addresses Dear Webby, I love my "MailWasher Pro" but lately I have been getting some of my bounced mail back again from their server saying that the return address has a fatal error. Well, we both know that it is just the spammers way of getting around my "MailWasher Pro", What I want to know: is there a way of not getting all these mail delivery failed notices, a setting that I don't have working for me or something? Thank you for your great humor newsletter, it's so informative that I can't wait to read the next one. PS. I also enjoy the humor, Joyce Dear Joyce Don't bother bouncing mail to spammers. They never use their own address anyway. They just fake an address, sometimes even yours. Bouncing spam back to you is rather silly. You can bounce email to your mother-in-law or politicians, but other than that, it's best to just send the spam to trash. Automatically, without even showing in the list. It's really cool to see an INbox, that has just the few emails, that you are going to answer. Have FUN! DearWebby
While I was attending a law course, the 'Audi alteram parten' rule was explained to us. Translated it means "To hear the other party." After discussing the subject at great length, the lecturer asked if anyone didn't understand the rule. Responded one man "My Wife."
| | |
| --- | --- |
| If you can help with the cost of the Humor Letter, please donate what you can! | |
Daily tip from Thriftyfun.com 7 Minute Icing By likekinds [192 Posts, 892 Comments] Prep Time: 5 min Cook Time: 7-10 min Total Time: 20 min Yield: Enough to ice two 9 inch layers Source: American History Ingredients: Here is my version. It's pretty much the standard. 2 large egg whites 1/3 cup water 1 cup granulated sugar 1/2 tsp pure vanilla extract 1/4 tsp cream of tartar Notes: Mixing bowl and beaters must be immaculate. A trace of grease will ruin the icing. Also there must be no yolk in the egg whites. Cream of tartar acts as a stabilizer to the egg whites. It's effects are more pronounced in meringues than in cooked icings. I have made this icing with and without cream of tartar, and can't tell any difference. Let's call it optional. Steps: In lower half of double boiler, have and keep rapidly boiling water. In upper half, add all ingredients. Place over lower half. Immediately start beating with mixer on medium or high. Make sure the mixture near the bottom is constantly blended with the higher. Keep mixing that icing off the sides with that the inner. There is no exact time to stop beating the icing. I usually find myself beating it for about ten minutes. When testing shows the icing to have stiffness and body to your liking, remove from heat and stop beating. Allow the icing to cool on counter top for five minutes. Then mix again for about 30 seconds for extra smoothness.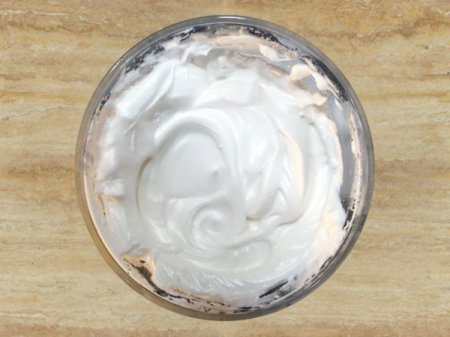 Ophelia Dingbatter's News
No sermon and not suitable for church, just jokes and fun for grownups. Read it on line or subscribe. If you subscribe, look for the double opt-in confirmation request.

After 50 years of wondering why he didn't look like his younger sister or brother, Paul finally got up the nerve to ask his mother if he was adopted. "Yes, you were son," his mother said as she started to cry softly. "but it didn't work out and they brought you back."
| | |
| --- | --- |
| | let me in! |
____________________________________________________ Belinda was complaining about her husband spending all his time at the pub, so one night he took her along. "What'll ya have?" he asked. "Oh, I don't know. The same as you I suppose," she replied. So the Bob ordered a couple of Jack Daniel's and threw his down in one go. Belinda watched him, then took a sip from her glass and immediately spat it out. "Yuck, it's nasty poison!" she spluttered. "I don't know how you can drink this stuff!" "Well, there you go," yelled the husband. "And you think I'm out enjoying myself every night!" ____________________________________________________ Church Bulletin: "Weight Watchers will meet at 7 p.m. Please use the large double door at the side entrance." ____________________________________________________
| | |
| --- | --- |
| | The two colored rivers in Germany |
____________________________________________________

Today on September 27 in
1779 John Adams was elected to negotiate with the British
over the American Revolutionary War peace terms. 

1825 George Stephenson, an English steem engine builder,
operated the first locomotive that hauled a passenger train. 

1894 The Aqueduct Race Track opened in New York City, NY. 

1928 The U.S. announced that it would recognize the
Nationalist Chinese Government. 

1938 The League of Nations branded the Japanese as aggressors
in China. 

1939 After 19 days of token resistance, Warsaw, Poland,
surrendered to the Germans after being invaded by the Nazis
and the Soviet Union during World War II. 

1940 The Berlin-Rome-Tokyo Axis was set up. The military and
economic pact was for 10 years between Germany, Italy and
Japan. 

1954 The "Tonight!" show made its debut on NBC-TV with Steve
Allen as host. 

1962 The U.S. sold Hawk anti-aircraft missiles to Israel. 

1968 The U.K.'s entry into the European Common Market was
barred by France. 

1970 "The Original Amateur Hour" aired for the last time on
CBS. It had been on television for 22 years. 

1982 Italian and French soldiers entered the Sabra and
Chatilla refugee camps in Beirut. The move was made by the
members of a multinational force due to hundreds of
Palestinians being massacred by Christian militiamen. 

1989 Columbia Pictures Entertainment agreed to buy out Sony
Corporation for $3.4 billion. 

1989 Two men went over the 176-foot-high Niagara Falls in a
barrel. Jeffrey Petkovich and Peter Debernardi were the first
to ever survive the Horshoe Falls. 

1990 The deposed emir of Kuwait addressed the U.N. General
Assembly and denounced the "rape, destruction and terror"
that Iraq had inflicted upon his country. 

1991 U.S. President George H.W. Bush eliminated all land-
based tactical nuclear arms and removed all short-range
nuclear arms from ships and submarines around the world. Bush
then called on the Soviet Union to do the same. 

1994 More than 350 Republican congressional candidates signed
the Contract with America. It was a 10-point platform they
pledged to enact if voters sent a GOP majority to the House. 

2004 North Korean Vice Foreign Minister Choe Su Hon announced
that North Korea had turned plutonium from 8,000 spent
nuclear fuel rods into nuclear weapons. He also said that the
weapons were to serve as a deterrent against increasing U.S.
nuclear threats and to prevent nuclear war in northeast Asia.


2016  smiled.



[ view entry ] ( 6 views ) | permalink | print article |
( 2.9 / 642 )
---
<<First
<Back
| 28 | 29 | 30 | 31 | 32 | 33 | 34 | 35 | 36 | 37 |
Next>
Last>>