Good Morning, ,

Today is Wednesday, Sept 28

Have FUN!
DearWebby

Todays Bonehead Award:
Missouri student busted while driving with avocado pipe
Details at Boneheads
______________________________________________________
Today, September 28, in 
1066 England was invaded by William the Conqueror who 
claimed the English throne. 
See More of what happened on this day in history.


| | |
| --- | --- |
| If you can help with the cost of the Humor Letter, please donate what you can! | |
______________________________________________________ The petty economies of the rich are just as amazing as the silly extravagances of the poor. --- William Feather (1908 - 1976) Americans will put up with anything provided it doesn't block traffic. --- Dan Rather (1931 - ) Women like silent men, they think they're listening. --- Socratex ______________________________________________________ If you like the Humor Letter, please vote!
______________________________________________________ >From Dora My teenager was headed to school one morning when I told him that the neck tag on his shirt was hanging out. "I know," he replied. "It's a fad me and some of the guys started." Weeks later, as the style persisted, I commented, "I can't stand it! Every time I see that, I want to fix it for you." I gently tucked the tag in place and rumpled his hair. "Yeah," he said smiling slyly. "All the girls do." ------------------ Hmmmm, looks like I will have to rip the name tags out of my shirts and sew them in a bit higher up so that they CAN peek out. ______________________________________________________ 2017 Launch Flash Sale MTP $29.99
______________________________________________________ Robert and Peter had applied for jobs at a large company and had to take an intelligence test. Though both of them found the test a breeze, except that they admitted to being momentarily stumped by the final question: "Name a 14 letter word for someone in charge of a plant." "How did you answer that last one?" asked Robert. "I thought it was tough at first.... then I thought of Superintendent." "I think I got it right too," Pete said. "But I wrote down Horticulturist." ______________________________________________________
______________________________________________________

If you like the Dear Webby Daily Humor Letter, please vote for it at the

Ezine Finder:
Thanks for your votes!

______________________________________________________
An INTERNATIONAL BONEHEAD AWARD has been earned by
Benjamin Hensley, 21, Branson, Missouri Missouri student busted while driving with avocado pipe While patrolling a stretch of highway a Missouri sheriff's deputy spotted a motorist smoking a pipe and exhaling "a cloud of smoke." After pulling in behind the suspect around 9:35 PM, a cop noticed the vehicle had a break light out, so he "activated his emergency equipment" and stopped the car on a street in Branson, the popular tourist destination. As two deputies approached the auto, they recognized the "strong odor of marijuana emitting from the interior of the car," which was being driven by Benjamin Hensley, 21. A deputy asked Hensley what he had been smoking while driving, according to a Taney County Sheriff's Office report. Hensley, seen above, then "pointed to an avocado in the center cup holder of the vehicle." Hensley explained that he had fashioned the avocado into a pot pipe. He then handed the fruit (yes, avocado is a fruit) to a deputy, who noted the "strong odor of burnt marijuana emitting from a hole in the avocado." Hensley then retrieved a small bag of pot from the car's center console and turned it over to a cop, who cited him for marijuana possession. In a two-count misdemeanor information filed last week, prosecutors tacked on a second charge, since "defendant possessed an avocado, which was drug paraphernalia." Deputies confiscated the avocado during the traffic stop. At the direction of an evidence technician, a deputy reported, "I placed the avocado in the evidence freezer." Hensley is scheduled for arraignment on October 17. The avocado enthusiast is a University of Arkansas student whose family lives in Branson. ______________________________________________________ Tech Support Pits From: George RE: Unable to block Dear Webby, I received this spam at my old address, but am unable to add the address to the 'Blocked Sender List' because of the '-' ! My question for you: How can I get rid of this spammer? From: comcast@unspecified-domain To: ...... George Dear George The problem is not the dash, but the missing ".com" "unspecified-domain" means the spammer didn't specify a domain. I don't bother filtering by the usually forged FROM address. I filter by the content. How many legitimate mails do you get that have "make $" in them ? None. Filter for "make $" in the body, and you will dump a lot of spam right there. Have FUN! DearWebby
GOVERNMENT WORK RULES 1) If it rings, put it on hold. 2) If it clunks, call the repairman. 3) If it whistles, ignore it. 4) If it's a friend, stop work and chat. 5) If it's the Boss, look busy. 6) If it talks, take notes. 7) If it's handwritten, type it. 8) If it's typed, copy it. 9) If it's copied, file it. 10) If it's Friday, FORGET IT!!!
| | |
| --- | --- |
| If you can help with the cost of the Humor Letter, please donate what you can! | |
Daily tip from Thriftyfun.com Apple Cake By Mary Ray [16 Posts, 4 Comments] A great way to use apples and make a delicious homemade cake. Prep Time: 30 minutes Cook Time: 60 minutes Total Time: 90 minutes Yield: 8-12 servings Ingredients: 5 cups chopped apples 1 1/2 cup sugar 1/2 cup coconut oil 2 eggs, large 1 tsp rum extract 2 tsp ground cinnamon 2 tsp baking soda 2 cups all purpose flour 2 cups chopped pecans or walnuts-toasted confectioners sugar Steps: Peel, core and chop apples. Approximately 5 cups chopped. In mixing bowl add sugar, coconut oil, eggs and rum extract. Beat until creamed. In separate bowl mix together baking soda, flour and cinnamon. Add dry ingredients to liquid. Pour into a 10 inch tube cake pan that has been oiled (coconut). Bake for 1 hr. at 350 F. Cool on rack for 10 minutes. Turn out cake unto a plate and dust with confectioners sugar. Turn out cake unto a plate and dust with confectioners sugar.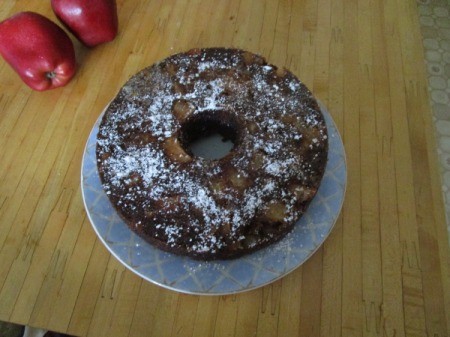 Ophelia Dingbatter's News
No sermon and not suitable for church, just jokes and fun for grownups. Read it on line or subscribe. If you subscribe, look for the double opt-in confirmation request.

A young mother paying a visit to a doctor friend and his wife made no attempt to restrain her five-year-old son, who was ransacking an adjoining room. But finally, an extra loud clatter of bottles did prompt her to say, "I hope you don't mind Johnny being in there." "No, not at all." said the doctor calmly, "hat stuff in there is quite poisonous to a kid and he'll quiten down soon enough."
| | |
| --- | --- |
| | let me in! |
____________________________________________________ An Illinois man left the snow-filled streets of Chicago for a vacation in Key West Florida. His wife was on a business trip that was ending the next day and planned to fly directly to Key West to meet him, so they could have more time together during their vacation. When he arrived at his hotel in Florida, he decided to send his wife a quick e-mail. Unable to find the piece of paper on which he had written her company e-mail address, he did his best to type it from memory. Unfortunately, he did not get it exactly right and the message was routed instead to a preachers wife, whose husband had just passed away earlier that week. When the grieving widow opened her e-mail, she took one look at her monitor, let out a blood curdling scream and passed out in a dead faint. The woman's daughter having heard the scream and the loud thud, rushed into the room. There she saw her mother lying on the floor and the following message on the computer screen: MY DARLING WIFE: JUST CHECKED IN, EVERYTHING IS PREPARED FOR YOUR ARRIVAL TOMORROW. LOOKING FORWARD TO US BEING TOGETHER AGAIN. YOUR LOVING HUSBAND P.S. IT SURE IS HOT DOWN HERE! ____________________________________________________ Once there was a millionaire, who collected live alligators. He kept them in the pool in back of his mansion. The millionaire also had a beautiful daughter who was single. One day, the millionaire decides to throw a huge party, and during the party he announces, "My dear guests, I have a proposition to every man here. I will give one million dollars, or my daughter, to the man who can swim across this pool full of alligators and emerge unharmed!" As soon as he finished his last word, there was the sound of a large splash in the pool. The guy in the pool was swimming with all his might, and the crowd began to cheer him on. Finally, he made it to the other side of the pool unharmed. The millionaire was impressed. He said, "That was incredible! Fantastic! I didn't think it could be done! Well, I must keep my end of the bargain. Do you want my daughter or the one million dollars?" The guy catches his breath, then says, "Listen, I don't want your money! And I don't want your daughter! I want the creep who pushed me in the pool!" ____________________________________________________
| | |
| --- | --- |
| | The two colored rivers in Germany |
____________________________________________________

Today on September 28 in
1066 England was invaded by William the Conqueror who claimed
the English throne. 

1542 San Diego, CA, was discovered by Portuguese navigator
Juan Rodriguez Cabrillo. 

1687 The Turks surrendered Athens to the Venetians. 

1781 During the Revolutionary War, American forces began the
siege on Yorktown, VA. 

1850 The U.S. Navy abolished flogging as a form of
punishment. 

1850 U.S. President Millard Fillmore named Brigham Young the
first governor of the Utah territory. In 1857, U.S. President
James Buchanan removed Young from the position. 

1892 The first nighttime football game in the U.S. took place
under electric lights. The game was between the Mansfield
State Normal School and the Wyoming Seminary. 

1915 The British defeated the Turks in Mesopotamia (Iraq) at
Kut-el-Amara. 

1924 The first around-the-world flight was completed by two
U.S. Army planes when they landed in Seattle, WA. The trip
took 175 days. 

1939 During World War II, Germany and the Soviet Union agreed
upon a plan on the division of Poland. 

1950 The United Nations admitted Indonesia. 

1967 The first mayor of Washington, DC, Walter Washington,
took office. 

1972 Communist China and Japan agreed to re-establish
diplomatic relations. 

1978 Heavy fighting occurred in Lebanon between Syrian
peacekeeping troops and Lebanese Christian militiamen. 

1978 Don Sherman, editor of Car & Driver, set a new Class E
record in Utah. Driving the Mazda RX7 he reached a speed of
183.904 mph. 

1990 The Game Boy handheld video game device was released in
Europe. 

1991 In response to U.S. President Bush's reduction of U.S.
nuclear arms Soviet President Mikhail S. Gorbachev promised
to reciprocate. 

1995 Yasser Arafat of the PLO and Israeli Prime Minister
Yitzhak Rabin signed an accord that transferred control of
the West Bank. 

1997 The 103rd convention of the Audio Engineering Society
(AES) was held in New York City, NY. The official debut of
the DVD format was featured. 

2000 The U.S. Federal Drug Administration approved the use of
RU-486 in the United States. The pill is used to induce an
abortion. 

2004 Nate Olive and Sarah Jones arrived at the U.S.-Mexico
border to complete the first known continuous hike of the
1,800-mile trail down the U.S. Pacific Coast. They started
the trek on June 8. 

2009 The iTunes Music Store reached 2 billion applications
downloaded.

2016  smiled.



[ view entry ] ( 9 views ) | permalink | print article |
( 3 / 642 )
---
<<First
<Back
| 28 | 29 | 30 | 31 | 32 | 33 | 34 | 35 | 36 | 37 |
Next>
Last>>