Good Morning, ,

Today is Thursday, Sept 29

Have FUN!
DearWebby

Todays Bonehead Award:
Freeport man used pepper spray, metal pipe and 
firearm in attack. Arrested.
Details at Boneheads
______________________________________________________
Today, September 29, in 
1829 The first public appearance by London's re-organized
police force was met with jeers from political opponents. The
force became known as Scotland Yard. 
See More of what happened on this day in history.


| | |
| --- | --- |
| If you can help with the cost of the Humor Letter, please donate what you can! | |
______________________________________________________ "A psychologist once said that we know little about the conscience except that it is soluble in alcohol." --- Thomas Blackburn To do is to be --- Descartes To be is to do --- Voltaire Do be do be doo - --- Frank Sinatra Make love, not war --- Dr Tomothy Leary Hell, do both, get married! --- Rosy ______________________________________________________ If you like the Humor Letter, please vote!
______________________________________________________ Two gas company servicemen, a senior training supervisor and a young trainee, were out checking meters in a suburban neighborhood. They parked their truck at the end of the alley and worked their way to the other end. At the last house an older woman was looking out her kitchen window watching the two men as they checked her gas meter. Finishing the meter check, the senior supervisor challenged his younger coworker to a foot race down the alley and back to the truck to prove that an older guy could outrun a younger one. As they came running up to the truck, they realized the lady from that last house was huffing and puffing right behind them. They stopped and asked her what was wrong. Gasping for breath, she replied, "When I see two gas men running as hard as you two were, I figure I'd better run too!" ______________________________________________________ 2017 Launch Flash Sale MTP $29.99
______________________________________________________ Bob's pager went off, summoning him to the hospital, where he is an anesthetist. As he raced toward the hospital, a patrol car sped up behind him--lights flashing. Bob hung his stethoscope out the window to signal that he was on an emergency call. Within seconds, came the police officer's hand in response, dangling a pair of handcuffs out the window. ______________________________________________________
______________________________________________________

If you like the Dear Webby Daily Humor Letter, please vote for it at the

Ezine Finder:
Thanks for your votes!

______________________________________________________ Reported by the Bausell Sailor
An INTERNATIONAL BONEHEAD AWARD has been earned by
Derek Lloyd, 52, Freeport, Illinois Freeport man used pepper spray, metal pipe and firearm in attack A 52-year-old Freeport man pepper-sprayed a 66-year-old man, hit him with a metal pipe and then shot at a 21-year-old man who tried to intervene Wednesday, authorities said. Derek Lloyd is charged with aggravated discharge of a firearm, reckless discharge of a firearm, and five counts of aggravated battery, said Freeport Police Lt. Andrew Schroeder. He's also facing misdemeanor counts of not having a FOID card and criminal damage to property, said Schroeder. His bail is set at $200,000. Around 4:55 p.m. Wednesday, police received calls about shots being fired in the 600 block of Waddell Avenue. The 66-year- old man was walking down a sidewalk that ended at Lloyd's property. He kept walking on the property near the street. Lloyd approached the man, pepper sprayed him and punched him. Lloyd then used a metal pipe to attack the man, Schroeder said. A 21-year-old motorist stopped when he saw the scene, and Lloyd struck the man's car several times and pepper-sprayed him. After the motorist got the pipe away, Lloyd retreated to his house and retrieved a firearm. Lloyd fired the gun in the direction of the motorist at least once, Schroeder said. The 66-year-old man suffered several fractured bones in one of his hands from protecting himself, while the motorist's car was left with multiple dents, Schroeder said. ______________________________________________________ Tech Support Pits From: Scotty RE: How do you make a filter? Dear Webby, I read in your page today how you told that person to filter "make $" and they wud lose a lot of spam. I haven't the faintest idea how to filter, I have Virus protection, but don't know about filters. I wud be very much pleased if you cud pass the info to me at your convenience. Scotty Dear Scotty First you need a spam control program. I have tried almost all of them to be able to compare them, but I keep coming back to FireTrust Mail Washer. That is why I put that link to it in the side margin. With the Mail Washer you can let it clean out the bulk of the spam on it's own, and go after the rest of it with filters that you can make. Whenever you spot something that shows up again and again in spam, just make a filter for it. It's really easy and straightforward to do that, IF you have that program, but there is no point in explaining how to do it until you have a spam control program in front of you. Have FUN! DearWebby
A couple of country doctors in West Virginia were discussing the population explosion in the world. One physician says, "Why, Bubba, this crazy birth thang isa gettin' so bad that perty soon, they ain't gonna be room for ever'body! There'sa gonna be standin' room only on this here planet!" The other doctor replied, "Heck, that sure oughta slow 'em down a bit!"
| | |
| --- | --- |
| If you can help with the cost of the Humor Letter, please donate what you can! | |
Daily tip from Thriftyfun.com Giving Plastic Pumpkins A Stone Look By Ana I. [24 Posts, 19 Comments] I wanted Halloween planters. My budget was small, but I had an idea to create this look with paints. I found these very inexpensive pumpkin buckets at Walmart for $1. I also had a large pumpkin bucket that was purchased at a thrift store, also for $1. Total Time: 2 hours Yield: 4 or more Supplies: pumpkin buckets spray paint craft paints sea sponge sealer flowers, optional Steps: Take your pumpkins and place on a tarp/or cardboard outside. Giving Plastic Pumpkins A Stone Look Spray paint; let dry. Use craft paints in the shades of cream, grey, light brown, or dark tan color, with your sea sponge (sea sponge works the best). Lightly press your sea sponge in the first color (cream) and lightly tap all over your pumpkin. Repeat the process with the next color (grey). Lastly use the light brown/dark tan color tapping lightly. Stand back and take a look. It appears to look like stone. You can add more color tapping to your liking, (stone has many looks). Dry. Add a spray sealer. You can put potted fall flowers in the pumpkins to finish the project.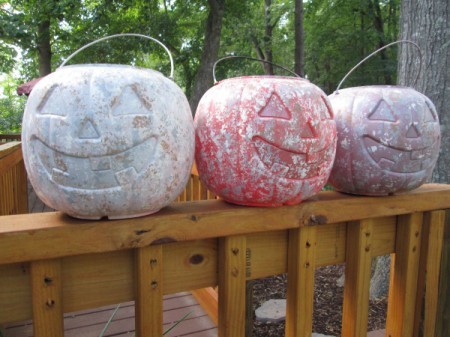 If you are in a hurry or want to save some money, just mix some Ply-Filla or Plaster-of-Paris, and slap it on with your hands or a rag. Depending on the type of plastic and on how much rain it gets, that will last many years. You can also use large pickle jars. I used a 2 gallon jar a kid in grade school, wrapped it with rags dipped in Plaster- of-Paris until it looked like a pretty fancy vase, and slathered and smoothed more Plaster-of-Paris on. Then I painted it with off-white enamel. That was in the 50's. Last time I visited, I saw that vase still in use with some dried fancy grasses in it. Have FUN! DearWebby
Ophelia Dingbatter's News
No sermon and not suitable for church, just jokes and fun for grownups. Read it on line or subscribe. If you subscribe, look for the double opt-in confirmation request.

Mr. Jones patted his daughter's hand fondly, and told her, "Your young man told me today he wanted you as a bride, and I gave my consent." "Oh, Papa," gushed the daughter, "it's going to be so hard leaving mother." "I understand perfectly, my dear," beamed Mr. Jones. "You just take her with you."
| | |
| --- | --- |
| | Synchronized Swimming - Stairway to Heaven |
____________________________________________________ On a high school science quiz in Florida there was the question, "When water becomes ice which of its physical properties increases?" Everyone answered, "Its volume.." Except one wise guy who wrote, "When water becomes ice, its price increases." ____________________________________________________ On some air bases the Air Force is on one side of the field and civilian aircraft use the other side of the field, with the control tower in the middle. One day the tower received a call from an aircraft asking, "What time is it?" The tower responded, "Who is calling?" The aircraft replied, "What difference does it make?" The tower replied, "It makes a lot of difference. If it is an American Airlines Flight, it is 3 o'clock. If it is an Air Force, it is 1500 hours. If it is a Navy aircraft, it is 6 bells. If it is an Army aircraft, the big hand is on the 12 and the little hand is on the 3. If it is a Marine Corps aircraft, it's Tuesday afternoon." If it's a Cessna, it's two hours till Happy Hour. ____________________________________________________
| | |
| --- | --- |
| | Using turkey feathers as a canvas. |
____________________________________________________

Today on September 29 in
1789 A regular army was established by the U.S. War
Department with several hundred men. 

1829 The first public appearance by London's re-organized
police force was met with jeers from political opponents. The
force became known as Scotland Yard. 

1940 The radio quiz show "Double or Nothing" debuted on the
Mutual Radio Network. 

1943 U.S. Gen. Dwight D. Eisenhower and Italian Marchal
Pietro Badoglio signed an armistice aboard the British ship
Nelson.

1946 "The Adventures of Sam Spade" debuted on CBS Radio. 

1962 U.S. President John F. Kennedy nationalized the
Mississippi National guard in response to city officials
defying federal court orders. The orders had been to enroll
James Meredith at the University of Mississippi. 

1967 The International Monetary Fund reformed monetary
systems around the world. 

1977 Eva Shain became the first woman to officiate a
heavyweight title boxing match. About 70 million people
watched Muhammad Ali defeat Ernie Shavers on NBC-TV. 

1982 In Chicago, IL, seven people died after taking capsules
of Extra-Strength Tylenol that had been laced with cyanide.
264,000 bottles were recalled. 

1983 The War Powers Act was used for the first time by the
U.S. Congress when they authorized President Reagan to keep
U.S. Marines in Lebanon for 18 more months. 

1983 "A Chorus Line" with performance number 3,389 became the
longest running show on Broadway. 

1984 Irish officials announced that they had intercepted the
Marita Anne carrying seven tons of U.S.-purchased weapons.
The weapons were intended for the Irish Republican Army. 

1984 Elizabeth Taylor was voted to be the world's most
beautiful woman in a Louis Harris poll. Taylor was at the
time in the Betty Ford Clinic overcoming a weight problem. 

1988 The space shuttle Discovery took off from Cape Canaveral
in Florida. It was the first manned space flight since the
Challenger disaster. 

1990 "Millie's Book" by First Lady Barbara Bush was the best-
selling non-fiction book in the U.S. 

1992 Brazilian lawmakers overwhelmingly voted to impeach
President Fernando Collor de Mello. 

1993 Bosnia's parliament voted overwhelmingly to reject an
international peace plan unless Bosnian Serbs returned land
that had been taken by force. 

1994 The U.S. House voted to end the practice of lobbyists
buying meals and entertainment for members of Congress. 

1998 Hasbro announced plans to introduce an action figure of
retired U.S. General Colin Powell. 

2008 The Dow Industrial Average lost 777 points. It was the
largest one-day decline to date. The drop came after the U.S.
House of Representatives had voted down a $700 billion bank
bailout plan. 

2010 In China, Canton Tower became operational. 

2016  smiled.



[ view entry ] ( 10 views ) | permalink | print article |
( 3.1 / 501 )
---
<<First
<Back
| 28 | 29 | 30 | 31 | 32 | 33 | 34 | 35 | 36 | 37 |
Next>
Last>>