Good Morning, ,

Today is Sunday, October 2

Have FUN!
DearWebby

Todays Bonehead Award:
Florida woman tries to use cab for getaway after 
armed robbery
Details at Boneheads
______________________________________________________
Today, October 2, in 
1780 British army major John Andre was hanged as a spy. He
was carrying information about the actions of Benedict
Arnold. 
See More of what happened on this day in history.


| | |
| --- | --- |
| If you can help with the cost of the Humor Letter, please donate what you can! | |
______________________________________________________ When they call the roll in the Senate, the Senators do not know whether to answer 'Present' or 'Not guilty.' --- Theodore Roosevelt ______________________________________________________ If you like the Humor Letter, please vote!
______________________________________________________ A young ensign had nearly completed his first overseas tour of sea duty when he was given an opportunity to display his ability at getting the ship under way. With a stream of crisp commands, he had the decks buzzing with men and soon, the ship had left port and was streaming out of the channel. The ensign's efficiency has been remarkable. In fact, the deck was abuzz with talk that he had set a new record for getting a destroyer under way. The ensign glowed at his accomplishment and was not all surprised when another seaman approached him with a message from the captain. He was, however, a bit surprised to find that it was a radio message, and he was even more surprised when he read: "My personal congratulations upon completing your underway preparation exercise according to the book and with amazing speed. In your haste, however, you have overlooked one of the unwritten rules -- make sure the captain is aboard before getting under way to avoid getting court-marshalled for stealing a ship." ______________________________________________________ 2017 Launch Flash Sale MTP $29.99
______________________________________________________ A new employee is invited to the boss's house for dinner, just as a way of welcoming him into the company. After they had eaten a large meal, the new employee leans sideways on his chair and lets rip an almighty fart. The boss, with a look of disgust, turns to the man and says, "How dare you fart in front of my wife?!" The man replies, "Oh, I'm sorry -- I didn't realize it was her turn!" ______________________________________________________
______________________________________________________

If you like the Dear Webby Daily Humor Letter, please vote for it at the

Ezine Finder:
Thanks for your votes!

______________________________________________________
An INTERNATIONAL BONEHEAD AWARD has been earned by
Keshunte Taylor, 20, Gainesville, Florida Florida woman tries to use cab for getaway after armed robbery An alleged robber in Gainesville, Florida, managed to successfully get away from an Arby's restaurant, only to be foiled in part by her choice of getaway vehicle: a taxi cab. The Gainesville Sun reports that 20-year-old Keshunte Taylor is in custody after police say she robbed the restaurant at gunpoint, then made the unusual choice of hopping in a cab. That didn't make it hard for police to spot the vehicle, and it was stopped less than two blocks away—still in the same shopping plaza. Taylor was in the back seat with $219 of the restaurant's money, say police. ______________________________________________________ Tech Support Pits From: Herber RE: Digital Zoom Dear Webby, I am not at all impressed with the Digital zoom on my camera. How high is it safe to go with it? Herber Dear Herber Don't use the digital zoom at all. It's just idiot bait that sales people use to catch people who don't have a clue about digital cameras. All the digital zoom does is increase the size of the pixels. That makes it appear almost like a zoom or an enlargement in your paint program, except it makes everything coarse and jaggy. Leave the digital zoom set at 0 or 1, get a sharp picture, and enlarge that, if necessary, in your paint program. With the real glass zoom, clarity and sharpness depend MORE on how steady the camera is than on the price of the optics. For the absolute steadiest base of a camera, use an old, soft leather purse filled with sand. Lay that onto anything solid and nestle the camera on it. Second best is a well soaked wooden surveyor's tripod. Third best is a twenty-pound or better movie camera tripod. Have FUN! DearWebby
An elderly gentleman had serious hearing problems for a number of years. He went to the doctor and the doctor was able to have him fitted for a set of hearing aids that allowed the gentleman to hear 100%. The elderly gentleman went back in a month to the doctor and the doctor said, "Your hearing is perfect. Your family must be really pleased that you can hear again." The gentleman replied, "Oh, I haven't told my family yet. I just sit around and listen to the conversations. I've changed my will three times!"
| | |
| --- | --- |
| If you can help with the cost of the Humor Letter, please donate what you can! | |
Daily tip from Thriftyfun.com Recycle Hanging Baskets for Halloween By Ana I. [24 Posts, 19 Comments] My flowers that I purchased in white hanging baskets were at the end of their season. Now I have these hanging baskets that need a new use and upgrade. With Halloween/fall approaching, this is an upgrade for all those left over pots. Total Time: Up to 2 hours Yield: 2 or more Supplies: hanging pots spray paint adhesive paper scissors flowers moss Dollar store figures (optional) Steps: Take your pots and clean them very well. Spray paint and let dry. Take your adhesive paper and cut out a face shapes for your pumpkin pot. Apply pieces. Now it's time for filling and decorating. You can fill these baskets for Trick or Treat, to hold outdoor lighting, flowers, etc.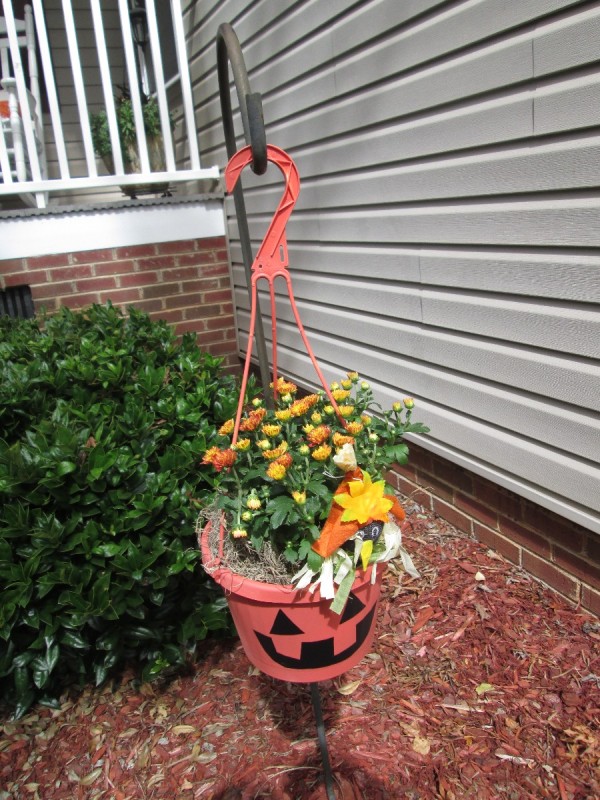 Instead of expensive spray paint you can use cheap brick color porch and floor paint. For the eyes and mouth you can use reflective tape like you use on gate posts and trailers. Have FUN! DearWebby
Ophelia Dingbatter's News
No sermon and not suitable for church, just jokes and fun for grownups. Read it on line or subscribe. If you subscribe, look for the double opt-in confirmation request.

An American entered a pub in Ireland and ordered a Coors light. The Alemaster replied, "Faith,lad, we don't serve American beer here." "Well, give the closest you got to it." So they drew him a glass of water. -------------- I wonder what they would have served a Mexican !
| | |
| --- | --- |
| | Adam and Eve |
____________________________________________________ A girl said to the salesman, "I'm not sure if I should buy a sweatshirt or a windbreaker." He replied, "Well, that depends. Are you going sweat, or are you gonna break wind?" ____________________________________________________ Schwartz successfully defended a major crime lord from charges of dealing drugs, racketeering, murder, kidnapping, and selling arms. As he is leaving the courtroom, an indignant old woman grabs him by the arm. "Young man, where are your Christian scruples? I believe you would defend Satan himself!" "I don't know," Schwartz replied. It would not so much depend on what your kid has done, but whether you can pay my fees." ____________________________________________________
| | |
| --- | --- |
| | There Are a couple of creatures hiding in this tree branch. Can you spot them? |
____________________________________________________

Today on October 2 in
1492 King Henry VII of England invaded France. 

1780 British army major John Andre was hanged as a spy. He
was carrying information about the actions of Benedict
Arnold. 

1835 The first battle of the Texas Revolution took place near
the Guadalupe River when American settlers defeated a Mexican
cavalry unit. 

1836 Charles Darwin returned to England after 5 years of
acquiring knowledge around the world about fauna, flora,
wildlife and geology. He used the information to develop his
"theory of evolution" which he unveiled in his 1859 book
entitled The Origin of Species by Means of Natural Selection.

1870 Rome was made the capital of Italy. 

1876 The Agricultural and Mechanical College of Texas opened.
It was the state's first venture into public higher
education. The school was formally dedicated 2 days later by
Texas Gov. Richard Coke. 

1889 The first international Conference of American States
began in Washington, DC. 

1919 U.S. President Woodrow Wilson suffered a stroke that
left him partially paralyzed. 

1924 The Geneva Protocol adopted the League of Nations. 

1925 Scottish inventor John Logie Baird completed the first
transmission of moving images. 

1937 Warner Bros. released "Love Is on the Air." Ronald
Reagan made his acting debut in the motion picture. He was 26
years old. 

1941 Operation Typhoon was launched by Nazi Germany. The plan
was an all-out offensive against Moscow. 

1944 The Nazis crushed the Warsaw Uprising by Jews. 

1947 The Federatino Internationale de l'Automobile (FIA)
formally established Formula One racing in Grand Prix
competition. 

1948 The first automobile race to use asphalt, cement and
dirt roads took place in Watkins Glen in New York. It was the
first road race in the U.S. following World War II. 

1958 Guinea, the French colony in West Africa, proclaimed its
independence. Sekou Toure was the first president of the
Republic of Guinea. 

1962 U.S. ports were closed to nations that allowed their
ships to carry arms to Cuba, ships that had docked in a
socialist country were prohibited from docking in the United
States during that voyage, and the transport of U.S. goods
was banned on ships owned by companies that traded with Cuba.
The action against Cuba was because Cuba had nationalized
all United Fruit and other plantations, sugar refineries and
rum distilleries.

1967 Thurgood Marshall was sworn in. He was the first
African-American member of the U.S. Supreme Court. 

1988 Pakistan's Supreme Court ordered free elections. 

1989 In Leipzig, East Germany a protest took place demanding
the legalization of opposition groups and the adoption of
democratic reforms. 

1990 The Allies ceded their rights to areas they occupied in
Germany and started paying rent for their garrisons.

1993 Opponents of Russian President Boris Yeltsin fought
police and set up burning barricades. 

1998 Hawaii sued petroleum companies, claiming state drivers
were overcharged by about $73 million a year in price-fixing.


1998 About 10,000 Turkish soldiers crossed into northern Iraq
and attacked Kurdish rebels. 

2001 NATO, for the first time, invoked a treaty clause that
stated that an attack on one member is an attack on all
members. The act was in response to the September 11, 2001,
terrorist attacks in the United States. 

2016  smiled.



[ view entry ] ( 5 views ) | permalink | print article |
( 3 / 673 )
---
<<First
<Back
| 28 | 29 | 30 | 31 | 32 | 33 | 34 | 35 | 36 | 37 |
Next>
Last>>