Good Morning, ,

Today is Thursday, October 6

Have FUN!
DearWebby

Todays Bonehead Award:
PA dope dealer had 110 envelopes of heroin in his anus.
Details at Boneheads
______________________________________________________
Today, October 6, in 
1683 The first Mennonites arrived in America aboard the
Concord. The German and Dutch families settled in an area
that is now a neighborhood in Philadelphia, PA. 
See More of what happened on this day
in history.


| | |
| --- | --- |
| If you can help with the cost of the Humor Letter, please donate what you can! | |
______________________________________________________ In politics, absurdity is not a handicap. --- Napoleon Bonaparte (1769 - 1821) ______________________________________________________ If you like the Humor Letter, please vote!
______________________________________________________ Jill complained to Nina, "Rosey told me that you told her the secret I told you not to tell her." "Well," replied Nina in a hurt tone, "I told her not to tell you I told her." "Oh dear!" sighed Jill. "Well, don't tell her I told you that she told me." ______________________________________________________ 2017 Launch Flash Sale MTP $29.99
______________________________________________________ Listening to a young Yuppie couple argue as they waited for their prescriptions at least helped me pass the time. When their meds were finally ready, they paid and walked away. The druggist stood there and shook his head. I asked, "What's with them ?" He sighed and replied, "They're incompatible. He's on Xanax and she's on Prozac....." ______________________________________________________
______________________________________________________

If you like the Dear Webby Daily Humor Letter, please vote for it at the

Ezine Finder:
Thanks for your votes!

______________________________________________________ Reported by the bausell Sailor
An INTERNATIONAL BONEHEAD AWARD has been earned by
Corey Davis, 32, Scranton, Pennsylvania PA dope dealer had 110 envelopes of heroin in his anus. After collaring a suspected drug dealer, Pennsylvania police recovered 110 bags of heroin from the man's anus, court records show. According to Scranton cops, officers arrested Corey Davis, 32, and another man during an undercover operation Thursday afternoon. Davis, seen above, was arrested across the street from the Pennsylvania Paper & Supply Company's tower, a downtown Scranton landmark seen in the opening credits of the television show "The Office." As detailed in a criminal complaint, a confidential informant working with the Lackawanna County Drug Task Force arranged a $500 heroin buy with Jason Kohut, 44. Kohut, investigators allege, directed the buyer to meet him on a Scranton street, where he had parked his Cadillac Escalade. Kohut was behind the wheel, while Davis was in the front passenger seat. When undercover cops approached the SUV, they spotted an empty heroin packet near the driver's seat. A subsequent search of the vehicle turned up several hypodermic needles and additional empty heroin packets. The suspected drug dealers were then transported to Scranton police headquarters, where Davis reportedly admitted that he "had heroin inside of his anus." Davis then willingly removed "110 glassine packets of heroin from his anus," cops reported. The heroin was packaged in two "bricks" and one "bundle," according to a complaint charging Davis with three felonies and two misdemeanors. Davis, who is being held in the Lackawanna County Prison in lieu of $100,000 bail, is scheduled for an October 6 preliminary hearing in Magisterial District Court. ______________________________________________________ Tech Support Pits From: Trinity RE: Sound Dear Webby, My computer corner is one of those "hutch" type desk/shelves combos and I have no room for big speakers, plus I don't want to shell out the ridiculous amounts of money they want for them, when I have a perfectly good Surround-Sound music system already in the room. Is there a way to tap into the squeaker-speakers that came with the computer? Trinity Dear Trinity Yes, sure there is. Have a look at your sound system and find a socket labelled AUX in the front, or four screws or clamps labelled AUX in the back. Measure the distance between the computer and that AUX connection and get a shielded sound cable of that length with a 1/8" 3 wire plug on the computer side, and whatever size plug you need on the sound system side. Before you plug it in, turn down the volume on the computer way down so as not to blow up your sound system. Keep in mind that your sound system has a very powerful amplifier. Gradually turn up the volume. Most computer sound cards work best in the lower quarter of their volume range. Use the sound system's amplifier to get the volume you want. On some computers there are 4-wire quad sound cards. If yours has one of those, then you can use a 4-wire cable and plug. You will be totally amazed at how good the sound is, when it is properly amplified and not distorted by the little squeakers. Have FUN! DearWebby
Miss Prussy was going over mischievous Melvin Messpot's records with his anxious parents. On one page was the statement, "Melvin used fowl language today." Mr. Messpot, hoping to put the teacher in a bad light, snickered, "Ha! You spelled foul wrong." Miss Prussy corrected, "No, I meant F-O-W-L. Your child called me a big fat pile of chicken sh*t."
| | |
| --- | --- |
| If you can help with the cost of the Humor Letter, please donate what you can! | |
Daily tip from Thriftyfun.com Curry Beef with Rice By Mary Ray [19 Posts, 4 Comments] Prep Time: 60 minutes Cook Time: 50 minutes Total Time: 1 hour Yield: 4 servings Ingredients: 1 1/2 lb cubed beef 1 large onion, chopped 2 Tbsp curry powder 3 Tbsp tomato paste coconut oil (for sautéing) 2 inch piece ginger root, minced 1 Tbsp minced garlic 1 large potato, chopped 2 cups broth 1 can coconut milk Steps: Cut beef in 1/2 cubes. Brown beef in large pot and set aside. In same pot use coconut oil to saute' chopped onion. Add to pot curry powder (mix your own, it's better), tomato paste, minced ginger root and minced garlic. Cook and stir for five minutes. Cut up potato and add to pot along with broth (beef or chicken). Bring to a boil. Lower heat and cook for 35 minutes. Stir in coconut milk and simmer for another 10 minutes. Placed cooked rice in the bottom of bowl. Add beef curry and enjoy.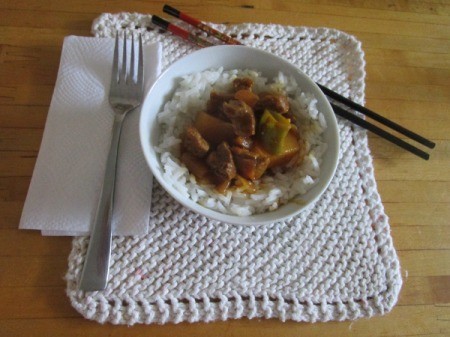 Ophelia Dingbatter's News
No sermon and not suitable for church, just jokes and fun for grownups. Read it on-line or subscribe. If you subscribe, look for the double opt-in confirmation request.

The thunder god went for a ride, upon his favorite filly. "I'm Thor," he cried. The horse replied, "You forgot your thaddle, thilly."
| | |
| --- | --- |
| | Don't go to Vegas without a Baptist |
____________________________________________________ Sitting in the bar George asked his 40-year-old friend John, "How come you aren't married?" John: "I haven't found the right woman yet." George: "So what are you looking for?" John: "Oh she's got to be real pretty, - a good cook and house keeper, she's got to know how to handle money, have a nice and pleasant personality -- and money, she's got to have money, and a nice big house wouldn't hurt either." George: "A woman like that would be crazy to marry YOU!" John: "Oh, it's okay, if she is crazy." ____________________________________________________ Minister at a funeral service, "Friends, let us say goodbye to our beloved, departed friend. Let us remember that here lies only the shell--the nut has gone!" ____________________________________________________
| | |
| --- | --- |
| | Beautiful Fall season around the world. |
____________________________________________________

Today on October 6 in

1683 The first Mennonites arrived in America aboard the
Concord. The German and Dutch families settled in an area
that is now a neighborhood in Philadelphia, PA. 

1848 The steamboat SS California left New York Harbor for San
Francisco via Cape Horn. The steamboat service arrived on
February 28, 1849. The trip took 4 months and 21 days. 

1863 The first Turkish bath was opened in Brooklyn, NY, by
Dr. Charles Shepard. 

1866 The Reno Brothers pulled the first train robbery in
America near Seymour, IN. The got away with $10,000. 

1880 The National League kicked the Cincinnati Reds out for
selling beer. 

1884 The Naval War College was established in Newport, RI. 

1889 In Paris, the Moulin Rouge opened its doors to the
public for the first time. 

1889 The Kinescope was exhibited by Thomas Edison. He had
patented the moving picture machine in 1887. 

1890 Polygamy was outlawed by the Mormon Church. 

1928 War-torn China was reunited under the Nationalist leader
Chiang Kai-Shek. 

1939 Adolf Hitler denied any intention to wage war against
Britain and France in an address to Reichstag. 

1948 "Summer and Smoke" by Tennessee Williams opened on
Broadway. 

1949 U.S. president Harry Truman signed the Mutual Defense
Assistance Act. The act provided $1.3 billion in the form of
military aid to NATO countries. 

1954 E.L. Lyon became the first male nurse for the U.S. Army.


1961 U.S. president John F. Kennedy advised American families
to build or buy bomb shelters to protect them in the event of
a nuclear exchange with the Soviet Union. 

1973 Egypt and Syria attacked Israel in an attempt to win
back territory that had been lost in the third Arab-Israel
war. Support for Israel led to a devastating oil embargo
against many nations including the U.S. and Great Britain on
October 17, 1973. The war lasted 2 weeks. 

1979 Pope John Paul II became the first pontiff to visit the
White House. 

1991 Elizabeth Taylor married Larry Fortensky. The ceremony
was held at Michael Jackson's estate near Los Angeles, CA. It
was Taylor's 8th marriage and Fortensky's 3rd. 

2016  smiled.



[ view entry ] ( 14 views ) | permalink | print article |
( 2.9 / 705 )
---
<<First
<Back
| 28 | 29 | 30 | 31 | 32 | 33 | 34 | 35 | 36 | 37 |
Next>
Last>>