Good Morning, ,

Today is Wednesday, October 19
Thanks Donnie!!

Have FUN!
DearWebby

Todays Bonehead Award:
Pennsylvania youth pastor demands divorce after 
raping and impregnating 15-year-old girl
Details at Boneheads
______________________________________________________
Today, October 18, in 
1812 Napoleon Bonaparte's French forces began their retreat
out of Russia after a month of chasing the retreating Russian
army. The Russians burned everything, leaving nothing for
looting and feeding the French.
See More of what happened on this day
in history.


| | |
| --- | --- |
| If you can help with the cost of the Humor Letter, please donate what you can! | |
______________________________________________________ There is a theory which states that if ever anybody discovers exactly what the Universe is for and why it is here, it will instantly disappear and be replaced by something even more bizarre and inexplicable. There is another theory which states that this has already happened. --- Douglas Adams (1952 - 2001) Treat all disasters as if they were trivialities but never treat a triviality as if it were a disaster. --- Quentin Crisp ______________________________________________________ If you like the Humor Letter, please vote!
______________________________________________________ NEW PASTA DIET Just walk pasta bakery without stopping. Walk pasta candy store without stopping. Walk pasta ice cream shop without stopping. Walk pasta pizza joint without stopping. ______________________________________________________ 2017 Launch Flash Sale MTP $29.99
______________________________________________________ A Sunday school teacher was discussing the Ten Commandments with her five and six year olds. After explaining the commandment to "honour" thy Father and thy Mother, she asked, "Is there a commandment that teaches us how to treat our brothers and sisters?" Without missing a beat one little boy (from a large family ) answered, "Unfortunately that is 'Thou shall not kill.' " ______________________________________________________
From FB ______________________________________________________

If you like the Dear Webby Daily Humor Letter, please vote for it at the

Ezine Finder:
Thanks for your votes!

______________________________________________________ Reported by the Bausell Sailor
An INTERNATIONAL BONEHEAD AWARD has been earned by
Wesley Ryan Blackburn, 35, New Paris, Pennsylvania Pennsylvania youth pastor demands divorce after raping and impregnating 15-year-old girl A Pennsylvania youth pastor demanded a divorce after his wife confronted him about raping and impregnating a teenage girl he met through church. Wesley Ryan Blackburn, who served until last week as youth pastor at Faith Brethren Bible Church in New Paris, was charged with 84 felony counts of statutory sexual assault, 84 misdemeanor counts of indecent assault and one felony count of corruption of minors, reported The Tribune-Democrat. The 35-year-old Blackburn, a father of five, revealed his relationship with the girl Oct. 5 and told his wife he no longer loved her and wanted a divorce. Blackburn's wife told church pastor James Espenshade the following morning that her husband had engaged in sexual activity with a 15-year-old member of his youth group and gotten the teen pregnant. Espenshade and church deacons confronted Blackburn, who refused to speak to them — so they immediately fired the youth pastor and called police. "We didn't even care what he had to say," Espenshade said. "We don't tolerate this kind of stuff — it's inappropriate, it's reprehensible. There was never a discussion of anything else. We had to do what was right." A state trooper went to Blackburn's office, where he found the man packing up his belongings, and interviewed him about the case. Blackburn said he met the girl in 2009, when he first came to the church, but they grew closer after she joined his youth group in 2014, when she was 13 or 14 years old. He said the relationship became sexual in March, and investigators said he admitted to impregnating the girl this year. State troopers arrested Blackburn at that point. Blackburn's wife said she refused to sign divorce papers presented by her husband. The former youth pastor remains held on $200,000 bond. ______________________________________________________ Tech Support Pits From Carol Re: Is ScanGuard safe to download? Dear Webby, Is ScanGuard safe to download? Thanks. Carol Dear Carol Probably not very dangerous, but absolutely not necessary. Since you have McAfee and Malwarebytes, then you are already fully protected. Even just the Windows Firewall and Windows Defender will give you as much or more protection than ScanGuard. So far there are no legitimate positive reviews, and nobody except ScanGuard says it is necessary. Have FUN! DearWebby
The Sunday School teacher asked her students to draw a picture of their favorite Old Testament story, and as she moved around the class, she saw there were many wonderful drawings being done. Then she came across Little Johnny who had drawn a old man driving an old car. In the back seat, there were two passengers, both scantily dressed. "It's a lovely picture," said the teacher, "but which story does it tell?" Little Johnny seemed surprised at the question. "Well," he said "that's a Plymoth Fury like Uncle Ted's got up on blocks in his yard. And it says in the Bible that God drove Adam and Eve out of the paradise in a Fury!"
| | |
| --- | --- |
| If you can help with the cost of the Humor Letter, please donate what you can! | |
Daily tip from Thriftyfun.com Cleaning Stainless Steel Cookware Judy Pariser S. I got this terrific stainless steel whistling tea kettle at the church thrift shop yesterday for $2 (half price sale.) It was full of grease and dirt. The black handle had some white residue on it. I figured for $2 I could take a chance and see how the steel part cleaned up with a soap-filled pad. I assumed the handle would always be stained, but I could live with it. The lady working there told me to use a Magic Eraser instead of steel wool to clean it. I use the knock-offs from the dollar store. Within 2 minutes the entire kettle, including the bottom and handle, looked like new, and I only used half of one pad. I wish I had taken before pictures, but you can see the beautiful after results.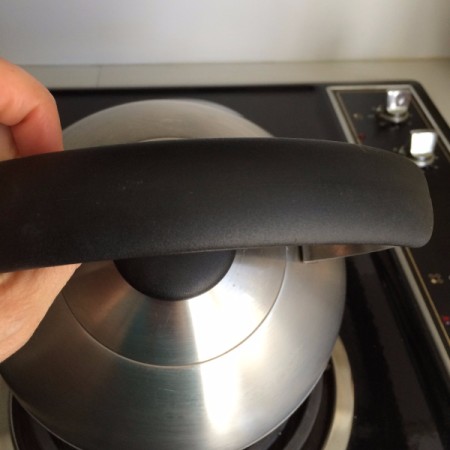 Ophelia Dingbatter's News
No sermon and not suitable for church, just jokes and fun for grownups. Read it on-line or subscribe. If you subscribe, look for the double opt-in confirmation request.

A customer walks into a restaurant and notices a large sign on the wall: $500 If we fail to fill your order! When his waitress arrives, he orders elephant nuts on rye. She calmly writes down his order and walks into the kitchen where all hell breaks loose! The restaurant owner comes storming out of the kitchen. He runs up to the customer's table, slaps five $100 bills down on it and says, "You got me this time buddy, but I want you to know that's the first time in ten years we've been out of rye bread!"
| | |
| --- | --- |
| | Motor Mania |
____________________________________________________ The local boat dealer has a beautiful boat in the front lot. On it is a sign that reads: "Your wife called. She said to buy whatever you want!" ____________________________________________________ >From Victoria After living in our house for four years, we were moving out of state. My husband had backed the U-Haul truck up to our garage door so that we could start loading all of the boxes. Just then one of our neighbors came walking across the lawn carrying a plate full of muffins. "Isn't that thoughtful," my husband said to me. "They must have realized that we packed our kitchen stuff." The neighbor stuck out his hand and boomed, "Welcome to the neighborhood!" ____________________________________________________
| | |
| --- | --- |
| | People are AWESOME for the month of September 2016. |
____________________________________________________

Today on October 19 in
1765 In the U.S., The Stamp Act Congress met and drew up a
declaration of rights and liberties. 

1781 British General Charles Lord Cornwallis surrendered to
U.S. General George Washington at Yorktown, Virginia. It was
to be the last major battle of the American Revolutionary
War. 

1812 Napoleon Bonaparte's French forces began their retreat
out of Russia after a month of chasing the retreating Russian
army. The Russians burned everything, leaving nothing for
looting and feeding the French.

1814 In Baltimore, MD, the first documented performance of
"The Defence of Fort McHenry" with music took place at the
Holliday Street Theatre. The work was later published under
the title "The Star-Spangled Banner." 

1914 In the U.S. government owned vehicles were first used to
pick up mail in Washington, DC. 

1915 The U.S. recognized General Venustiano Carranza as the
president of Mexico. The U.S. imposed embargo to all parts of
Mexico except where Carranza was in control. 

1933 Basketball was introduced to the 1936 Olympic Games by
the Berlin Organization Committee. 

1943 The Moscow Conference of Foreign Ministers began in
Russia during World War II. Delegates from the U.S.S.R.,
Great Britain, the U.S., and China met to discuss war aims
and cooperation between the nations. 

1944 The U.S. Navy announced that black women would be
allowed into Women Accepted for Volunteer Emergency Service
(WAVES). 

1950 The United Nations forces entered the North Korean
capital of Pyongyang. 

1951 U.S. President Truman signed an act officially ending
the state of war with Germany. 

1960 The United States imposed an embargo on exports to Cuba
covering all commodities except medical supplies and certain
food products in retaliation for Cuba nationalizing all
foreign owned plantations and companies.

1969 U.S. Vice President Spiro Agnew referred to anti-Vietnam
War protesters "an effete corps of impudent snobs." 

1977 The Concorde made its first landing in New York City. 

1987 The Dow Jones industrial average dropped 508 points. It
was the worst one-day percentage decline, 22.6%, in history. 

1989 The U.S. Senate rejected a proposed constitutional
amendment that barred the desecration of the American flag. 

1993 Benazir Bhutto was returned to the premiership of
Pakistan. 

1998 In Washington, DC, Microsoft went on trial to defend
against an antitrust case. 

1998 Former heavyweight champion Mike Tyson got his boxing
license back after he had lost it for biting Evander
Holyfield's ear during a fight. 

2003 In London, magician David Blaine emerged from a clear
plastic box that had been suspended by a crane over the banks
of the Thames River. He survived only on water for 44 days.
Blaine had entered the box on September 5. 

2009 The international version of Amazon's Kindle 2 was
released. 

2016  smiled.


[ view entry ] ( 3 views ) | permalink | print article |
( 2.9 / 700 )
---
<<First
<Back
| 27 | 28 | 29 | 30 | 31 | 32 | 33 | 34 | 35 | 36 |
Next>
Last>>