Good Morning, ,

Today is Saturday, October 22

Have FUN!
DearWebby

Todays Bonehead Award:
Floriduh Women vandalize home with duct tape, animal feces
Details at Boneheads
______________________________________________________
Today, October 22, in 
1797 Andre-Jacques Garnerin made the first recorded parachute
jump. He made the jump from about 3,000 feet. 

See More of what happened on this day in history.

| | |
| --- | --- |
| If you can help with the cost of the Humor Letter, please donate what you can! | |
______________________________________________________ Part of being sane, is being a little bit crazy. --- Janet Long A good friend will come and bail you out of jail... but, a true friend will be sitting next to you saying, "Darn...that was fun." --- Cato Integrity is doing the right thing, even if nobody is watching. --- Socratex ______________________________________________________ If you like the Humor Letter, please vote!
______________________________________________________ A woman decided to have her portrait painted. She told the artist, "Paint me with diamond rings, a diamond necklace, emerald bracelets, a ruby broach, and gold Rolex." "But you are not wearing any of those things," he replied. "I know," she said. "It's in case I should die before my husband. I'm sure he will remarry right away, and I want his new wife to go crazy looking for the jewelry." ______________________________________________________ 2017 Launch Flash Sale MTP $29.99
______________________________________________________ Two men met at a bus stop and struck up a conversation. One of them kept complaining of family problems. Finally, the other man said, "You think you have family problems? I'm from West Virginia. Tings get a lot more complicated there. A few years ago I met a young widow with a grown-up daughter, and we got married. Later my father married my stepdaughter. That made my stepdaughter my stepmother and my father became my stepson. Also, my wife became mother-in-law of her father-in-law. "Then the daughter of my wife, my stepmother, had a son. This boy was my half-brother because he was my father's son, but he was also the son of my wife's daughter, which made him my wife's grandson. That made me the grandfather of my half-brother. "This was nothing until my wife and I had a son. Now the half-sister of my son, my stepmother, is also the grandmother. This makes my father the brother-in-law of my child, whose stepsister is my father's wife. I'm my stepmother's brother-in-law, my wife is her own child's aunt, my son is my father's nephew and I'm my own grandfather! "And you think you have family problems!" ______________________________________________________
From FB ______________________________________________________

If you like the Dear Webby Daily Humor Letter, please vote for it at the

Ezine Finder:
Thanks for your votes!

______________________________________________________ Reported by the Bausell Sailor
An INTERNATIONAL BONEHEAD AWARD has been earned by
Nikki Rowena Sismanidis, 18, Jasmine Marie Suarez, 19, Gainesville, Floriduh Floriduh Women vandalize home with duct tape, animal feces Two Gainesville women were arrested Saturday afternoon after police said they broke into the home of an acquaintance and vandalized the bedroom using duct tape and animal feces, according to a Gainesville Police Department report. Police said Nikki Rowena Sismanidis, 18, and Jasmine Marie Suarez, 19, both of whom reside at 1000 SW 62nd Blvd., allegedly broke into the Southwest Ninth Way home of a common friend. Once inside, the pair allegedly placed strips of duct tape on the victimís bedroom walls, which caused damage to the painted walls when later removed, the report said. Also, a large portion of one wall was covered in a pattern using duct tape that spelled out an expletive and police said the pair planted animal feces on the victim's bed. The victim told police that Sismanidis has become hostile in the past when she chooses not to hang out with her, and on the previous day, the victim did not respond to texts from Sismanidis asking the victim to hang out. According to the report, both Sismanidis and Suarez admitted their involvement in the burglary and vandalism during a phone conversation with the victim and they arrived during the officers on-scene investigation and admitted their involvement to police. Both Sismanidis and Suarez were arrested and charged with burglary and criminal mischief. They were taken to the Alachua County jail, where they were released Sunday on their own recognizance. ______________________________________________________ Tech Support Pits From: Doris Re: Printer resolution Dear Webby, What is the best dots per inch resolution for saving pictures in? Doris Dear Doris Save an original in the highest resolution possible. If disk space is limited, you can save cropped or edited versions at lower resolutions, but save the original! If a picture is for the net, 72 DPI is enough, though sometimes you can fake a higher resolution by for example saving a picture at a larger size and then forcing the browser to recalculate to a smaller size. It slows down the page, but occasionally makes a picture look sharper. When it comes to printing, nowadays the sharpness is set during the page set-up. If you select inkm or toner saving mode, the picture will not be as clear and sharp as when you select Best Quality. Toner Saving mode is "Good enough for Government work". If you have to scan anything to send to the governement, or even a prescription to fax to Costco, the lowest quality is good enough. It is still quite readable. To hang it on the wall, use highest quality. With today's printers, don't worry about dots per inch. Have FUN! DearWebby
At the cocktail party, one woman said to another, "Aren't you wearing your wedding ring on the wrong finger?" The other replied "Yes, I am, I married the wrong man."
| | |
| --- | --- |
| If you can help with the cost of the Humor Letter, please donate what you can! | |
Daily tip from Thriftyfun.com Mummy Pizzas By lalala... [775 Posts, 103 Comments] These tasty pizzas are really easy to make and easy to customize for picky eaters. Just about any topping can be layered underneath the cheese. Ingredients: English muffins string cheese mini pepperoni spaghetti sauce black olives, sliced additional toppings, optional Steps: Split the English muffins in half and arrange them on a baking sheet. Then spread spaghetti sauce onto each muffin. Add mini pepperoni to the muffins. Then add olive slices. Pull apart the string cheese into strips and lay them onto the muffins, criss crossing the strings of cheese. Add two olive slices to each pizza and put a mini pepperoni in the center for the eyes. Bake at 350 degrees F for 10-12 minutes, or until cheese is melted.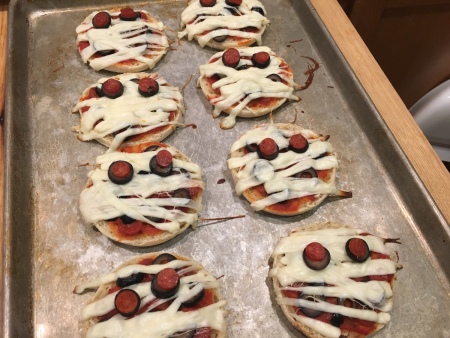 Ophelia Dingbatter's News
No sermon and not suitable for church, just jokes and fun for grownups. Read it on-line or subscribe. If you subscribe, look for the double opt-in confirmation request.

Leroy was telling his friend Bubba about the date he had the night before, "It was a bummer. She used four letter words all evening." Bubba exclaimed, "Really? I can't believe you didn't enjoy that." "Guess again," said Leroy, "All night she kept saying 'Quit,' 'Stop,' and 'Don't!'"
| | |
| --- | --- |
| | They had a noise complaint from the neighbors |
____________________________________________________
Settings WILL be changed! ____________________________________________________ Two kids are talking to each other. One says, "I'm really worried. My dad works twelve hours a day to give me a nice home and good food. My mom spends the whole day cleaning and cooking for me. I'm worried sick!" The other kid says, "What have you got to worry about? Sounds to me like you've got it made!" The first kid says, "What if they escape?" ____________________________________________________
| | |
| --- | --- |
| | Beautiful ethereal paintings on fallen leaves. |
____________________________________________________

Today on October 22 in

1746 The College of New Jersey was officially chartered. It
later became known as Princeton University. 

1797 Andre-Jacques Garnerin made the first recorded parachute
jump. He made the jump from about 3,000 feet. 

1836 Sam Houston was inaugurated as the first
constitutionally elected president of the Republic of Texas. 

1844 This day is recognized as "The Great Disappointment"
among those who practiced Millerism. The world was expected
to come to an end according to the followers of William
Miller. 

1879 Thomas Edison conducted his first successful experiment
with a high-resistance carbon filament. 

1907 The Panic of 1907 began when depositors began
withdrawing money from many New York banks. 

1939 The first televised pro football game was telecast from
New York. Brooklyn defeated Philadelphia 23-14. 

1954 The Federal Republic of Germany was invited to join the
North Atlantic Treaty Organization (NATO). 

1962 U.S. President Kennedy went on radio and television to
inform the United States about his order to send U.S. forces
to blockade Cuba. The blockade was in response to the
discovery of Soviet missile bases on the island. 

1968 Apollo 7 splashed down in the Atlantic Ocean. The
spacecraft had orbited the Earth 163 times. 

1975 Air Force Technical Sergeant Leonard Matlovich was
discharged after publicly declaring his homosexuality. His
tombstone reads " "A gay Vietnam Veteran. When I was in the
military they gave me a medal for killing two men and a
discharge for loving one." 

1979 The ousted Shah of Iran, Mohammad Riza Pahlavi,
installed in Iran by the US but later abandoned, was allowed
into the U.S. for medical treatment. 

1981 The Professional Air Traffic Controllers Organization
was decertified by the federal government for its strike the
previous August. 

1983 At the Augusta National Golf Course in Georgia, an armed
man crashed a truck through front gates and demanded to speak
with U.S. President Ronald Reagan. 

1986 U.S. President Reagan signed the Tax Reform Act of 1986
into law. 

1998 Pakistan's carpet weaving industry announced that they
would begin to phase out child labor. 

1999 China ended its first-ever human rights conference in
which it defied Western definitions of civil liberties. 

1999 The U.N. Security Council voted to send 6,000 troops to
Sierra Leone to oversee a peace plan that had been signed in
July. 

2008 The iTunes Music Store reached 200 million applications
downloaded. 

2010 The Internation Space Station set the record (3641 days)
for the longest continuous human occupation of space. It had
been continously inhabited since November 2, 2000. 

2014 The iPad Air 2 was released in the U.S. 

2016  smiled.


[ view entry ] ( 5 views ) | permalink | print article |
( 3 / 364 )
---
<<First
<Back
| 27 | 28 | 29 | 30 | 31 | 32 | 33 | 34 | 35 | 36 |
Next>
Last>>