Good Morning, ,

Today is Tuesday, October 25

Have FUN!
DearWebby

Todays Bonehead Award:
California father jailed for 1,503 years 
for repeatedly raping his daughter
Details at Boneheads
______________________________________________________
Today, October 25, in 
1415 In Northern France, England won the Battle of Agincourt
over France during the Hundred Years' War. Almost 6000
Frenchmen were killed while fewer than 400 were lost by the
English. 

See More of what happened on this day in history.

| | |
| --- | --- |
| If you can help with the cost of the Humor Letter, please donate what you can! | |
______________________________________________________ Ninety-eight percent of the adults in this country are decent, hard-working, honest Americans. It's the other lousy two percent that get all the publicity. But then--we elected them. --- Lily Tomlin (1939 - ) ______________________________________________________ If you like the Humor Letter, please vote!
______________________________________________________ >From Noella I called an old school friend on the telephone and asked him what he was doing. He replied that he was working on "Aqua-thermal treatment of ceramics, aluminium, and steel under a constrained environment". I was impressed.... On further inquiring, I learned that he was washing dishes, pots, and pans, with hot water... Under his wife's supervision. ______________________________________________________ 2017 Launch Flash Sale MTP $29.99
______________________________________________________ Traveling through New England, a motorist stopped for gas in a tiny village. "What's this place called?" he asked the station attendant. "All depends," the native drawled. "Do you mean by them that has to live in this dad-blamed, moth-eaten, dust-covered dump, or by them that's merely enjoying its quaint and picturesque rustic charms for a short spell ?" ______________________________________________________
From FB ______________________________________________________

If you like the Dear Webby Daily Humor Letter, please vote for it at the

Ezine Finder:
Thanks for your votes!

______________________________________________________ Reported by the Bausell Sailor
An INTERNATIONAL BONEHEAD AWARD has been earned by
Rene Lopez, 41, Fresno, California California father jailed for 1,503 years for repeatedly raping his daughter A man has been given a 1,503-year prison sentence for repeatedly raping his teenage daughter over a four year period. Rene Lopez, 41, was sentenced to the longest-known prison sentence in Fresno Superior Court history, according to the Fresno Bee. A jury in September found Lopez guilty of 186 felony counts of sexual assault, including dozens of counts of rape of a minor. Prosecutors say Lopez's daughter was first sexually abused by a family friend but that instead of protecting her, Lopez turned her into 'a piece of property.' They say the victim was raped two to three times a week from May 2009 to May 2013, when the girl got the courage to leave him. In announcing the punishment, Judge Edward Sarkisian Jr. told Lopez he is a 'serious danger to society' and noted that Lopez had never shown remorse and has blamed his daughter for his predicament. ______________________________________________________ Tech Support Pits From: Calla Re: Making icons Dear Webby, I need to make a bunch of icons for vision impaired people. Yes, I know there are tons of icons hidden in Windows and wherever, but I have to make new ones, mostly with just a letter or a number on them. What program do you recommend for that? Calla Dear Calla Icons are just .bmp pictures renamed to .ico Paint your icons 64 x 64 pixels, save them as .BMP files, and close the picture. Then rename them by using the file explorer to .ICO. Then you can highlight a shortcut, select properties, chanege Icon and select your just made .ico picture. There are programs available for making icons, some quite expensive, but all you really need is any graphics program, that will let you save files as .BMP. Have FUN! DearWebby
At our local funeral home families are given the chance to chose the music they would like to enter the service to. One family asked to enter to Elvis Presley's hit, "Love me Tender." The day of the funeral arrived and the music was started ready for the family to walk in to the service. Unfortunately the wrong track number was entered into the CD player, and the family found themselves walking in to, "Return to Sender."
| | |
| --- | --- |
| If you can help with the cost of the Humor Letter, please donate what you can! | |
Daily tip from Thriftyfun.com Making a Mosquito Trap Because mosquitoes are attracted to the CO2 we breathe out, I started looking for ideas that used CO2 as the bait for the mosquito trap. I did think of dry ice but it does dissipate fairly quickly. I found a cached link on Google here. It seems to be active again now. I've rewritten the instructions some and hopefully it will work as well. Thanks to the students for their hard work on this project. I've used some of their photos for illustration. Supplies: 1 2 liter soda bottle a sharp knife black paper tape candy thermometer Take a 2 liter soda bottle. Cut off the top right below where it starts to narrow for the top, invert and place inside the lower half. Make a simple sugar syrup. Ingredients: 1 cup sugar 1 cup water 2 cups cool water 1 tsp. active dry yeast Directions: Bring 1 cup of the water to a boil. Dissolve the sugar into the boiling water. Once the sugar is dissolved completely, remove the pan from the heat. Stir in 2 cups cool water, stir well. Check the temperature of the syrup to make sure it is no hotter than 90 degrees F, if hotter, let cool to 90 degrees F, add 1 tsp. active dry yeast, no need to mix. Put syrup in the bottom part of the bottle, using the cut off neck piece, leave in place. Be sure to seal the two parts of the bottle with the tape. The fermenting yeast will release carbon dioxide. Put black paper around the bottle since mosquitoes like dark places and carbon dioxide. This mosquito trap will then start working.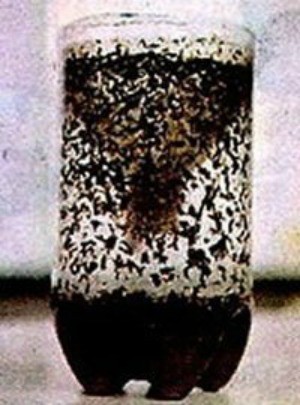 Ophelia Dingbatter's News
No sermon and not suitable for church, just jokes and fun for grownups. Read it on-line or subscribe. If you subscribe, look for the double opt-in confirmation request.

Two women were at a bar. One looked at the other and said, "You know, 80 percent of all men think the best way to end a fight is to make love." "Well," said the other, "that will certainly revolutionize hockey and wrestling!"
| | |
| --- | --- |
| | she's either channeling Aretha or had too much sugar - super cute! |
____________________________________________________ Q: What did God say after creating man? A: "I can do so much better." Q: What did he say after he created woman? A: "OOOPS!!" And neither God nor man has rested since. ____________________________________________________ To impress his date, the young man took her to a very chick Italian restaurant. After sipping some fine wine, he picked up the menu and studied it with an appraising eye. "We'll have the Giuseppe Spomdalucci," he said finally. "Sorry, sir," said the waiter. "That's the owner. The food starts on the next page." ____________________________________________________
| | |
| --- | --- |
| | Great Halloween light show in Mobile, AL. |
____________________________________________________

Today on October 25 in

1415 In Northern France, England won the Battle of Agincourt
over France during the Hundred Years' War. Almost 6000
Frenchmen were killed while fewer than 400 were lost by the
English. 

1812 During the War of 1812, the U.S. frigate United States
captured the British vessel Macedonian. 

1854 The Charge of the Light Brigade took place during the
Crimean War. The British were winning the Battle of Balaclava
when Lord James Cardigan received an order to attack the
Russians. He took his troops into a valley and suffered 40
percent caualties. Later it was revealed that the order was
the result of confusion and was not given intentionally. 

1870 The first U.S. trademark was given. The recipient was
the Averill Chemical Paint Company of New York City. 

1917 The Bolsheviks (Communists) under Vladimir Ilyich Lenin
seized power in Russia. 

1929 Alber B. Fall, of U.S. President Harding's cabinet, was
found guilty of taking a bribe. He was sentenced to a year in
prison and fined $100,000. 

1951 In Panmunjom peace talks concerning the Korean War
resumed after 63 days. 

1954 A U.S. cabinet meeting was televised for the first time.


1955 The microwave oven for home use was introduced by The
Tappan Company. 

1958 U.S. Marines withdrew from Beirut, Lebanon. They had
been sent in on July 25, 1958, to protect the nation's pro-
Western government. 

1960 The Accutron watch by the Bulova Watch Company was
introduced. 

1962 U.S. Ambassador Adlai Stevenson presented photographic
evidence to the United Nations Security Council. The photos
were of Soviet missile bases in Cuba. 

1971 The U.N. General Assembly voted to expel Taiwan and
admit mainland China. 

1983 U.S. troops and soldiers from six Caribbean nations
invaded Grenada to restore order and provide protection to
U.S. citizens after a recent coup within Grenada's Communist
(pro-Cuban) government. 

1990 It was announced by U.S. Defense Secretary Dick Cheney
that the Pentagon was planning to send 100,000 more troops to
Saudi Arabia. 

2000 AT&T Corp. announced that it would restructure into a
family of four separately traded companies (consumer,
business, broadband and wireless). 

2001 It was announced that scientists had unearthed the
remains of an ancient crocodile which lived 110 million years
ago. The animal, found in Gadoufaoua, Niger, grew as long as
40 feet and weighed as much as eight metric tons. 

2016  smiled.


[ view entry ] ( 9 views ) | permalink | print article |
( 2.9 / 740 )
---
<<First
<Back
| 27 | 28 | 29 | 30 | 31 | 32 | 33 | 34 | 35 | 36 |
Next>
Last>>