Good Morning, ,

Today is Sunday, October 30
Tomorrow is Halloween!

Have FUN!
DearWebby

Todays Bonehead Award:
Intoxicated Indiana mower driver used son as shield, 
threatened trooper
Details at Boneheads
______________________________________________________
Today, October 28, in 
1831 Escaped slave Nat Turner was apprehended in Southampton
County, VA, several weeks after leading the bloodiest slave
uprising in American history. 

See More of what happened on this day in history.

| | |
| --- | --- |
| If you can help with the cost of the Humor Letter, please donate what you can! | |
______________________________________________________ Education is a method whereby one acquires a higher grade of prejudices. --- Laurence J. Peter (1919 - 1988) ______________________________________________________ If you like the Humor Letter, please vote!
______________________________________________________ Tyrone was visiting Leroy and discussing Leroy's problems with his wife when Leroy's doorbell rang. Leroy answered the door and was handed a paper which the deliverer said was a subpoena. Leroy showed it to Tyrone and asked him if he knew what it was. Tyrone said, "Dis here is a subpeena." "Wut is a sub-peena?" Leroy asked. "Well," said Tyrone, "dat's law talk. Yo wife is suing you for deevorce. We know dat 'sub' means 'unda' and 'peena' is Latin for 'penis', so - 'subpeena' means unda the penis which means she done got you by da balls." ______________________________________________________ 2017 Launch Flash Sale MTP $29.99
______________________________________________________ A STAR: A performer who makes more than his or her agent. A SUPERSTAR: A performer who makes more than Guatemala. ______________________________________________________
From FB Somewhere in Vermont ______________________________________________________

If you like the Dear Webby Daily Humor Letter, please vote for it at the

Ezine Finder:
Thanks for your votes!

______________________________________________________ Reported by the Bausell Sailor
An INTERNATIONAL BONEHEAD AWARD has been earned by
Samuel L. Wilson, 22, Connersville, Indiana Intoxicated mower driver used son as shield, threatened trooper Indiana State Police arrested a Connersville man who allegedly drove a lawn mower while intoxicated, threatened an off-duty trooper with a knife then used his own son as a human shield. Samuel L. Wilson, 22, allegedly drove the lawn mower with his 5-year-old son on board to the home of Indiana State Police Officer Scott McPheeters about 6:15 p.m. Monday, State Police said in a news release. McPheeters was doing yard work as his children played nearby at his home in rural south western Wayne County. Wilson, who police said was "obviously intoxicated," asked for a tow. McPheeters instead offered to call someone who would to give the man a ride, but police said Wilson turned "vulgar and belligerent." McPheeters took his children into his house and called for backup. McPheeters went outside to wait for officers and try to calm Wilson. Wilson, police said, pulled a knife from his belt and threatened McPheeters. McPheeters persuaded Wilson to put down the knife, but police said Wilson refused to cooperate when Cambridge Police Officer Larry Kuhn arrived. "The man resisted and refused to follow directions, and even attempted to use his five-year-old son as a shield," State Police said in the news release. "Officers were able to get the boy free from the man and take him into custody." Wilson was arrested and taken to the Wayne County Jail. Wilson faces initial charges of intimidation, operating a vehicle while intoxicated with a passenger under age 18 and resisting law enforcement. Police said Wilson's blood-alcohol level tested at more than twice the legal driving limit of .08 percent. The boy was released to his custodial parent, police said. ______________________________________________________ Tech Support Pits From Fred Re: DSL and Fax Dear Webby, Can I run a fax machine on the same line as the DSL ? Thanks Fred Dear Fred Yes, sure. They share the same wire, just like your 144 TV channels share the same wire. Only dial-up and voice and fax can't use the same wire at the same time, but any one of them can have DSL piggy-backing on the same wire. Have FUN! DearWebby
From a subscriber who does not have a signature line in her mail: A teacher asked her class, "What do you want out of life?" A girl in the back row raised her hand and said, "All I want out of life is four animals." The teacher asked, "Really, and what four animals? The little girl said A mink on my back, a jaguar in the Garage, a tiger in bed and a jackass to pay for all of it." The Teacher Fainted
| | |
| --- | --- |
| If you can help with the cost of the Humor Letter, please donate what you can! | |
Daily tip from Thriftyfun.com Teriyaki Bat Wings By Teri Malec P. Teriyaki Bat WingsChicken wings marinated in teriyaki sauce makes a spooky, yet yummy appetizer! Prep Time: 30 mins Cook Time: 45 mins Total Time: 1 hour 15 mins Ingredients: ¼ cup soy sauce ½ cup water 4-5 Tbsp honey (to taste) 1 lb chicken wings, separated into drums and tips Steps: Make the teriyaki sauce with the soy sauce, honey and water. Mix well. Separate the wings. Marinate the chicken in the teriyaki sauce. Refrigerate for a few hours. Make sure the chicken pieces become nice and dark. Bake the wings at 400 degrees F. for about 45 mins, or until crispy.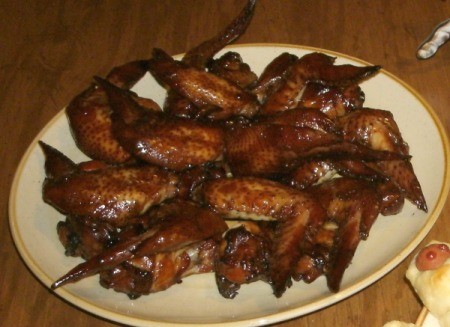 Ophelia Dingbatter's News
No sermon and not suitable for church, just jokes and fun for grownups. Read it on-line or subscribe. If you subscribe, look for the double opt-in confirmation request.

Thanks to Roland for this one: My friend called his car insurance company to tell them to change his address from Texas to Vermont. The woman who took the call asked where Vermont was. As he tried to explain, she interrupted and said, "Look, mon, I aint not stupid or nuthin, juss tell me what state it's in."
| | |
| --- | --- |
| | tree cutting machines! |
____________________________________________________ A Sunday school teacher was trying to teach her class about the difference between right and wrong. "All right children, let's take another example," she said. "If I were to get into a man's pocket and take all his money, what would I be?" Little Johnny raises his hand, and with a confident smile, he blurts out, "You'd be his wife!" ____________________________________________________ One night at the dinner table, the wife commented, "When we were first married, you took the small piece of steak and gave me the larger. Now you take the large one and leave me the smaller; You don't love me any more..." "Nonsense, darling," replied the husband, "you just cook a lot better now." ____________________________________________________
| | |
| --- | --- |
| | What a great idea to turn an unused hillside into a children's park! |
____________________________________________________

Today on October 30 in
1817 The independent government of Venezuela was established
by Simon Bolivar. 

1831 Escaped slave Nat Turner was apprehended in Southampton
County, VA, several weeks after leading the bloodiest slave
uprising in American history. 

1875 The constitution of Missouri was ratified by popular
vote. 

1893 The U.S. Senate gave final approval to repeal the
Sherman Silver Purchase Act of 1890. 

1894 The time clock was patented by Daniel M. Cooper of
Rochester, NY. 

1938 Orson Welles' "The War of the Worlds" aired on CBS
radio. The belief that the realistic radio dramatization was
a live news event about a Martian invasion caused panic among
listeners. 

1945 The U.S. government announced the end of shoe rationing.


1953 General George C. Marshall was awarded the Nobel Peace
Prize. 

1961 The Soviet Union tested a hydrogen bomb with a force of
approximately 58 megatons. 

1961 The Soviet Party Congress unanimously approved an order
to remove Joseph Stalin's body from Lenin's tomb. 

1972 U.S. President Richard Nixon approved legislation to
increase Social Security spending by $5.3 billion. 

1972 In Illinois, 45 people were killed when two trains
collided on Chicago's south side. 

1975 Prince Juan Carlos assumed power in Spain as dictator
Francisco Franco was near death. 

1975 The New York Daily News ran the headline "Ford to City:
Drop Dead." The headline came a day after U.S. President
Gerald R. Ford said he would veto any proposed federal
bailout of New York City. 

1982 Portugal's constitution was revised for the first time
since it was ratified on April 25, 1976. 

1984 In Poland, police found the body of kidnapped pro-
Solidarity priest Father Jerry Popieluszko. His death was
blamed on four security officers. 

1989 Mitsubishi Estate Company announced it would buy 51
percent of Rockefeller Group Inc. of New York. 

1993 Martin Fettman, America's first veterinarian in space,
performed the world's first animal dissections in space,
while aboard the space shuttle Columbia. 

1993 The United Nations deadline concerning ousted Haitian
President Jean-Bertrand Aristide passed with country's
military still in control. 

1995 Federalist prevailed over separatists in Quebec in a
referendum concerning secession from the federation of
Canada. 

1998 The terrorist who hijacked a Turkish Airlines plane and
the 39 people on board was killed when anti-terrorist squads
raided the plane. 

2001 In New York City, U.S. President George W. Bush threw
out the first pitch at Game 3 of the World Series between the
New York Yankees and the Arizona Diamondbacks. 

2001 Michael Jordan returned to the NBA with the Washington
Wizards after a 3 1/2 year retirement. The Wizards lost 93-91
to the New York Knicks.

2016  smiled.


[ view entry ] ( 7 views ) | permalink | print article |
( 2.8 / 307 )
---
<<First
<Back
| 27 | 28 | 29 | 30 | 31 | 32 | 33 | 34 | 35 | 36 |
Next>
Last>>