Good Morning, ,

Today is Monday, October 31
Happy Halloween!

Have FUN!
DearWebby

Todays Bonehead Award:
Pothead or potbutt? Dope dealer in road rage incident 
hid pot in his butt, dope and gun in car.
Details at Boneheads
______________________________________________________
Today, October 31, in 
1517 Martin Luther posted the 95 Theses on the door of the
Wittenberg Palace Church. The event marked the start of the
Protestant Reformation in Germany and wars throughout Europe.

See More of what happened on this day in history.

| | |
| --- | --- |
| If you can help with the cost of the Humor Letter, please donate what you can! | |
______________________________________________________ There is no nonsense so gross that society will not, at some time, make a doctrine of it and defend it with every weapon of communal stupidity. --- Robertson Davies When you don't have any money, the problem is food. When you have money, it's sex. When you have both, it's health. If everything is simply jake, then you're frightened of death. --- J.P. Donleavy ______________________________________________________ If you like the Humor Letter, please vote!
______________________________________________________ The teen-aged beauty was telling a friend that she was really worried about her mother. It seems she's always fatigued from staying up all night long. Her friend asked, "What's she doing staying up all night? At her age, that's not good at all." The girl replied, "Waiting for me to come home." ______________________________________________________ 2017 Launch Flash Sale MTP $29.99
______________________________________________________ Tech Support: "OK, Jose, let's press the control and escape keys at the same time. That brings up a task list in the middle of the screen. Now type the letter 'P' to bring up the Programs." Jose: "I don't have a 'P'." Tech Support: "On your keyboard, Jose." Jose: "What do you mean?" Tech Support: "'P', on your keyboard, Jose." Jose: "I'm not going to do that!" Tech Support: "Jose, I'm going to have to put you on hold for a bit. One of the other techs here needs to have an emergency hernia transplant." ______________________________________________________ Thanks to Lillemor for this picture:
Pink and blue at Shell Beach, California from Lillemor ______________________________________________________

If you like the Dear Webby Daily Humor Letter, please vote for it at the

Ezine Finder:
Thanks for your votes!

______________________________________________________ Reported by the Bausell Sailor
An INTERNATIONAL BONEHEAD AWARD has been earned by
Nabil Subhai Hasan, 23, Derrick Alan Innocent, 23, Lakeland, Floriduh Pothead or potbutt? Dope dealer in road rage incident hid pot in his butt, dope and gun in car. The FHP arrested a driver and his passenger in a road rage incident for throwing bottles at another vehicle on I-4. Late Wednesday night, dispatchers received a call from a driver who reported people inside another vehicle were throwing objects at her while both traveling westbound on I-4 in Polk County. The incident began in Lakeland near mile marker 33 and continued for another 11 miles to Plant City. The female driver told dispatchers she heard a gun shot after glass bottles were thrown at her car. Officers with Lakeland Police conducted a traffic stop of the suspect vehicle at mile marker 22 on I-4. According to the arrest affidavit, officers found a bag of Ecstasy shoved under the driver's seat and a loaded semi- automatic gun under the cushion of the rear right seat. Police also found a bag of marijuana hidden inside the driver's butt. Florida Highway Patrol Trooper Jason Guaba arrived on scene and spoke to the alleged victims. He then interviewed the driver and two passengers inside the suspect vehicle. There was also an infant in the vehicle at the time of the incident. After concluding his investigation Trooper Guaba arrested the driver, 23-year-old Nabil Subhai Hasan, and one of his passengers, 23-year-old Derrick Alan Innocent. Both men were taken to Orient Road Jail for booking. Both Hasan and Innocent are facing four felonies charges: two counts of Throwing a Deadly Missile into an Occupied Vehicle, Felon in Possession of a Weapon, and Possession of Cocaine with Intent to Sell. They were also arrested for Misdemeanor Possession of Marijuana. There was no mention in the report about charges for endangering the infant. ______________________________________________________ Tech Support Pits From Dixie H Re: Can't Forward Dear Webby, CAN'T FORWARD YOUR PROGRAM TO MY FRIENDS CAN THIS BE CORRECTED?? Dixie H. Dear Dixie I have no idea which of the many email programs you use. Check in the "Help" of your email program to see how an email is forwarded with the email program that you use. Usually you just find the icon for forwarding, hit that, type in the recipient address, and hit SEND. Have FUN! DearWebby
Here is a classic that came back to me from Rick. A lady about eight months pregnant got on a bus. She noticed a man sitting opposite her was smiling. She immediately moved to another seat. This time the smile turned into a grin, so she moved again. The man seemed even more amused. When on the fourth move, the man burst out laughing, she complained to the driver and he had the man arrested. The case came up in court. The judge asked the man (about20) what he had to say for himself. The man replied," Well, you're Honor, it was like this. When the woman got on the bus, I couldn't help but notice her condition. She sat under a sign that said, 'The Double Mint Twins are coming' and I smiled. Then she moved and sat under a sign that said, ' Slogan's Liniment will reduce the swelling' and I had to grin. Then she moved under a sign that said, ' William's Big Stick did the trick' and I could hardly contain myself. BUT you're Honor, when she moved the fourth time and sat under a sign that said, 'Goodyear Rubber could have prevented this accident'… I just lost it." Case dismissed.
| | |
| --- | --- |
| If you can help with the cost of the Humor Letter, please donate what you can! | |
Daily tip from Thriftyfun.com Old Fashioned Coconut Cream Pie By Abigail A. [21 Posts, 1,334 Comments] This is my go-to custard pie recipe. I love coconut! If you prefer meringue to whipped topping, you can make it with the leftover egg whites. Prep Time: About 20 minutes Cook Time: About 25 minutes Total Time: 45 to 55 minutes Yield: One pie Ingredients: 1 1/2 cup milk 1/3 cup sugar 1/4 tsp salt 2 Tbsp cornstarch 3 egg yolks 1 Tbsp coconut oil or butter 1/2 cup shredded, unsweetened (dry) coconut 1/2 tsp coconut flavoring 1 uncooked bottom pie crust (You can use the refrigerated, rolled pie crust) Steps: Scald milk in top of double boiler. Meanwhile combine sugar, cornstarch, salt and egg yolks in a bowl. Pour the scalded milk into the mixed ingredients, and pour the mixture back into the double boiler. Stir and cook until thickened. Remove from heat and add the coconut oil, shredded coconut and flavoring. Pour into pastry lined pie pan and crimp edges. Bake in 450 degree F oven for 10 minutes, then immediately turn down to 325 degrees F. Bake for an additional 10 to 20 minutes more or until a toothpick inserted in the middle comes out clean.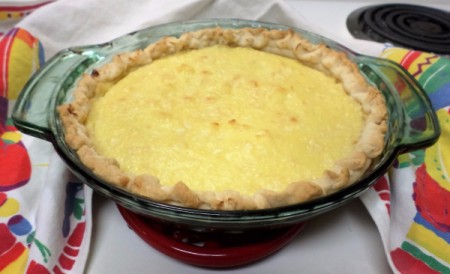 Let cool and cover with whipped topping.
Ophelia Dingbatter's News
No sermon and not suitable for church, just jokes and fun for grownups. Read it on-line or subscribe. If you subscribe, look for the double opt-in confirmation request.

Tired of having to balance his wife Cindy's checkbook, Mike made a deal with her; he would look at it, but only after she had spent a few hours trying to wrestle it into shape. The following night, after spending hours poring over stubs and figures, Cindy said proudly, "I've done it! I made it balance!" Impressed, Mike came over to take a look. "Let's see... mortgage 550.00, electricity 70.50, phone 35.00." His brow wrinkled as he read the last entry. "It says here ESP, $615. What the heck is that?" "Oh," she said, "That means, Error Some Place!"
| | |
| --- | --- |
| | New York Handpan |
____________________________________________________ In California's Sonoma Valley, where vineyards cater to wine snobbery, a woman phoned the classified ad department of a newspaper. She offered for sale what sounded like "well-aged Caumeneur." The ad-taker was unfamiliar with that particular, wine, but was used to the infusion of French words into the local vocabulary. "Could you please spell that?" she asked. "You know," said the woman impatiently, "C-o-w M-a-n-u-r-e ____________________________________________________ During one "generation gap" quarrel with his parents young Michael cried, "I want excitement, adventure, money, and beautiful women. I'll never find it here at home, so I'm leaving. Don't try and stop me!" With that he headed toward the door. His father rose and followed close behind. "Didn't you hear what I said? I don't want you to try and stop me." "Who's trying to stop you?" replied his father. "If you wait a minute, I'll go with you." ____________________________________________________
| | |
| --- | --- |
| | The art of......paper art. |
____________________________________________________

Today on October 31 in
1517 Martin Luther posted the 95 Theses on the door of the
Wittenberg Palace Church. The event marked the start of the
Protestant Reformation in Germany and wars throughout Europe.


1864 Nevada became the 36th state to join the U.S. 

1868 Postmaster General Alexander Williams Randall approved a
standard uniform for postal carriers. 

1914 The Ottoman Empire (Turkey) joined the Central Powers
(Germany, Austria-Hungary, and Bulgaria). 

1922 Benito Mussolini became prime minister of Italy. 

1926 Magician Harry Houdini died of gangrene and peritonitis
resulting from a ruptured appendix. His appendix had been
damaged twelve days earlier when he had been punched in the
stomach by a student unexpectedly. During a lecture Houdini
had commented on the strength of his stomach muscles and
their ability to withstand hard blows. 

1940 The British air victory in the Battle of Britain
prevented Germany from invading Britain. 

1941 Mount Rushmore was declared complete after 14 years of
work. At the time the 60-foot busts of U.S. Presidents George
Washington, Thomas Jefferson, Theodore Roosevelt and Abraham
Lincoln were finished. 

1941 The U.S. Navy destroyer Reuben James was torpedoed by a
German submarine near Iceland. The U.S. had not yet entered
World War II. More than 100 men were killed. 

1952 The U.S. detonated its first hydrogen bomb. 

1954 The Algerian National Liberation Front (FLN) began a
revolt against French rule. 

1955 Britain's Princess Margaret announced she would not
marry Royal Air Force Captain Peter Townsend. 

1956 Rear Admiral G.J. Dufek became the first person to land
an airplane at the South Pole. Dufek also became the first
person to set foot on the South Pole. 

1959 Lee Harvey Oswald, a former U.S. Marine from Fort Worth,
TX, announced that he would never return to the U.S. At the
time he was in Moscow, Russia. 

1961 In the Soviet Union, the body of Joseph Stalin was
removed from Lenin's Tomb where it was on public display. 

1968 U.S. President Lyndon B. Johnson ordered a halt to all
U.S. bombing of North Vietnam. 

1969 Wal-Mart Discount City stores were incorporated as Wal-
Mart Stores, Inc. 

1981 Antiqua and Barbuda became independent of Great Britain.


1983 The U.S. Defense Department acknowledged that during the
U.S. led invasion of Grenada, that a U.S. Navy plane had
mistakenly bombed a civilian hospital. 

1984 Indian Prime Minister Indira Gandhi was assassinated
near her residence by two Sikh security guards. Her son,
Rajiv, was sworn in as prime minister. 

1994 68 people were killed when an American Eagle ATR-72,
plunged into a northern Indiana farm. 

1997 Louise Woodward, British au pair, was sentenced to life
in prison after being convicted of second-degree murder in
the death of 8-month-old Matthew Eappen. She was released
after her sentence was reduced to manslaughter. 

1998 Iraq announced that it was halting all dealings with
U.N. arms inspectors. The inspectors were investigating the
country's weapons of mass destruction stemming from Iraq's
invasion of Kuwait in 1990. 

1999 EgyptAir Flight 990 crashed off the coast of Nantucket,
MA, killing all 217 people aboard. 

1999 Leaders from the Roman Catholic Church and the Lutheran
Church signed the Joint Declaration on the Doctrine of
Justification. The event ended a centuries-old doctrinal
dispute over the nature of faith and salvation. 

2001 Microsoft and the U.S. Justice Department reached a
tentative agreement to settle the antitrust case against the
software company. 

2007 Google shares hit $700 for the first time. 

2008 Distribution Video Audio, Inc. shipped its final
shipment of VHS tapes to stores. The company was the last
major United States supplier of pre-recorded VHS tapes. 

2016  smiled.


[ view entry ] ( 10 views ) | permalink | print article |
( 3 / 352 )
---
<<First
<Back
| 27 | 28 | 29 | 30 | 31 | 32 | 33 | 34 | 35 | 36 |
Next>
Last>>