Good Morning, ,

Today is Saturday, November 12

On Sunday night Nov. 13-14, the full moon will be the 
closest and biggest one since 1948. Take some pictures!

Have FUN!
DearWebby

Todays Bonehead Award:
Florida man with golf club smashes an occupied car
with his golf club
Details at Boneheads
______________________________________________________
Today, November 10, in 

1859 The first flying trapeze act was performed by Jules
Leotard at Cirque Napoleon in Paris, France. He was also the
designer of the garment that is named after him. 
See More of what happened on this day
in history.
______________________________________________________

| | |
| --- | --- |
| If you can help with the cost of the Humor Letter, please donate what you can! | |
______________________________________________________ There's no point in being grown up if you can't be childish sometimes. ---Doctor Who Don't wear your glasses on a blind date. Your date willl look a lot better to you. --- Socratex Love is a form of temporary insanity curable only by marriage. --- Socratex ______________________________________________________ If you like the Humor Letter, please vote!
______________________________________________________ Thanks to Scotty for this report: His neighbor took his wife to the doctor for a check up. The doctor examined her and said she seemed depressed. The doctor then asked about their sex life. She answered...it wasn't to great. The the doctor thought a moment, then told the man to increase it to at least three times a week. He then asked when? The doctor suggested that Monday, Wednesday, and Friday ought to do it. His neighbor then apparently paused a moment, and said, "That's alright doctor. I can bring her on Monday and Wednesday, but on Friday she'll have to take the bus ______________________________________________________ A class professor was giving a lecture on company slogans and was asking his students if they were familiar with them. "Joe," he asked, "which company has the slogan, 'Come fly the friendly skies'?" Joe answered the correct airline. "Brenda, can you tell me which company has the slogan, "Don't leave home without it?" Brenda answered the correct credit card company with no difficulty. "Now John, Tell me which company bears the slogan, 'Just do it'?" And John answered, "Mom." ______________________________________________________
That is NOT a teleprompter. It's a bug catcher. ______________________________________________________

If you like the Dear Webby Daily Humor Letter, please vote for it at the

Ezine Finder:
Thanks for your votes!

______________________________________________________
An INTERNATIONAL BONEHEAD AWARD has been earned by
Adam L. Batie, 43, 3227 SE 122nd Terrace, Gainesville, Floriduh Florida man with golf club smashes an occupied car with his golf club A Gainesville man mistakenly thought he was making a show of force to a drug dealer when he clobbered another man's windshield with a golf club, Alachua County deputies reported. The victim told deputies he was driving his red Jeep in the 3200 block of Southeast 122nd Terrace to drop a woman off, an arrest report said. When he left, a Dodge Dakota pulled in front of him, blocking his path, and the Dakota's driver jumped out and smashed the Jeep's windshield with a golf club. In no uncertain terms, the golf club-wielding man told the other driver to leave the neighborhood, and continued whacking the Jeep's driver-side door, deputies said. Adam L. Batie, 43, of 3227 SE 122nd Terrace, was charged with criminal mischief and aggravated assault with a deadly weapon, arrest records show. He was held at the Alachua County Jail Thursday morning in lieu of $20,000 bond. Batie told deputies he thought the Jeep's driver was trying to sell drugs to someone at his home, the report said. ______________________________________________________ Tech Support Pits From Myrna Re: Internet vocabulary Dear Webby, is there a place where I can look up what all the weird names and acronyms about Internet related stuff are about, but not pages and pages of technical jargon that will just get me even more confused? I want something that has just a brief sentence or two about each name. Thanks Myrna Dear Myrna Try http://www.matisse.net/files/glossary.html Have FUN! DearWebby
A senior student in college reluctantly took a required psychology course. The first day, the professor commented on each student's major, trying to provoke a response. It was working. Some students became defensive. When it was the senior's turn, he told the professor that he was a music major. "So," asked my professor, "what does your father think of you wasting your education to study music." The clever senior shot back with, "He's just thankful that I didn't go into psychology."
| | |
| --- | --- |
| If you can help with the cost of the Humor Letter, please donate what you can! | |
Daily tip from Thriftyfun.com Meringue By Abigail A. [22 Posts, 1,341 Comments] Surprisingly meringue is easy to make. Even better, a baked meringue travels well, unlike soft whipped topping. Meringue often requires the whites of the eggs that were used in the recipe, so there is no waste. The pie shown called for three egg yolks, and I made the meringue with the three whites. Prep Time: 10 minutes Cook Time: 5 minutes Total Time: 15 minutes Yield: Enough for 1 pie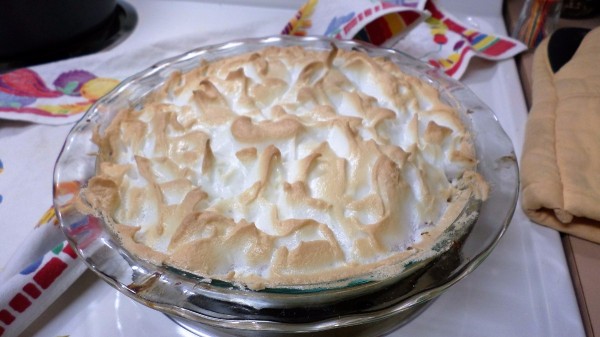 Ingredients: 3 egg whites 1/4 tsp salt 6 Tbsp powdered sugar Steps: Mix egg whites with salt, then turn up speed on mixer and and beat until whites are stiff and glossy, adding sugar a little at a time. This should be done when pie is set and just needs to be browned. Don't make it early or it will collapse. Remove pie and turn up oven temperature to 400* F. Cover entire top gently with meringue. Use a spatula to "spike" the top giving it the traditional peaked appearance. Put the pie back in the oven and brown. This will take just a few minutes so watch very carefully! The meringue will brown at the same time as the bottom of your pie. The picture shows how it looks when it is done.
| | |
| --- | --- |
| | baby laughs at bubbles |
____________________________________________________ I stopped at a friends house the other day and found him stalking around with a flyswatter. When I asked if he had gotten any flies, he answered, "Yeah, 3 males and 2 females." Curious, I inquired as to how he could tell the difference. He answered, "3 were on a beer can and 2 were on the phone." ____________________________________________________ An off-duty police officer, familiar with radar guns, drove through a school zone within the legal speed limit when the flash of a camera went off, taking a picture of his license plate. The officer, thinking the radar was in error, drove by again; even more slowly. Another flash. He did it again for a third time, at an even slower speed. Same result. "This guy must have screwed up the settings," the off-duty officer thought. A week later, when he received the violations in the mail, he discovered three traffic tickets: each for not wearing a seat belt! ____________________________________________________
| | |
| --- | --- |
| | 15 breathtaking views of the world. |
One finds the most romantic people at home improvement centers. A friend was helping a couple purchase a new door for their home. After he asked what size they needed, the stumped husband yelled clear across the store to his wife in home supplies, "Honey, c'mon over here and see which one of these doors you can fit through!"
Ophelia Dingbatter's News
No sermon and not suitable for church, just jokes and fun for grownups. Read it on-line or subscribe. If you subscribe, look for the double opt-in confirmation request.

____________________________________________________

Today on November 12

1799 Andrew Ellicott Douglass witnesses the Leonids meteor
shower from a ship off the Florida Keys. 

1840 Sculptor Auguste Rodin was born in Paris. His most
widely known works are "The Kiss" and "The Thinker." 

1859 The first flying trapeze act was performed by Jules
Leotard at Cirque Napoleon in Paris, France. He was also the
designer of the garment that is named after him. 

1892 William "Pudge" Heffelfinger became the first
professional football player when he was paid a $500 bonus
for helping the Allegheny Athletic Association beat the
Pittsburgh Athletic Club. 

1915 Theodore W. Richards, of Harvard University, became the
first American to be awarded the Nobel Prize in chemistry. 

1918 Austria and Czechoslovakia were declared independent
republics. 

1921 Representatives of nine nations gathered for the start
of the Washington Conference for Limitation of Armaments. 

1927 Joseph Stalin became the undisputed ruler of the Soviet
Union. Leon Trotsky was expelled from the Communist Party
leading to Stalin coming to power. 

1931 Maple Leaf Gardens opened in Toronto, Ontario, Canada.
It was to be the new home of the Toronto Maple Leafs in the
National Hockey League (NHL). 

1933 In Philadelphia, the first Sunday football game was
played. 

1942 During World War II, naval battle of Guadalcanal began
between Japanese and American forces. The Americans won a
major victory. 

1944 During World War II, the German battleship "Tirpitz" was
sunk off the coast of Norway. 

1946 The first drive-up banking facility opened at the
Exchange National Bank in Chicago, IL. 

1948 The war crimes tribunal sentenced Japanese Premier
Hideki Tojo and six other World War II Japanese leaders to
death. 

1953 The National Football League (NFL) policy of blacking
out home games was upheld by Judge Allan K. Grim of the U.S.
District Court in Philadelphia. 

1954 Ellis Island, the immigration station in New York
Harbor, closed after processing more than 20 million
immigrants since 1892. 

1964 Paula Murphy set the female land speed record 226.37
MPH. 

1972 Don Shula, coach of the Miami Dolphins, became the first
NFL head coach to win 100 regular season games in 10 seasons.


1979 U.S. President Carter ordered a halt to all oil imports
from Iran in response to 63 Americans being taken hostage at
the U.S. embassy in Tehran, Iran on November 4. 

1980 The U.S. space probe Voyager I came within 77,000 miles
of Saturn while transmitting data back to Earth. 

1982 Yuri V. Andropov was elected to succeed the late Leonid
I. Brezhnev as general secretary of the Soviet Communist
Party's Central Committee. 

1984 Space shuttle astronauts Dale Gardner and Joe Allen
snared the Palapa B-2 satellite in history's first space
salvage. 

1985 In Norfolk, VA, Arthur James Walker was sentenced to
life in prison for his role in a spy ring run by his brother,
John A. Walker Jr. 

1987 The American Medical Association issued a policy
statement that said it was unethical for a doctor to refuse
to treat someone solely because that person had AIDS or was
HIV-positive. 

1990 Japanese Emperor Akihito formally assumed the
Chrysanthemum Throne. 

1991 In the U.S., Robert Gates was sworn in as CIA director. 

1995 The space shuttle Atlantis blasted off on a mission to
dock with the Russian space station Mir. 

1997 Four Americans and their Pakistani driver were shot to
death in Karachi, Pakistan. The Americans were oil company
employees. 

1997 The UN Security Council imposed new sanctions on Iraq
for constraints being placed on UN arms inspectors. 

1997 Ramzi Yousef was found guilty of masterminding the 1993
bombing of the World Trade Center. 

1998 Daimler-Benz completed a merger with Chrysler to form
Daimler-Chrysler AG. 

2001 American Airlines flight 587 crashed just minutes after
take off from Kennedy Airport in New York. The Airbus A300
crashed into the Rockaway Beach section of Queens. All 260
people aboard were killed. 

2001 It was reported that the Northern Alliance had taken
Kabul, Afghanistan, from the ruling Taliban. The Norther
Alliance at this point was reported to have control over most
of the northern areas of Afghanistan. 

2002 Stan Lee filed a lawsuit against Marvel Entertainment
Inc. that claimed the company had cheated him out of millions
of dollars in movie profits related to the 2002 movie
"Spider-Man." Lee was the creator of Spider-Man, the
Incredible Hulk and Daredevil. 

2013 A series of portraits of Lucian Freud by the British
painter Francis Bacon known as Three Studies of Lucian Freud
sold for $142.4 million at an auction in New York City. 

2013 In New York, it was announced that the new World Trade
Center was the tallest building in the United States. The
height was measured at 1,776 feet. The building was also the
fourth tallest building in the world at the time. 

2013 U.S. Airways and AMR reached an antitrust settlement
with the U.S. Department of Justice which would allow a
merger that would create the world's largest airline. 

2014 NATO commander Gen Philip Breedlove reported that
Russian military equipment and Russian combat troops had been
seen entering Ukraine in columns over several days. 

2014 The European Space Agency's Rosetta spacecraft used its
lander Philae to perform the first soft landing on a comet.
The comet was 67P/Churyumov-Gerasimenko. 

2016  smiled.


[ view entry ] ( 8 views ) | permalink | print article |
( 3 / 415 )
---
<<First
<Back
| 27 | 28 | 29 | 30 | 31 | 32 | 33 | 34 | 35 | 36 |
Next>
Last>>