Good Morning, ,

Today is Monday, November 14

Have FUN!
DearWebby

Todays Bonehead Award:
2 Jersey Shore men took a taxi to rob house, 
then stiffed driver
Details at Boneheads
______________________________________________________
Today, November 14, in 

1832 The first streetcar went into operation in New York
City, NY. The vehicle was horse-drawn and had room for 30
people. 
See More of what happened on this day
in history.
______________________________________________________

| | |
| --- | --- |
| If you can help with the cost of the Humor Letter, please donate what you can! | |
______________________________________________________ Tip the world over on its side and everything loose will land in Los Angeles. --- Frank Lloyd Wright (1869 - 1959) ______________________________________________________ If you like the Humor Letter, please vote!
______________________________________________________ A man observed a sign in the window of a restaurant that read "Unique Breakfast" so he walked in and sat down. The waitress brought him his coffee and asked him what he wanted. "What's your Unique Breakfast?" he asked inquisitively. "Baked tongue of chicken!" she proudly replied. "Baked tongue of chicken?... baked tongue of chicken! Do you have any idea how disgusting that is? I would never even consider eating anything that came out of a chicken's mouth!" he fumed. Undaunted, the waitress asked, "What would you like then?" "Just bring me some scrambled eggs," the man replied. ______________________________________________________ Following some duty overseas, the officers at the Fort were planning a welcome home party and dance for the unit. Being an all male combat force, they decided to request coeds from some of the surrounding colleges to attend. The Captain called Vassar and was assured by the Dean that arrangements could be made to send over a dozen of their most trustworthy students. The Captain hesitated, then said, "Would it also be possible to send a dozen or so of the other kind ?" ______________________________________________________
From FB Thanks to Jim for this picture:
______________________________________________________

If you like the Dear Webby Daily Humor Letter, please vote for it at the

Ezine Finder:
Thanks for your votes!

______________________________________________________
An INTERNATIONAL BONEHEAD AWARD has been earned by
Kenneth Burke, 46, and Timothy Foote, 38, Ocean Township, New Jersey 2 Jersey Shore men took a taxi to rob house, then stiffed driver Deal police said they arrested two men who took a taxi to burglarize a house in town and then refused to pay the driver when they drove back to an apartment in Asbury Park with the stolen goods. Kenneth Burke, 46, and Timothy Foote, 38, of Ocean Township, called for a taxi to a home on Norwood Avenue in Deal on Friday night, said Deal police Sgt. Brian Egan. Egan said they instructed the taxi driver to wait outside before they returned a short time later with a television set and some liquor bottles. He said the driver then took them to an apartment in Asbury Park, where they got out without paying the fare. The driver called Asbury Park police reporting the beat fare and the suspicious activity of the customers, Egan said. After being alerted by Asbury Park police at 10:31 p.m., Deal officers checked the house and determined it had just been burglarized, he said. Burke and Foote were charged with burglary, conspiracy to commit burglary, criminal trespass and theft. They were being held in the Monmouth County jail in Freehold on $20,000 bail each. The stolen items were returned to the homeowner, Sgt. Egan said. ______________________________________________________ Tech Support Pits From: Ron Re: Second Audio for two computers Dear Webby, Is there a way to connect two computers to one keyboard and one monitor and one stereo? I want to use an old clunker to bring in digital audio and play it on the big stereo that I have connected to the main machine. The only time the klunker needs a keyboard and monitor is for getting the streaming digital audio started or the station changed. There must be a way to do that without wasting money and space on a second monitor and keyboard! Any help would be appreciated. Ron Dear Ron All you need is a KVMA switch (keyboard, Video, Mouse, Audio) Dalco has them currently for $30 http://dalco.com Try IOGEAR GCS72U 2-Port KVM Switch with Audio There is a bit of a problem, though. The audio might stop on the klunker if you click the focus to the new machine. That is not a problem of the switch, but of Windows on the old machine. You might have to use the klunker just for downloading and saving the music, the new machine networked to it and playing the music from the old machine's harddrive. If you have the machines networked, that is no problem at all. Have FUN! DearWebby
By the time the sailor pulled into a little town, every hotel room was taken. "You've got to have a room somewhere," he pleaded with a proprietor, "or just a bed, I don't care where." "Well, I do have a double room with one occupant -- an Air Force guy," admitted the manager, "and he might be glad to split the cost. But to tell you the truth, he snores so loudly that people in adjoining rooms have complained in the past. I'm not sure it'd be worth it to you." "No problem," the tired Navy man assured him, "I'll take it." The next morning the sailor came down to breakfast bright- eyed and bushy-tailed. "How'd you sleep?" asked the manager. "Never better." The manager was impressed. "No problem with the other guy snoring?" "Nope, I shut him up in no time," said the Navy guy. "How'd you manage that?" asked the manager. "He was already in bed, snoring away, when I came in the room," the sailor explained. "I went over, gave him a kiss on the cheek, and said, 'Goodnight, beautiful,' and he sat up all night watching me."
| | |
| --- | --- |
| If you can help with the cost of the Humor Letter, please donate what you can! | |
Daily tip from Thriftyfun.com Not-So Spanish Omelet By Benetta [254 Posts, 144 Comments] This is an adjusted version of the Spanish omelet. It makes for a hearty meal, so it works well for a brunch when served with toast. Total Time: 45 minutes in total Yield: 2 servings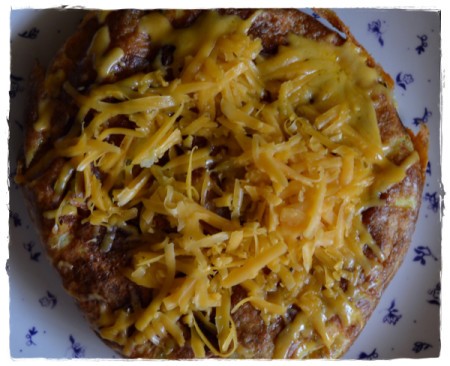 Ingredients: 3 eggs, beaten cheese flavored smoked frankfurter medium sized potato ½ teaspoon dried sweet basil ¼ teaspoon grinded black pepper ¼ teaspoon Knorr Aromat Seasoning or ordinary salt grated cheddar cheese to taste cooking spray Steps: Boil the potato until tender. Drain the potato and allow to cool for 5 minutes. Peel and cut into thin slices. Boil the frankfurter for 5-6 minutes and drain. Allow to cool for 5 minutes and cut into thin slices. Mix the beaten eggs, basil, pepper and salt. Add the sliced potato and sliced frankfurter to the egg mixture. Spray a 6" frying pan with cooking spray. Add the mixture to the pan and over a medium heat, cook until golden brown on the one side. Use a spatula to flip it over. Sprinkle grated cheese on top of the omelet. Cook until the cheese has melted and the other side is golden brown, too. Slide onto a plate. Cut into slices and serve warm with toast.
| | |
| --- | --- |
| | Pizzalympics in Springfield, Missouri |
____________________________________________________ Thanks to Dave for this one: Ontario Rules of the Road Regulations in the Ministry of Transportation of Ontario 2016 Handbook for drivers 1. Turn signals will give away your next move. A confident Ontario driver avoids using them. 2. Under no circumstance should you maintain a safe distance between you and the car in front of you, because the space will be filled in by somebody else, putting you in an even more dangerous situation. 3. The faster you drive through a red light, the lower the chance of getting hit. 4. Warning! Never come to a complete stop at a stop sign. No one expects it and it will result in your being rear- ended. 5. Never get in the way of an older car that needs extensive bodywork, especially with Quebec plates. With no insurance, the other operator has nothing to lose. 6. Braking is to be done as hard and as late as possible to ensure that your ABS kicks in, giving a vigorous, foot massage as the brake pedal violently pulsates. For those of you without ABS, it's a chance to strengthen your leg muscles. 7. Never pass on the left when you can pass on the right. It's a good way to prevent other drivers from exiting or entering the freeway. 8. Speed limits are arbitrary figures; given only as a suggestion and are not enforceable in Ontario during rush hour, especially on the 401. 9. Just because you're in the left lane and have no room to speed up or move over doesn't mean that an Ontario driver flashing his high beams behind you doesn't think he can go faster in your spot. 10. Always brake and rubberneck when you see an accident or even someone changing a tire. This is seen as a sign of respect for the victim. 11. Learn to swerve abruptly without signaling. Ontario is the home of high-speed slalom-driving; thanks to the Department of Public Works, which puts deep pot-holes (like inverted ski moguls) in key locations to test drivers' reflexes and keep them alert. 12. It is tradition in Ontario to honk your horn at cars in front of you that do not move three milliseconds before the light turns green. 13. To avoid injury in the event of a collision or rollover, it is important to exit your vehicle thru the windshield right away. Wearing your seat belt will only impede your hi-velocity escape from danger. 14. Remember that the goal of every Ontario driver is to get ahead of the pack by whatever means necessary. 15. In Ontario, 'flipping the bird' is considered a polite salute. This gesture should always be returned. 16. In Ontario the mandatory and required cell-phone is held up to your ear with the left hand to ensure that you do not inadvertently activate the turn signals and startle other drivers. 17. Razors, coffee or donuts are to be carried in the right hand, except when driving in Little Italy. The proper posture, for blending in, in Little Italy, is to talk with both hands while facing a real or imaginary rear seat passenger. 18. If you see a whole bunch of yellow or white stripes painted on the road, parallel to the road, they indicate that that locaton is a spot favored by suiciders. It is important to speed up as you approach them to help prevent more suicides from occurring there. 19) If there is a traffic jam due to an accident, immediately work your way over to the rescue lane and proceed to the scene of the accident at top speed. 20) If a driver is observed throwing nervous glances into his or her mirror or behind them, they must be flanked tightly and escorted to the far left lane so that they won't have their nervous breakdown on an exit and cause a traffic jam. Don't do this if the car is from Quebec, because it's driver may be used to less structured driving rules. Thank You, The Ministry of Transportation of Ontario ____________________________________________________ The young suitor was determined to win the heart of the girl he wanted to marry, in spite of her rejection of his proposals a number of times. He began what can only be called a "Campaigning" and sent her a small token of his affection every day for a month to her house. The plan was successful too -- the young lady fell in love with the mailman. ____________________________________________________
| | |
| --- | --- |
| | Reflections in puddles of rain. |
Thanks to the folks from Erie for this one: The children and grandchildren of an elderly Jewish woman decided to send grandma on a cruise, so that she would not be too helpful during the pre-planning stage of a wedding.. Grandma boarded the ship and showed her ticket to the purser. He looked at it and said, "Oh, I see you have U.D." She replied, "U.D.? Voos is U.D.? He said,"U.D. is Upper Deck." She then went to the upper deck and showed her ticket to the purser there and he said, "I see that in addition to U.D., you also have O.C." Grandma replied, "O.C.? Voos is O.C.?" The purser said, "O.C. is an Outside Cabin." Grandma, needless to say, was delighted. She then showed her ticket to the cabin boy and he said, "Oh, I see that you also have B.I.B." "B.I.B.? Voos is B.I.B.?" asked grandma. The cabin boy answered, "B.I.B. is Breakfast In Bed." "Oh," she said; Mine children and grandchildren are vonderful." The next morning, bright and early, the staff came right into her room with trays of food for her breakfast in bed and she said, "F.U.C.K" Shocked, they said, "F.U.C.K? What do you mean F.U.C.K.?", to which she replied, "Yes, F.U.C.K. Foist U Could Knock."
Ophelia Dingbatter's News
No sermon and not suitable for church, just jokes and fun for grownups. Read it on-line or subscribe. If you subscribe, look for the double opt-in confirmation request.

____________________________________________________

Today on November 14
1832 The first streetcar went into operation in New York
City, NY. The vehicle was horse-drawn and had room for 30
people. 

1851 Herman Melville's novel "Moby Dick" was first published
in the U.S. 

1881 Charles J. Guiteau's trial began for the assassination
of U.S. President Garfield. Guiteau was convicted and hanged
the following year. 

1889 New York World reporter Nellie Bly (Elizabeth Cochrane)
began an attempt to surpass the fictitious journey of Jules
Verne's Phileas Fogg by traveling around the world in less
than 80 days. Bly succeeded by finishing the journey the
following January in 72 days, 6 hours and 11 minutes. 

1922 The British Broadcasting Corporation (BBC) began
domestic radio service. 

1935 U.S. President Franklin D. Roosevelt proclaimed the
Philippine Islands a free commonwealth after its new
constitution was approved. The Tydings-McDuffie Act planned
for the Phillipines to be completely independent by July 4,
1946. 

1940 During World War II, German war planes destroyed most of
the English town of Coventry when about 500 Luftwaffe bombers
attacked. 

1951 The first telecast of a world lightweight title fight
was seen coast to coast. Jimmy Carter beat Art Aragon in Los
Angeles. 

1956 The USSR crushed the Hungarian uprising. 

1968 Yale University announced it was going co-educational. 

1969 Apollo 12 blasted off for the moon from Cape Kennedy,
FL. 

1969 During the Vietnam War, Major General Bruno Arthur
Hochmuth, commander of the Third Marine Division, became the
first general to be killed in Vietnam by enemy fire. 

1972 The Dow Jones Industrial Average closed above the 1,000
(1,003.16) level for the first time. 

1972 Blue Ribbon Sports became Nike. 

1973 Britain's Princess Anne married a commoner, Capt. Mark
Phillips, in Westminster Abbey. They divorced in 1992, and
Princess Anne re-married. 

1979 U.S. President Carter froze all Iranian assets in the
United States and U.S. banks abroad in response to the taking
of 63 American hostages at the U.S. embassy in Tehran, Iran. 

1983 The British government announced that U.S.-made cruise
missiles had arrived at the Greenham Common air base amid
protests. 

1988 Israeli President Chaim Herzog formally asked Prime
Minister Yitzhak Shamir to form a new government. 

1989 The U.S. Navy ordered an unprecedented 48-hour stand-
down in the wake of a recent string of serious accidents. 

1990 Simon and Schuster announced it had dropped plans to
publish Bret Easton Ellis novel "American Psycho." 

1991 After 13 years in exile Cambodian Prince Norodom
Sihanouk returned to his homeland. 

1994 U.S. experts visited North Korea's main nuclear complex
for the first time under an accord that opened such sites to
outside inspections. 

1995 The U.S. government instituted a partial shutdown,
closing national parks and museums while most government
offices operated with skeleton crews. 

2012 The game Candy Crush Saga was released as a mobile app
for smartphones. 

2016  smiled.


[ view entry ] ( 6 views ) | permalink | print article |
( 2.8 / 452 )
---
<<First
<Back
| 27 | 28 | 29 | 30 | 31 | 32 | 33 | 34 | 35 | 36 |
Next>
Last>>