Good Morning, ,

Today is Tuesnday, November 15

Thank you, Moe!!!

Have FUN!
DearWebby

Todays Bonehead Award:
UL-Lafayette student who made up story of being 
beaten, robbed of wallet and hijab facing charges
Details at Boneheads
______________________________________________________
Today, November 15, in 

1806 Explorer Zebulon Pike spotted the mountaintop that
became known as Pikes Peak. 
See More of what happened on this day
in history.
______________________________________________________

| | |
| --- | --- |
| If you can help with the cost of the Humor Letter, please donate what you can! | |
______________________________________________________ Maturity is a bitter disappointment for which no remedy exists, unless laughter can be said to remedy anything. --- Kurt Vonnegut (1922 - 2007) A synonym is a word you use when you can't spell the word you first thought of. --- Burt Bacharach (1928 - ) ______________________________________________________ If you like the Humor Letter, please vote!
______________________________________________________ Sometimes you are not in control of your right foot !! Prove for yourself, whether you are in control of your right foot. It's worth a try... While sitting at your desk make clockwise circles with your right foot. While doing this, draw the number "6666" in the air with your right hand. Your foot will change direction..... to counter clockwise ______________________________________________________ Toward the end of our senior year in high school, we were required to take a CPR course. The classes used the well known mannequin victim, Rescue Anne, to practice. My group's model was legless to allow for storage in a carrying case. The class broke into groups to practice. As instructed, one of my classmates gently shook the doll and asked "Are you all right? " He then put his ear over the mannequin's mouth to listen for breathing. Suddenly he turned to the instructor and exclaimed, "She said she can't feel her legs!" ______________________________________________________
From FB ______________________________________________________

If you like the Dear Webby Daily Humor Letter, please vote for it at the

Ezine Finder:
Thanks for your votes!

______________________________________________________
An INTERNATIONAL BONEHEAD AWARD has been earned by
Libtard Muslim Student, 18, Lafayette, Louisiana UL-Lafayette student who made up story of being beaten, robbed of wallet and hijab facing charge Lafayette Police said the student is now facing a charge of filing a false report. Lafayette Police Department spokesman Karl Ratcliff confirmed the charge, WWL-TV reported. No explanation was given for why the police would not immediately release the woman's name. There also was no further information regarding the case, Ratcliff said, including why she admitted to fabricating the story of the attack. A University of Louisiana at Lafayette student admitted Thursday to making up a story about being attacked by two men, one reportedly wearing a "Trump" hat, who yelled ethnic slurs at her and then stole her wallet and hijab head covering, according to Lafayette Police. The woman, identified only as an 18-year-old of Middle Eastern descent, had initially told police the attack happened about 11 a.m. Wednesday on Smith Street near campus — a story quickly picked up by the national news outlets, sparking a social media firestorm. Lafayette Police spokesman Officer Karl Ratcliff said the woman admitted to fabricating the story after police began to question her about key details. "There were a lot of things that didn't make sense," he said, commenting that it was unusual that no one else witnessed an attack during a school day so close to campus. Ratcliff said the woman offered no explanation for lying. "That's only one that she can answer," he said. Ratcliff said the woman might now face charges herself related to filing a false police report. "We don't take this lightly, and it's made national headlines now," he said. "...There will be consequences." The woman's claim of being attacked was reported online Thursday morning by all major Democrat paid news organization in Louisiana and all Dumbocrat news outlets, including The New York Times, The Huffington Post and ABC News. ______________________________________________________ Tech Support Pits From: Neil Re: Control two computers from one keyboard Dear Webby, KVM software I have used this software in the past with win xp and win 7 http:// www.stardock.com/products/multiplicity/ The program networks over your local internet connection. It is not the only program to do this but it is the easiest to install. Install the program on the slave (2nd computer) first, then on the main computer. You not only share the controls but can copy from one computer's clip board and paste on the other's, drag and drop files and will set up audio and videos to stream either way. The free version controls only two computers, the paid version controls up to nine. Cost is $19.95 USD, and the license will transfer if you replace one of the computers. Everything in the interface is point and click so even non technical people can use it. This link has a short video to see what it is all about Multiplicity Neil Thanks Neil! Have FUN! DearWebby
Here is an old Bonehead Award that is too good to be forgotten: The award goes to the head of women's studies at Bowling Green State University in Ohio, Dr. Kathleen Dixon When Richard Zeller, a professor of sociology, retired after being barred from teaching a course on political correctness, Dr. Dixon explained the school's position: ''We forbid any course that says we restrict free speech.''
| | |
| --- | --- |
| If you can help with the cost of the Humor Letter, please donate what you can! | |
Daily tip from Thriftyfun.com Making Rubber Gloves Last Longer By Litter Gitter [190 Posts, 622 Comments] Instead of keeping my rubber gloves in the kitchen drawer, I hang them on the stove, using magnets. That is where they stay until I use them again, which is two or three times a day. Since I started doing this, I have noticed that my rubber gloves last a lot longer.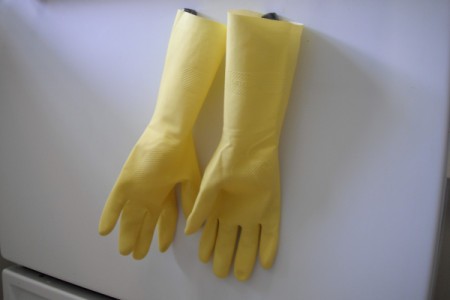 | | |
| --- | --- |
| | how real men shoot skeet |
____________________________________________________ The boss of a major manufacturing facility was complaining in a staff meeting one day, that he wasn't getting any respect. Later that morning, he went to a local sign shop, bought a small sign that read, "I am the Boss!" and taped it to his office door. Later that day, when he returned from lunch, he found that someone had taped a note to the sign that read, "Your wife called. She said she did not authorize that sign." ____________________________________________________ At the construction site of a new church, the contractor stopped to chat with one of his workmen. "Paddy," he asked casually, "didn't you once tell me that you had a brother who was a bishop?" "That I did, sir." "And you are a bricklayer! It sure is a funny old world. Things in life aren't divided equally, are they?" "No, that they ain't sir," agreed Paddy, as he proudly slap- ped the mortar along the line of bricks. "My poor brother is such a klutz, he couldn't lay a brick to save his life!" ____________________________________________________
| | |
| --- | --- |
| | Reflections in puddles of rain. |
One workman asks another, "How long have you been working here?" The other one replies, "Since they threatened to fire me."
Ophelia Dingbatter's News
No sermon and not suitable for church, just jokes and fun for grownups. Read it on-line or subscribe. If you subscribe, look for the double opt-in confirmation request.

____________________________________________________

Today on November 15
1806 Explorer Zebulon Pike spotted the mountaintop that
became known as Pikes Peak. 

1864 Union Gen. William T. Sherman and his troops began their
"March to the Sea" during the U.S. Civil War. 

1867 the first stock ticker was unveiled in New York City. 

1889 Brazil's monarchy was overthrown. 

1901 Miller Reese patented an electrical hearing aid. 

1902 Anarchist Gennaro Rubin failed in his attempt to murder
King Leopold II of Belgium. 

1920 The League of Nations met for the first time in Geneva,
Switzerland. 

1926 The National Broadcasting Co. (NBC) debuted with a radio
network of 24 stations. The first network radio broadcast was
a four-hour "spectacular." 

1940 The first 75,000 men were called to Armed Forces duty
under peacetime conscription to prepare for WWII. 

1965 The Soviet probe, Venera 3, was launched from Baikonur,
Kazakhstan. On March 1, 1966, it became the first unmanned
spacecraft to reach the surface of another planet when it
landed on Venus. 

1966 The flight of Gemini 12 ended successfully as astronauts
James A. Lovell and Edwin "Buzz" Aldrin Jr. splashed down
safely in the Atlantic Ocean. 

1969 In Washington, DC, a quarter of a million protesters
staged a peaceful demonstration against the Vietnam War. 

1985 Britain and Ireland signed an accord giving Dublin an
official consultative role in governing Northern Ireland. 

1986 A government tribunal in Nicaragua convicted American
Eugene Hasenfus of charges related to his role in delivering
arms to Contra rebels. He was sentenced to 30 years in prison
and was pardoned a month later. 

1986 Ivan F. Boesky, reputed to be the highest-paid person on
Wall Street, faced penalties of $100 million for insider
stock trading. It was the highest penalty ever imposed by the
SEC. 

1988 The Palestine National Council, the legislative body of
the PLO, proclaimed the establishment of an independent
Palestinian state at the close of a four-day conference in
Algiers. 

1992 Richard Petty drove in the final race of his 35-year
career. 

1993 A judge in Mineola, NY, sentenced Joey Buttafuoco to six
months in jail for the statutory rape of Amy Fisher. Fisher
was serving a prison sentence for shooting and wounding
Buttafuoco's wife, Mary Jo. 

1995 Texaco agreed to pay $176 million to settle a race-
discrimination lawsuit. 

1999 Representatives from China and the United States signed
a major trade agreement that involved China's membership in
the World Trade Organization (WTO). 

2000 Three police officers from the Rampart division of the
Los Angeles police department were convicted on several
counts of conspiracy to obstruct justice. One other officer
was acquitted. The case was the first major case against the
anti-gang unit. 

2005 In Amiens, France, Isabelle Dinoire became the first
person to undergo a partial face transplant. She had been
attacked by a dog earlier in the year. 

2006 Andy Warhol's painting of Communist Party Chairman Mao
Zedong sold for $17.4 million. At the same auction "Orange
Marilyn" sold for $16.2 million and "Sixteen Jackies" sold
for $15.6 million.

2016  smiled.


[ view entry ] ( 7 views ) | permalink | print article |
( 3.1 / 437 )
---
<<First
<Back
| 27 | 28 | 29 | 30 | 31 | 32 | 33 | 34 | 35 | 36 |
Next>
Last>>