Good Morning, ,

Today is Tuesday, November 29

Have FUN!
DearWebby

Todays Bonehead Award:
A Utah teen forced a 22-year-old man to dig his 
own grave before killing him and burning his body
Details at Boneheads
______________________________________________________
Today, November 29 in 

1864 The Sand Creek Massacre occurred in Colorado when a
militia led by Colonel John Chivington, killed at least 400
peaceful Cheyenne and Arapaho Indians who had surrendered and
had been given permission to camp. 
See More of what happened on this day in history.
______________________________________________________

| | |
| --- | --- |
| If you can help with the cost of the Humor Letter, please donate what you can! | |
______________________________________________________ A motion to adjourn is always in order. --- Robert Heinlein (1907 - 1988) Fidel Castro, Democrat fighting Capitalism all his life, went to hell on Black Friday. --- Donald Trump ______________________________________________________ If you like the Humor Letter, please vote!
______________________________________________________ A man said to his wife one day, "I don't know how you can be so stupid and so beautiful all at the same time." The wife responded, "Allow me to explain. God made me beautiful so you would be attracted to me; God made me stupid so I would be attracted to you!" ______________________________________________________ 2017 Launch Flash Sale MTP $29.99
There is the story of a priest who got up one Sunday and announced to his congregation: "I have good news and bad news. The good news is, we have enough money to pay for our new building program. The bad news is, the money is still out there in your pockets." ______________________________________________________ During exams at England's Cambridge University, a bright young student asks the proctor to bring him cakes and ale. "Sorry, no," says the proctor. "Sir, I really must insist," says the student, taking out a copy of the 400 year old Laws of Cambridge, written in Latin and still nominally in effect. He points to a section which reads (roughly translated): "Gentlemen sitting examinations may request and require cakes and ale." The proctor gives in, but since cakes and ale aren't readily available, he and the student agree that hamburgers and beer can be substituted, and the student sits there, writing his examination and happily slurping away. Three weeks later, the same student is fined fifty pounds for not wearing a sword to the examination. ______________________________________________________
I think that was in California or Utah. ______________________________________________________

If you like the Dear Webby Daily Humor Letter, please vote for it at the

Ezine Finder:
Thanks for your votes!

______________________________________________________
An INTERNATIONAL BONEHEAD AWARD has been earned by
Raul Francisco Vidrio, 19, Mount Pleasant, Utah A Utah teen forced a 22-year-old man to dig his own grave before killing him and burning his body A Utah teen forced a 22-year-old man to dig his own grave before killing him and burning his body, authorities say. Raul Francisco Vidrio, 19, beat Wesley Dee Nay, stabbed him and placed his body in a grave filled with chopped wood, according to a probable cause statement. The 19-year-old Vidrio then doused the body in gasoline and set it on fire, authorities say. Witnesses reported seeing Nay leave a home in Mount Pleasant with Vidrio in late August. A witness recalled seeing Vidrio and Nay getting into an argument. Vidrio told police they "drove around town through the night, used (meth and marijuana) and eventually ended up at another residence in Mt. Pleasant," according to a search warrant affidavit obtained by the Deseret News. The man at the home said Vidrio borrowed a chainsaw "to be used to cut wood to burn evidence and flesh," the newspaper reported. A witness said that he heard the suspect and others on Aug. 31 "talking about 'opening the door to hell, the Saint of the Dead, and some dark (stuff),'" according to the charges obtained by the paper. Nay's remains were found in a shallow grave on Oct. 19 approximately 100 miles southeast of Salt Lake City. Investigators recovered a deleted image from Vidrio's cellphone that appeared to show Nay digging what would become his own grave, according to the Deseret News. "The image depicts Mr. Nay in the same clothing he was last seen in ... digging a hole in a grassy meadow that strongly resembles the location where his remains were found," read the charges obtained by the newspaper. A human skull and other charred bones were found with burned pieces of wood, the Deseret News reported. Nay was identified through dental records. Vidrio has been charged with aggravated murder, abuse or desecration of a dead human body and obstruction of justice. He is "a known drug dealer" and gang member in Mount Pleasant, according to the Deseret News. ______________________________________________________ Tech Support Pits From: Kerry Re: Parental control filters Dear Webby, What do recommend for parental control filters? Kerry Dear Kerry A sturdy wicker carpet beater seems to be the best. The software parental controls are way too soft. Most likely your kids can crack them a lot faster than you can set them up, plus they can always go to different but similar sites. Just hanging around now and then and making it clear that computer use is a privilege, that can be cut at any time, is the most effective. As long as you learned how to control the home network, and occasionally change the password for their machines, so that they have to beg for the new password, they will usually behave. Kids will sneak a peek at taboo stuff anyway, just like you did. The general idea is to not make such a big fuss about it that it turns into an obsession. A good education about what lurks on the chat programs might go a lot further in protecting your kids than any software. Once they are in their teens you can go a step further and set them to find predators and scammers. Show them how to report scammers to FaceBook, and how to report predators to the cops. The cops will quite cheerfully take over from there and nab the predators with a sting operation. If they are busy looking for and reporting scammers and predators, they won't fall for them. Have FUN! DearWebby
Nancy and I decided to introduce her mother to the magic of the Internet. Our first move was to acess the popular "Google" search, and we told her it could answer any question she had. Nancy's mother was very skeptical until Nancy said, "It's true, Mom. Think of something to ask it." As she sat with fingers poised over the keyboard, Nancy's mother thought a minute, then started typing, "How is Aunt Helen feeling?"
| | |
| --- | --- |
| If you can help with the cost of the Humor Letter, please donate what you can! | |
Daily tip from Thriftyfun.com Artisan Country Bread By Holly805 [4 Posts, 5 Comments] Cook Time: 35-45 minutes Total Time: 2 hours Yield: 2-3 shaped loaves or 2 dozen rolls Source: I tweaked a standard French bread recipe over the years until the loaf was more nutritious, had a soft crust, and kept longer. A good recipe for true French bread is in The Secrets of Jesuit Breadmaking (1995) by Brother Rick Curry, S.J Ingredients: 2 tsp active dry yeast (1 package) 1/2 tsp sugar 3/4 cup warm water 1/2 cup warm milk 2 tsp salt 2 Tbsp canola oil 1 cup whole wheat flour 2 - 2 1/2 cups all-purpose flour Tip: My mother told me to never use a plastic bowl or spoon when baking bread. Heavy duty ceramic is my favorite. Steel and glass also produce good results. Steps: Sprinkle sugar and yeast evenly over 1/4 cup warm water. The water should be almost hot to touch but not burning, like a bath. Stir until mostly dissolved, then set aside for 5 minutes to let the yeast rise. Add the remaining milk, water, salt, and the wheat flour. Whisk for 30 seconds to 1 minute until smooth and slightly elastic. Then beat in a cup of all-purpose flour and whisk for another 1 to 2 minutes until smooth. Using a sturdy mixing spoon, gradually beat in the remaining cup of flour. Knead dough slightly in the bowl to incorporate the rest of the flour. Note: the dough needs to come out of the bowl somewhat sticky so it doesn't become tough during the next stage of kneading. Reserve 1/4-1/2 cup flour. Turn out the dough onto a smooth, lightly floured surface and knead 8-12 minutes, until the dough's surface is smooth and bounces back under slight pressure from your finger. The dough should also indicate subtle air bubbles when gently pulled back under itself. Place dough into a large, lightly oiled bowl and turn to coat all sides. Cover and let rise in a warm area for about 1 hour, or until it has doubled in bulk. Punch dough down to let the air escape, then let it rest for about five minutes. Shape loaves and/or rolls as desired and place on lightly greased cookie sheet to rise a second time for about 30-40 minutes. The rolls/loaves should be just under twice the original size before they go into the oven. To make the pan brie loaf, simply cut half the dough and form into a rounded disk. Make 5 or 6 evenly spaced slashes with a serrated knife. They should be just 1/4 inch deep. You can also curve the two outer slashes to follow the form of the loaf. To form simple rolls, pinch off dough roughly half the size of a medium apple. Turn the rough edges under, gently stretching each corner under itself. Bake at 375 degrees F for 35-45 minutes, or until dark golden brown and hollow sounding when tapped.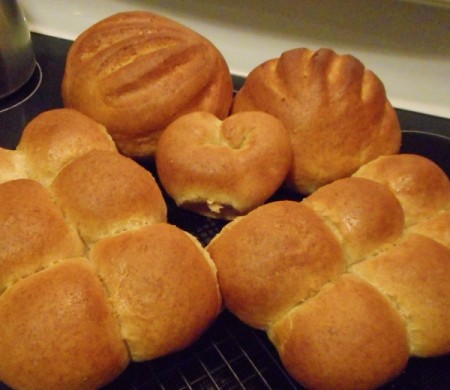 | | |
| --- | --- |
| | Skiing the Matterhorn |
____________________________________________________ A young woman confides to a friend that she wants to quit smoking, but nothing she does seems to work. "Have you tried the patch?" her friend asks. "No, that's one thing I haven't tried," the woman says, "because I'm not sure it works." Says her friend, "I'm sure it would, if you put it over your mouth." ____________________________________________________
| | |
| --- | --- |
| | An ancient underwater city was found off the coast of Israel. |
The road maintenance foreman ordered one of his men to dig a hole 8 feet deep. But after the job was done, the boss returned and explained an error had been made and the hole wouldn't be needed. "Fill 'er up," he ordered the worker. The worker did as he'd been told. But he ran into a problem. He couldn't get all the dirt packed back into the hole without leaving a mound on top. He went to the office and explained his problem. "Honestly!" the foreman snorted. "The kind of help I get these days! There's obviously only one thing to do. You'll have to dig that hole deeper!"
Ophelia Dingbatter's News
No sermon and not suitable for church, just jokes and fun for grownups. Read it on-line or subscribe. If you subscribe, look for the double opt-in confirmation request.
I guess withuot Gullible Warming it's too cold here for empty shirts. ____________________________________________________

Today on November 29
1864 The Sand Creek Massacre occurred in Colorado when a
militia led by Colonel John Chivington, killed at least 400
peaceful Cheyenne and Arapaho Indians who had surrendered and
had been given permission to camp. 

1890 Navy defeated Army by a score of 24-0 in the first Army-
Navy football game. The game was played at West Point, NY. 

1892 A patent was issued to Almon Brown Strowger for the
rotary dial. 

1929 The first airplane flight over the South Pole was made
by U.S. Navy Lt. Comdr. Richard E. Byrd. 

1939 The USSR broke off diplomatic relations with Finland
prior to a Soviet attack. 

1945 The monarchy was abolished in Yugoslavia and a republic
proclaimed. 

1947 The U.N. General Assembly passed a resolution that
called for the division of Palestine between Arabs and Jews.

1961 The Mercury-Atlas 5 spacecraft was launched by the U.S.
with Enos the chimp on board. The craft orbited the earth
twice before landing off Puerto Rico. 

1963 A Trans-Canada Airlines DC-8F with 111 passengers and 7
crew members crashed in woods north of Montreal 4 minutes
after takeoff from Dorval Airport. All aboard were killed.
The crash was the worst in Canada's history. 

1963 U.S. President Johnson named a commission headed by Earl
Warren to investigate the assassination of President Kennedy.


1967 U.S. Secretary of Defense Robert S. McNamara announced
that he was leaving the Johnson administration to become
president of the World Bank. 

1974 In Britain, a bill that outlawed the Irish Republican
Army became effective. 

1975 Bill Gates adopted the name Microsoft for the company he
and Paul Allen had formed to write the BASIC computer
language for the Altair. 

1982 The U.N. General Assembly voted that the Soviet Union
should withdraw its troops from Afghanistan. The CIA was
training and supplying the Taliban to fight the Russians.

1987 A Korean jetliner disappeared off Burma, with 115 people
aboard. 

1987 Cuban detainees released 26 hostages they'd been holding
for more than a week at the Federal Detention Center in
Oakdale, LA. 

1988 The U.S. Supreme Court ruled that the rights of criminal
defendants are not violated when police unintentionally fail
to preserve potentially vital evidence. 

1989 In Czechoslovakia, the Communist-run parliament ended
the party's 40-year monopoly on power. 

1990 The U.N. Security Council voted to authorize military
action if Iraq did not withdraw its troops from Kuwait and
release all foreign hostages by January 15, 1991. 

1991 17 people were killed in a 164-vehicle wreck during a
dust storm near Coalinga, CA, on Interstate 5. 

1994 Fighter jets attacked the capital of Chechnya and its
airport only hours after Russian President Boris Yeltsin
demanded the breakaway republic end its civil war. 

1996 A U.N. court sentenced Bosnian Serb army soldier Drazen
Erdemovic to 10 years in prison for his role in the massacre
of 1,200 Muslims. The sentence was the first international
war crimes sentence since World War II. 

1998 Swiss voters overwhelmingly rejected legalizing heroin
and other narcotics. 

2004 The French government announced plans to build the
Louvre II in northern France. The 236,808 square foot museum
was the planned home for 500-600 works from the Louvre's
reserves. 

2008 In China, construction on the Shanghai Tower began. 

2016  smiled.


[ view entry ] ( 15 views ) | permalink | print article |
( 3 / 22 )
---
<<First
<Back
| 26 | 27 | 28 | 29 | 30 | 31 | 32 | 33 | 34 | 35 |
Next>
Last>>