Good Morning, ,

Today is Monday, December 5

Where I grew up in the mountains of Austria, Saint Nicholas
used to visit in the evening of December 5, berate and
thundered at the kids about their sins and misbehaviors,
praise them for the few things they had done right, and give
them a cloth baggie with ginger bread, the fresh, soft kind,
and maybe an orange and a little chocolate bar.

When I was in college, because I had a motor bike, and
because my voice had already broken to the deep adult voice,
I got ordered to go play Santa at Jagdberg, the juvenile jail
and institutional school.

I don't know who was more scared, me of the hordes of
juvenile delinquents, or the kids of the windblown and rather
rough looking Santa. However, the teachers gave me a double
shot of "cherry water", a clear and very potent locally
distilled moonshine. 

No problem after that. One classroom at a time, with a page
for each kid. I was thundering at them like a pro in no time
flat. The deal was to first get the juves to show a tear or
two, then to make them smile. 
And on the way to the next classroom some of the teachers
made me smile.

I was almost sorry when I had finished the 25 classrooms. By
then I was just flying. To crown it, the dean handed me the
bag and the sheets for all of the staff. So I thundered at
them!

After that, they gave me a baggie of goodies and bid me good
bye. So I rode my bike, fake beard flowing in the wind, to my
girlfriend's place and played Santa there. She sure made me
smile! 

Good old days!
I did that 5 years in a row.

Have FUN!
DearWebby

Todays Bonehead Award:
NY burglar caught in vent above Pontillo's Pizza
Details at Boneheads
______________________________________________________
Today, December 5 in 

1797 Napoleon Bonaparte arrived in Paris to command forces
 for the invasion of England. 
See More of what happened on this day in history.
______________________________________________________

| | |
| --- | --- |
| If you can help with the cost of the Humor Letter, please donate what you can! | |
______________________________________________________ It's amazing that the amount of news that happens in the world every day always just exactly fits the newspaper. --- Jerry Seinfeld ______________________________________________________ If you like the Humor Letter, please vote!
______________________________________________________ Q: Why are dogs sniffing hydrants ? A: Checking their PeeMail ______________________________________________________ When I consider how sweaters tend to make me sweat, I'm a lot less inclined to wear my windbreaker. ______________________________________________________ Two guys are driving through Texas when they get pulled over by a state trooper. The trooper walks up, taps on the window with his nightstick, the driver rolls down the window, and the trooper smacks him in the head with the stick. The driver says, "Why'd you do that?" The trooper says, "You're in Texas, son. When I pull you over, you'll have your license ready." Driver says, "I'm sorry, officer, I'm not from around here." The trooper runs a check on the guy's license, and he's clean. He gives the guy his license back and walks around to the passenger side and taps on the window.The passenger rolls his window down, and the trooper smacks him with the nightstick. The passenger says, "What'd you do that for?" The cop says, "Just making your wishes come true." The passenger says, "Huh?" The cop says, "I know that two miles down the road you're gonna say, 'I wish that schmuck would've tried that stuff with me!' " ______________________________________________________
______________________________________________________

If you like the Dear Webby Daily Humor Letter, please vote for it at the

Ezine Finder:
Thanks for your votes!

______________________________________________________ Reported by Moe
An INTERNATIONAL BONEHEAD AWARD has been earned by
Richard Graham, 53, Rochester, NY Rochester, NY burglar caught in vent above Pontillo's A man was arrested early Friday morning after getting stuck in an air duct while allegedly trying to burglarize a pizza shop. This happened around 3:45 a.m. at the Pontillo's Pizzeria in Penfield at Rt. 441 and Five Mile Line Road. David Reed was hanging up Christmas lights at a neighboring business and heard someone yelling for help. "I was asking, 'Where are you?' - and same thing - 'Get me out of here!' I said, 'Okay I'll find out who can go up there and look,'" said Reed. Monroe County Sheriff's deputies found 53-year-old Richard Graham stuck in an air vent above a pizza oven in Pontillo's Pizzeria. It took the Penfield Fire Department about 20 minutes to cut Graham out of the vent. Graham was transported to Strong Memorial Hospital for minor injuries where he was treated and released to deputies. Graham was arraigned in Penfield Town Court on charges of third degree burglary, second degree criminal mischief and possession of burglary tools. He was remanded to the Monroe County Jail with no bail due to his status as a predicate felon. Graham caused more than $2,000 in damages to the pizzeria, according to the Monroe County Sheriff's Office. NYSDOCCS records indicate Graham has served at least six prison sentences, starting with a conviction for robbery and burglary back in 1986. He was remanded to the Monroe County Jail with no bail due to his status as a predicate felon He had just been released from jail on November 21 after pleading guilty to two felony charges. He was scheduled to be sentenced next week. ______________________________________________________ Tech Support Pits From: Denise RE: Fake Winzip Dear Webby, Dear Webby, I get notices from Win Zip to purchase their program. I checked and I have Win Zip until August 2017. I have a problem in entering the "key" to verify this. Win Zip says that I have 900+ errors and wants me to purchase. Can you help? Denise Dear Denise The real WinZip does not do that. 900+ errors is a sure sign of a fake program and infection. Don't give your key to the fake one! Uninstall the fake one, run McAfee and Malwarebytes and then download a fresh one directly from Winzip.com Since nowadays no or almost no LEGITIMATE programs still use zip files, I have let mine lapse ten or more years ago. I have not missed it. In case there is a legitimate program that requires unzipping, I could use either the free Winzip or 7Zip. Whenever something claims that you have hundreds of errors, that is usually a sure sign of an infection making phony claims. Have FUN! DearWebby
An old fellow was snoozing away contentedly when he was startled awake by the doorbell. He staggered off the couch to make his way to the door. There stood a gorgeous young woman. "Oh my goodness," the pretty young thing exclaimed, "I'm at the wrong house." "Sweetheart, you're at the right house," the old guy assured her. "But you're forty years too late."
| | |
| --- | --- |
| If you can help with the cost of the Humor Letter, please donate what you can! | |
Daily tip from Thriftyfun.com Set Up a Week's Coffee on Sunday Night By Carol L Craig [21 Posts, 71 Comments] Save time by setting your weekly morning coffee up Sunday night. Just fill up seven coffee filters with your favorite grounds. Then stack the coffee filters on top of each other and place them inside an empty coffee can with a sealable lid. In the morning, just pull out a pre-filled filter, add water to your pot, and serve to taste. By florida gal from Spring Hill, FL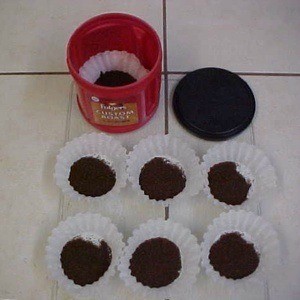 I learned that in the early 70s from Sandy, a night shift waitress at the truck stop. When things were slow, she set out a pack of filters in front of her favorite customer, (me) I separated them for her, she dumped a big scoop of coffee into each and lowered it into a tall can, all the wile talking up a storm and flashing a nice cleavage. Good old days!
| | |
| --- | --- |
| | Who needs a fishing net! |
____________________________________________________ A paramedic was asked on a local TV talk-show program: "What was your most unusual and challenging 911 call?" "Recently we got a call from that big white church at 11th and Walnut," the paramedic said. "A frantic usher was very concerned that during the sermon an elderly man passed out in a pew and appeared to be dead. The usher could find no pulse and there was no noticeable breathing." "What was so unusual and demanding about this particular call?" the interviewer asked. "Well," the paramedic said, "we carried out four guys before we found the one who was dead." ____________________________________________________
| | |
| --- | --- |
| | Artist creates beautiful sculptures from the pages of books. |
Leroy and Bubba drove into a lumberyard. Bubba walked in and said, "We need some four-by-twos." The clerk said, "You mean two-by-fours, don't you?" Bubba said, "I'll go check," and went back to the truck. He returned a minute later and said, "Yeah, I meant two-by-fours." "Alright. How long do you need them?" asked the clerk. Bubba paused for a minute and said, "I'd better go check." After awhile, he returned to the office and said, "A long time. We're gonna build a house."
Ophelia Dingbatter's News
No sermon and not suitable for church, just jokes and fun for grownups. Read it on-line or subscribe. If you subscribe, look for the double opt-in confirmation request.

____________________________________________________

Today on December 5

1560 Charles IX succeeded as King of France on the death of
Francis II. 

1766 James Christie, founder of the famous auctioneers, held
his first sale in London. 

1776 In Williamsburg, VA, at the College of William and Mary
the first scholastic fraternity in America, Phi Beta Kappa,
was organized. 

1782 The first native U.S. president, Martin Van Buren, was
born in Kinderhook, NY. 

1797 Napoleon Bonaparte arrived in Paris to command forces
for the invasion of England. 

1812 Napoleon Bonaparte left his army as they were retreating
from Russia. 

1848 U.S. President Polk triggered the Gold Rush of '49 by
confirming the fact that gold had been discovered in
California. 

1876 The Stillson wrench was patented by D.C. Stillson. The
device was the first practical pipe wrench. 

1901 Movie producer Walt Disney was born in Chicago. He
created his first Mickey Mouse cartoon at the age of 27. 

1904 The Russian fleet was destroyed by the Japanese at Port
Arthur, during the Russo-Japanese War. 

1908 At the University of Pittsburgh, numerals were first
used on football uniforms worn by college football players. 

1913 Britain outlawed the sending of arms to Ireland. 

1932 German physicist Albert Einstein was granted a visa
making it possible for him to travel to the U.S. 

1933 Prohibition came to an end when Utah became the 36th
state to ratify the 21st Amendment to the U.S. Constitution. 

1934 Fighting broke out between Italian and Ethiopian troops
on the Somalian border. 

1934 The Soviet Union executed 66 people charged with
plotting against Joseph Stalin's government. 

1935 In Montebello, CA, the first commercial hydroponics
operation was established. 

1936 The Soviet Union adopted a new Constitution under a
Supreme Council. 

1944 During World War II, Allied troops took Ravenna, Italy. 

1945 The so-called "Lost Squadron" disappeared. The five U.S.
Navy Avenger bombers carrying 14 Navy flyers began a training
mission at the Ft. Lauderdale Naval Air Station. They were
never heard from again. 

1951 The first push button-controlled garage opened in
Washington, DC. 

1955 The American Federation of Labor and the Congress of
Industrial Organizations merged to form the AFL-CIO. 

1956 British and French forces began a withdrawal from Egypt
during the Suez War. 

1958 Britain's first motorway, the Preston by-pass, was
opened by Prime Minister Macmillan. 

1961 United Nations forces launched an attack in Katanga, the
Congo, near Elizabethville. 

1962 The U.S. and the Soviet Union agreed to cooperate in the
peaceful uses of outer space. 

1971 The Soviet Union, at United Nations Security Council,
vetoed a resolution calling for a cease-fire in hostilities
between India and Pakistan over Kashmir. 

1976 Jacques Chirac re-founded the Gaullist party as the RPR
(Rassemblement pour la République). 

1977 Egypt broke diplomatic relations with Syria, Libya,
Algeria, Iraq and South Yemen due to peaceful relations with
Israel. 

1978 The American space probe Pioneer Venus I, orbiting
Venus, began beaming back its first information and picture
of the planet. 

1979 Sonia Johnson was formally excommunicated by the Mormon
Church due to her outspoken support for the proposed Equal
Rights Amendment to the Constitution. 

1983 In west Beirut, Lebanon, more than a dozen people were
killed when a car bomb shattered a nine-story apartment
building. 

1983 The video arcade game "NFL Football" was unveiled in
Chicago. It was the first video arcade game to be licensed by
the National Football League. 

1984 Iran's official news agency quoted the hijackers of a
Kuwaiti jetliner parked at Tehran airport as saying they
would blow up the plane unless Kuwait released 14 imprisoned
extremists. 

1986 The Soviet Union said it would continue to abide by the
SALT II treaty limits on nuclear weapons. This was despite
the decision by the U.S. to exceed them. 

1988 Jim Bakker and former aide Richard Dortch were indicted
by a federal grand jury in North Carolina on fraud and
conspiracy charges. 

1989 Israeli soldiers killed five heavily armed Arab
guerrillas who crossed the border from Egypt. The guerrillas
were allegedly going to launch a terrorist attack
commemorating the anniversary of the Palestinian uprising. 

1989 East Germany's former leaders were placed under house
arrest. 

1992 Russian President Boris Yeltsin kept the power to
appoint Cabinet ministers, defeating a constitutional
amendment that would have put his team of reformers under the
control of Russia's Congress. 

1998 James P. Hoffa became the head of the Teamsters union,
23 years after his father was the head. His father
disappeared and was presumed dead. 

2001 In Germany, Afghan leaders signed a pact to create a
temporary administration for post-Taliban Afghanistan. Two
women were included in the cabinet structure. Hamid Karzai
and his Cabinet were planned to take over power in
Afghanistan on December 22. 

2008 The iTunes Music Store reached 300 million applications
downloaded. 

2010 NASA's Mars Odyssey spacecraft became the longest-
operating spacecraft ever sent to Mars. The Odyssey entered
orbit around Mars on October 23, 2001. 

2014 NASA's Orion Multi-Purpose Crew Vehicle (MPCV) debuted
when it was launched for a four hour test flight. It landed
on target in the Pacific Ocean. 

2016  smiled.


[ view entry ] ( 9 views ) | permalink | print article |
( 3 / 219 )
---
<<First
<Back
| 26 | 27 | 28 | 29 | 30 | 31 | 32 | 33 | 34 | 35 |
Next>
Last>>