Good Morning, ,

Today is Thursday, December 15

Gavle Goat Webcam

Have FUN!
DearWebby

Todays Bonehead Award:
Complaint over gas smell leads police to woman's body
and arrest of killer
Details at Boneheads
______________________________________________________
Today, December 15 in 
1654 A meteorological office established in Tuscany began
recording daily temperature readings. 
See More of what happened on this day
in history.
______________________________________________________

| | |
| --- | --- |
| If you can help with the cost of the Humor Letter, please donate what you can! | |
______________________________________________________ It is unbecoming for young men to utter maxims. --- Aristotle (384 BC - 322 BC) Some editors are failed writers, but so are most writers. --- T. S. Eliot (1888 - 1965) The secret of being a bore is to tell everything. --- Voltaire (1694 - 1778) Nobody believes the official spokesman... but everybody trusts an unidentified source. --- Ron Nesen ______________________________________________________ If you like the Humor Letter, please vote!
______________________________________________________ A swimming instructor at a Los Angeles university was quizzing a group of students on Red Cross life saving and water safety techniques. They answered all of her questions easily until she posed this one: "Which article of clothing would you remove last if you were catapulted from a boat or dock fully clothed?" Everyone mentioned something different. It was evident that no one knew the correct answer, so the instructor helped out. "The blouse," she said, "because the air gets under the blouse and acts like a buoy!" The subsequent uproar ended the class. ______________________________________________________ At the company water cooler, the office braggart was boring his fellow workers as usual. His topic of the day was about his children's world travels: one son was teaching in Bolivia, another working in southern Italy. Finally, he told everyone that his daughter was working on a year's research project in India. "What is it about you," a co-worker finally asked, "that makes your kids want to get so far away from you?" ______________________________________________________ Two rabbinical students were caught by the Rabbi gambling and drinking in the company of undesirable characters before the sun set on the evening of the Sabbath. The Rabbi called them into his study the next day. Both confessed to having given in to weakness, and admitted that they deserved punishment. The Rabbi thought and then went into his kitchen and brought back two bags of dried peas. "Put these in your shoes," he told them, "and walk on them for a week, to remind yourself how hard life can be when you turn away from the Law." A few days later the two students met. One was limping terribly, had dark circles under his eyes, and looked very tired. The other seemed much as he had been the week before. "Hey," said the first. "How is it that you are walking so freely? Didn't you do as the Rabbi told us and put the peas in your shoes?" "Of course I did," said the other. "How could I disobey the Rabbi?" He started to walk away, paused, and then said, "But I boiled them first." ______________________________________________________
______________________________________________________

If you like the Dear Webby Daily Humor Letter, please vote for it at the

Ezine Finder:
Thanks for your votes!

______________________________________________________
An INTERNATIONAL BONEHEAD AWARD has been earned by
Darryl Chandler, Kennesaw Georgia, Complaint over gas smell leads police to woman's body and arrest of killer Police say a Georgia man was ready to blow up his duplex. They believe he had already killed his wife inside. Neighbors said they learned something bad was happening long before they realized it was murder "It seemed as if he was going to torch it and I live here with my roommate and my animals and I was like, 'are you kidding me?'" neighbor Christina Cash said, one day after police reopened her neighborhood. Cash said she was still shaken knowing her neighbor allegedly murdered his wife, then splashed gallons upon gallons of gasoline inside the duplex with which she shares a wall. via WSBTV.com "I'm just hit with the smell of gasoline, and I was like, 'OK, this wasn't right,'" Cash said. "As soon as you stepped on the front porch it was like you were standing in a puddle of gasoline," neighbor James Crowes said. Neighbors had smelled the gasoline before police arrived, but the lights were out in Darryl and Brenda Chandler's duplex. When the gas company arrived, Darryl Chandler wouldn't let them in. Police arrived and, smelling the stench, they detained Darryl and found Brenda's body, which had been shot, in a bedroom. Neighbors said the couple had lived in the quiet Kennesaw neighborhood not far from the university for a decade. "You see them come and go. They drove nice cars and you just thought they were a nice couple," Crowe said. Court documents say when the quick-thinking cops detained Chandler, they found receipts from two gas stations in his pockets, along with two lighters. He was one motion away from setting the entire building ablaze and possibly taking more lives. "You're just going to torch the place? What happened to your life where you had to do that-you're going to take out two other people as well? It freaked me out. It got to that point were there was nothing that could have been done, someone you could talk to?" Cash asked. ______________________________________________________ Tech Support Pits From: Irene Re: Indoor lights outdoors Dear Webby, Dad found an old X10 computer interface at a garage sale and even though it is older than me, it works with my computer. He won't let me control outlets inside the house, yes, dang, I can't turn off the lights on my dimwit brother or lock him out, but for a compromise he installed X10 conttrolled outlets in all the outside plug-ins. Controlling the car plug-ins was no big deal at all. After setting up the schedule, I can turn the computer off and the X10 remembers it all. Now I get to the big question. We have a huge pile of indoor type Christmas tree lights. Gramma can't resist buying them at garage sales. I want to use them to decorate the bushes and the fence. Will they work or would they cause problems? I want to control them from my computer and eventually over the net. Thanks Irene Dear Irene Good for you ! X10 is great stuff for people who read instructions, and incomprehensible, mysterious magic for those who don't. All outside plug-ins go to GFI breakers, or should, according to code. That means if there is any electricity creeping to ground, the breaker pops. They are very sensitive and trigger-happy, and as little current as for example a walkman takes, would trigger them. It is highly unlikely, but if any electricity is creeping to ground through melting snow, the breakers would pop. You are not going to set the snow on fire. According to the code, you are not supposed to use stuff that is rated "Indoor Use Only" outside, but most Christmas tree lights today are safe enough, so that babies and pets can chew on them, and will do fine outdoors. Use common sense and suspend them so that they won't be in any puddles, and where you connect one set to another, orient the plugs so that the female socket is facing down and the male prongs are facing up, and unplug them while you re-arrange them. Have FUN! DearWebby
After a lengthy conference with the estranged husband, the lawyer reported to his client: "Jill, I have succeeded in making a settlement with your husband that is eminently fair to both of you." "Fair to both!?!" exploded Jill. "I could have done that myself. Why do you think I hired a lawyer?"
| | |
| --- | --- |
| If you can help with the cost of the Humor Letter, please donate what you can! | |
Daily tip from Thriftyfun.com Making a Pot Holder Scissors Pouch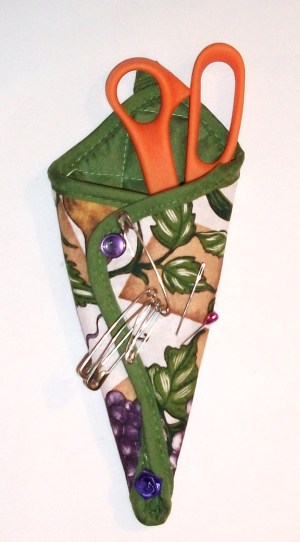 Scissor Sacks By Vi Johnson [287 Posts, 800 Comments] 2 found this helpful These are pot holder scissor sacks. Instructions Fold a pot holder into a cone shape. Hot glue the sides together. Careful not to burn yourself. You can use the loop at the top for hanging or poke holes to run a ribbon for hanging. Next decorate with silk flowers, beads, feathers, sequins, etc. to hide the seam. Add a pair of kitchen shears or sewing scissors with this note glued to the front. I keep my scissors, in this sack. If you use them, put them back. Thanks to my cousin Darlene for this idea. I made them for many friends, the mail lady, the Avon lady, etc. I've also made these small sacks for kids scissors and for my desk.
| | |
| --- | --- |
| | Aunt Chippy wraps a present |
____________________________________________________ A not so bright woman asks her lawyer about getting a divorce. The lawyer asks, "Does he beat you?" "No, he does not." "Does he keep you short of money?" "No, he does not." "Is he a perpetual drunkard?" "No, he is not." "Is he unfaithful to you?" "Ahhh, we've got him there. He was not the father of my last kid." ____________________________________________________
| | |
| --- | --- |
| | This Futuristic Library in China Looks Incredible! |
You may have heard about a new bride who was a bit embarrassed to be known as a honeymooner. So when she and her husband pulled up to the hotel, she asked him if there was any way that they could make it appear that they had been married a long time. He responded, "Sure. You carry the suitcases!"
Ophelia Dingbatter's News
No sermon and not suitable for church, just jokes and fun for grownups. Read it on-line or subscribe. If you subscribe, look for the double opt-in confirmation request.

____________________________________________________

Today on December 15
1654 A meteorological office established in Tuscany began
recording daily temperature readings. 

1791 In the U.S., the first ten amendments to the
Constitution, known as the Bill of Rights, went into effect
following ratification by the state of Virginia. 

1840 Napoleon Bonapartes remains were interred in Les
Invalides in Paris, having been brought from St. Helena,
where he died in exile. 

1854 In Philadelphia, the first street cleaning machine was
put into use. 

1877 Thomas Edison patented the phonograph. 

1890 American Sioux Indian Chief Sitting Bull and 11 other
tribe members were killed in Grand River, SD, during an
incident with Indian police working for the U.S. government. 

1939 "Gone With the Wind," produced by David O. Selznick
based on the novel by Margaret Mitchell, premiered at Loew's
Grand Theater in Atlanta. The movie starred Vivien Leigh and
Clark Gable. 

1944 American forces invaded Mindoro Island in the
Philippines. 

1944 Dr. R. Townley Paton and a small group of doctors laid
the groundwork for the Eye-Bank for Sight Restoration. 

1961 Former Nazi official Adolf Eichmann was sentenced to
death in Jerusalem by an Israeli court. He had been tried on
charges for organizing the deportation of Jews to
concentration camps. 

1961 The U.N. General Assembly voted against a Soviet
proposal to admit Communist China as a member. 

1964 Canada's House of Commons approved the newly designed
maple leaf flag, thereby dropping the Canadian "Red Ensign"
flag. 

1965 Two U.S. manned spacecraft, Gemini 6 and Gemini 7,
maneuvered within 10 feet of each other while in orbit around
the Earth. 

1966 Walter Elias "Walt" Disney died in Los Angeles at the
age of 65. 

1970 The Soviet probe Venera 7 became the first spacecraft to
land softly on the surface of Venus. The probe only survived
the extreme heat and pressure for about 23 minutes and
transmitted the first data received on Earth from the surface
of another planet. 

1973 J. Paul Getty III was found in southern Italy after
being held captive for five months, during which his right
ear was cut off and sent to a newspaper in Rome. 

1978 U.S. President Carter announced he would grant
diplomatic recognition to Communist China on New Year's Day
and sever official relations with Taiwan. 

1979 The former shah of Iran, Muhammad Riza Pahlavi, left the
United States for Panama. He had gone to the U.S. for medical
treatment on October 22, 1979. 

1979 In a preliminary ruling, the International Court of
Justice ordered Iran to release all hostages that had been
taken at the U.S. embassy in Tehran on November 4, 1979. 

1982 Gibraltar's frontier with Spain was opened to pedestrian
use after 13 years. 

1983 The last 80 U.S. combat soldiers in Grenada withdrew. It
was just over seven weeks after the U.S.-led invasion of the
Caribbean island. 

1989 An uprising in Romania began as demonstrators gathered
to prevent the arrest of the Reverend Laszlo Tokes, a
dissident clergyman. 

1992 IBM announced it would eliminate 25-thousand employees
in the coming year. 

1992 Bettino Craxi, the leader of Italy's Socialist Party,
was informed that he was under investigation in a burgeoning
corruption scandal in the northern city of Milan. 

1992 El Salvador's government and leftist guerrilla leaders
formally declared the end of the country's 12-year civil war.


1993 In Geneva, 117 countries completed the Uruguay Round of
the General Agreement on Tariffs and Trade (GATT). The
countries agreed on a reform package. 

1993 The prime ministers of Britain and the Republic of
Ireland (John Major and Albert Reynolds respectively) made
the "Downing Street Declaration," stating the basis for
trying to achieve peace in Northern Ireland. 

1995 The U.N. Security Council authorized NATO to take over
the peacekeeping operations in Bosnia. 

1995 French rail workers voted to end a three-week-old
strike. 

1996 Boeing Co. announced plans to pay $13.3 billion to
acquire rival aircraft manufacturer McDonnell Douglas Corp. 

1999 Syria reopened peace talks with Israel in Washington,
DC, with the mediation of U.S. President Clinton. 

2000 The Chernobyl atomic power plant in Kiev, Ukraine, was
shut down. 

2000 New York Senator-elect Hillary Rodham Clinton agreed to
accept an $8 million book deal with Simon & Schuster. The
book was to be about her eight years in the White House. The
advance was the highest ever to be paid to a member of the
U.S. Congress. 

2001 It was announced that Siena Heights University would
begin offering a class called "Animated Philosophy and
Religion." The two-credit class would cover how religion and
philosophy are part of popular culture and is based on the
television series "The Simpsons." 

2010 The U.N. Security Council gave a vote of confidence to
the government of Iraq when they lifted 19-year-old sanctions
on weapons and civilian nuclear power. 

2016  smiled.


[ view entry ] ( 9 views ) | permalink | print article |
( 2.9 / 629 )
---
<<First
<Back
| 26 | 27 | 28 | 29 | 30 | 31 | 32 | 33 | 34 | 35 |
Next>
Last>>