Good Morning, ,
Today is Friday, December 16
Time to wear a bit of red to show your support for the troops!


For believers in Walmartism and Shoppianity,
only 8 days of shopping left!
Rudolphians, you have 10 days of saving money 
till Boxing Day!

Christians, it's 9 days till Christmas. 

Jews, you have 8 days until Hanukkah.

Have FUN!
DearWebby

Todays Bonehead Award:
Chrome-Domed Criminal Imprisoned For Role In Rogaine 
Theft Ring
Details at Boneheads
______________________________________________________
Today, December 16 in 
1773 Nearly 350 chests of tea were dumped into Boston Harbor
off of British ships by Colonial patriots. The patriots were
disguised as Indians. The act was to protest taxation without
representation and the monopoly the government granted to
the East India Company. 
See More of what happened on this day
in history.
______________________________________________________

| | |
| --- | --- |
| If you can help with the cost of the Humor Letter, please donate what you can! | |
______________________________________________________ The trouble about trying to make yourself stupider than you really are is that you very often succeed. --- C. S. Lewis (1898 - 1963) Every man serves a useful purpose: A miser, for example, makes a wonderful ancestor. --- Laurence J. Peter ______________________________________________________ If you like the Humor Letter, please vote!
______________________________________________________ Our hometown was so small that . . . ~ long distance calls are delayed when the area code is busy ~ in order to paint traffic lines, the road had to be widened ~ the clinic was called Joe's Hospital and Grill ~ instead of hoses, the Fire Department just cranks up the sprinkler at the fire hall. ~ the parking meter was on a cart so that we coould use it on either side of the street. ~ during snowstorms they arrested the first drunk they found to have a driver for the snow plow. ~ the Mayor was also the Sheriff, Jail Warden, garbage truck driver and barber. ~ the municipal water system's pump was self-serve, hand operated. ~ the local Motel 6 sleeps six and parties 20. ______________________________________________________ The homeowner was delighted with the way the painter had done all the work on his house. "You did a great job," he said and handed the man a check. "Also, in order to thank you, here's an extra $80 to take the missus out to dinner and a movie." The painter thanked him and agreed to do that. Later that night, the doorbell rang and it was the painter. Thinking the man had forgotten something he asked, "What's the matter, did you forget something?" "Nope," replied the painter. "I'm a man of my word. I'm here to take your missus out to dinner and a movie like you asked." ______________________________________________________ >From Tilly: The bride was anything but a tidy housekeeper. It didn't bother her much until one evening when her husband called from the hall, somewhat dismayed: "Honey, what happened to the dust on this table? I had a phone number written on it." ______________________________________________________
Grant Seekers Convention ______________________________________________________

If you like the Dear Webby Daily Humor Letter, please vote for it at the

Ezine Finder:
Thanks for your votes!

______________________________________________________
An INTERNATIONAL BONEHEAD AWARD has been earned by
Andres Arias, 36, Warren County, Ohio Chrome-Domed Criminal Imprisoned For Role In Rogaine Theft Ring A chrome-domed criminal will serve two years in prison for heading a Rogaine theft ring that targeted more than two dozen pharmacies in Ohio, according to court records. Andres Arias, 36, pleaded guilty Tuesday in Common Pleas Court in Warren County and was sentenced on a felony count. Arias, seen above, was named earlier this year in a 12-count indictment charging him with participating in an "organized retail theft ring" that victimized numerous CVS and Walgreens stores. As part of a plea deal, prosecutors dropped money laundering and theft raps in return for Arias's plea to engaging in corrupt activity, the indictment's top charge. According to investigators, Arias, a Florida resident, and several cohorts stole Rogaine and other over-the-counter drugs from the pharmacies and then shipped the products to a "retail fence" in New Jersey. "Some of the items would then appear online to be sold on eBay," the indictment noted. The stolen Rogaine was not for the personal use of the bald Arias, who is now known as prisoner A730999 in Ohio's Department of Rehabilitation & Correction. In addition to serving two years in custody, Arias has also been ordered to pay $22,000 in restitution. ______________________________________________________ Tech Support Pits From: Willie Re: Computer for logging data Dear Webby, What kind of computer is best for logging data from inside and outside temperature sensors and activating controls? I used to do it with a 386 and DOS, but a stuttering power bump fried it. And what kind of Operating Stystem would be best? Willie Dear Willie For data logging and device controlling even an ancient XT is more than powerful enough. You can set just about any computer to automatically restart when power returns, it is just slightly more of a nuisance with newer operating systems. Just get a used W7 machine, reset it to factory default, which is basically a format using the hidden OS. Dump all the sample crap that is included, and you will have a fast and reliable machine. Then go to "Start" -> "Computer" --> right click on "Properties", and then hit "Advanced system settings". In the advanced options of the system context menu, click on "Settings" for Startup and Recovery. and in there Settings again. Check the "Automatically restart" for system failure. Click "OK" After that it will restart after a power failure. Of course connecting it to an Uninterruptible Power Supply with a car battery will prevent any power related hassles. The Analo-Digital card should still work, but there is no way to get the driver off the original 5 1/4" floppy. You will have to contact the company that made it and see if they have a download site to get the driver. Otherwise check weather station suppliers or X-10. Have FUN! DearWebby
Thanks to Leo for this one: My wife invited some people to dinner. At the table, she turned to our 5-year-old daughter and said, "Would you like to say the blessing?" "I don't know what to say," she replied. "Just say what you hear Mommy say," my wife said. Our daughter bowed her head and said: "Dear Lord, why on earth did I invite all these silly mooches to dinner?"
| | |
| --- | --- |
| If you can help with the cost of the Humor Letter, please donate what you can! | |
Daily tip from Thriftyfun.com Chocolate Covered Peanut Butter Cracker Sandwiches By Becky Miles [100 Posts, 158 Comments] Total Time: 15 minutes, plus time to set up Yield: as many as you want Ingredients: peanut butter, any type you like it fine. I used Trader Joe's natural peanut butter. buttery crackers 1 cup chocolate chips 1 Tbsp shortening Steps: Put about 1 teaspoon of peanut butter on your cracker. Put another cracker on top. Make as many as you would like. The peanut butter I used was a natural type, so it's a little looser. I froze my "sandwiches" for about an hour to firm up before dipping in chocolate. But, if your peanut butter is firmer, you could skip this step. Melt chocolate chips and shortening. Start by heating in microwave for 30 seconds. Stir. If needed, heat another 30 seconds, til melted.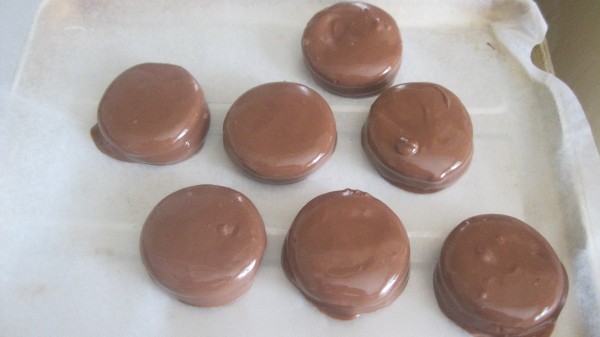 Dip peanut butter sandwiches in chocolate. Place on wax paper. Let chocolate harden up. Enjoy! My version uses Graham Crackers, and just a very light smear of peanut butter on the "A" side, and a smear of some tart wild raspberry jam on the "B" side, then stick them together. For the chocolate I always use 7/8 Bakers Semi-Sweet and 1/8 Bakers Unsweetened. That makes a "Not for kids!" adult cookie for slow nibbling and savoring. Have FUN! DearWebby
| | |
| --- | --- |
| | emoticons in real life |
____________________________________________________ The Rev. Warren J. Keating, pastor of the First Presbyterian Church of Yuma, Ariz., says that the best prayer he ever heard was: "Lord, please make me the kind of person my dog thinks I am." ____________________________________________________
| | |
| --- | --- |
| | 2016 National Geographic nature photographer of the year winners. |
>From Bob During his freshman year, my son Steve couldn't get home for Christmas. So he sent me a set of inexpensive cuff links and a note reading: "Dear Dad, This is not much, but it's all you could afford."
Ophelia Dingbatter's News
No sermon and not suitable for church, just jokes and fun for grownups. Read it on-line or subscribe. If you subscribe, look for the double opt-in confirmation request.

____________________________________________________

Today on December 16
1653 Oliver Cromwell became lord protector of England,
Scotland and Ireland. 

1773 Nearly 350 chests of tea were dumped into Boston Harbor
off of British ships by Colonial patriots. The patriots were
disguised as Indians. The act was to protest taxation without
representation and the monopoly the government granted to
the East India Company. 

1809 Napoleon Bonaparte was divorced from the Empress
Josephine by an act of the French Senate. 

1835 In New York, 530 buildings were destroyed by fire. 

1838 The Zulu chief Dingaan was defeated by a small force of
Boers at Blood River celebrated in South Africa as 'Dingaan's
Day'. 

1850 The first immigrant ship, the Charlotte Jane, arrived at
Lyttleton, New Zealand. 

1940 French Premier Petain arrested Pierre Laval after
learning of a plan for Laval to seize power and set up a new
government with German support. 

1944 During World War II, the Battle of the Bulge began in
Belgium. It was the final major German counteroffensive in
the war. 

1950 U.S. President Truman proclaimed a national state of
emergency in order to fight "Communist imperialism." 

1960 A United Air Lines DC-8 and a TWA Super Constellation
collided over New York City, killing 134 people. 

1973 O.J. Simpson broke Jim Brown's single-season rushing
record in the NFL. Brown had rushed for 1,863 yards, while
Simpson attained 2,003 yards. 

1990 Jean-Bertrand Aristide, a leftist priest, was elected
president in Haiti's first democratic elections. 

1991 The U.N. General Assembly rescinded its 1975 resolution
equating Zionism with racism by a vote of 111-25. 

1995 Many U.S. government functions were again closed as a
temporary finance provision expired and the budget dispute
between President Clinton and Republicans in Congress
continued. 

1995 NATO launched a military operation in support of the
Bosnia peace agreement. 

1996 Britain's agriculture minister announced the slaughter
of an additional 100,000 cows thought to be at risk of
contracting BSE in an effort to persuade the EU to lift its
ban on Britain. 

1998 The U.S. and Britain fired hundreds of missiles on Iraq
in response to Saddam Hussein's refusal to comply with U.N.
weapons inspectors. 

1998 Eric Michelman filed the earliest patent for a scroll
wheel for a computer mouse. Scroll wheels had been in active
use for over ten years by then, but nobody had bothered to
patent them.

1999 Torrential rains and mudslides in Venezuela left
thousands of people dead and forced at least 120,000 to leave
their homes. 

2000 Researchers announced that information from NASA's
Galileo spacecraft indicated that Ganymede appeared to have a
liquid saltwater ocean beneath a surface of solid ice.
Ganymede, a moon of Jupiter, is the solar system's largest
moon. The discovery is considered important since water is a
key ingredient for life. 

2000 U.S. President-elect George W. Bush selected Colin
Powell to be the first African-American secretary of state.
Powell was sworn in January 20, 2001. 

2001 In Tora Bora, Afghanistan, tribal fighters announced
that they had taken the last al-Quaida positions. More than
200 fighters were killed and 25 captured. They also announced
that they had found no sign of Osama bin Laden. 

2001 Cuba received the first commercial food shipment from
the United States in nearly 40 years. The shipment was sent
to help Cuba after Hurrican Michelle hit Cuba on November 4,
2001. 

2001 A British newspaper, The Observer, reported that a
notebook had been found at an al-Quaida training camp in
southern Afghanistan. The notebook contained a "blue print"
for an bomb attack on London's financial district. 

2009 Astronomers discovered GJ1214b. It was the first-known
exoplanet on which water could exist.

2016 Dwarf planet Ceres, the largest object in the asteroid
belt between Mars and Jupiter, was announced to be 30% water.
NASA announced that Ceres is round and may contain more
fresh water than the entire Earth.

2016  smiled.


[ view entry ] ( 7 views ) | permalink | print article |
( 2.9 / 840 )
---
<<First
<Back
| 26 | 27 | 28 | 29 | 30 | 31 | 32 | 33 | 34 | 35 |
Next>
Last>>