Good Morning, ,
Today is Saturday, December 17

For believers in Walmartism and Shoppianity,
only 7 days of shopping left!
Rudolphians, you have 9 days of saving money 
till Boxing Day!

Christians, it's 8 days till Christmas. 

Jews, you have 7 days until Hanukkah.

Have FUN!
DearWebby

Todays Bonehead Award:
Floriduh armed robber gets tenderized by ex-wrestler
Details at Boneheads
______________________________________________________
Today, December 17 in 
1777 France recognized American independence to annoy
 Britain.
See More of what happened on this day
in history.
______________________________________________________

| | |
| --- | --- |
| If you can help with the cost of the Humor Letter, please donate what you can! | |
______________________________________________________ Any sufficiently advanced bureaucracy is indistinguishable from molasses. --- Isaac Asimov I don't mind what Congress does, as long as they don't do it in the streets and frighten the horses. --- Victor Hugo You can tell the character of every man when you see how he receives praise. --- Seneca the Younger You can tell the character of anybody by how they treat a waitress. --- Socratex ______________________________________________________ If you like the Humor Letter, please vote!
______________________________________________________ >From Daniel A Newfie is visiting Texas and starts a conversation with a Texan at a local bar. The Texan asks the Newfie where he's from and the Newfie says, "You know where New York is?" The Texan says, "Yeh, yeh, I know where New York is." The Newfie says, "Well bye, you just drive north of dere about 6 hours, turn right for 3 hours and catch a 6 hour ferry and you're there in Newfoundland." The Texan says "That's got to be close to China!" The Newfie thinks about this and then says, "Lard tunderin' Jaysus bye", I tink you might be right....... I work with a Chinese guy and he goes home for lunch every day! ______________________________________________________ >From Kate As I was walking home this week worrying about all the crap going on in Washington, Ottawa, London, Moscow, Ukraine, the Middle East, etc., and how America is falling apart, I saw a yard sign that said: NEED HELP? CALL JESUS 1-800-005-3787 Out of curiosity and desperation, I did. A Mexican showed up with a lawnmower. ______________________________________________________ After Jane's son fell into the pond yet again and came home with his good school clothes dripping wet, the exasperated Jane sent him to his room and washed and dried his clothes. A little later, Jane heard a commotion in the back yard. She called out "Are you out there wetting your pants again!?" There was dead silence for a moment. Then a deep, masculine voice answered meekly, "No, ma'am, I'm just reading the meter." ______________________________________________________
______________________________________________________

If you like the Dear Webby Daily Humor Letter, please vote for it at the

Ezine Finder:
Thanks for your votes!

______________________________________________________
An INTERNATIONAL BONEHEAD AWARD has been earned by
Jason Felix, 35, Coral Springs, Floriduh Floriduh armed robber gets tenderized by ex-wrestler A crook didn't know what was coming to him when he tried to rob a former pro wrestler at a Valero gas station. Former WWE star Shad Gaspard hasn't lost his touch after he stopped wrestling professionally. He later went on to become a bodyguard for Sean "P. Diddy" Combs, Britney Spears and Mike Tyson. "When people see me, they normally get intimidated at times," he told 7News during a phone interview. "I'm not a bad guy. I'm a nice guy." It wasn't until a man tried to rob the 6-foot-7, 280-pound former wrestler at a Coral Springs Valero gas station that his instincts kicked in, late Saturday night. The suspect, 35-year-old Jason Felix, found himself in over his head. Surveillance footage shows him wearing a light colored long-sleeve shirt as he tries to get the attention of Gaspard, who is seen wearing a red shirt. Speaking to 7News over the phone, Gaspard, who lives in California but was in South Florida to attend an event, said he had stopped at the gas station's convenience store to buy some iced tea when Felix asked him to buy a beer. "This guy comes from the back of the store, and he goes, 'Yo, man, buy me a beer,' and I'm like, you know, I didn't know the guy," he said. "And I'm like, 'Yo, man, there's a better way to approach somebody.'" According to a police report, Felix then became upset and approached Gaspard. "And so he started coming at me, and then he lifted up his shirt and showed me he had a gun," Gaspard said. Felix appeared to be carrying a black semi-automatic gun, but officials later learned that it was an air-powered BB gun. Upon instinct, Gaspard acted quickly and grabbed the gun from Felix's waistband, and that's when the brawl ensued. The clerk, Simon Silva, and a female customer were inside the store. "Shad grabbed [the gun], and then it crashed [on the floor], and pieces of it fell to the right of me, like not even a foot away from me," said the customer. Surveillance video from the front entrance to the convenience store shows the former wrestler grabbing Felix by the neck and shoving him out the door. "He was like, 'Yo, give me the gun back. Give me right [expletive] now.' He wasn't listening so I grabbed him by the back of the neck, and I ran to the door," said Gaspard. "When I ran to the door, I ran into the door hard as [expletive], trying to knock him out." Exterior video shows Gaspard tackling Felix near the store's parking spaces. "When we got outside, I grabbed him in a rear choke, and I threw him off, and I put him on the ground," said Gaspard. "I put his hands behind his back, put my knee on his wrist, so he couldn't move them." Gaspard pinned the suspect until Coral Springs Police arrived on the scene. "We took all the stuff from his pockets. We saw his phone. He had a picture of a little girl on his phone, so he's the father," said Gaspard. "I hope he gets right for his daughter, or whoever is in his life." Felix was then put into police custody and faced a judge Monday morning. During the hearing, it was confirmed that he is the father of three children. "I hope he gets the help he needs. I hope he's OK," Gaspard said, "and I hope he never tries a stunt like this again." Felix was charged with one count of armed robbery and was held on $10,000 bond. He has since posted bond. ______________________________________________________ Tech Support Pits From: Don Re: Automatic restart of XP machines Dear Webby, I appreciated your note on automatic restart. As you know I operate a small FM radio station here and occasionally we have a power failure that the UPS does not catch for some reason. I would love to have the computer restart. I am using XP Pro but I cannot find the Advanced Settings for some reason. Can you give me any further help on this. Don Dear Don When you start your XP, hit F8 to go into Safe mode. From the list select DO automatically restart after system failure. Then restart. That's all there is to it. Have FUN! DearWebby
A friend, driving home from a fishing trip in northern Michigan with his boat in tow, had engine trouble a few miles inland from Lake Huron. He didn't have a CB radio or cell phone in his car, so he decided to use his marine radio to get help. Climbing into his boat, he broadcast his call letters and asked for assistance. A Coast Guard officer responded, "Please give your location." "I'm on Interstate-75, two miles south of Standish." The officer paused, "Could you repeat that?" "I-75, two miles south of Standish." A longer pause. Then an incredulous voice asked, "How fast were you going when you hit the shore?"
| | |
| --- | --- |
| If you can help with the cost of the Humor Letter, please donate what you can! | |
Daily tip from Thriftyfun.com Muffin Tin Flan By StellaBell [187 Posts, 176 Comments] Flan is a delicious, rich treat and can be made using ingredients most people have on hand. Note: It works to make flan in muffin tins although I found that it wasn't ideal because removal was difficult and the flan didn't turn out as beautiful as it would using a ramekin. That said if you don't care so much about looks and don't have ramekins, the muffin tin works fine. If you are so lucky to have a silicone muffin tin, use it! I think it would work wonderfully. Ingredients: 1 1/2 cup milk 3/4 cup sugar for flan 2 eggs 1 egg yolk 1 tsp vanilla 1 cup sugar for caramel Steps: Preheat oven to 325 degrees F. Make caramel: In a heavy bottomed pan, heat 1 1/2 cups of the sugar over high heat. Stir constantly with a wooden spoon. It will take about 5 minutes. You want the sugar to turn a deep brown. Be careful because it can easily burn and will continue to darken even after you turn off the heat. Pour the caramel into the bottom of each muffin tin or ramekin, completely coating the bottom. Be sure to use up or throw out the left over caramel and not leave it in the pan. Once it has cooled it is extremely difficult to remove from the pan. Bring the milk to a simmer on medium, stirring often. In a bowl whisk together the eggs and extra yolk and 3/4 cup of sugar for about 2 minutes until it looks pale. Bring the milk to a simmer on medium, stirring often. In a bowl whisk together the eggs and extra yolk and 3/4 cup of sugar for about 2 minutes until it looks pale. Once the milk is brought up to a simmer, remove it from the heat and stir in the vanilla. Then, slowly pour the milk mixture into the egg mixture, whisking constantly. Remove any froth that may have formed. Then, pour through a mesh strainer. Place the muffin tin or ramekins into a pan that is at least as tall. Then, divide the custard evenly, filling your muffin tins or ramekins. Carefully fill the pan with the hottest tap water or boiling water halfway up the muffin tin or ramekins. Place in the oven and bake for 50 minutes until the surface doesn't jiggle. Remove from the water bath and let cool for about an hour. Then cover and place in the refrigerator for 2 hours and up to 2 days, serving at your leisure. If you used a muffin tin you will have to remove all of the flan from the tin at once. Use a thin knife and run it around the edge of each mold. Place a baking dish larger than the muffin tin on top and hold the muffin tin flush with the bottom of the glassware and flip it over. Let sit for a few minutes. If you find that the flan is not dropping out of the tin, you will need to lift up the tin and gently pop them out into the baking dish using a spoon.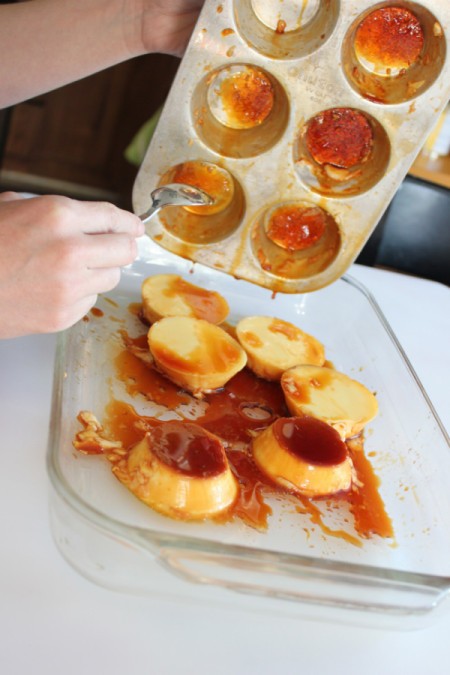 To serve, place a flan on a plate and spoon some of the caramel sauce over the top.
| | |
| --- | --- |
| | Modern version of the Nativity |
____________________________________________________ This quiz has been around since I was a kid. Remember the answers? 1. If a plane crashed right on the border of the USA and Canada, where should the survivors be buried? 2. How many species of each animal did Moses take aboard the ark? 3. How many months have 28 days? 4. How far can a bear walk into the woods? 5. What is the value of coin dated 24 B.C.? 6. How many grooves does a 45rpm phonograph record have? 7. A camper leaves her camp, hikes 1 mile south, then 1 mile east where she sees a bear. Then she hikes 1 mile north to arrive at her camp. What color is the bear? 8. If a rooster lays an egg on the peak of a roof , will the egg roll to North side or the South side of the roof? 9. If a south bound electric train is traveling at a rate of 66 miles per hour and the wind is blowing to the north at 35 miles per hour, which way will the smoke blow? 10. On which side of a chicken are the most feathers? ANSWERS: 1. Survivors don't really like being buried. 2. a) No animal belongs to more than one species b) Moses didn't have an Ark, Noah did. 3. All twelve of them. 4. a) One step, then he is IN the woods. b) Half way, then he is walking out of the woods. 5. Nothing, a coin could not be dated BC. 6. One (spiraling) on each side. 7. The camp must be at the north pole, therefore the bear is white. 8. Roosters don't lay eggs, but many chickens do. 9. Electric trains don't blow smoke. 10. Usually the outside. ____________________________________________________
| | |
| --- | --- |
| | I would love to go fishing here, it's so serene. |
In her own eyes, Esther was the most popular girl around. "A lot of men are gonna be totally miserable when I marry." "Really ?" said her date, "And just how many men do you intend to marry?"
Ophelia Dingbatter's News
No sermon and not suitable for church, just jokes and fun for grownups. Read it on-line or subscribe. If you subscribe, look for the double opt-in confirmation request.

____________________________________________________

Today on December 17
1777 France recognized American independence. 

1791 A traffic regulation in New York City established the
first street to go "One Way." 

1830 South American patriot Simon Bolivar died in Colombia. 

1895 George L. Brownell received a patent for his paper-twine
machine. 

1903 The first successful gasoline-powered airplane flight
took place near Kitty Hawk, NC. Orville and Wilbur Wright
made the flight. 

1939 The German pocket battleship Graf Spee was scuttled by
its crew, bringing the World War II Battle of the Rio de la
Plata off Uruguay to an end. 

1944 The U.S. Army announced the end of its policy of
excluding Japanese-Americans from the West Coast which
ensured that Japanese-Americans were released from detention
camps. 

1953 The Federal Communications Commission (FCC) decided to
approve RCA's color television specifications. 

1957 The United States successfully test-fired the Atlas
intercontinental ballistic missile for the first time. 

1969 The U.S. Air Force closed its Project "Blue Book" by
concluding that there was no evidence of extraterrestrial
spaceships behind thousands of UFO sightings. 

1973 Thirty-one people were killed at Rome airport when Arab
guerillas hijacked a German airliner. 

1975 Lynette Fromme was sentenced to life in prison for her
attempt on the life of U.S. President Ford. 

1976 WTCG-TV, Atlanta, GA, changed its call letters to WTBS,
and was uplinked via satellite. The station became the first
commercial TV station to cover the entire U.S. 

1978 OPEC decided to raise oil prices by 14.5% by the end of
1979. 

1979 Arthur McDuffie, a black insurance executive, was
fatally beaten after a police chase in Miami, FL. Four white
police officers were later acquitted of charges stemming from
McDuffie's death. 

1986 Wayne "Danke Schoen" Newton won a $19.2 million suit
against NBC News. NBC had aired reports claiming a link
between Newton and mob figures. The reports were proven to be
false. 

1986 Davina Thompson became the world's first recipient of a
heart, lungs, and liver transplant. 

1986 Eugene Hasefus was pardoned and then released by
Nicaragua. He had been convicted of running guns to the
Contras. 

1992 U.S. President George H.W. Bush, Canadian Prime Minister
Brian Mulroney and Mexican President Carlos Salinas de
Gortari signed the North American Free Trade Agreement. 

1992 Israel deported over 400 Palestinians to Lebanese
territory in an unprecedented mass expulsion of suspected
militants. 

1996 Peruvian guerrillas took hundreds of people hostage at
the Japanese embassy in Lima. The siege ended on April 22,
1997, with a commando raid that resulted in the deaths of all
the rebels, two commandos and one hostage. 

1996 The Red Cross pulled all but a few of its western staff
out of Chechnya after six foreign aid workers were killed by
masked gunmen. 

1997 U.S. President Clinton signed the No Electronic Theft
Act. The act removed protection from individuals who claimed
that they took no direct financial gains from stealing
copyrighted works and downloading them from the Internet. 

1998 U.S. House Speaker-designate Bob Livingston admitted
he'd had extramarital affairs. 

2002 U.S. President George W. Bush ordered the Pentagon to
have ready for use within two years a system for protecting
American territory, troops and allies from ballistic missile
attacks. 

2002 McDonald's Corp. warned that they would report its first
quarterly loss in its 47-year history. 

2002 The insurance and finance company Conseco Inc. filed for
Chapter 11 protection. It was the third-largest bankruptcy in
U.S. history. 

2002 Congo's government, opposition parties and rebels signed
a peace agreement that ended four years of civil war. 

2004 U.S. President George W. Bush signed into law the
largest overhaul of U.S. intelligence gathering in 50 years.
The bill aimed to tighten borders and aviation security. It
also created a federal counterterrorism center and a new
intelligence director.

2016  smiled.


[ view entry ] ( 4 views ) | permalink | print article |
( 3 / 308 )
---
<<First
<Back
| 26 | 27 | 28 | 29 | 30 | 31 | 32 | 33 | 34 | 35 |
Next>
Last>>