Good Morning, ,
Today is Monday, December 26

Rudolphians, today is Boxing Day! 
Get your knee and elbow pads on! 
Stampede Walmart! 

Christians, today is Boxing Day!
Cut and fold the empty boxes and sneak them into the
nearest dumster, that is not padlocked.

Jews: Hanukkah it stil is. There is still food!

Have FUN!
DearWebby

Todays Bonehead Award:
Florida Teen Texts Mom to Grab Drugs From Car After Crash
Details at Boneheads
______________________________________________________
Today, December 26 in 
1865 The coffee percolator was patented by James H. Mason.
 
See More of what happened on this day in history.
______________________________________________________

| | |
| --- | --- |
| If you can help with the cost of the Humor Letter, please donate what you can! | |
______________________________________________________ How can you govern a country which has 246 varieties of cheese? --- Charles De Gaulle (1890 - 1970) ______________________________________________________ If you like the Humor Letter, please vote!
______________________________________________________ A new arrival, about to enter hospital, saw two white coated doctors searching through the flower beds. "Excuse me," he said, "have you lost something?" "No," replied one of the doctors. "We're doing a big operation today, but we are rather low on anesthetics, so we need a good size rock." ______________________________________________________ Two brooms were hanging in the closet and after a while they got to know each other so well, they decided to get married. One broom was, of course, the bride broom and the other the groom broom. The bride broom looked very beautiful in her white dress. The groom broom was handsome and suave in his tuxedo. The wedding was lovely. After the wedding at the wedding dinner, the bride broom leaned over and said to the groom broom "I think I am going to have a little whisk broom!!!" "IMPOSSIBLE!!" said the groom broom. "We haven't even swept together!" ______________________________________________________ Mary was having a tough day and had stretched herself out on the couch to do a bit of what she thought to be well-deserved complaining and self-pitying. She moaned to her mom and brother, "Nobody loves me! The whole world hates me!" Her brother, busily occupied playing a game, hardly looked up and passed on this encouraging word: "That's not true, Mary. Not everybody hates you. Lots of people don't even know you yet." ______________________________________________________
Bit chilly? It's still 4 days till the Polar Bear Swim. ______________________________________________________

If you like the Dear Webby Daily Humor Letter, please vote for it at the

Ezine Finder:
Thanks for your votes!

______________________________________________________
An INTERNATIONAL BONEHEAD AWARD has been earned by
Nicholas Hipp, 19, Delray Beach, Floriduh Florida Teen Texts Mom to Grab Drugs From Car After Crash Officials say a teenager texted his mother from the back of an ambulance after he was injured in a crash, asking her to grab a drug-filled suitcase from the trunk of the car. An arrest report says a Delray Beach paramedic watched 19- year-old Nicholas Hipp type the words Monday and alerted police. They searched the car and found nearly 150 Alprazolam pills - commonly known as Xanax - and about a gram of marijuana. They also found a glass pipe and a scale. The Palm Beach Post reports Hipp told deputies he buys medication on the street because he doesn't agree with the pharmacy industry. He faces multiple drug charges and was ordered to stay away from nonprescription drugs and alcohol. An attorney wasn't listed on jail records. ______________________________________________________ Tech Support Pits From: Trevor Re: Back-up onto camera chips Dear Webby, I have followed your advice about backing up my spreadsheets onto camera chips for years, never any problem. I am surprised you mention that it would not work for email. Why is that? Trevor Dear Trevor If you have twenty odd years of email, you are obviously not using Outloook or Outlook Express. Those two would have suicided a few times in that period and zeroed the accumulated mail. However, with most other email programs you would still have not just all the mails, but also all the pictures. If some of your fans use Incredimail and litter childish gifs and cutesy little pictures, they amount to an awful lot of files over the years. Windows can only store about 50,000 of them per folder on a chip. That's it. All the jumping up and down and yelling and screaming about plenty of room on your $20 64 GIGAbyte chip won't do you any good. For email, or anything with more than 40,000 files per folder, you have to use an external hard drive, or slowly burn it onto a DVD, or even slower, trundle it up to a cloud. Just look for a good deal for 1 TeraByte external drives. Or smaller. 500 GB is plenty, but they are getting scarce. Then you can use Xcopy (in DOS, already on your machine) to selectively copy just those files, that have changed since the last back-up. That really speeds things up! Xcopy has been ported from UNIX and with it you can make Windows "Fault Tolerant". Normally Windows isn't. THat is why the military uses UNIX or Linux. For example, when you copy a bunch of files with Windows "copy", if it hits a snag on file #7 out of 27,456 files, it quits at #7. Usually without telling you. That seems to be OK for Microsoft, but is NOT good enough for me. With Xcopy you can get it to act as if it was on Linux or UNIX, and continue it's work. In my not so humble opinion, for backups that is extremely important. Have FUN! DearWebby
Trisha was busy giving the very patient clerk a difficult time. Nothing he produced was exactly what she wanted. In a fake fit of exasperation, Trisha screamed in annoyance: "Isn't there a smarter clerk to serve me?" "No," said the clerk. "When the smarter clerk saw you coming in the door, he ran and took an early lunch!"
| | |
| --- | --- |
| If you can help with the cost of the Humor Letter, please donate what you can! | |
Daily tip from Thriftyfun.com Ham and Broccoli Pockets By lalala... [787 Posts, 103 Comments] These delicious ham and broccoli pockets are easy to make. They can easily be made with your favorite fillings. They are a great alternative to store bought Hot Pockets.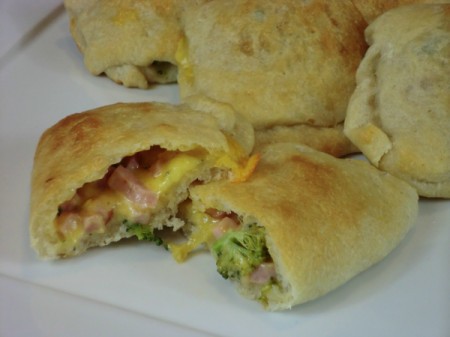 Total Time: 30 minutes Yield: 12 pockets Supplies: 2 pkg. prepared pizza dough 1 1/4 cup cooked ham, chopped small 1 cup broccoli florets, chopped small 1 cup cheddar cheese, grated 2 Tbsp milk 2 Tbsp water Steps: Preheat oven to 400 degrees F. Chop ham steak into small cubes. Rinse broccoli florets and chop into small pieces. Grate cheddar cheese. Combine all filling ingredients in large mixing bowl. Open can of pizza dough and unroll it onto a lightly floured cutting board. Using a knife, cut it into 6 sections. Place 1/3 cup filling mixture onto one side of each section of dough. Using your fingers brush all edges of each section of dough with water. Then carefully fold the dough over the filling and press the edges shut. Place the pockets onto a cookie sheet. Use your fingers to brush milk onto the top of each pocket. Bake at 400 degrees F for 15-17 minutes, or until golden brown. Serve warm. Instead of grating expensive cheese, look for family packs of already grated cheese. You usually get more cheese by weight per dollar! Have FUN! DearWebby
| | |
| --- | --- |
| | You Shall Not Pass, Dog! |
____________________________________________________ The Santa Claus at the mall was very surprised when a young lady about twenty years old walked up and sat on his lap. Santa doesn't usually take requests from adults, but she smiled very nicely at him, so he asked her, "And what do you want for Christmas?" "Something for my mother," said the young lady. "Something for your mother? Well, that's very thoughtful of you," smiled Santa. "What do you want me to bring her?" Without blinking she replied, "A son-in-law!" ____________________________________________________
| | |
| --- | --- |
| | Centuries old mummies found in cave in the Philippines. |
Q: What's the difference between a snowblower and a bagpipe? A: Snowblowers can be tuned.
Ophelia Dingbatter's News
No sermon and not suitable for church, just jokes and fun for grownups. Read it on-line or subscribe. If you subscribe, look for the double opt-in confirmation request.

____________________________________________________

Today on December 26

1620 The Pilgrim Fathers landed at New Plymouth, MA, to
found Plymouth Colony, with John Carver as Governor. 

1776 The British suffered a major defeat in the Battle of
Trenton during the American Revolutionary War. 

1865 The coffee percolator was patented by James H. Mason.


1898 Marie and Pierre Curie discovered radium. 

1908 Texan boxer "Galveston Jack" Johnson knocked out
Tommy Burns in Sydney, Australia, to become the first
black boxer to win the world heavyweight title. 

1917 During World War I, the U.S. government took over
operation of the nation's railroads. 

1921 The Catholic Irish Free State became a self-governing
dominion of Great Britain. 

1941 Winston Churchill became the first British prime
minister to address a joint meeting of the U.S. Congress. 

1941 U.S. President Roosevelt signed a resolution that set
a fixed-date, the fourth Thursday of November, for the
Federal Thanksgiving Day holiday. 

1943 The German battlecruiser Scharnhorst was sunk in the
North Sea, during the Battle of North Cape. 

1944 Tennessee Williams' play "The Glass Menagerie" was
first performed publicly at the Civic Theatre in Chicago,
IL. 

1947 Heavy snow blanketed the Northeast United States,
burying New York City under 25.8 inches of snow in 16
hours. The severe weather was blamed for about 80 deaths. 

1953 "Big Sister" was heard for the last time on CBS
Radio. The show ran for 17 years. 

1956 Fidel Castro attempted a secret landing in Cuba to
overthrow the Batista regime. All but 11 of his supporters
were killed. 

1959 The first charity walk took place, along Icknield
Way, in aid of the World Refugee Fund. 

1974 Comedian Jack Benny died at age 80. 

1982 The Man of the Year in "TIME" magazine was a
computer. It was the first time a non-human received the
honors. 

1986 Doug Jarvis, age 31, set a National Hockey League
(NHL) record as he skated in his 916th consecutive game.
Jarvis eventually set the individual record for most
consecutive games played with 964. 

1991 The Soviet Union's parliament formally voted the
country out of existence. 

1995 Israel turned dozens of West Bank villages over to
the Palestinian Authority. 

1996 Six-year-old beauty queen JonBenet Ramsey was found
beaten and strangled in the basement of her family's home
in Boulder, CO. 

1998 Iraq announced that it would fire on U.S. and British
warplanes that patrol the skies over northern and southern
Iraq. 

1999 Alfonso Portillo, a populist lawyer, won Guatemala's
first peacetime presidential elections in 40 years. 

2000 Michael McDermott, age 42, opened fire at his place
of employment killing seven people. McDermott had no
criminal history. 

2002 The first cloned human baby was born. The
announcement was made the December 27 by Clonaid. 

2004 Under the Indian Ocean, a 9.0 magnitude earthquake
sent 500-mph waves across the Indian Ocean and Bay of
Bengal. The tsunami killed at least 283,000 people in a
dozen countries, including Sri Lanka, Indonesia, Sumatra,
Thailand and India.

2016  smiled.


[ view entry ] ( 9 views ) | permalink | print article |
( 3.1 / 260 )
---
<<First
<Back
| 26 | 27 | 28 | 29 | 30 | 31 | 32 | 33 | 34 | 35 |
Next>
Last>>