Good Morning, ,
Today is Tuesday, January 10



Have FUN!
DearWebby

Todays Bonehead Award:
North Carolina pastor arrested, charged with 
9 counts of robbery in string of heists 
Details at  Boneheads
______________________________________________________
Today, January 10 in
1776 "Common Sense" by Thomas Paine was published.
 
See More of what happened on this day in history.
______________________________________________________

| | |
| --- | --- |
| If you can help with the cost of the Humor Letter, please donate what you can! | |
______________________________________________________ The one serious conviction that a man should have is that nothing is to be taken too seriously. --- Nicholas Butler Most people want to be delivered from temptation but would like it to keep in touch. --- Robert Orben ______________________________________________________ If you like the Humor Letter, please vote!
______________________________________________________ The Father, passing through his son's college town late one night on a business trip, thought he would pay a surprise visit to the boy. Arriving at the fraternity house, he knocked on the door. After several minutes of knocking, a sleepy voice drifted down from a second floor window, "Whadoya want?" "Does Jimmy Duncan live here?" asked the father. "Yeah!" replied the voice. "Just dump him on the front porch and we'll drag him in in the morning." ______________________________________________________
______________________________________________________ Two dogs were walking down the street. One dog says to the other, "Wait here a minute, I'll be right back." He walks across the street and sniffs a fire hydrant for about a minute, then walks back across the street. The other dog says, "What was that about?" The dog first dog says, "Oh, I was just checking my pee-mail messages." ______________________________________________________
______________________________________________________

If you like the Dear Webby Daily Humor Letter, please vote for it at the

Ezine Finder:
Thanks for your votes!

______________________________________________________
An INTERNATIONAL BONEHEAD AWARD has been earned by
John Thomas Lindsey, 47, Charlotte, N.C. North Carolina pastor arrested, charged with 9 counts of robbery in string of heists suspected to be drug-motivated Thou shalt not steal. A Charlotte, N.C. pastor put one of the 10 commandments on the backburner and was ultimately arrested Wednesday in connection to a number of armed robberies on local businesses. John Thomas Lindsey, 47, a pastor at True Love Church of Refuge, was charged with 9 counts of robbery with a dangerous weapon, 9 counts of conspiracy to commit robbery with a dangerous weapon and possession of a firearm by a convicted felon, wsoctv.com reports. Lindsey allegedly robbed two 7-Eleven stores, a Family Dollar store, a Circle K and two Samís Marts. Heís suspected to have fired a shot inside a Family Dollar store back in October. Surveillance footage in the stores shows a person resembling Lindsey engaged in the robberies. Sources told WSOC that drugs are suspected to be the motive for the crimes. Police zeroed in on Lindsey after being led to him by a 24- year-old man named Fernando Carillo-Hernandez, who was arrested Tuesday and charged with three counts of robbery with a dangerous weapon and three counts of conspiracy to commit robbery with a dangerous weapon, according to WSOC. Carillo-Hernandez, who does not appear to be connected to True Love Church of Refuge, is allegedly responsible for robberies at Circle K locations. He also has a rap sheet that includes two drug-related convictions. ______________________________________________________ Tech Support Pits From: Ann Re: Delivery has changed Dear Webby, can you enlighten me on something? I have mailwasher pro..thank god...and lately I am getting some "delivery has changed" emails returned from addresses that I have not sent to and don't know...they do have part of my address in them....I think this may be nasty... now what???? Thanks my dear...Hugggs Ann Dear Ann Just spam. Probably somebody, who has you in their address book, has a nasty infection and got harvested. If you ARE in the habit of sending mails to yourself as a lazy way to keep notes, get into the habit of putting a special mark like ~ into the front of the subject line. Then make a filter in Mailwasher to dump all mail pretending to be from you, that does not have that ~, into the trash, automatically, unseen. You will never seen that crap again, but your ~ prefixed memos come through nicely. Have FUN! DearWebby
Human Resource Manager to job candidate "I see you've had no computer training. Although that qualifies you for upper management, it means you're under-qualified for our entry level positions."
| | |
| --- | --- |
| If you can help with the cost of the Humor Letter, please donate what you can! | |
Daily tip from Thriftyfun.com Gluten Free Potato Cakes By Litter Gitter [198 Posts, 638 Comments] Cook Time: approximately 15 minutes Total Time: approximately 20 minutes Yield: 3-6 servings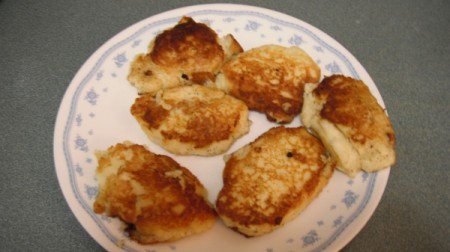 Ingredients: 2 cups chilled creamed potatoes 1 Tbsp gluten free flour 1 egg bacon grease Steps: Mix flour with potatoes. Whisk egg. Stir egg into potato mixture. Place bacon grease in frying pan. Heat enough to cover the bottom of the pan well. Remove excess. Drop tablespoons of mixture into hot bacon drippings. Fry on medium heat until golden brown on each side. Serve hot. I am usually suspicious about supposedly gluten free flour, so I use simple instant mashed potatoes, which are basically just dried mashed potatoes, instead of flour. And naturally, I brown some fine cut onions in the bacon grease. That makes a HUGE improvement! The recipe is totally flexible. In season I chop some parsley or chives into it. A timid sprinkle of garlic powder is also nice, and of course salt and pepper. Have FUN! DearWebby
| | |
| --- | --- |
| | Janitor gets revenge when shoveling snow! |
____________________________________________________ Suffering from a bad case of the flu, a man phoned his doctor to get an appointment. When he was told scheduled date of the appointment, he became outraged and bellowed, "Three weeks? The doctor can't see me for three weeks? I could well be dead by then!" Calmly, the receptionist replied, "If so, could you have your wife call to cancel the appointment?" ____________________________________________________
| | |
| --- | --- |
| | I love the little bonsai forests. |
Just before the public viewing at a funeral parlor, a widow notices her deceased husband's hairpiece is flapping in the breeze caused by the air conditioner. "This won't do!" She orders the director to take care of the problem. He assures her that he will take care of it, if she'll just wait in the outer office for ten minutes. She leaves and comes back after exactly 600 seconds. Sure enough, her husband's hair is all in place. A month later, the widow is reviewing the bill for the funeral and she notices there was no charge for the hair problem. She calls to inquire as to why. She is told that it was "on the house." "Nonsense," she retorts, "you expended time and materials and I will compensate you for it. Now, give me a price!" "Ok, madam", the funeral director wearily agrees. He holds the phone away and hollers across the room, "Hey, Charlie, how much did those three nails cost to put that toupee in place last month?"
Ophelia Dingbatter's News
No sermon and not suitable for church, just jokes and fun for grownups. Read it on-line or subscribe. If you subscribe, look for the double opt-in confirmation request.

____________________________________________________

Today on January 10
1776 "Common Sense" by Thomas Paine was published. 

1840 The penny post, whereby mail was delivered at a
standard charge rather than paid for by the recipient, began
in Britain. 

1861 Florida seceded from the United States. 

1863 Prime Minister Gladstone opened the first section of
the London Underground Railway system, from Paddington to
Farringdon Street. 

1870 John D. Rockefeller incorporated Standard Oil. 

1901 Oil was discovered at the Spindletop oil field near
Beaumont, TX. 

1911 Major Jimmie Erickson took the first photograph from an
airplane while flying over San Diego, CA. 

1920 The League of Nations ratified the Treaty of
Versailles, officially ending World War I with Germany. 

1927 Fritz Lang's film "Metropolis" was first shown, in
Berlin. 

1928 The Soviet Union ordered the exile of Leon Trotsky. 

1943 U.S. President Franklin D. Roosevelt sailed from Miami,
FL, to Trinidad thus becoming the first American President
to visit a foreign country during wartime. 

1943 The quiz show, "The Better Half," was heard for the
first time on Mutual Radio. 

1946 The first meeting of the United Nations General
Assembly took place with 51 nations represented. 

1951 Donald Howard Rogers piloted the first passenger jet on
a trip from Chicago to New York City. 

1978 The Soviet Union launched two cosmonauts aboard a Soyuz
capsule for a redezvous with the Salyut VI space laboratory.


1981 In El Salvador, Marxist insurgents launched a "final
offensive". 

1984 The United States and the Vatican established full
diplomatic relations for the first time in more than a
century. 

1990 Chinese Premier Li Peng ended martial law in Beijing
after seven months. He said that crushing pro-democracy
protests had saved China from "the abyss of misery." 

1990 Time Inc. and Warner Communications Inc. completed a
$14 billion merger. The new company, Time Warner, was the
world's largest entertainment company. 

1994 In Manassas, VA, Lorena Bobbitt went on trial. She had
been charged with maliciously wounding her husband John. She
was acquitted by reason of temporary insanity. 

1997 Shelby Lynne Barrackman was strangled to death by her
grand-father when she licked the icing off of cupcakes. He
was convicted of the crime on September 15, 1998. 

2000 It was announced that Time-Warner had agreed to buy
America On-line (AOL). It was the largest-ever corporate
merger priced at $162 billion. The Federal Trade Commission
(FTC) approved the deal on December 14, 2000. 

2001 American Airlines agreed to acquire most of Trans World
Airlines (TWA) assets for about $500 million. The deal
brought an end to the financially troubled TWA. 

2002 In France, the "Official Journal" reported that all
women could get the morning-after contraception pill for
free in pharmacies. 

2003 North Korea announced that it was withdrawing from the
global nuclear arms control treaty and that it had no plans
to develop nuclear weapons. 

2007 The iTunes Music Store reached 1.3 million feature
length films sold and 50 million television episodes sold.

2016  smiled.


[ view entry ] ( 21 views ) | permalink | print article |
( 2.9 / 714 )
---
<<First
<Back
| 25 | 26 | 27 | 28 | 29 | 30 | 31 | 32 | 33 | 34 |
Next>
Last>>