Good Morning, ,
Today is Wednesday, January 11



Have FUN!
DearWebby

Todays Bonehead Award:
Drunk Florida woman, 61, clobbered hubby 
for sex refusal
Details at  Boneheads
______________________________________________________
Today, January 11 in
1569 England's first state lottery was held.
 
See More of what happened on this day in history.
______________________________________________________

| | |
| --- | --- |
| If you can help with the cost of the Humor Letter, please donate what you can! | |
______________________________________________________ Procrastination isn't the problem, it's the solution. So procrastinate now, don't put it off. --- Ellen DeGeneres Two wrongs don't make a right, but they make a good excuse. --- Thomas Szasz ______________________________________________________ If you like the Humor Letter, please vote!
______________________________________________________ >From Liz When I was six months pregnant with my third child, my three year old came into the room when I was just getting ready to get into the shower. She said, "Mommy, you are getting fat!" I replied, "Yes, honey, remember Mommy has a baby growing in her tummy" "I know," she replied, but what's growing in your bum?" ______________________________________________________
______________________________________________________ An old fellow came into the hospital truly on death's door due to an infected gallbladder. The surgeon who removed the gallbladder was adamant that his patients be up and walking in the hall the day after surgery, to help prevent blood clots forming in the leg veins. Once an hour the nurses walked the patient in the hall, a nurses aide on each side with his arms over their sholders. Behind them the floor nurse stomped along, gesticulating with all kinds of fearsome devices and explaining just what kind of enema he would need if he stopped walking. After a week, the patient was ready to go home. His family came to pick him up and thanked the surgeon profusely for what he had done for their father. The surgeon was pleased and appreciated the thanks, but told them that it was really a simple operation but that they had been lucky to get him to the hospital in time. "But doctor, you don't understand," his daughter said, "Dad hasn't walked in over five years!" ______________________________________________________
Secret Waterfall, Japan ______________________________________________________

If you like the Dear Webby Daily Humor Letter, please vote for it at the

Ezine Finder:
Thanks for your votes!

______________________________________________________
An INTERNATIONAL BONEHEAD AWARD has been earned by
Kerry Lee Pineiro, 61, Seminole, Florida Drunk Florida woman, 61, clobbered hubby for sex refusal After her husband refused to have sex with her, a 61-year- old Florida woman punched her spouse in the face before twice kneeing him in the groin, according to police who arrested the woman for domestic battery. As detailed in a criminal complaint, a drunk Kerry Lee Pineiro last night clobbered her husband inside the couple's condominium in Seminole. Pineiro, cops charge, became "upset" with the 60-year-old victim "after he would not have sex with her." After punching her husband in the eye, Pineiro kneed him in the groin when he sought to keep her from driving away drunk from their home, investigators allege. Pineiro is also accused of kneeing her spouse in the groin a second time and then kneeing him in the thigh. When questioned by a cop, Pineiro said she had "zero story," adding that she wanted to go to jail. En route to the county lockup, Pineiro, seen above in an old Facebook photo, denied striking her husband. Charged with domestic battery, a misdemeanor, Pineiro spent the night in jail before a judge released her today on her own recognizance. She has been ordered to wear a "continuous alcohol monitor" during the duration of her criminal case. ______________________________________________________ Tech Support Pits From: Trish Re: Ezine Dear Webby, Can you please tell me what Ezine means, I'm sure there are other people who also are not so knowledgeable on internet speak. Thanks a lot, Trish from Oz Dear Trish ezine is just short for Electronic magaZINE and means any newsletter that also has pictures and that you get via email or on the web. Have FUN! DearWebby
Human Resource Manager to job candidate "I see you've had no computer training. Although that qualifies you for upper management, it means you're under-qualified for our entry level positions."
| | |
| --- | --- |
| If you can help with the cost of the Humor Letter, please donate what you can! | |
Daily tip from Thriftyfun.com Goldfish Shaped Mini Pizzas By lalala... [793 Posts, 103 Comments] Ingredients: Pillsbury Classic canned pizza dough pizza sauce cheddar cheese, grated sliced black olives goldfish cookie cutter, optional Steps: Preheat oven to 425 degrees F. Dust counter with flour and unroll the pizza dough. Cut out the mini pizzas with the cookie cutter. Place the pizza onto a greased cookie sheet. Spoon some pizza sauce onto the pizzas and spread it out. Top them with cheese. Add an olive slice for the eye. Bake for 14-18 minutes or until the bottom of the pizza is light brown. I recommend checking them frequently towards the end, so that they don't overcook. Allow to cool on the pan for a few minutes, then enjoy!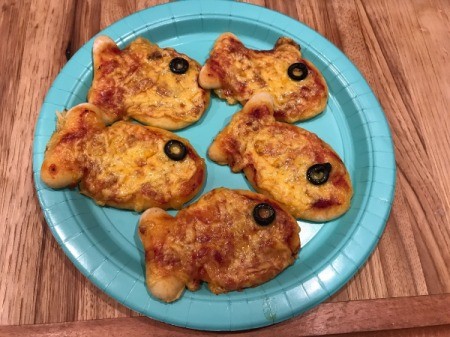 | | |
| --- | --- |
| | The Man Song |
____________________________________________________ At a diner, I was standing in line to pay my bill behind two women who handed the young waitress a credit card. After swiping the card, she loudly called out to her manager, "Mr. Allen, what do I do if it says 'reject'?" As the women's faces reddened and customers turned to look, Mr. Allen, also the cook, calmly walked out from the kitchen. "Well," he answered, the first thing you do is shout it out loud enough to embarrass the customer, who might have been thinking about leaving a tip for the cook. Next you go check and see if McDonalds will take you back." ____________________________________________________
| | |
| --- | --- |
| | What this man does with stone is unreal! |
Three couples are in line at the Pearly Gates. St. Peter says to the first couple, "Sorry, I can't let you in." "Why not?" asked the husband. "Because all the two of you ever cared about was drinking. You were either stone drunk or hung over. You didn't have a sober day in your marriage." said St. Peter. "That's not true!" pleaded the couple. "Really, now." said St. Peter. "What's your wife's name?" "Sherry", said the man "See, you even married a woman named after a drink!" said St. Peter just as he released a trap door, sending them straight down to hell. Then he a told the second couple they couldn't get in to Heaven, either. "Why not?" asked the second husband. "Because all you ever cared about was making money, and you didn't care how you did it. You would cheat anybody, anytime to make your fortune." said St. Peter. "You even cheated your own brothers and sisters out of their inheritance!" "That's not true!" pleaded the husband. "Oh, really?" queried St. Peter "What's your wife's name?" "Penny", said the husband. "See?" said St. Peter, "You even have wife named after money." At which point he released the trap door sending them down to hell. The third husband, grinning, said to his wife, "Well, Fanny, I'm sure glad we were not interested in booze or money!"
Ophelia Dingbatter's News
No sermon and not suitable for church, just jokes and fun for grownups. Read it on-line or subscribe. If you subscribe, look for the double opt-in confirmation request.

____________________________________________________

Today on January 11
1569 England's first state lottery was held. 

1770 The first shipment of rhubarb was sent to the United
States from London. 

1867 Benito Juarez returned to the Mexican presidency,
following the withdrawal of French troops and the execution
of Emperor Maximilian. 

1878 In New York, milk was delivered in glass bottles for
the first time by Alexander Campbell. 

1902 "Popular Mechanics" magazine was published for the
first time. 

1913 The first sedan-type car was unveiled at the National
Automobile Show in New York City. The car was manufactured
by the Hudson Motor Company. 

1922 At Toronto General Hospital, Leonard Thompson became
the first person to be successfully treated with insulin. 

1935 Amelia Earhart Putnam became the first woman to fly
solo from Hawaii to California. 

1938 In Limerick, ME, Frances Moulton assumed her duties as
the first woman bank president. 

1942 Japan declared war against the Netherlands. The same
day, Japanese forces invaded the Dutch East Indies. 

1943 The United States and Britain signed treaties
relinquishing extraterritorial rights in China. 

1964 U.S. Surgeon General Luther Terry released a report
that said that smoking cigarettes was a definite health
hazard. 

1977 France released Abu Daoud, a Palestinian suspected of
involvement in the massacre of Israeli athletes at the 1972
Munich Olympics. 

1978 Two Soviet cosmonauts aboard the Soyuz 27 capsule
linked up with the Salyut 6 orbiting space station, where
the Soyuz 26 capsule was already docked. 

1980 Nigel Short, age 14, from Bolton in Britain, became the
youngest International Master in the history of chess. 

1986 Author James Clavell signed a 5$ million deal with
Morrow/Avon Publishing for the book "Whirlwind". The book is
a 2,000 page novel. 

1988 U.S. Vice President George Bush met with
representatives of independent counsel Lawrence E. Walsh to
answer questions about the Iran-Contra affair. 

1991 An auction of silver and paintings that had been
acquired by the late Ferdinand Marcos and his wife, Imelda,
brought in a total of $20.29 million at Christie's in New
York. 

1996 Ryutaro Hashimoto become Japan's prime minister. He
replaced Tomiichi Murayama who had resigned on January 5,
1996. 

2000 The merger between AOL and Time Warner was approved by
the U.S. government with restrictions. 

2000 The U.S. Postal Service unveiled the second Vietnam
Veterans Memorial commemorative stamp in a ceremony at The
Wall. 

2001 The Texas Board of Criminal Justice released a review
of the escape of the "Texas 7." It stated that prison staff
missed critical opportunities to prevent the escape by
ignoring a fire alarm, not reporting unsupervised inmates
and not demanding proper identification from inmates. 

2001 The U.S. Federal Trade Commission approved the merger
of America Online and Time Warner to form AOL Time Warner. 

2016  smiled.


[ view entry ] ( 10 views ) | permalink | print article |
( 3 / 1006 )
---
<<First
<Back
| 25 | 26 | 27 | 28 | 29 | 30 | 31 | 32 | 33 | 34 |
Next>
Last>>