Good Morning, ,
Today is Tuesday, January 24

Have FUN!
DearWebby

Todays Bonehead Award:
Colorado man made sexual advances 
to female officer while he was naked
Details at  Boneheads
______________________________________________________
Today, January 24 in
1848 James W. Marshall discovered a gold nugget at
Sutter's Mill in northern California. The discovery led to
the gold rush of '49. 
 
See More of what happened on this day in history.
______________________________________________________

| | |
| --- | --- |
| If you can help with the cost of the Humor Letter, please donate what you can! | |
______________________________________________________ I don't understand how anybody can call themselves intelligent and not believe in evolution. Just look at statues of people from ancient Greece and Rome, in ancient times most people had no noses or arms. Today almost everybody has them. --- Timmy King The right word may be effective, but no word was ever as effective as a rightly timed pause. --- Mark Twain ______________________________________________________ If you like the Humor Letter, please vote!
______________________________________________________ A small boy walked into a police station one day and said, 'I've got three big brothers and we all live in the same room. My eldest brother has seven cats. Another one has three dogs and the third has a goat. I want you to do something about the smell.' 'Are the any windows in your room?' asked the officer. 'Yes, of course there are!' said the boy. 'Have you tried opening them?' 'What and lose all my pigeons....?' ______________________________________________________
______________________________________________________ Ed and Ted met for the first time in twenty years. "So, how's life been for you?" Ed asked. "Not too good," Ted replied. "My first wife died of cancer, my second wife turned out to be a lesbian and ran off with another woman and took all our savings, my son's in prison for trying to kill me, my daughter got run over by a bus, my house was hit by a low flying aircraft, my vintage car rolled off the dock into the sea, I had to have my dog put down recently, my doctor says that I have an incurable disease and to cap it all my business has just gone bust." "That sounds terrible", Ed said. "What business were you in?" Ted replied, "I sold good luck charms." ______________________________________________________
______________________________________________________

If you like the Dear Webby Daily Humor Letter, please vote for it at the

Ezine Finder:
Thanks for your votes!

______________________________________________________ Reported by Wayne
An INTERNATIONAL BONEHEAD AWARD has been earned by
Nicholas Olson, 24, Aspen, Colorado Colorado man made sexual advances to female officer while he was naked Olson is accused of making "verbal sexual advances" to a female police officer — actions that definitely stood out, as it were, since at the time, the only thing he wore was a pair of ipod headphones. The story comes to us from the aspen times, which has been tracking olson's shenanigans for quite some time. In may 2015, the paper notes, he became acquainted with members of the aspen police department after being found sleeping in the stairwell of a tony restaurant, casa tua. Then, last july, cops found him dancing in the middle of castle creek road, allegedly under the influence of meth — a substance he was arrested for possessing the following month. But on sunday, september 11, police say he took things to the next level. At 6:15 p.M. That evening, officers were called to the spectacular limelight hotel on a report that olson was passed out on the establishment's front lawn. He was gone by the time they arrived. However, they managed to track him down a couple of blocks away, at which point he asked a sergeant on the scene for some meth. That was pretty standard behavior for olson, so the cops sent him on his way. But they had to take action just under two hours later, when they spotted him near the intersection of south monarch street and hopkins avenue. The reason was as plain as the penis on olson's body, which was in view because he'd ditched his clothes, reportedly in order to "feel free" as he listened to his ipod. At that point, a female officer told olson to get dressed — an order to which he allegedly responded by making what the times refers to as "verbal sexual advances toward the officer." In response, olson was given something to wear: a set of handcuffs. This choice of attire doesn't appear to have thrilled him much. He's accused of being uncooperative when the cops tried to put him into their patrol car, then refusing to leave it once they got to jail, where he was booked on suspicion of indecent exposure, disorderly conduct and resisting arrest. ______________________________________________________ Tech Support Pits From: Westchester Animal Clinic Re: When I go to the Spybot site, there are a whole bunch of options. Which one is Spybot? I do not want to download ten things I do not need. Dear Westchester Animal If you go to the Spybot site via the link in the side menu of the Humor Letter, you get to a href=<"https://www.safer-networking.org/dl"> https://www.safer-networking.org/dl/ There, under Home Users you see Spybot Free Edition That gets you to https://www.safer-networking.org/mirrors24/ On that site, click on any of the mirrors and select Download Spybot Search and Destroy Windows Installer Or click on it here. Download Spybot Search and Destroy Windows Installer Have FUN! DearWebby
It was graduation day and Mom was trying to take a picture of their daughter in a cap and gown, posed with her father. "I want a good picture, so try to make this look natural," she said."Susan, put your arm around your dad's shoulder." The father answered, "If you want it to look natural, why not have her put her hand in my pocket and on my wallet ?"
| | |
| --- | --- |
| If you can help with the cost of the Humor Letter, please donate what you can! | |
Daily tip from Thriftyfun.com Muffin Tin Spinach Frittatas By lalala... [795 Posts, 103 Comments] Steps: Preheated oven to 375 degree F. Tear baby spinach into small pieces. Place in a large bowl. Add ricotta, sour cream, and cheddar and Parmesan cheeses. Stir to combine well. In a small bowl, beat together eggs, milk, Tabasco, cumin, salt, and pepper. Add the egg mixture to the spinach mixture. Stir well. Spray a muffin tin liberally with cooking spray. Spoon the mixture equally into the muffin tins. Bake for 20 to 25 minutes. Let cool for 5 minutes, then remove from muffin tins.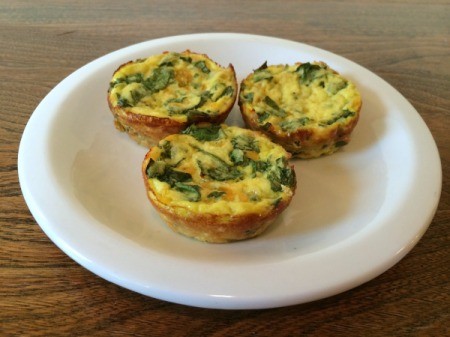 | | |
| --- | --- |
| | The Streaker |
____________________________________________________ A career military man, who had retired as a corporal, was telling the younger men how he handled officers during his years of service. "It didn't matter a hoot if he was a Major General, an Admiral, or the Commander-in- Chief. I always told those guys exactly where to get off. "Wow, you must have been something," the admiring young soldiers remarked. "What was your job in the service?" "Elevator operator in the Pentagon." ___________________________________________________
| | |
| --- | --- |
| | Art out of silverware. |
What's the difference between education and experience? If you read the instructions, you have education. If you don't read the instructions, you WILL get experience.
Ophelia Dingbatter's News
No sermon and not suitable for church, just jokes and fun for grownups. Read it on-line or subscribe. If you subscribe, look for the double opt-in confirmation request.

____________________________________________________

Today on January 24
1848 James W. Marshall discovered a gold nugget at
Sutter's Mill in northern California. The discovery led to
the gold rush of '49. 

1899 Humphrey O'Sullivan patented the rubber heel. 

1908 In England, the first Boy Scout troop was organized
by Robert Baden-Powell. 

1916 Conscription was introduced in Britain. 

1922 Christian K. Nelson patented the Eskimo Pie. 

1924 The Russian city of St. Petersburg was renamed
Leningrad. The name has since been changed back to St.
Petersburg. 

1930 Primo Carnera made his American boxing debut by
knocking out Big Boy Patterson in one minute, ten seconds
of the opening round. 

1935 Krueger Brewing Company placed the first canned beer
on sale in Richmond, VA. 

1952 Vincent Massey was the first Canadian to be appointed
governor-general of Canada. 

1964 CBS-TV acquired the rights to televise the National
Football League's 1964-1965 regular season. The move cost
CBS $14.1 million a year. The NFL stayed on CBS for 30
years. 

1965 Winston Churchill died at the age of 90. 

1972 The U.S. Supreme Court struck down laws that denied
welfare benefits to people who had resided in a state for
less than a year. 

1978 A nuclear-powered Soviet satellite plunged through
Earth's atmosphere and disintegrated. The radioactive
debris was scattered over parts of Canada's Northwest
Territory. 

1980 The United States announced intentions to sell arms
to China. 

1985 Penny Harrington became the first woman police chief
of a major city. She assumed the duties as head of the
Portland, Oregon, force of 940 officers and staff. 

1986 The Voyager 2 space probe flew past Uranus. The probe
came within 50,679 miles of the seventh planet of the
solar system. 

1987 In Lebanon, gunmen kidnapped educators Alann Steen,
Jesse Turner, Robert Polhill and Mitheleshwar Singh. They
were all later released. 

1989 Ted Bundy, the confessed serial killer, was put to
death in Floridas electric chair for the 1978 kidnap-
murder of 12-year-old Kimberly Leach. 

1990 Japan launched the first probe to be sent to the Moon
since 1976. A satellite was placed in lunar orbit. 

1996 Polish Premier Jozef Oleksy resigned due to
allegations that he had spied for Moscow. 

2001 In Colorado Springs, CO, Patrick Murphy Jr. and
Donald Newbury were taken into custody after a 5-minute
phone interview was granted with a TV station. They were
the remaining fugitives of the Texas 7.

2002 John Walker Lindh appeared in court for the first
time concerning the charges that he conspired to kill
Americans abroad and aided terrorist groups. Lindh had
been taken into custody by U.S. Marines in Afghanistan. 

2003 The U.S. Department of Homeland Security began
operations under Tom Ridge.

2017  smiled.


[ view entry ] ( 7 views ) | permalink | print article |
( 3 / 943 )
---
<<First
<Back
| 25 | 26 | 27 | 28 | 29 | 30 | 31 | 32 | 33 | 34 |
Next>
Last>>