Good Morning, ,
Today is Thursday, January 26

Happy Australia Day!

Have FUN!
DearWebby

Todays Bonehead Award:
Connecticut man charged with breaking into Pet Hospital
and leaving his wallet and keys and blood at the scene
Details at  Boneheads
______________________________________________________
Today, January 26 in
1500 Vicente Yáńez Pinzón discovered Brazil. 
 
See More of what happened on this day in history.
______________________________________________________

| | |
| --- | --- |
| If you can help with the cost of the Humor Letter, please donate what you can! | |
______________________________________________________ Never go to bed mad. Stay up and fight. --- Phyllis Diller I went on a diet, swore off drinking and heavy eating, and in fourteen days, I lost two weeks. --- Joe E. Lewis Three may keep a secret, if two of them are dead. --- Benjamin Franklin Washington is the only place where sound travels faster than light. --- C. V. R. Thompson ______________________________________________________ If you like the Humor Letter, please vote!
______________________________________________________ >From Wendy I used to think I was just a regular person, but . . . I was born white, which now, whether I like it or not, makes me a racist. I am a fiscal and moral conservative, which by today's standards, makes me a fascist. I am heterosexual, which according to gay folks, now makes me a homophobic. I am a Christian, which now labels me as an infidel. I believe in the 2nd Amendment, which now makes me a militant. I think and I reason, therefore I doubt much that the lame stream media tells me, which must make me a reactionary. I am proud of my heritage and our inclusive American culture, which makes me a xenophobe. I value my safety and that of my family and I appreciate the police and the legal system, which makes me a right- wing extremist. I believe in hard work, fair play, and fair compensation according to each individual's merits, which today makes me an anti-socialist. I believe in the defense and protection of the homeland for and by all citizens, which now makes me a militant. Funny, it has all just taken place over the last 7 or 8 years! I would like to thank all my friends for sticking with me through these abrupt, new found changes in my life and my thinking! I just can't imagine or understand what's happened to me so quickly! Please help me come to terms with the new me . . . because I'm just not sure who I am anymore! As if all this crap wasn't enough to deal with. I'm now afraid to go into either restroom! In God We Trust. ------------ Wendy, there is a name for people like you and me, because we do something, that those name callers don`t do: We are The Tax Payers. Because of that, feel free to walk into any restroom and moon anybody you want. ______________________________________________________
______________________________________________________ Jill: I just don't understand the attraction golf holds for men. Mary: TELL me about it! I went golfing with my ex one time, and he told me I asked too many questions! Jill: Well, I'm sure you were just trying to understand the game. What questions did you ask? Mary: I thought I asked legitimate questions..like, "Why did you hit the ball into that lake?" ______________________________________________________
______________________________________________________

If you like the Dear Webby Daily Humor Letter, please vote for it at the

Ezine Finder:
Thanks for your votes!

______________________________________________________ Reported by Moe
An INTERNATIONAL BONEHEAD AWARD has been earned by
Nicholas Bruner 31, Stratford, Connecticut Connecticut man charged with breaking into Pet Hospital and leaving his wallet and keys and blood at the scene A Stratford man, traced by a blood trail, keys and a cell phone, has been charged with an October break-in at a veterinary hospital. Nicholas Bruner, 31, of Eureka Avenue, was arrested Saturday, Jan. 21, on the strength of a warrant charging him with third-degree burglary and second-degree criminal mischief. Stratford Police responded to a burglar alarm at the Pet Hospital of Stratford, 1185 Linden Ave., on Oct. 2, 2016. Officers found a broken window and blood on the windor frame, as well as a trail of blood on the floor, a set of keys and a cell phone. Police said the keys and phone were traced to Bruner. Bond was $10,000. Bruner is scheduled to appear in Bridgeport Superior Court. ______________________________________________________ Tech Support Pits From: Kyle Re: Get a capable html e-mailer Dear Webby When I preview mail in MailWasher I have quite frequently seen the message: Get a capable html e-mailer in the top of a message. I use Legacy Eudora 6.5, and you simply can't get a more capable emailer than that. What is that all about? Thanks Kyle Dear Kyle Scammers frequently put that insto their scam to trick people into using an emailer, that will not protect them and cause problems for them, or simply an HTML based emailer, that will show their deceptive advertising pictures. Just make a filter to hide delete automatically if the body CONTAINS Get a capable html e-mailer and you will never see that garbage again. That`s all there is to it. I pity the few people, who don`t have MailWasher yet. Try the free version and see how easy it is! Have FUN! DearWebby
Two guys were discussing the prospects of "looming" retirement. While one guy had lots of hobbies, the other fellow had no hobbies, and was rather concerned about being set loose with nothing to do. The first guy suggested his friend go visit his kids. The man said, "Well, I only have two kids, but I could buy a motor home and go visit my brothers and sisters, that would take about a year." The first guy looked a bit puzzled, so his friend said, "I'm one of eighteen kids in my family." The first fellow's eyes got rather large, contemplating eighteen children, so the man volunteered to explain. "You see, my mother was hard of hearing. My Mom and Dad would go to bed at night, and my Dad would ask, 'Do you want to go to sleep, or what?' and my Mom would say, "What?"
| | |
| --- | --- |
| If you can help with the cost of the Humor Letter, please donate what you can! | |
Daily tip from Thriftyfun.com Cream Cheese Thumbprint Cookies By lalala... [795 Posts, 103 Comments] I had these at my friend Melanie's house, and they are definitely going to be one that we make every year! Yield: Approx. 32 cookies Source: All Recipes - Apricot Cream Cheese Thumbprints Ingredients: 1 1/2 cup butter, softened 1 1/2 cup sugar 1 pkg (8 oz) cream cheese, softened 2 eggs 1 large lemon (2 Tbsp. juice and 1 1/2 tsp. zest) 4 1/2 cup all-purpose flour 1 1/2 tsp baking powder 1 cup fruit preserves (I used Smucker's Simply Fruit Apricot and Red Raspberry) Steps: Preheat oven to 350 degrees F. In a large bowl, soften cream cheese. Add sugar and softened butter. Mix thoroughly. Beat eggs, one at a time, into cream cheese mixture. Zest one large lemon. Add to cream cheese mixture. Squeeze 1/2 lemon for juice. Add 2 Tbsp. lemon juice and stir well. In a separate bowl, combine flour and baking powder. Add combined dry ingredients to cream cheese mixture in small amounts mixing well. Refrigerate for 1 hour, or until dough is firm. Scoop out 1 Tbsp. dough and roll into a ball in your hands. Continue until all the dough is shaped. Place the dough balls onto an ungreased cookie sheet, about 2 inches apart. Gently press your thumb into the center of each dough ball, leaving an indentation. Turn your thumb and press again for a more uniform cavity. Spoon 1/2 tsp. preserves into the center of each cookie. Place the cookie sheet into the oven and bake for 15 minutes, or until golden brown. Note: I prefer a softer cookie, so I do not bake them until the edges turn golden brown. Allow cookies to cool for a few minutes on the cookie sheet. Then place them on a wire rack to cool thoroughly. When packing them into a container, I recommend not stacking them directly on top of each other, as they will stick together.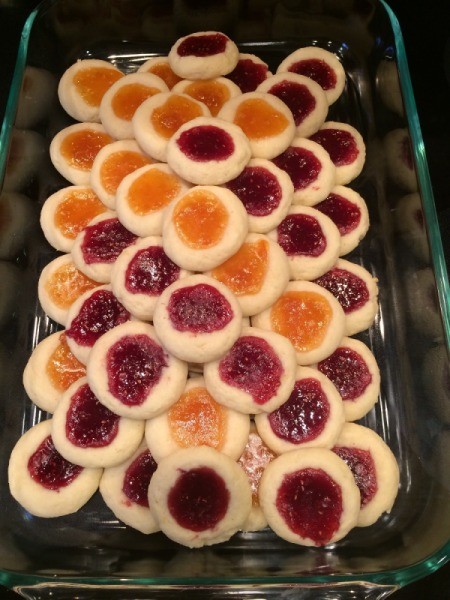 | | |
| --- | --- |
| | 24 1/2 mile jump |
____________________________________________________ Jill was selling tickets at the movie house when she got a phone call. This woman said, "How much is a ticket?" Jill said, "Nine dollars." She said, "How much for children?" Jill said, "Same price, it's nine dollars per seat." She said, "The airlines charge half fare for children." Jill said, "OK, put the kids on a plane somewhere, and you come to the movie. You'll enjoy it a lot more that way." ___________________________________________________
| | |
| --- | --- |
| | Wonder what it would do if music from Mannheim Steamroller & Trans-Siberian Orchestra was played. |
A young boy came to Sunday School late. His teacher knew that he was usually very prompt and asked him if anything was wrong. The boy replied no, that he was going fishing but his dad told him that he needed to go to church. The teacher was very impressed and asked the boy if his dad had explained to him why it was more important to go to church than to go fishing, "Yes he did," the boy replied, "dad said he didn't have enough bait for both of us.
Ophelia Dingbatter's News
No sermon and not suitable for church, just jokes and fun for grownups. Read it on-line or subscribe. If you subscribe, look for the double opt-in confirmation request.

____________________________________________________

Today on January 26
1500 Vicente Yáńez Pinzón discovered Brazil. 

1736 Stanislaus I formally abdicated as King of Poland. 

1784 In a letter to his daughter, Benjamin Franklin
expressed unhappiness over the eagle as the symbol of
America. He wanted the symbol to be the turkey. 

1788 The first European settlers in Australia, led by
Captain Arthur Phillip, landed in what became known as
Sydney. The group had first settled at Botany Bay eight
days before. This day is celebrated as Australia Day. 

1827 Peru seceded from Colombia in protest against Simón
Bolívar's alleged tyranny. 

1841 Britain formally occupied Hong Kong, which the
Chinese had ceded to the British. 

1875 George F. Green patented the electric dental drill
for sawing, filing, dressing and polishing teeth. 

1905 The Cullinan diamond, at 3,106.75 carats, was found
by Captain Wells at the Premier Mine, near Pretoria, South
Africa. 

1911 Inventor Glenn H. Curtiss flew the first successful
seaplane. 

1934 The Apollo Theatre opened in New York City. 

1939 In the Spanish Civil War, Franco's forces, with
Italian aid, took Barcelona. 

1942 The first American expeditionary force to go to
Europe during World War II went ashore in Northern
Ireland. 

1950 India officially proclaimed itself a republic as
Rajendra Prasad took the oath of office as president. 

1950 The American Associated Insurance Companies, of St.
Louis, MO, issued the first baby sitter's insurance
policy. 

1961 U.S. President John F. Kennedy appointed Dr. Janet G.
Travell as the first woman to be the "personal physician
to the President". 

1962 The U.S. launched Ranger 3 to land scientific
instruments on the moon. The probe missed its target by
about 22,000 miles. 

1965 Hindi was made the official language of India. 

1969 California was declared a disaster area after two
days of flooding and mudslides. 

1972 In Hermsdorf, Czechoslovakia, a JAT Yugoslav Airlines
flight crashed after the detonation of a bomb in the
forward cargo hold killing 27 people. The bomb was
believed to have been placed on the plane by a Croatian
extremist group. Vesna Vulovic, a stewardess, survived
after falling 33,000 feet in the tail section. She broke
both legs and became paralyzed from the waist down. 

1979 The 'Gizmo' guitar synthesizer was first
demonstrated. 

1992 Russian president Boris Yeltsin announced that his
country would stop targeting U.S. cities with nuclear
weapons. 

1993 Former Czechoslovak President Vaclav Havel was
elected president of the new Czech Republic. 

1994 In Sydney, Australia, a young man lunged at and fired
two blank shots at Britain's Prince Charles. 

1996 U.S. First Lady Hillary Rodham Clinton testified
before a grand jury concerning the Whitewater probe. 

1998 U.S. President Clinton denied having an affair with a
former White House intern, saying "I did not have sexual
relations with that woman, Miss Lewinsky." 

1999 Saddam Hussein vowed revenge against the U.S. in
response to air-strikes that reportedly killed civilians.
The strikes were U.S. planes defending themselves against
anti-aircraft fire. 

2009 The Icelandic government and banking system
collapsed. Prime Minister Geir Haarde resigned. 

2010 It was announced that James Cameron's movie "Avatar"
had become the highest-grossing film worldwide. 

2017  smiled.


[ view entry ] ( 11 views ) | permalink | print article |
( 3.1 / 702 )
---
<<First
<Back
| 25 | 26 | 27 | 28 | 29 | 30 | 31 | 32 | 33 | 34 |
Next>
Last>>