Good Morning, ,
Today is Sunday, January 29

Have FUN!
DearWebby

Todays Bonehead Award:
Former Tennessee college student allegedly stalked teen 
cheerleader before fatally shooting her.
Details at  Boneheads
______________________________________________________
Today, January 28 in
1820 Britain's King George III died insane at Windsor Castle. 
 
See More of what happened on this day in history.
______________________________________________________

| | |
| --- | --- |
| If you can help with the cost of the Humor Letter, please donate what you can! | |
______________________________________________________ Never answer a critic, unless he's right. --- Bernard M. Baruch (1870 - 1965) It is absurd to divide people into good and bad. People are either charming or tedious. --- Oscar Wilde (1854 - 1900) Punctuality is the virtue of the bored. --- Evelyn Waugh Those who boast of their descent, brag on what they owe to others. --- Socratex ______________________________________________________ If you like the Humor Letter, please vote!
______________________________________________________ Thanks to Ginny for this one: After directory assistance gave me my boyfriend's new telephone number, I dialed him and got a woman. "Is Robert there?" I asked. "He's in the shower," she responded. "Please tell him his girlfriend called," I said and hung up. When he didn't return the call, I dialed again. This time a man answered. "This is Robert," he said. "You're not my boyfriend!" I exclaimed. "I know," he replied. "That's what I've been trying to tell my wife for the past half-hour." ______________________________________________________
______________________________________________________ A drunk goes to the doctor complaining of tiredness and headaches. "I feel tired all the time, my head hurts, I've got a sore butt, and I'm not sleeping. What is it, Doc?" The doctor examines him thoroughly and says, "I can't find anything wrong. It must be the drinking." "Fair enough," replied the lush. "Happens to me too. I'll come back when you sober up." ______________________________________________________
From FB Murray Lundberg, Alaska ______________________________________________________

If you like the Dear Webby Daily Humor Letter, please vote for it at the

Ezine Finder:
Thanks for your votes!

______________________________________________________
An INTERNATIONAL BONEHEAD AWARD has been earned by
William Riley Gaul, 18, Maryville, Tennessee Former Tennessee college student allegedly stalked teen cheerleader before fatally shooting her. A former college football player stalked a high school cheerleader for weeks before fatally shooting her as she slept inside her east Tennessee home, newly filed charges claim. William Riley Gaul, 18, was charged Monday with first-degree murder, aggravated stalking, theft, tampering with evidence, reckless endangerment, employing a firearm during a dangerous felony, and felony murder, WVLT-TV reported. Gaul has been behind bars since November when 16-year-old Emma Walker was found fatally wounded in her Knoxville home. Authorities said the two had been in a relationship and that Walker had broken up with the former Maryville College student before she was killed. The indictment against Gaul says the teen was deeply distraught over her decision, Maryville's The Daily Times reported. "She had chosen to move on," Walker's aunt, Jenny Weldon, told The Knoxville News Sentinel in December of her niece's decision. "He refused to accept it. He chose not to accept her wishes." Gaul allegedly proceeded to stalk Walker throughout October and November before he hid outside her home and fired a gun – one that he reportedly took from his grandfather into her bedroom on the morning of Nov. 23, The Daily Times reported citing a copy of the indictment. Walker was pronounced dead at the scene, authorities said. "He knew where she was when he shot through the house," Maj. Michael K. MacLean, of the Knox County Sheriff's Office, previously told the News Sentinel. In a dark twist, in the hours after Walker's death, Gaul took to social media to profess his love for the slain teen. He was arrested one day later when authorities said he tried to hide evidence in the shooting. The District Attorney's office did not respond to a request for comment Wednesday. Gaul's bond has been set at $1 million. His next court date is scheduled for Jan. 30, online records show. ______________________________________________________ Tech Support Pits From: Dolores Re: Spam with my address as sender Dear Webby Lately I have been getting more and more spam with my address forged in as the sender. How can I stop that? I sometimes send mail to myself, so I can't just filter for the sender address. Help! Dolores Dear Dolores If you don't have a home network set up, set one up. Just use the Network Wizard. Give your machine a very colorful name, for example MORKY1. You don't really need any other machines, just set up your machine as first machine of a network. Then send an email to yourself and look at the header. In there you will now see the name that you have given your machine. With MailWasher it's easy to make a filter for that. If the FROM address CONTAINS dolores@.... AND the ENTIRE HEADER DOESN'T CONTAIN MORKY1 then delete the mail, automatically, without showing it in the list. After that, you will never again be bothered with spam that has your address forged in, but you can send memos to yourself all you want, and those will come through reliably. Sneaky, but it works! Have FUN! DearWebby
The CIA loses track of one of its operatives, and so calls in one of their top spy hunters. The CIA boss says, "All I can tell you is that his name is Murphy and that he's somewhere in Ireland. If you think you've located him, tell him the code words, 'The weather forecast calls for mist in the morning.' If it's really him, he'll answer, 'Yes, and for mist at noon as well.'" So the spy hunter goes to Ireland and stops in a pub in Dublin. He says to the bartender, "Maybe you can help me. I'm looking for a guy named Murphy." The bartender replies, "You're going to have to be more specific because, around here, there are lots of guys named Murphy. There's Murphy the Baker, who runs the pastry shop on the next block. There's Murphy the Banker, who's president of our local savings bank. There's Murphy the Blacksmith, who works at the stables. And, as a matter of fact, my name is Murphy, too." Hearing this, the spy hunter figures he might as well try the code words on bartender, so he says, "The weather forecast calls for mist in the morning." The bartender replies, "Oh, you're looking for Murphy the Spy. He lives three villages right down the river, but he occasionally comes in here around 6 PM. I'll page you if he shows up."
| | |
| --- | --- |
| If you can help with the cost of the Humor Letter, please donate what you can! | |
Daily tip from Thriftyfun.com Healthy Breakfast Burritos By melissa [293 Posts, 425 Comments] Quick and easy recipe to make. Pack a nutritional punch you just can't get through a fast-food drive-through! Total Time: about 20 minutes Yield: 6 large burritos Source: Self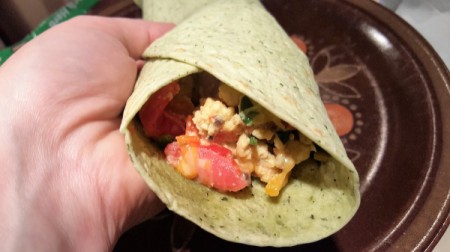 Ingredients: 12 eggs 1 cup spinach, chopped 1/2 cup bell peppers, chopped 1 cup grape tomatoes, halved 6 large white mushrooms, sliced 1 1/2 cup Colby jack cheese, shredded 1 1/2 Tbsp butter 6 spinach tortillas salsa Steps: Using an electric hand mixer, blend your eggs thoroughly. Shred, slice and chop remaining ingredients, except the tortillas.:) Melt your butter in a large pan over medium/high heat. Healthy Breakfast Burritos - cooking the eggs and veggies Stir continuously for about 6 minutes, or until set. Sprinkle your cheese on top and let melt. Add a portion of this to a tortilla, top with salsa if desired. Enjoy!
| | |
| --- | --- |
| | - o what's "wrong" with this video? No cheating by reading the comments Thanks |
____________________________________________________ Q: How can you tell the married men at a wedding reception? A: They're the ones dancing with everyone but their wives. Q: What is a wedding tragedy? A: To marry a man for love, and then find out he has no money. Q: How do I make my wife stop buying all these gloves? A: Buy her a nice ring. Q: What's long and hard and a Polish man gives it to his bride on their wedding night? A: A last name. ___________________________________________________
| | |
| --- | --- |
| | Awesome metal and river rock sculptures. |
I was waiting to talk to the pharmacist at the local drug store about his web site when a sweet young lady from the neighborhood came in. She had just recently gotten married. She was looking at the men's toiletries. and the clerk asked her if she needed any assistance. I heard her say, "Well, I'm looking for some deodorant for my new husband , but I don't know what kind he uses." The clerk asked, "Is it the ball type?" I almost lost it when she responded, "Oh No ...It's for his under his arms."
Ophelia Dingbatter's News
No sermon and not suitable for church, just jokes and fun for grownups. Read it on-line or subscribe. If you subscribe, look for the double opt-in confirmation request.

____________________________________________________

Today on January 29
1820 Britain's King George III died insane at Windsor Castle. 

1848 Greenwich Mean Time was adopted by Scotland. 

1856 Britain's highest military decoration, the Victoria Cross,
was founded by Queen Victoria. 

1886 The first successful petrol-driven motorcar, built by Karl
Benz, was patented. Otto's car was earlier, but not patented.

1916 In World War I, Paris was bombed by German zeppelins for the
first time. 

1924 R. Taylor patented the ice cream cone rolling machine. 

1940 The W. Atlee Burpee Seed Company displayed the first
tetraploid flowers at the New York City Flower Show. 

1949 "The Newport News" was commissioned as the first air-
conditioned naval ship in Virginia. 

1958 Charles Starkweather was captured by police in Wyoming. 

1963 Britain was refused entry into the EEC. 

1979 U.S. President Carter formally welcomed Chinese Vice Premier
Deng Xiaoping to the White House. The visit followed the
establishment of diplomatic relations. 

1987 "Physician's Weekly" announced that the smile on the face of
Leonardo DeVinci's Mona Lisa was caused by a "...facial paralysis
resulting from a swollen nerve behind the ear." 

1990 Joseph Hazelwood, the former skipper of the Exxon Valdez,
went on trial in Anchorage, AK, on charges that stemmed from
America's worst oil spill. Hazelwood was later acquitted of all
the major charges and was convicted of a misdemeanor. 

1996 French President Jacques Chirac announced the "definitive
end" to nuclear testing. 

1996 La Fenice, the 204 year old opera house in Venice, was
destroyed by fire. Arson was suspected. 

1997 America Online agreed to give refunds to frustrated
customers under threat of lawsuits across the country. Customers
were unable to log on after AOL offered a flat $19.95-a-month
rate. 

1998 A bomb exploded at an abortion clinic in Birmingham, AL,
killing an off-duty policeman and severely wounding a nurse. Eric
Rudolph was charged with this bombing and three other attacks in
Atlanta. 

1999 Paris prosecutors announced the end of the investigation
into the accident that killed Britain's Princess Diana. Everybody
involved was drunk and stoned.

2001 In Indonesia, thousands of student protesters stormed the
parliament property and demanded that President Abdurrahman Wahid
quit due to his alleged involvement in two corruption scandals.
Wahid announced that he would not resign. 

2014 Archaeologists announced that they had uncovered what they
believed to be the oldest temple in Roman antiquity. The temple
was found at the Sant Omobono site in central Rome. 

2017  smiled.


[ view entry ] ( 10 views ) | permalink | print article |
( 3.1 / 229 )
---
<<First
<Back
| 25 | 26 | 27 | 28 | 29 | 30 | 31 | 32 | 33 | 34 |
Next>
Last>>