Good Morning, ,
Today is Friday, February 3
Time to wear a bit of red to show your support for the troops!


Have FUN!
DearWebby

It appears a lot of ISPs censored yesterdays Humor Letter.
You can still read it in the blog at http://webby.com/humor/blog

NOBODY, absolutely NOBODY voted about a new award.
Not a single $1 or $2 vote came in. 
No votes came in.
OK, I can take a hint.

Todays Bonehead Award:
Oklahoma teacher arrested for doing cartwheel 
without undies
Details at  Boneheads
______________________________________________________
Today, February 3 in
1690 The first paper money in America was issued by the
Massachusetts colony. The currency was used to pay soldiers that
were fighting in the war against Quebec. When they got killed,
no real money had been spent.
 
See More of what happened on this day in history.
______________________________________________________

| | |
| --- | --- |
| If you can help with the cost of the Humor Letter, please donate what you can! | |
______________________________________________________ Pain is inevitable; suffering is optional. --- Socratex I find television very educating. Every time somebody turns on the set, I go into the other room and read a book. --- Groucho Marx (1890 - 1977 "Do not talk a little on many subjects, but much on a few. --- Pythagoras The secret of staying young is to live honestly, eat slowly, and lie about your age. --- Lucille Ball "The longest word in the english language is the one that follows the phrase, 'And now a word from our sponsor'." --- Hal Eaton ______________________________________________________ If you like the Humor Letter, please vote!
______________________________________________________ >From Fran: A fellow was walking up to a Doctors office and met another man coming out. Just before they meet the fellow coming out fell face forward dead. The first fellow went in and told the recepionist that a man had just fallen dead outside the office. The receptionist asked him "which way was he going? The man replied "he was leaving the office." The receptionist said, "Well, do me a favor, will you, and go back out and turn him around." ______________________________________________________
______________________________________________________ >From Edna Office trick for today: Go through the waste basket at the printer or copier and collect all papers that are not kinked or crumpled. Neatly stack them and cut them in half. Then put them into the paper tray of the copier or printer. Stick around, because the results are hilarious ! --------- I haven't tried that one myself, but I can just imagine! ______________________________________________________
From FRB: Ravine Baños, Ecuador ______________________________________________________

If you like the Dear Webby Daily Humor Letter, please vote for it at the

Ezine Finder:
Thanks for your votes!

______________________________________________________ Reported by Moe
An INTERNATIONAL BONEHEAD AWARD has been earned by
Lacey Sponsler, 34, Pawhuska, Oklahoma Oklahoma teacher arrested for doing cartwheel without undies A substitute teacher was arrested and thrown in jail yesterday for indecent exposure after she performed a cartwheel in a high school choir class "with no under garments on," police allege. According to cops, Lacey Sponsler, 34, exposed herself to students last Friday at Pawhuska High School in Pawhuska, a city about 50 miles north of Tulsa. Sponsler, seen above, was wearing a long dress, but no underwear, "which caused her to expose herself to the students in this class," cops allege. "This act was gleefully captured by a student on their cell phone," said Police Chief Scott Laird. As detailed in a probable cause affidavit, as Sponsler (seen above) performed the cartwheel in the "Junior High Choir room," her dress was "flipped up," exposing her buttocks. An officer who reviewed the video of the incident added, "I further noticed that the Defendant was not wearing any type of underwear." A 17-year-old female student told police that Sponsler "had said that she was not wearing underwear before performing the cartwheel," which exposed her "bare vagina." The student noted that she saw Sponsler's "vagina open and close, as her legs were in the air." The girl also told police that Sponsler "had been talking about using drugs" and commented on how she "thought fourteen year old boys were like men." When questioned by police, Sponsler initially denied performing the cartwheel in class. When told that a student captured the cartwheel in a Snapchat video, Sponsler replied that she "did not remember performing a cartwheel or exposing her vagina and buttocks." Sponsler told police that she was "just dancing with the students" and "trying to be a cool teacher." According to court records, Sponsler pleaded guilty in 2008 to marijuana possession, public intoxication, and possession of drug paraphernalia (for which she received a two-year deferred sentence, was fined $1100, and was ordered to perform 100 hours of community service). In December 2009, a judge ruled that Sponsler violated her probation, in part because she had not disclosed being questioned by police investigating an accused meth cook. Sponsler told cops that she had been present in the suspect's home when he was manufacturing the drug, adding that the man was "careless when he cooks." In September 2011, Sponsler pleaded guilty to possession of methamphetamine and marijuana in the presence of a child and possession of drug paraphernalia. She was sentenced to a three- year deferred sentence. As part of that plea deal, prosecutors dropped a burglary charge against Sponsler, who is pictured above in a mug shot snapped yesterday. ______________________________________________________ Tech Support Pits From: Rose Re: Clean with compressed air or vaccum ? Dear Webby What is better for cleaning keyboards and computers, cans of compressed air or vacuum cleaner? Rose Dear Rose Cans of compressed air are good for people who sell them. A vaccumm cleaner is the better choice for all computer related items. Instead of blowing dirt into even harder to reach places, a vaccum gets rid of it. While kids will use canned air for huffing and experimenting how close they can get to dying, none have been recorded of using a vacuum cleaner without having been explicitly ordered to do that. Have FUN! DearWebby
True Story My friend called his car insurance company to tell them to change his address from Texas to Vermont. The woman who took the call asked where Vermont was. As he tried to explain, she interrupted and said, "Look, I'm not stupid or anything, just tell me what state it is in!"
| | |
| --- | --- |
| If you can help with the cost of the Humor Letter, please donate what you can! | |
Daily tip from Thriftyfun.com Easy Cookie Sheet Sliders By lalala... [795 Posts, 103 Comments] This is an easy way to make sliders for a large group. We made them for the Super Bowl and they were a huge hit! Source: Food Network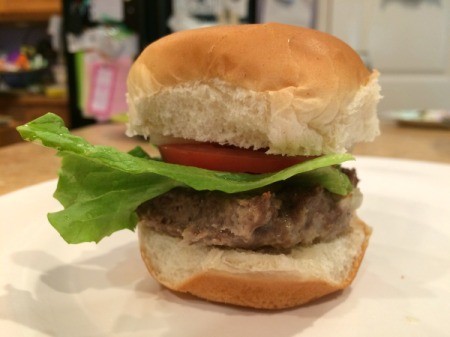 Ingredients: #Toppings 10 x 15 in rimmed cookie sheet 3 lb ground beef (90/10) 1 medium onion, finely diced 2 eggs 1/2 cup plain breadcrumbs 4 tsp vegetable oil 1-2 tsp salt ground black pepper garlic powder slider buns cheddar cheese lettuce pickles tomato sliced onion ketchup and mustard Steps: Preheat oven to 425 degrees F. In a large bowl, combine ground beef, breadcrumbs, eggs, and salt. Finely dice the onion and press between paper towels to remove excess moisture. Spread onions out evenly on the bottom of the cookie sheet. Drop ground beef mixture in small pieces onto the onions. Use a spatula to press the ground beef down evenly into the bottom of the cookie sheet. Try to fill in any gaps in the meat. Then use the spatula to gently score the beef into small patties. Brush the patties with vegetable oil. Lightly season the patties by sprinkling them with pepper and garlic powder. Bake for 10-12 minutes or until meat is cooked through. Check them part way through and drain off any moisture/fat that has collected in the cookie sheet. If you want you can broil the patties for a few minutes to brown them up a little. Cut cheese slices into quarters and put a piece of cheese onto each patty. Put the patties back in the oven for 1 minute or until cheese is bubbly. Carefully recut patties and remove from the pan. Serve with grilled onions or lettuce, tomato, and sliced onion. Enjoy! Most definitely broil them a bit to fake that nice charcoal BBQ crisp! WARNING: Some people consider "sliders" as appetizers! Have FUN! DearWebby
| | |
| --- | --- |
| | interesting and unique - lots of precision |
____________________________________________________ >From Trina I just picked up a copy of People's 100 Most Eligible Bachelors... I've searched cover to cover and I still can't find the order form. ___________________________________________________
| | |
| --- | --- |
| | Art out of silverware. |
Murphy and his wife, a middle-aged couple, went for a stroll in the park. They sit down on a bench to rest for awhile. Soon they overhear voices coming from a secluded spot nearby. Suddenly Mrs. Murphy realizes that a young man is about to propose. Not wanting to be eavesdropping during such an intimate moment, she gently nudges her husband and whispers, "Whistle to let that young couple know that someone can hear them." To which Murphy replies, "Whistle? Why should I whistle? Nobody whistled to warn me!"
Ophelia Dingbatter's News
No sermon and not suitable for church, just jokes and fun for grownups. Read it on-line or subscribe. If you subscribe, look for the double opt-in confirmation request.

____________________________________________________

Today on February 3

1488 The Portuguese navigator Bartholomeu Diaz landed at Mossal
Bay in the Cape, the first European known to have landed on the
southern extremity of Africa. 

1690 The first paper money in America was issued by the
Massachusetts colony. The currency was used to pay soldiers that
were fighting in the war against Quebec. When they got killed,
no real money had been spent.

1783 Spain recognized the independence of the United States. 

1815 The world's first commercial cheese factory was established
in Switzerland. 

1862 Thomas Edison printed the "Weekly Herald" and distributed
it to train passengers traveling between Port Huron and Detroit,
MI. It was the first time a newspaper had been printed on a
train. 

1913 The 16th Amendment to the U.S. Constitution was ratified.
It authorized the power to impose and collect income tax. 

1916 In Ottawa, Canada's original parliament buildings burned
down. 

1917 The U.S. broke off diplomatic relations with Germany, which
had announced a policy of unrestricted submarine warfare. 

1918 The Twin Peaks Tunnel began service. It is the longest
streetcar tunnel in the world at 11,920 feet. 

1941 In Vichy, France, the Nazis used force to restore Pierre
Laval to office. 

1945 Russia agreed to enter World War II on the winning side
against Japan. 

1951 The Tennessee Williams play, "The Rose Tattoo", opened on
Broadway in New York. 

1966 The first rocket-assisted controlled landing on the Moon
was made by the Soviet space vehicle Luna IX. 

1969 At the Palestinian National Congress in Cairo, Yasser
Arafat was appointed leader of the PLO. 

1972 The first Winter Olympics in Asia were held at Sapporo,
Japan. 

1984 Challenger 4 was launched as the tenth space shuttle
mission. 

1998 Texas executed Karla Faye Tucker. She was the first woman
executed in the U.S. since 1984. 

1998 In Italy, a U.S. Military plane hit a cable causing the
death of 20 skiers on a lift. 

2009 Eric Holder was sworn in as attorney general. He was the
first African-American to hold the post. 

2010 The Alberto Giacometti sculpture L'Homme qui marche sold
for $103.7 million. 

2015 The British House of Commons voted to approve letting
scientist create babies from the DNA of three people. 

2017  smiled.


[ view entry ] ( 2 views ) | permalink | print article |
( 3.1 / 330 )
---
<<First
<Back
| 24 | 25 | 26 | 27 | 28 | 29 | 30 | 31 | 32 | 33 |
Next>
Last>>