Good Morning, ,
Today is Wednesday, February 8

Thank you, Sig!!

Have FUN!
DearWebby

Todays Bonehead Award:
Drug dealer whose life sentence was commuted by Obama 
arrested on new drug charges
Details at  Boneheads
______________________________________________________
Today, February 8 in
1985 "The Dukes of Hazzard" ended its 6-1/2 year run on 
CBS television. :(
 
See More of what happened on this day in history.
______________________________________________________

| | |
| --- | --- |
| If you can help with the cost of the Humor Letter, please donate what you can! | |
______________________________________________________ In all large corporations, there is a pervasive fear that someone, somewhere is having fun with a computer on company time. Networks help alleviate that fear. --- John C. Dvorak Space isn't remote at all. It's only an hour's drive away if your car could go straight upwards. --- Fred Hoyle (1915 - 2001) ______________________________________________________ If you like the Humor Letter, please vote!
______________________________________________________ It was "sharing time" in a kindergarten full of bright children. The teacher was presiding over a discussion about the children's parents. One child said, "Well, my mother's a Catholic and my father's Jewish." "Oh, wow!" said another. "So what do you believe?" "I believe in everything," said the first child. "What do you mean 'everything'?" asked another child. "Well, you know," said the first child, "Jesus Christ, Moses, Santa, Easter Bunny, Tooth Fair, Monsters, everything." ______________________________________________________
______________________________________________________ Thanks to Edwina for this one: A young couple got married and left on their honeymoon. When they got back the bride immediately called her mother. "Well," said her mother, "how was the honeymoon?" "Oh, mama," she replied, "the honeymoon was wonderful! So romantic... " Suddenly she burst out crying. "But, mama, as soon as we returned, Sam started using the most horrible language. Things I'd never heard before! I mean, all these awful 4-letter words! You've got to come get me and take me home... PLEASE MAMA!" "Sarah, Sarah," her mother said, "calm down! Tell me, what could be so awful? WHAT 4-letter words?" "Please don't make me tell you, mama," wept the daughter, "I'm so embarrassed-they're just too awful! COME GET ME, PLEASE !!! "Darling, baby, you must tell me what has you so upset... Tell your mother these horrible 4-letter words!" Still sobbing, the bride said, "Oh, mama...words like: Dust, Wash, Iron, Cook.... "I'll pick you up in ten minutes," said the mother ______________________________________________________
From FB ______________________________________________________

If you like the Dear Webby Daily Humor Letter, please vote for it at the

Ezine Finder:
Thanks for your votes!

______________________________________________________
An INTERNATIONAL BONEHEAD AWARD has been earned by
Robert Gill, 68, San Antonio, Drug dealer whose life sentence was commuted by Obama arrested on new drug charges A 68-year-old San Antonio man whose life prison sentence was commuted by President Barack Obama is back in jail after authorities say he crashed his car into another vehicle while fleeing from officers following a drug deal. A federal magistrate judge on Friday ordered Robert Gill held without bail pending a hearing later this month. Gill was arrested in 1990 and sentenced to life for cocaine and heroin distribution conspiracy. While in prison, he studied law and petitioned the president for a second chance. Obama commuted Gill's sentence in 2015. The San Antonio Express-News reports he'd been working as a paralegal at a San Antonio law firm. He's now charged with possession with intent to distribute 500 grams or more of cocaine. If convicted, Gill faces a potential sentence with a mandatory minimum of five years, but could get up to 40. ______________________________________________________ Tech Support Pits From: Gladys Re: Monitor Frequency Dear Webby Should the monitor frequency be set to the same as the household electricity (60 cycles)? Gladys Dear Gladys No, set it to any frequency BUT that. Especially with fluorecent lighting, that will appear as an unruly and flickering image. Chose the highest frequency that your video card / monitor combination can handle. Have FUN! DearWebby
A manager is told by his doctor that he has to take up some sport, so he decides to play tennis. After a couple of weeks his secretary asks him how he's doing. "It's going fine", the manager says, "When I'm on the court and I see the ball speeding towards me my brain immediately says: To the corner! Back hand! To the net! Smash! Go back!". "Really? What happens then?", the girl asks enthusiastically Then my body says: "Huh ? Who, me ??? You gotta be kidding!"
| | |
| --- | --- |
| If you can help with the cost of the Humor Letter, please donate what you can! | |
Daily tip from Thriftyfun.com Mini Cheesy Heart Calzones By lalala... [795 Posts, 103 Comments] These mini heart shaped calzones are perfect for a Valentine's day party. They are easy to make and would be fun to make with your kids.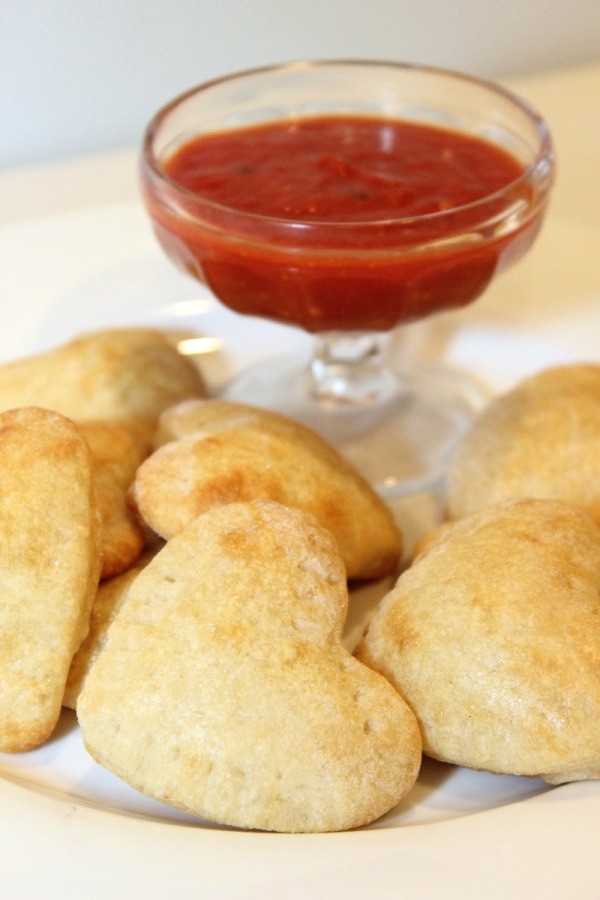 Ingredients: canned pizza dough (thin crust) sliced mozzarella or Provolone egg white marinara sauce fork heart shaped cookie cutters (medium and small) flour rolling pin Steps: Preheat oven to 400 degrees F. Unroll canned pizza dough onto lightly floured cutting board. Flour other side of dough too. Using the medium heart cookie cutter, cut out as many pairs of hearts as possible. Remove excess dough from around the hearts. Set the excess dough aside. Using the small heart cookie cutter, cut out enough cheese hearts to fill each pair of dough hearts. Lay a cheese heart onto a dough heart, moisten the edges of the dough heart, and lay another dough heart on top. Use a fork to crimp the dough hearts together. Place the calzones onto a greased cookie sheet (or pizza stone). Brush the top of each calzone with egg white. Bake for 10 minutes or until golden brown. Remove any cheese that leaked out. Serve hot with a side of marinara sauce for dipping. Enjoy!
| | |
| --- | --- |
| | ice music |
____________________________________________________ Mia went to a "Dude Ranch" while in Texas. The cowboy preparing the horses asked if she wanted a Western or English saddle, and she asked what the difference was. He told her one had a horn and one didn't. She replied, "The one without the horn is fine. I don't really know when to honk the horn and when not." ___________________________________________________
| | |
| --- | --- |
| | Nope, nope, nope, nope, nope! I have a healthy fear of bridges. |
A big-city counterfeiter decided the best place to pass off his phoney $18 bills would be in some small hick Southern town. So he got into his new wheels and off he went. He found a tiny town with a single store. He entered the store and handed one of the bogus bills to the man behind the counter. "Can you change this for me, please?" he said. The store clerk looked at the $18 bill a short time, then smiled and told the man, "Sure, Mister. Ya'll want 2 nines, or 3 sixes?
Ophelia Dingbatter's News
No sermon and not suitable for church, just jokes and fun for grownups. Read it on-line or subscribe. If you subscribe, look for the double opt-in confirmation request.

____________________________________________________

Today on February 8
1693 A charter was granted for the College of William and
Mary in Williamsburg, VA. 

1802 Simon Willard patented the banjo clock. 

1861 The Confederate States of America was formed. 

1861 A Cheyenne delegation and some Arapaho leaders accepted
a new settlement (Treaty of Fort Wise) with the U.S.
Federal
government. The deal ceded most of their land but secured a
600-square mile reservation and annuity payments. 

1900 In South Africa, British troops under Gen. Buller were
beaten at Ladysmith. The British fled over the Tugela River.

1904 The Russo-Japanese War began with Japan attacking
Russian forces in Manchuria. 

1910 William D. Boyce incorporated the Boy Scouts of
America. 

1918 During World War I, "The Stars and Stripes" was
published under orders from General John J. Pershing for the
United States Army forces in France. It was published from
February 8, 1918 to June 13, 1919. 

1922 The White House began using radio after U.S. President
Harding had it installed. 

1927 The original version of "Getting Gertie's Garter"
opened at the Hippodrome Theatre in New York City. 

1952 Queen Elizabeth II ascended to the British throne. Her
father, George VI, had died on February 6. 

1963 After Cuba nationalized US oil, tobacco, sugar, rum and
fruit companies, the Kennedy administration prohibited
travel to Cuba and made financial and commercial
transactions with Cuba illegal for U.S. citizens. 

1963 Lamar Hunt, owner of the American Football League
franchise in Dallas, TX, moved the operation to Kansas City.
The new team was named the Chiefs. 

1971 The Nasdaq stock-market index debuted. 

1973 U.S. Senate leaders named seven members of a select
committee to investigate the Watergate scandal. 

1974 The three-man crew of the Skylab space station returned
to Earth after 84 days. 

1978 The U.S. Senate deliberations were broadcast on radio
for the first time. The subject was the Panama Canal
treaties. 

1980 U.S. President Jimmy Carter announced a plan to re-
introduce draft registration. 

1985 "The Dukes of Hazzard" ended its 6-1/2 year run on CBS
television. :(

1993 General Motors sued NBC, alleging that "Dateline NBC"
had rigged two car-truck crashes to show that some GM
pickups were prone to fires after certain types of crashes.
The suit was settled the following day by NBC. 

2017  smiled.


[ view entry ] ( 6 views ) | permalink | print article |
( 3 / 564 )
---
<<First
<Back
| 24 | 25 | 26 | 27 | 28 | 29 | 30 | 31 | 32 | 33 |
Next>
Last>>