Good Morning, ,
Today is Friday, February 10
Time to wear a bit of red to show your support for the troops!


Beatiful full moon out. The Chinook blew away the -30,
shook 8" of snow off the trees, blew half of that eastwards
across the prairies, and started to thaw what fell to the
ground. It gave it's name to the migyhtiest helicopter, and
it is quite obvious, why.

In a week, after the Chinook has crossed the prairies,
picked up moisture from the Great Lakes, and collided with
cold Atlantic air, it will be called "The Alberta Clipper"
and will dump onto Toronto and Chicago.

We call that area "The Far East". Left wingers and
politicians live there, nice and cozy with Alberta oil and
gas and taxes. The thought of them getting dumped on next
week does not grieve us at all.

In the meantime we enjoy the warm and rambunctious Chinook
and the very pretty moonshine on what's left of all the
snow. It is times like this when I wish I was not the only
one walking and enjoying the night.

Have FUN!
DearWebby

Todays Bonehead Award:
Drunk Florida woman drives into ditch, says she's dead
Details at  Boneheads
______________________________________________________
Today, February 10 in
1763 The Treaty of Paris ended the French and Indian War. In
the treaty France ceded Canada to England. 
 
See More of what happened on this day in history.
______________________________________________________

| | |
| --- | --- |
| If you can help with the cost of the Humor Letter, please donate what you can! | |
______________________________________________________ Those who cannot remember the past are condemned to repeat it. --- George Santayana (1863 - 1952) Nine out of ten people who change their minds are wrong the second time too. --- Socratex It was on my fifth birthday that Papa put his hand on my shoulder and said, 'Remember, my son, if you ever need a helping hand, you'll find one at the end of your arm. --- Sam Levenson ______________________________________________________ If you like the Humor Letter, please vote!
______________________________________________________ Deep in the woods of Tennessee on a country road, a preacher hit and killed a dog. The dog's owner stood nearby, a gun in his hand.The preacher looks at the owner sheepishly and says, "Looks as if I killed your dog." "Sure does." "I'm sorry. Was it a valuable dog?" "I wouldn't say that." "Well, suppose I gave you a hundred dollars. Would that be enough?" "Well, I don't know." "Two hundred dollars. That should do it." "Sounds good." The preacher reached into his pocket and came up with the money. Pressing it into the man's hand, he said, "I'm sorry I spoiled your plans to go hunting." "I wasn't going hunting. The vet told me to take that mangy mutt out to the woods, do him one last favor and put him out of his misery, cause pills don't help him no more. But, Thanks for the $200." ______________________________________________________
______________________________________________________ They've finally come up with the perfect office computer. If it makes a mistake, it blames another computer. ______________________________________________________
From FB ______________________________________________________

If you like the Dear Webby Daily Humor Letter, please vote for it at the

Ezine Finder:
Thanks for your votes!

______________________________________________________
An INTERNATIONAL BONEHEAD AWARD has been earned by
Cheryl Ann Morris, 54, Alachua, Floriduh Drunk Florida woman drives into ditch, says she's dead An Alachua woman drove drunkenly into a ditch Wednesday and told police she was dead, Florida Highway Patrol said. At about 5:26 p.m., Cheryl Ann Morris, 54, crashed her black Dodge Intrepid into a ditch at County Road 232 and Northwest 202nd Street, according to an incident report. When troopers asked her if she was injured, she said she was dead, according to the report. Morris told police a silver truck drove her off the road. Troopers noticed she slurred her words and kept repeating herself. One asked if Morris was wearing her seat belt, and she responded, "What, do I look stupid?" as she attempted to fasten it across her lap, according to the report. She was walked to an FHP car and put in the back seat, according to the report. When troopers searched the area, they found a small bottle of wine, which a witness said Morris had in her possession. Morris said she only drank two beers during the evening, according to the report. Morris performed poorly on field sobriety exercises and refused a breathalyzer test. Police arrested her on charges of driving under the influence and property damage. She was taken to the Alachua County Jail where she remains, as of press time, in lieu of a $15,100 bond. ______________________________________________________ Tech Support Pits From: Me Re: Typical Mailwasher result Just to illustrate for those, who don't have MailWasher yet, here is a typical example. Normally my filters dump mails like that right on the server, without showing them on the list, but to show you, I made parts of one visible. ... ..ttps : //utilities.canada.gov/report/12895831237.doc [links to cs18155.tmweb.ru/2.doc]. The red part is what the actual, underlying link points to. .ru means the domain is in Russia. That does not necessarily mean the scammers are in Russia, just that they are using a Russian domain. Regardless of where a domain is hosted, if a link has a totally different underlying address, then dump that mail. Have FUN! DearWebby
Little Johnny was having problems in English class, so his teacher decided to stop by on her way home to speak with his parents. When she rang the bell, Little Johnny answered. The teacher smiled and said, "I'd like to talk to your mother or father." Little Johnny said, "Sorry, but they ain't here." "Little Johnny!" she said, "what is it with your grammar?" Little Johnny said, "Beats me, but dad sure was mad that they had to go bail her out again!"
| | |
| --- | --- |
| If you can help with the cost of the Humor Letter, please donate what you can! | |
Daily tip from Thriftyfun.com Making Chocolate Dipped Wafer Cookies By lalala... [795 Posts, 103 Comments] These chocolate dipped wafer cookies would make a great gift for your Valentine this year. Ingredients: strawberry wafers white chocolate and chocolate Wilton's Candy Melts Candy Melts warmer, optional Valentine's sprinkles wax paper Steps: Melt Candy Melts according to package directions or in the warmer. NOTE: I recommend melting small batches as the wafers tend to leave crumbs in the chocolate. Brush off excess crumbs from the wafers. Dip the end of each wafer into the chocolate and gently shake to remove any excess. Lay them on the wax paper and sprinkle with festive sprinkles. Allow chocolate to harden. Enjoy!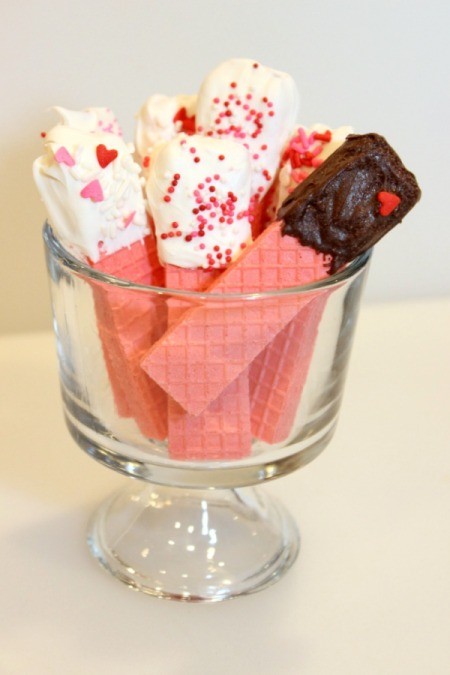 For dark, semi-sweet chocolate you can use Bakers Semi-Sweet chocolate chips and a bit of butter in a flat bottom bowl, heat it a minute in the microwave, stir it fast and put it onto the heating plate of your coffee maker to keep it hot. Then you can dip the wafers lengthwise with half of it immersed, flip them onto the wax paper dry side down, so that some of the chocolate streaks down towards the dry side. Chocolate addicts prefer that method! Have FUN! DearWebby
| | |
| --- | --- |
| | Kids say the darndest things |
____________________________________________________ Miranda likes to sing, and whenever she begins, her husband heads outside. Hurt, she asked him, "Don't you like my singing?" "Of course, dear," he replied. "I just want to make sure the neighbors know I'm not beating you." ___________________________________________________
| | |
| --- | --- |
| | Can you find the 13 hidden faces in this painting? |
A rather awkward freshman finally got up the nerve to ask a pretty junior for a dance at the homecoming. She gave him the once-over and said, "Sorry, I won't dance with a child." "OOOPS," responded the underclassman, "I didn't realize you were pregnant."
Ophelia Dingbatter's News
No sermon and not suitable for church, just jokes and fun for grownups. Read it on-line or subscribe. If you subscribe, look for the double opt-in confirmation request.

____________________________________________________

Today on February 10
1763 The Treaty of Paris ended the French and Indian War. In
the treaty France ceded Canada to England. 

1840 Britain's Queen Victoria married Prince Albert of Saxe
Coburg-Gotha. 

1846 Members of the Church of Jesus Christ of Latter-day
Saints began their exodus to the west from Illinois. 

1863 The fire extinguisher was patented by Alanson Crane. 

1870 The YWCA was founded in New York City. 

1879 The electric arc light was used for the first time. 

1920 Major league baseball representatives outlawed pitches
that involve tampering with the ball. 

1925 The first waterless gas storage tank was placed in
service in Michigan City, IN. 

1933 The singing telegram was introduced by the Postal
Telegraph Company of New York City. 

1933 Primo Carnera knocked out Ernie Schaaf in round 13 at
Madison Square Garden in New York City. Schaaf died as a
result of the knockout punch. 

1935 The Pennsylvania Railroad began passenger service with
its electric locomotive. The engine was 79-1/2 feet long and
weighed 230 tons. 

1942 The Normandie, the former French liner, capsized in New
York Harbor. The day before the ship had caught fire while
it was being fitted for the U.S. Navy. 

1962 The Soviet Union exchanged captured American U2 pilot
Francis Gary Powers for the Soviet spy Rudolph Ivanovich
Abel being held by the U.S. 

1981 The Las Vegas Hilton hotel-casino caught fire. Eight
people were killed and 198 were injured. 

1990 South African President F.W. de Klerk announced that
black activist Nelson Mandela would be released the next day
after 27 years in captivity. 

1992 Mike Tyson was convicted in Indianapolis of raping
Desiree Washington, Miss Black American contestant. 

1997 The U.S. Army suspended its top-ranking enlisted
soldier, Army Sgt. Major Gene McKinney following allegations
of sexual misconduct. McKinney was convicted of obstruction
of justice and acquitted of 18 counts alleging sexual
harassment of six military women. 

2005 North Korea publicly announced for the first time that
it had nuclear arms. The country also rejected attempts to
restart disarmament talks in the near future saying that it
needed the weapons as protection against an increasingly
hostile United States. 

2009 A Russian and an American satellite collided over
Siberia. 

2009 Amazon announced the Kindle 2.

2017  smiled.


[ view entry ] ( 14 views ) | permalink | print article |
( 3 / 340 )
---
<<First
<Back
| 24 | 25 | 26 | 27 | 28 | 29 | 30 | 31 | 32 | 33 |
Next>
Last>>