Good Morning, ,
Today is Wednesday, February 15

Have FUN!
DearWebby

Todays Bonehead Award:
MMA fighter Roshaun Jones arrested for double murder
during armed robbery
Details at  Boneheads
______________________________________________________
Today, February 14 in
2002 U.S. President George W. Bush approved Nevada's Yucca
Mountain as a site for long-term disposal of radioactive
nuclear waste. After a few Billion dollars worth of work had
been done, the Democrats stopped the project.
 
See More of what happened on this day in history.
______________________________________________________

| | |
| --- | --- |
| If you can help with the cost of the Humor Letter, please donate what you can! | |
______________________________________________________ The ultimate result of shielding men from the effects of folly is to fill the world with fools. --- Herbert Spencer ______________________________________________________ If you like the Humor Letter, please vote!
______________________________________________________ One time during the underway watch the Officer Of the Day decided to test my seamanship. "What would you do if the forward watch fell off the side of the ship?" "Easy, sir, I'd call 'Man Overboard' and follow the Man Overboard procedures." "What would you do if an officer fell overboard?" "Hmmm," I said, "Which one, sir?" ______________________________________________________
______________________________________________________ Tina decided to redecorate her bedroom. She wasn't sure how many rolls of wallpaper she would need, but she knew that her friend next door had recently done the same job and the two rooms were identical in size. "Buffy," she said, "how many rolls of wallpaper did you buy for your bedroom?" "Fifteen," said Buffy. So the girl bought the fifteen rolls of paper and did the job, but she had seven rolls left over. "Buffy," she said. "I bought ten rolls of wallpaper for the bedroom, but I've got seven left over!" "Yeah!" said Buffy. "I did too." ______________________________________________________
From FB ______________________________________________________

If you like the Dear Webby Daily Humor Letter, please vote for it at the

Ezine Finder:
Thanks for your votes!

______________________________________________________
An INTERNATIONAL BONEHEAD AWARD has been earned by
Roshaun Jones, 33, Del Mar, Oklahoma MMA fighter Roshaun Jones arrested for double murder during armed robbery Professional fighter Roshaun Jones was arrested and charged with two counts of first-degree murder on Thursday in Oklahoma. Police believe Jones, who last fought at a Bellator event in 2015, shot and killed two people in a botched armed robbery at the Laundry Station in Del Mar on Monday. One of the victims, Nekia Jackson, was on shift as the day manager of the establishment, while the other, 60-year-old Russ Roberts, was a customer who happened to be in the store when Jones tried to rob it. Roberts tried to help Jackson while the robbery was happening when Jones allegedly turned the gun on them both, according to KFOR. Another customer walked in later to the pair of dead bodies and called the police. The U.S. Marshals service assisted in the manhunt for Jones earlier in the week and he was eventually captured by authorities in Midwest City, Okla. ______________________________________________________ Tech Support Pits From: Rose Re: Huge fonts after repair Dear Webby After I got my computer back from the repair place for a minor problem, I noticed all my Icons , writing and pages where huge. I went to start, properties,control panel and looked for the Icon that said display checked and looked for the large Icon to remove a checked sign, but it was not checked. Is there another way to get the print back to normal? Thank you for your help. Rose Dear Rose Yes, it's hard to get decent help these days. Probably the goof who messed with your machine did a blind re-install without checking how horrible things looked. Just right-click on the desktop Properties Settings and then increase the resolution. That shrinks the icons and everything. I use 1600 x 1200 on this machine, a bit more on some of the other ones. Just pump it up one step at a time until it looks comfortable. Then, after you ENTER out of that, clcik on an empty spot on the desktop, hold down CTRL and roll the scroll wheel on the mouse. Roll it away from you to make the icons larger, roll it towards you to make them smaller. Have FUN! DearWebby
A psychology student was to help a professor in conducting a personality test. The room was set up with various props in order to move through the assessment quickly. The first person to enter the room started through the test. "How does this glass of water look to you?" Person 1: It is half empty. Student writes 'pessimist' in his report. Person 2 enters the room. "How does this glass of water look to you?" Person 2: It is half full. Student writes 'optimist' in his report. Person 3 enters the room. "How does this glass of water look to you?" Person 3: Looks like you have twice as much glass as you need there. The student looks totally blank and goes to consult with the professor. "Oh them!", the professor says, "I forgot to warn you about the engineers! They have no personality."
| | |
| --- | --- |
| If you can help with the cost of the Humor Letter, please donate what you can! | |
Daily tip from Thriftyfun.com Sweet Potato Chocolate Frosting By Donna [384 Posts, 399 Comments] Just two ingredients make a delicious frosting that will get one more vegetable into your family, while tasting absolutely decadent! No butter and no added sugar.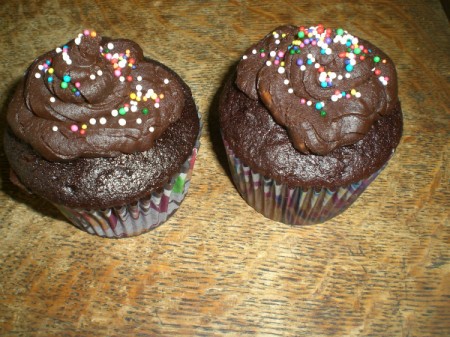 Ingredients: 1 lb sweet potatoes 12 oz milk chocolate chips Prep Time: 5 minutes Cook Time: 10 minutes in the microwave Total Time: 15 minutes Yield: frosting for approximately 8 cupcakes Steps: Place clean sweet potatoes on a plate and cover with another plate. Place in the microwave and cook on high for 5-6 minutes (or according to your microwave instructions.) Check them for softness and microwave at 4 minutes increments until soft and cooked. Mine were done in 10 minutes. Let the sweet potatoes sit a little bit, so you don't burn yourself. Then cut them open and scrape the center out into a small food processor and puree for 1 to 2 minutes. Add the chocolate while the sweet potatoes are still warm to help them melt. If desired while letting the potatoes cool, you could always put the chocolate bits into a covered bowl in the microwave to pre-melt them. I would heat it at 1 minute increments and stop as soon as they are soft, but not losing their shape. Puree the mix together for a minute. That's it! Spread on to cool cupcakes, cake or even fresh strawberries. Serve and enjoy!
| | |
| --- | --- |
| | who doesn't want to hug a teddy bear |
____________________________________________________ Success is... At age 4 success is not peeing in your pants. At age 12 success is having friends. At age 16 success is having a drivers license. At age 20 success is having sex. At age 35 success is having money. At age 50 success is having money. At age 60 success is having sex. At age 70 success is having a drivers license. At age 75 success is having friends. At age 80 success is not peeing in your pants. ___________________________________________________
| | |
| --- | --- |
| | Winners of the National Geographic International Photography Contest for kids. |
Jack decided to go skiing with his buddy, Bob. They loaded up Jack's mini van and headed north. After driving for a few hours,they got caught in a terrible blizzard. They pulled into a nearby farm and asked the attractive lady who answered the door if they could spend the night. "I realize it's terrible weather out there and I have this huge house all to myself, but I'm recently widowed," she explained. "I'm afraid the neighbors will talk if I let you stay in my house." "Don't worry," Jack said. "We'll be happy to sleep in the barn. And if the weather breaks, we'll be gone at first light." The lady agreed, and the two men found their way to the barn and settled in for the night. Come morning, the weather had cleared, and they got on their way. They enjoyed a great weekend of skiing. About nine months later, Jack got an unexpected letter from an attorney. It took him a few minutes to figure it out, but he finally determined that it was from the attorney of that attractive widow he had met on the ski weekend. He dropped in on his friend Bob and asked, "Bob, do you remember that good-looking widow from the farm we stayed at on our ski holiday up North?" "Yes, I do." "Did you happen to get up in the middle of the night, go up to the house and pay her a visit?" "Yes," Bob said, a little embarrassed about being found out. "I have to admit that I did." "And did you happen to use my name instead of telling her your name?" Bob's face turned red and he said, "Yeah, sorry, buddy. I'm afraid I did. Why do you ask?" "She just died and left me everything."
Ophelia Dingbatter's News
No sermon and not suitable for church, just jokes and fun for grownups. Read it on-line or subscribe. If you subscribe, look for the double opt-in confirmation request.

____________________________________________________

Today on February 15
1758 Mustard was advertised for the first time in America. 

1764 The city of St. Louis was established. 

1799 Printed ballots were authorized for use in elections in
the state of Pennsylvania. 

1842 Adhesive postage stamps were used for the first time by
the City Dispatch Post (Office) in New York City. 

1879 U.S. President Hayes signed a bill that allowed female
attorneys to argue cases before the U.S. Supreme Court. 

1898 The USS Maine sank when it exploded in Havana Harbor
for unknown reasons. More than 260 crew members were killed.


1900 The British threaten to use natives in their war with
the Boers. 

1903 Morris and Rose Michtom, Russian immigrants, introduced
the first teddy bear in America. 

1933 U.S. President-elect Franklin Roosevelt escaped an
assination attempt in Miami. Chicago Mayor Anton J. Cermak
was killed in the attack. 

1942 During World War II, Singapore surrendered to the
Japanese. 

1961 A Boeing 707 crashed in Belgium killing 73 people. 

1965 Canada displayed its new red and white maple leaf flag.
The flag was to replace the old Red Ensign standard. 

1982 During a storm, the Ocean Ranger, a drilling rig, sank
off the coast of Newfoundland. 84 men were killed. 

1985 The Center for Disease Control reported that more than
half of all nine-year-olds in the U.S. showed no sign of
tooth decay. 

1989 After nine years of intervention, the Soviet Union
announced that the remainder of its troops had left
Afghanistan. 

1991 The leaders of Czechoslovakia, Hungary and Poland
signed the Visegard agreement, in which they pledged to
cooperate in transforming thier countries to free-market
economies. 

1995 The FBI arrested Kevin Mitnick and charged him with
cracking security in some of the nation's most protected
computers. He served five years in jail. 

2002 U.S. President George W. Bush approved Nevada's Yucca
Mountain as a site for long-term disposal of radioactive
nuclear waste. After a few Billion dollars worth of work had
been done, the Democrats stopped the project.

2017  smiled.


[ view entry ] ( 5 views ) | permalink | print article |
( 2.9 / 945 )
---
<<First
<Back
| 24 | 25 | 26 | 27 | 28 | 29 | 30 | 31 | 32 | 33 |
Next>
Last>>