Good Morning, ,
Today is Thursday, March 2

Hotmail seems to have been down when I sent the Wednesday
issue out. The bounces rattled in like machine gun fire for
a while. Well, Microsoft has been telling people for seven
years that Hotmail is finished, no longer supported, and
that they should get some other email. 

One of these days a routine hotmail malfunction
is going to be the last one, and  they wont fix it again.
This might not be the final malfunction, since outlook.com
had trouble too, but if you have a hotmail.com address, I
would strongly advise that you get yourself a different
address as soon as possible.

There are two ways to deal with that:
1) You can set your hotmail address to automatically forward
to the new address. 
The disadvantage is that spam will follow you there.

2) Put an autoresponder onto the hotmail address to tell
people you have moved to @outlook.com or 
@gmail.com or wherever.

Spammers send from faked addresses and cant read replies or
autoresponders, so they get left behind. 
The disadvantage is that some whiners will whine that they
have to change your address in their address book. 
They will get over it.

Have FUN!
DearWebby

Todays Bonehead Award:
Orange County traffic shooter charged with attempted murder
Details at  Boneheads
______________________________________________________
Today, March 2 in
1836 Texas declared its independence from Mexico and an ad
interim government was formed. 
 
See More of what happened on this day in history.
______________________________________________________

| | |
| --- | --- |
| If you can help with the cost of the Humor Letter, please donate what you can! | |
______________________________________________________ A short saying oft contains much wisdom. --- Sophocles (496 BC - 406 BC) ______________________________________________________ If you like the Humor Letter, please vote!
______________________________________________________ My friend Eric, the manager of a grocery store, nabbed a shoplifter in the act. He was escorting the suspect to the office in the front of the store (near the cash registers), when the shoplifter broke from his grip and tried to run away. After a roundhouse swing that connected with a solid thud, Eric slammed him against the wall pinned him there. When he looked up, he saw a number of surprised and concerned customers staring at him. "Everything's fine, Folks," he reassured them. "This guy just tried to go through the express line with more than ten items. The cops will pick him up as soon as they can get here." I have a hunch those people will count their items VERY carefully in the future. ______________________________________________________
______________________________________________________ >From Carol In 1856, Heinrich Heine, the German poet, left everything to his wife on the condition that she remarried "so that there will be at least one man to regret my death." ______________________________________________________
From FB ______________________________________________________

If you like the Dear Webby Daily Humor Letter, please vote for it at the

Ezine Finder:
Thanks for your votes!

______________________________________________________ Reported by the Bausell Sailor
An INTERNATIONAL BONEHEAD AWARD has been earned by
Jose Tirado, 28, Orange County, Florida Orange County traffic shooter charged with attempted murder Orange County deputies said a passerby helped them get results and arrest a suspect in connection to what they are calling a possible road-rage incident that happened Thursday morning. Deputies arrested Jose Tirado, 28. He is facing several charges, including first-degree attempted murder and possession of a firearm by a convicted felon. The sheriffs office said Tirado shot at another man while driving along Alafaya Trail near Golfway Boulevard. Deputies found bullet holes on the victims car. They said he was not hurt. A passerby saw what happened and wrote down Tirados tag number when he drove off. The passerby called the sheriffs office and gave them the information. They used the tag number to track Tirado down and located him at his home, where they arrested him. The sheriffs office is crediting the passerbys quick actions and for helping them get results. Its unclear if Tirado and the victim knew each other. Deputies havent released any information on a motive. The sheriffs office told News 6 that more details will become available once the report is released. Tirado is booked in the Orange County jail. ______________________________________________________ Tech Support Pits From: Edith Re: Royal Bank review Dear Webby I got an email claiming to be from the Royal Bank, that my account was frozen and required action. It had scary stuff like this: Please click the link below to reset your password. Verify Note: If within 48 hours access to members area will not be changed, we will be forced to suspend Your account for a long time for the proceedings. That sounded a bit hopey to me. Looking at the source with Eudora, I saw: From: "Royal Bank RBC" And the Verify link went to http://rb01-auth.review/ Was that legit or phony? Edith Dear Edith That is as phony as a $3 bill. Anything with a domain name ending in .review is phony. The REAL Royal bank is at rbc.com. Just like Webby.com, they got a real .com domain. That part "suspend Your account for a long time for the proceedings" is actually quite funny and sounds like it was written by a Nigerian, definitely not the authoritative style used by the Royal Bank. Don't click on that link, not even to fill out the forms with your mayor's name and address. Clicking on it might call a virus into your machine. Just dump that email, and dump the trash. Have FUN! DearWebby
and a friend were walking through the woods with a large Salmon under each arm when they met Michael and Donald. "Hey there's some wonderful salmon, where did you get them?" "Don't tell anyone," replied , we poached them out of the river." "How did you do that?" asked Donal "Well, Fred here dangles over the bridge, I hang on to his legs and when the salmon leap out of the water on their way upstream, he just catches them." "We'll try that Michael me boy." says Donald They get to the bridge and Donald hangs Michael over the edge of the bridge by his legs. After about twenty minutes Michael screams... "Quick pull me up, pull me up!" "Have you got a salmon?" asks Donal, "No," replies Michael "but there's a train coming."
| | |
| --- | --- |
| If you can help with the cost of the Humor Letter, please donate what you can! | |
Daily tip from Thriftyfun.com Orecchiette with Cherry Tomatoes By 15mhhm15 [20 Posts, 4 Comments] Prep Time: 5 Cook Time: 10 Ingredients: 1/2 lb orecchiette pasta 2 Tbsp olive oil 1 Package cherry tomatoes 5 Tbsp basil pesto 5 Pieces Babybel mozzarella cheese Steps: Boil water in a pot, add a pinch of salt so the water boils faster and evenly. Add pasta and cook for 6 to 9 minutes or when pasta is ready. Drain the water and set pasta aside. Get a pan and drizzle the olive oil on the pan to sauté cherry tomatoes. Add pasta, basil pesto and stir around for a minute. Once off the heat, add mozzarella of your choice and its ready to serve. You can garnish with fresh basil, or black pepper on top if you would like.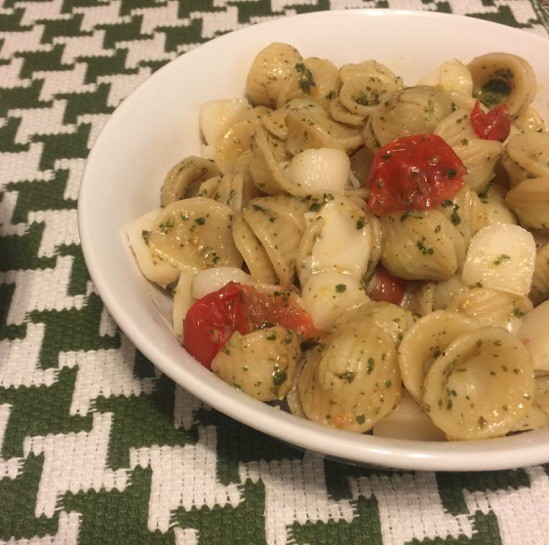 If you buy your pasta in bulk, orechiette is called "Small Shells". I usually sautee some chopped onions and bacon instead of the cherry tomatoes, and add ice cold, halved cherry tomatoes onto the top. Makes a nice taste contrast! Instead of basil pesto you can use parsley or cilantro, or for a nice change, oregano. Type of cheese is not critical at all. When I was a kid we used to get Emmental cheese with a hard rind. Dad used to cut the rind off and put it into a mason jar. Mom ground those rinds and that was the cheese added to pasta dishes like this one. Have FUN! DearWebby
| | |
| --- | --- |
| | Cricket Chorus |
____________________________________________________ Dentist to Patient: (begging) " Would you help me? Could you give out a few of your loudest, most painful screams?" Patient: Why? Doc, it isn't all that bad this time. Dentist: There are so many people in the waiting room right now and I don't want to miss the 5 o'clock football game. ___________________________________________________
| | |
| --- | --- |
| | 50 Rare Photos from History You've Likely Never Seen Before |
Two Irishmen were sitting at a pub having beer and watching the brothel across the street. They saw a Baptist minister walk into the brothel, and one of them said, "Aye, 'tis a shame to see a man of the cloth goin' bad." Then they saw a rabbi enter the brothel, and the other Irishman said, "Aye, 'tis a shame to see that the Jews are fallin' victim to temptation as well." Then they see a catholic priest enter the brothel, and one of the Irishmen said, "What a terrible pity...one of the girls must be dying. Let's pray fer her!"
Ophelia Dingbatter's News
No sermon and not suitable for church, just jokes and fun for grownups. Read it on-line or subscribe. If you subscribe, look for the double opt-in confirmation request.

____________________________________________________

Today on March 2

1807 The U.S. Congress passed an act to "prohibit the
importation of slaves into any port or place within the
jurisdiction of the United States... from any foreign
kingdom, place, or country." 

1836 Texas declared its independence from Mexico and an ad
interim government was formed. 

1861 The U.S. Congress created the Territory of Nevada. 

1866 Excelsior Needle Company began making sewing machine
needles. 

1877 In the U.S., Rutherford B. Hayes was declared the
winner of the 1876 presidential election by the U.S.
Congress. Samuel J. Tilden, however, had won the popular
vote on November 7, 1876. 

1897 U.S. President Cleveland vetoed legislation that would
have required a literacy test for immigrants entering the
country. 

1899 Mount Rainier National Park in Washington was
established by the U.S. Congress. 

1899 U.S. President McKinley signed a measure that created
the rank of Admiral for the U.S. Navy. The first admiral was
George Dewey. 

1900 The U.S. Congress voted to give $2 million in aid to
Puerto Rico. 

1901 The first telegraph company in Hawaii opened. 

1901 The U.S. Congress passed the Platt amendment, which
limited Cuban autonomy as a condition for withdrawal of U.S.
troops. 

1903 The Martha Washington Hotel opened for business in New
York City. The hotel had 416 rooms and was the first hotel
exclusively for women. 

1906 A tornado in Mississippi killed 33 and did $5 million
in damage. 

1907 In Hamburg, Germany, dock workers went on strike after
the end of the night shift. British strike breakers were
brought in. The issue was settled on April 22, 1907. 

1908 In New York, the Committee of the Russian Republican
Administration was founded. 

1908 In Paris, Gabriel Lippmann introduced three-dimensional
color photography at the Academy of Sciences. 

1917 The Russian Revolution began with Czar Nicholas II
abdicating. 

1917 Citizens of Puerto Rico were granted U.S. citizenship
with the enactment of the Jones Act. 

1925 State and federal highway officials developed a
nationwide route-numbering system and adopted the familiar
U.S. shield-shaped, numbered marker. 

1929 The U.S. Court of Customs & Patent Appeals was created
by the U.S. Congress. 

1933 The motion picture King Kong had its world premiere in
New York. 

1939 The Massachusetts legislature voted to ratify the Bill
of Rights to the U.S. Constitution. These first ten
amendments had gone into effect 147 years before. 

1946 Ho Chi Minh was elected President of Vietnam. 

1949 The B-50 Superfortress Lucky Lady II landed in Fort
Worth, TX. The American plane had completed the first non-
stop around-the-world flight. 

1969 In Toulouse, France, the supersonic transport Concorde
made its first test flight. 

1984 The first McDonald's franchise was closed. A new
location was opened across the street from the old location
in Des Plaines, IL. 

1985 The U.S. government approved a screening test for AIDS
that detected antibodies to the virus that allowed possibly
contaminated blood to be kept out of the blood supply. 

1986 Corazon Aquino was sworn into office as president of
the Philippines. Her first public declaration was to restore
the civil rights of the citizens of her country. 

1987 The U.S. government reported that the median price for
a new home had gone over $100,000 for the first time. 

1989 Representatives from the 12 European Community nations
all agreed to ban all production of CFCs
(chlorofluorocarbons) by the end of the 20th century. 

1995 Russian anti-corruption journalist Vladislav Listyev
was killed by a gunman in Moscow. 

1995 Nick Leeson was arrested for his role in the collapse
of Britain's Barings Bank. 

1998 The U.N. Security Council endorsed U.N. chief Kofi
Annan's deal to open Iraq's presidential palaces to arms
inspectors. 

1998 Images from the American spacecraft Galileo indicated
that the Jupiter moon Europa has a liquid ocean and a source
of interior heat. 

2000 In Great Britain, Chile's former President Augusto
Pinochet Ugarte was freed from house arrest and allowed to
return to Chile. Britain's Home Secretary Jack Straw had
concluded that Pinochet was mentally and physically unable
to stand trial. Belgium, France, Spain and Switzerland had
sought the former Chilean leader on human-rights violations.


2003 Over the Sea of Japan, there was a confrontation
between four armed North Korean fighter jets and a U.S. RC-
135S Cobra Ball. No shots were fired in the encounter in
international airspace about 150 miles off North Korea's
coast. The U.S. Air Force announced that it would resume
reconnaissance flights on March 12. 

2004 NASA announced that the Mars rover Opportunity had
discovered evidence that water had existed on Mars in the
past. 

2011 Steve Jobs unveiled Apple's iPad 2.

2017  smiled.


[ view entry ] ( 9 views ) | permalink | print article |
( 3 / 266 )
---
<<First
<Back
| 24 | 25 | 26 | 27 | 28 | 29 | 30 | 31 | 32 | 33 |
Next>
Last>>