Good Morning, ,
Today is Tuesday, March 7

Have FUN!
DearWebby

Todays Bonehead Award:
Singapore teen jumps to his death in reported snapchat stunt
by hopping over a glass barrier and through a decoration
down 4 floors.
Details at  Boneheads
______________________________________________________
Today, March 7 in
1908 Cincinnati's Mayor Leopold Markbreit announced before
the city council that, "Women are not physically fit to
operate automobiles."  
 
See More of what happened on this day in history.
______________________________________________________

| | |
| --- | --- |
| If you can help with the cost of the Humor Letter, please donate what you can! | |
______________________________________________________ Good teaching is one-fourth preparation and three-fourths theater. --- Gail Godwin An honest politician is one who, when he is bought, will stay bought. --- Simon Cameron ------------ That is why you just lease them nowadays. ______________________________________________________ If you like the Humor Letter, please vote!
______________________________________________________ A company, feeling it was time for a shake-up, hires a new CEO. This new boss is determined to rid the company of all slackers. On a tour of the facilities, the CEO notices a guy leaning on a wall. The room is full of workers and he thinks this is his chance to show everyone he means business! The CEO walks up the guy and asks, "And how much money do you make a week?" Unflinching, the young fellow looks at him and replies, "I make $300.00 a week. Why?" The CEO then hands the guy $300 in cash and screams, "Here's a week's pay; now GET OUT and don't come back!" Feeling pretty good about his first firing, the CEO looks around the room and asks, "Does anyone want to tell me what that slacker did here?" Just then the foreman comes into the room with his wallet in his hand. He looks around and says, "Hey! Did the pizza delivery guy leave without his tip ?" ______________________________________________________
______________________________________________________ Thanks to Vi for this story. George, age 92, and Edith, age 89, had been seeing each other for 2 years when they decided that life was too short and they might as well be together for the rest of their lives. Excited about their decision to become newlyweds, they went for a stroll to discuss the wedding and what plans need to be made. Along their way, they found themselves in front of a drugstore. George said to his bride-to-be, "Let's go in. I have an idea." They walked to the rear of the store and addressed the man behind the counter: "Are you the owner?" asked George. The pharmacist answered, "Yes sir, I am. How can I help you?" George: "Do you sell heart medications?" Pharmacist: "Of course we do." George: "How about support hose for circulation?" Pharmacist: "Definitely." George: "What about medications for rheumatism, osteoporosis & arthritis?" Pharmacist: "All kinds." George: "How about waterproof furniture pads and Depends?" Pharmacist: "Yes sir." George: "Hearing aids, denture supplies & reading glasses?" Pharmacist: "Yes." George: "What about eye drops, sleeping pills, Geritol, Preparation-H and ExLax?" Pharmacist: "Absolutely." George: "You sell wheelchairs, walkers, and canes?" Pharmacist: "All kinds and sizes. Why all these questions?" George smiled, glanced shyly at Edith and replied to the pharmacist, "We've decided to get married and we'd like to use your store as our Bridal Registry." -------- Good idea to avoid the usual 27 toasters and 11 toaster ovens from the Flea Market. Unless you craft a personal gift, the best idea is a coupon for a fixed amount payment to be put onto their credit cards. Dont give cash in envelopes if more than 5 guests are expected. ______________________________________________________
______________________________________________________

If you like the Dear Webby Daily Humor Letter, please vote for it at the

Ezine Finder:
Thanks for your votes!

______________________________________________________
An INTERNATIONAL BONEHEAD AWARD AND a Darwin Award has been earned by
Jonathan Chow, 17, Singapore Singapore teen jumps to his death in reported snapchat stunt by hopping over a glass barrier and through a decoration down 4 floors. He thought he was jumping onto a concrete ledge, his friend says. One teen reportedly leapt to his death in Singapore after attempting a Snapchat stunt that went tragically wrong. Jonathan Chow, 17, jumped over a barrier and fell four floors at Singapore's Orchard Central mall Friday, The Straits Times reported. Footage leaked from the mall's closed-circuit television, which made its rounds on the internet Tuesday, appears to show Chow and a girl standing next to a railing in the mall. Chow jumps over the railing while the girl raises her arm, as if she's recording the jump with a phone. Then she appears to panic and peers over the railing. Orchard Central confirmed the authenticity of the 15-second video to The Straits Times. A girl who identified herself only as Ruth to local media said she was there when Chow jumped. Ruth said she and Chow were shopping at the mall and "when we went to the bridge, he came up with the idea of doing the stunt," she told Today Online, a Singapore news website, during Chow's wake. Ruth explained that there was a ledge past the railing that appeared to be concrete. They were both supposed to leap onto the ledge and record each other. "We both thought the ledge was concrete, but when he jumped, he fell straight through," Ruth told Today Online. The ledge was made of a decorative plasterboard casing and was not meant to bear weight, The Straits Times reported. According to Ruth, Chow's last words were, "Help me take a Snapchat video and I'll jump." Far East Organization, the retail business that owns Orchard Central, said in a statement that the glass railing along the bridge is 1.2 meters (3.9 feet), "acts as a safety barrier" for the public and "prohibits access to the plasterboard box-up," according to Today Online. Chow's father, however, called for more safety measures at Orchard Central. "The [decorative structure] was wide enough to look like a passageway, and there was no warning sign to tell people that it should not be walked on," Matthew Chow told The Straits Times. "We don't want other families to go through what we went through." ______________________________________________________ Tech Support Pits From: Randal Re: Driver Update PopUp Dear Webby Hope this finds you in good spirits and your eyes in good condition. My questions for you this morning is about free drivers updates? Every morning i get hit with a screen saying my drivers need to be updated and when i went thru all of the screens i got to a credit card screen well i just kindly back my way out of there. My question is there a free driver update service? any knowledge on this subject would be greatly appreciated... Have a great week... Randy Dear Randy Your computer is infected. You don't need drivers, you need Malwarebytes and clean that infection out of your machine. Drivers are totally free. You simply go to the company site of whatever driver you need, for example the printer manufacturer, click on Drivers, Download. They are all totally free. Many devices do that automatically, when you connect them the first time. What you get bugged with is some crooks, who want your credit card data. Get rid of them! Have FUN! DearWebby
Here is a classic that came back via Jolly: It was Palm Sunday, and the mother's 3 year old son had to stay home from church because of strep throat. When the rest of the family returned home carrying palm branches, the little boy asked what they were for. His mother explained, "People held them over Jesus' head as he walked by." "Wouldn't you know it," the boy fumed. "The one Sunday I don't go, and Jesus shows up!"
| | |
| --- | --- |
| If you can help with the cost of the Humor Letter, please donate what you can! | |
Daily tip from Thriftyfun.com Toilet Paper Tube Seedling Pots A great way to recycle toilet paper tubes is to use them as containers to start vegetable and flower seeds for garden plants. This is a guide about toilet paper tube seedling pots.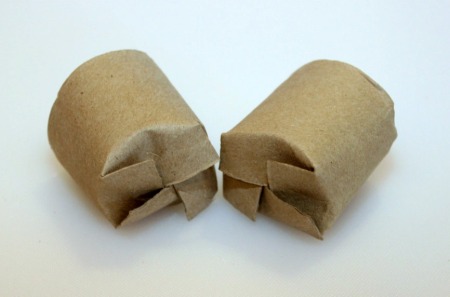 Supplies: toilet paper tubes scissors Steps: Cut the TP tube in half. Then make 4 cuts that are approx. 1/2 in., creating 4 flaps of equal size. Fold one flap inward, then working clockwise, fold the other flaps down. Tuck the corner of the last flap under the corner of the first flap. (Like when you are closing a cardboard box.) Turn them over and gently press them down on a flat surface so make the bottoms flat, so that they will stay upright. Turn them over, fill with soil, and plant your seeds. Once the seeds have sprouted and are ready to go into the ground, just plant them with the pot. The cardboard will disintegrate in the soil.
| | |
| --- | --- |
| | car curling |
____________________________________________________ A chemistry teacher wanted to teach his 5th grade class a lesson about the evils of liquor, so he produced an experiment that involved a glass of water, a glass of whiskey and two worms. "Now, class. Observe the worms closely," said the teacher putting a worm first into the water. The worm in the water writhed about, happy as a worm in water could be. The second worm, he put into the whiskey. It writhed painfully, and quickly sank to the bottom, dead as a door nail. "Now, what lesson can we derive from this experiment?" the teacher asked. , who naturally sat at the back, raised a hand and wisely, responded, "Drink whiskey and you won't get worms." ___________________________________________________
| | |
| --- | --- |
| | Beautiful bouquets made from old silverware. It was hard for me to pick a favorite. |
There was this guy in a mental hospital. All day long he had his ear to the wall, listening. The Dr. Cohen would watch this guy do this day after day. The doctor finally decided to see what the guy was listening to, so he put his ear up to the wall and listened. He heard nothing. He turned to the mental patient and said, "I don't hear anything." The mental patient said, "Yeah doc, I know. It's been like that for months."
Ophelia Dingbatter's News
No sermon and not suitable for church, just jokes and fun for grownups. Read it on-line or subscribe. If you subscribe, look for the double opt-in confirmation request.

____________________________________________________

Today on March 7
0322 BC Aristotle, the Greek philosopher, died. 

1774 The British closed the port of Boston to all commerce. 

1799 In Palestine, Napoleon captured Jaffa and his men
massacred more than 2,000 Albanian prisoners. 

1848 In Hawaii, the Great Mahele was signed. 

1849 The Austrian Reichstag was dissolved. 

1854 Charles Miller received a patent for the sewing
machine. 

1876 Alexander Graham Bell received a patent (U.S. Patent
No. 174,465) for his telephone. 

1901 It was announced that blacks had been found enslaved in
parts of South Carolina. 

1904 The Japanese bombed the Russian town of Vladivostok. 

1904 In Springfield, OH, a mob broke into a jail and shot a
black man accused of murder. 

1906 Finland granted women the right to vote. 

1908 Cincinnati's Mayor Leopold Markbreit announced before
the city council that, "Women are not physically fit to
operate automobiles." 

1911 Willis Farnworth patented the coin-operated locker. 

1911 In the wake of the Mexican Revolution, the U.S. sent
20,000 troops to the border of Mexico. 

1918 Finland signed an alliance treaty with Germany to get
Germany to protect them from Russia. 

1925 The Soviet Red Army occupied Outer Mongolia. 

1927 A Texas law that banned Negroes from voting was ruled
unconstitutional by the U.S. Supreme Court. 

1933 The board game Monopoly was invented. 

1935 Malcolm Campbell set an auto speed record of 276.8 mph
in Florida. 

1936 Hitler sent German troops into the German Rhineland in
violation of the Locarno Pact and the Treaty of Versailles. 
The German Rhineland had been given to France after WWI.

1942 Japanese troops landed on New Guinea. 

1945 At the end of World War II, U.S. forces crossed the
Rhine River at Remagen, Germany after bombing the area back
into the stone age. 

1947 John L. Lewis declared that only a totalitarian regime
could prevent strikes. 

1951 U.N. forces in Korea under General Matthew Ridgeway
launched Operation Ripper against the Chinese. 

1954 Russia appeared for the first time in ice-hockey
competition. Russia defeated Canada 7-2 to win the world
ice-hockey title in Stockholm, Sweden. 

1955 Baseball commissioner Ford Frick said that he was in
favor of legalizing the spitball. 

1959 Melvin C. Garlow became the first pilot to fly over a
million miles in jet airplanes. 

1965 State troopers and a sheriff's posse broke up a march
by civil rights demonstrators in Selma, AL. 

1968 The Battle of Saigon came to an end. 

1971 A thousand U.S. planes bombed Cambodia and Laos. 

1975 The U.S. Senate revised the filibuster rule. The new
rule allowed 60 senators to limit debate instead of the
previous two-thirds. 

1981 Anti-government guerrillas in Colombia executed the
kidnapped American Bible translator Chester Allen Bitterman.
The guerrillas accused Bitterman of being a CIA agent. 

1985 The first AIDS antibody test, an ELISA-type test, was
released. 

1987 Mike Tyson became the youngest heavyweight titleholder
when he beat James Smith in a decision during a 12-round
fight in Las Vegas, NV. 

1989 Poland accused the Soviet Union of a World War II
massacre in Katyn. The Russians had accused the Germans but
had to admit it in the face of evidence. They had rounded up
all Polish officers, University and college graduates and
executed them in the Katyn forest.
Eventually they built a memorial for them and invited all
kinds of Polish politicians and intelligentsia to attend the
grand dedication of the memorial. That plane nysteriously
crashed, killing all aboard.

1994 The U.S. Supreme Court ruled that parodies that poke
fun at an original work can be considered "fair use" that
does not require permission from the copyright holder. 

1994 In Moldova, a referendum was rejected by 90% of voters
to form a union with Rumania. 

1999 In El Salvador, Francisco Flores Pérez of the ruling
Nationalist Republican Alliance (Arena) was elected
president. 

2002 A federal judge awarded Anna Nicole Smith more than $88
million in damages. The ruling was the latest in a legal
battle over the estate of Smith's late husband, J. Howard
Marshall II. Her lawyers got most of that.

2003 Scientists at the Stanford Linear Accelerator Center
announced that they had transferred 6.7 gigabytes of
uncompressed data from Sunnvale, CA, to Amsterdam,
Netherlands, in 58 seconds. The data was sent via fiber-
optic cables and traveled 6,800 miles. 

2009 NASA's Kepler Mission, a space photometer for searching
for extrasolar planets in the Milky Way galaxy, was launched
from Cape Canaveral Air Force Station, Florida. 

2017  smiled.


[ view entry ] ( 9 views ) | permalink | print article |
( 2.9 / 801 )
---
<<First
<Back
| 23 | 24 | 25 | 26 | 27 | 28 | 29 | 30 | 31 | 32 |
Next>
Last>>