Good Morning, ,
Today is Saturday, March 11

Have FUN!
DearWebby

Todays Bonehead Award:
Iowa bank robbery ends in brief chase, crash, arrest.
Details at  Boneheads
______________________________________________________
Today, March 10 in
537 The Goths began their siege on Rome. 
 
See More of what happened on this day in history.
______________________________________________________

| | |
| --- | --- |
| If you can help with the cost of the Humor Letter, please donate what you can! | |
______________________________________________________ Here's a rule I recommend: Never practice two vices at once. --- Tallulah Bankhead (1903 - 1968) ______________________________________________________ If you like the Humor Letter, please vote!
______________________________________________________ >From Pat Our five-year-old son went to a church conference with my wife and me. He got restless, so my wife handed him a pad and pencil and suggested he mark down every time the speaker said the word "and." After a while, he grew bored, and I asked, "Would you like to listen for a different word?" "Yes," he whispered. "I'd like to listen for 'Amen'." ______________________________________________________
______________________________________________________ Thanks to Raccoon for this story: Jane and Gina and Mona died and found themselves standing before St. Peter. He told them that before they could enter the Kingdom, they had to tell him what Easter was. Jane said, "Easter is a holiday where they have a big feast and we give thanks and eat turkey." St. Peter said, "Noooooo," and he turned her away. Gina said, "Easter is when we celebrate Jesus' birth and exchange gifts." St. Peter said, "Noooooo," and he turned her away. Mona said she knew what Easter is, and St. Peter said, "OK, tell me." She said, "Easter is a Christian holiday that coincides with the Jewish festival of Passover. Jesus was having Passover feast with His disciples when he was betrayed by Judas, and the Romans arrested him. The Romans hung Him on the cross and eventually He died. Then they buried Him in a tomb behind a very large boulder..." St. Peter said, "Verrrrrry good!" Mona continued, "Now every year the Jews roll away the boulder and Jesus comes out. If he sees his shadow, we have six more weeks of basketball." ______________________________________________________
______________________________________________________

If you like the Dear Webby Daily Humor Letter, please vote for it at the

Ezine Finder:
Thanks for your votes!

______________________________________________________
An INTERNATIONAL BONEHEAD AWARD has been earned by
Dante Rhodes, 40, of Dubuque Iowa Iowa bank robbery ends in brief chase, crash, arrest. A bank robbery in Maquoketa led to a car chase and crash on Wednesday, March 8. Dante Rhodes, 40, of Dubuque, was arrested following the crash. Maquoketa police say they received a call about a robbery around 1:45 p.m. from Fidelity Bank on Highway 64. A teller says the man handed her a note and implied that he had a gun, but did not show one. Rhodes was able to flee with an undisclosed amount of cash and took off in a vehicle. Dubuque police identified Rhodes' vehicle, but he did not pull over. Dubuque police say he lost control at the intersection of Highways 61 and 52S, where he sideswiped a stopped vehicle. Rhodes continued on and eventually struck an unmarked patrol car head-on. Rhodes tried to flee on foot but was Tasered and arrested. He was treated and released from an area hospital. The driver of the cars he struck were also treated and released. Evidence was found in the vehicle linking Rhodes to the bank robbery, says police. A whole bunch of different charges will be announced next week. ______________________________________________________ Tech Support Pits From: Lee Re: Large Font mail Dear Webby My grandkids were just here for a week during spring break. Not only did their departure leave me with lots of chores to catch up on but also left my computer emails using large print. I'm sure it was a joke about how old they think their Grammy is, but I really don't like it and I don't know how to change it back. Of course none of them took credit for this little prank so they obviously can't blow their cover by telling me how to return it to normal. I even asked the BIG isp, but of course they haven't had time to get back to me ??? Can you help? Thanx, Lee Dear Lee I haven't got a clue about how things are done at AOL. Up here with Eudora, I would click TOOLS, OPTIONS, FONTS and select medium or small fonts. Maybe somebody from AOL can send the instructions on how to do it there, and I'll print them here tomorrow. Have FUN! DearWebby
Thanks to Hope for this story: A Southern Baptist minister was completing a temperance sermon. With great emphasis he said, "If I had all the beer in the world, I'd take it and pour it into the river." With even greater emphasis he yelled, "And if I had all the wine in the world, I'd take it and pour it into the river." And then finally, shaking his fist in the air, he hollered, "And if I had all the whiskey in the world, I'd take it all and pour it into the river. AMEN! " With the sermon complete, he sat down. The choir leader stood very cautiously and announced with a smile, nearly laughing, "For our closhing sschong, let usch be schinging Hymn #365, "Shall We Gather at the River?"
| | |
| --- | --- |
| If you can help with the cost of the Humor Letter, please donate what you can! | |
Daily tip from Thriftyfun.com Crescent Pizza Rolls By tiffanytallent1981 [62 Posts, 29 Comments] I think it is safe to bet that almost everyone loves pizza! And if you are looking for a great tasting variation, these rolls are the perfect choice. They make fabulous appetizers for events, parties, and reunions. I actually prepare one package and split them between dinner one night, and lunch the next day. They are just as good reheated in the microwave, so nothing has to be wasted if there are leftovers. Prep Time: 10 Cook Time: 10-12 minutes Total Time: 20-25 minutes Yield: 8 Source: Pinterest Ingredients: 1 pkg. crescent rolls 24 pieces pepperoni 4 mozzarella string cheese sticks Marinara, ranch, or other dipping sauce 1 sprinkle garlic powder 1/8 cup grated Parmesan cheese cooking spray (for some pans) Steps: Cut string cheese sticks in half. Lay out the crescent roll triangles. Add 3-4 slices of pepperoni to each triangle, slightly overlapping. Place them along the base of the triangle, going toward the middle. Add a cheese stick half on top of each set of pepperoni Preheat oven to 350-375 degrees F. You will bake them at the temperature given in the crescent roll directions. Every oven is different and mine works better at 350 F. Use cooking spray if you feel it is needed. I actually did not have any with this current batch. The rolls still practically slid off of my pan! Fold the crescent corners around the pepperonis and cheese sticks, leaving no holes. If you have any holes, the cheese will melt out and burn on the pan. Sprinkle garlic powder on top of the rolls. Place in the oven for 5-8 minutes. The darker you want the bottoms of the rolls, the longer you leave them in the oven. Take them out and flip each roll over. Place back in the oven for 4-6 minutes. The time depends on how dark you want them. I try to leave mine for 6 minutes the first time and 3-4 minutes after they have been flipped. Take them out of the oven and sprinkle the Parmesan cheese on top. Serve with your choice of dipping sauce.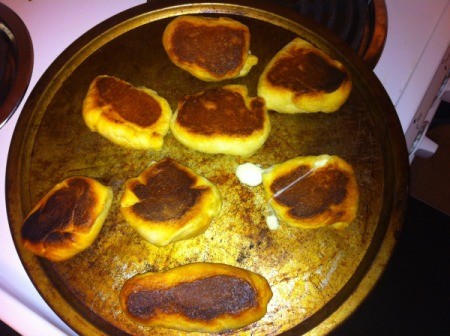 If you prefer traditional Pizza Pockets, turn up a quarter inch along the edge of the dough, smear Pizza sauce or Marinara Spaghetti sauce onto the dough, toss small cubed ham, onion, salami, pepperoni, mushrooms, pineapple, whatever you want, except chocolate, onto the triangle. Top with shredded cheese. Squirt or drizzle some more of the sauce, cover with slices of tomato. Bake it for 10 minutes. If you want it to be fast filling, cover it with a dough triangle and smear pizza sauce on top of that and sprinkle some Mozzarella on top of that. Whatever you do, do NOT forget the Pizza sauce (or spaghetti sauce). It's the baked pizza sauce that gives it the expected pizza smell and flavor, not the dough. Have FUN! DearWebby
| | |
| --- | --- |
| | What Room Does Fear Have? |
____________________________________________________ "Hey you! Pull over!" shouted the traffic cop. Karin complied, and he wrote her a $45 ticket. She went home in great anxiety lest her husband, who always examined her chequebook, should learn of the incident. Then inspiration struck and she marked the check stub, "One pullover, $25." ___________________________________________________
| | |
| --- | --- |
| | Down a secret rabbit hole. |
A cantor, the man who sings the prayers at a synagogue, brags before his congregation in a booming, bellowing voice, "two years ago I insured my voice with Lloyds of London for $750,000." There is a hushed and awed silence in the crowded room. Suddenly, from the back of the room, the quiet, nasal voice of an elderly woman is heard, "So vat did you do with the money?"
Ophelia Dingbatter's News
No sermon and not suitable for church, just jokes and fun for grownups. Read it on-line or subscribe. If you subscribe, look for the double opt-in confirmation request.

____________________________________________________

Today on March 11
537 The Goths began their siege on Rome. 

1302 The characters Romeo and Juliet were married this day
according to William Shakespeare. 

1649 The peace of Rueil was signed between the Frondeurs
(rebels) and the French government. 

1665 A new legal code was approved for the Dutch and English
towns, guaranteeing religious observances unhindered. 

1791 Samuel Mulliken became the first person to receive more
than one patent from the U.S. Patent Office. 

1810 The Emperor Napoleon Bonaparte was married by proxy to
Archduchess Marie Louise of Austria. 

1824 The U.S. War Department created the Bureau of Indian
Affairs. Seneca Indian Ely Parker became the first Indian to
lead the Bureau. 

1845 Seven hundred Maoris led by their chief, Hone-Heke,
burned the small town of Kororareka. The act was in protest
to the settlement of Maoriland by Europeans, which was a
breach of the 1840 Treaty of Waitangi. 

1861 A Confederate Convention was held in Montgomery,
Alabama, where a new constitution was adopted. 

1865 Union General William Sherman and his forces occupied
Fayetteville, NC. 

1867 In Hawaii, the volcano Great Mauna Loa erupted. 

1888 The "Blizzard of '88" began along the U.S. Atlantic
Seaboard shutting down communication and transportation
lines. More than 400 people died.(March 11-14) 

1900 British Prime Minister Lord Salisbury rejected the
peace overtures offered from the Boer leader Paul Kruger. 

1901 Britain rejected an amended treaty to the canal
agreement with Nicaragua. 

1901 U.S. Steel was formed when industrialist J.P. Morgan
purchased Carnegie Steep Corp. The event made Andrew
Carnegie the world's richest man. 

1904 After 30 years of drilling, the north tunnel under the
Hudson River was holed through. The link was between Jersey
City, NJ, and New York, NY. 

1905 The Parisian subway was officially inaugurated. 

1907 U.S. President Theodore Roosevelt induced California to
revoke its anti-Japanese legislation. 

1907 In Bulgaria, Premier Nicolas Petkov was killed by an
anarchist. 

1935 The German Air Force became an official department of
the Reich. 

1941 U.S. President Franklin D. Roosevelt authorized the
Lend-Lease Act, which authorized the act of providing war
supplies to the Allies. 

1946 Communists and Nationalists began fighting as the
Soviets pulled out of Mukden, Manchuria. 

1946 Pravda exposed Winston Churchill as anti-Soviet and a
warmonger. 

1964 U.S. Senator Carl Hayden broke the record for
continuous service in the U.S. Senate. He had worked 37
years and seven days. 

1965 The American navy began inspecting Vietnamese junks in
an effort to end arms smuggling to the South. 

1969 Levi-Strauss started selling bell-bottomed jeans. 

1978 Bobby Hull (Winnipeg Jets) joined Gordie Howe by
getting his 1,000th career goal. 

1985 Mikhail Gorbachev was named the new chairman of the
Soviet Communist Party. 

1986 Popsicle announced its plan to end the traditional
twin-stick frozen treat for a one-stick model. 

1988 A cease-fire was declared in the war between Iran and
Iraq. 

1990 Lithuania declared its independence from the Soviet
Union. It was the first Soviet republic to break away from
Communist control. 

1990 In Chile, Patricio Aylwin was sworn in as the first
democratically elected president since 1973. 

1992 Former U.S. President Nixon said that the Bush
administration was not giving enough economic aid to Russia.


1993 North Korea withdrew from the Nuclear Non-Proliferation
Treaty refusing to open sites for inspection. 

1994 In Chile, Eduardo Frei was sworn in as President. It
was the first peaceful transfer of power in Chile since
1970. 

1997 An explosion at a nuclear waste reprocessing plant
caused 35 workers to be exposed to low levels of
radioactivity. The incident was the worst in Japan's
history. 

2002 Two columns of light were pointed skyward from ground
zero in New York as a temporary memorial to the victims of
the terrorist attacks of September 11, 2001. 

2017  smiled.


[ view entry ] ( 7 views ) | permalink | print article |
( 3 / 569 )
---
<<First
<Back
| 23 | 24 | 25 | 26 | 27 | 28 | 29 | 30 | 31 | 32 |
Next>
Last>>