Good Morning, ,
Today is Wednesday, March 22

Have FUN!
DearWebby

Todays Bonehead Award:
Nashville teens arrested for shooting at pizza shop
Details at  Boneheads
______________________________________________________
Today, March 22 in
1903 Niagara Falls ran out of water due to a drought. 

 
See More of what happened on this day in history.
______________________________________________________

| | |
| --- | --- |
| If you can help with the cost of the Humor Letter, please donate what you can! | |
______________________________________________________ Everyone is as God has made him, and oftentimes a great deal worse. --- Miguel de Cervantes If you would be a real seeker after truth, it is necessary that at least once in your life you doubt, as far as possible, all things. --- Rene Descartes ______________________________________________________ If you like the Humor Letter, please vote!
______________________________________________________ A young boy of four was going into hospital to have his tonsils removed. He told his playmate I'll be gone for awhile I have to have surgery. On the day he was admitted his mother asked if the doctor would please circumcise the boy, since he's already going to be under anaesthesia. The boy woke up and was very sore "down there" there for several days. About a week later he got to see his playmate again. The playmate informed him that he, too, was also going to have to have his tonsils out. He asked the boy to tell him about the surgery. The little boy replied, "All I can tell you is your tonsils ain't where you think they are." ______________________________________________________
______________________________________________________ As I left the supermarket, I noticed two little kids, maybe six or seven years old, selling candy bars in front of the store to raise money for their school band. "I'll buy a chocolate bar on one condition," I said to one of the boys. "That you eat it for me." As I handed him back the candy bar, he shook his head. "I can't," he said. "Why not?" Looking me in the eye, he responded gravely, "Because I'm not supposed to take candy from strangers." ______________________________________________________
From FB ______________________________________________________

If you like the Dear Webby Daily Humor Letter, please vote for it at the

Ezine Finder:
Thanks for your votes!

______________________________________________________
An INTERNATIONAL BONEHEAD AWARD has been earned by
juan Bowers, 18, Tynerick Turner, 17, and a 16-year-old boy Nashville, Tennessee Nashville teens arrested for shooting at pizza shop A trio of Tennessee teenagers opened fire on a Nashville food market after a clerk gave them a pizza with the wrong toppings, according to police who arrested the gunmen on an assortment of felony charges. The shooting Tuesday afternoon at the DB Todd market was witnessed by an undercover detective who was conducting surveillance in the area. The suspects left the scene in a stolen Honda Accord, which the detective tailed as he summoned backup officers. Police subsequently arrested Djuan Bowers, 18, Tynerick Turner, 17, and a 16-year-old boy. According to court records, Bowers was carrying a loaded Smith & Wesson pistol when apprehended, while two other handguns--a stolen .45 caliber Glock and a .40 caliber Beretta--were found inside the vehicle. While being interviewed by officers, one of the defendants revealed that the market was fired upon due to a botched pizza order, police say. Nobody was injured by the gunfire. The teenagers are facing multiple counts of aggravated assault, weapons possession, and auto theft. Since his alleged accomplices are underage, Bowers was also charged with contributing to the delinquency of a minor, a misdemeanor. Bowers (seen above left) and Turner were also charged with the gunpoint robbery last month of a man who turned over $900 during the stick-up. Bowers is being held in the Davidson County jail in lieu of $50,000. Turner and the 16-year-old defendant have been charged in juvenile court. ______________________________________________________ Tech Support Pits From: Susan Re: Keyboard stickers Dear Webby I was overjoyed to find Arabic/English and Farsi/English stickers for my desktop and laptop keyboards because I hadn't memorized the corresponding letters on my "plain" English keyboard. I noticed on Amazon that there are English replacement stickers as well (I saw one set for $6.99) which seemed like less hassle and less potential for keyboard damage than painting your own or gluing letters on paper to the keycaps. They go on easily, come off easily, and are cheaper to replace than a keyboard. I had tried using the professional fine point white marker you mentioned a few years ago, but was not successful so the key cap stickers are a fast and cost-effective solution! Susan /i> Dear Susan Thank you very much for a great tip! Have FUN! DearWebby
After a hardy Arkansas rainstorm filled all the potholes in the back alley, a young mother watched her two little boys playing in a water puddle through her kitchen window. The older of the two, a five year old lad, grabbed his sibling by the back of the head and shoved his face into the water hole. As the younger boy recovered and stood laughing and dripping, the mother ran to the back yard in a panic. "Why on Earth did you do that to your little brother?" she screamed as she shook the older boy in anger. "We were just playing 'church,' Mommy" He said. "I was baptizing him like the preacher did in church last Sunday. I said, "I now baptize you in the name of the father, the son, and in-da-hole-he-goes!"
| | |
| --- | --- |
| If you can help with the cost of the Humor Letter, please donate what you can! | |
Daily tip from Thriftyfun.com Pulling Tissues from a Roll By joanWZ [47 Posts, 9 Comments] If you don't have a tissue holder in your office or inside a car and want to avoid pulling it in a messy way. Actually it's very simple to do.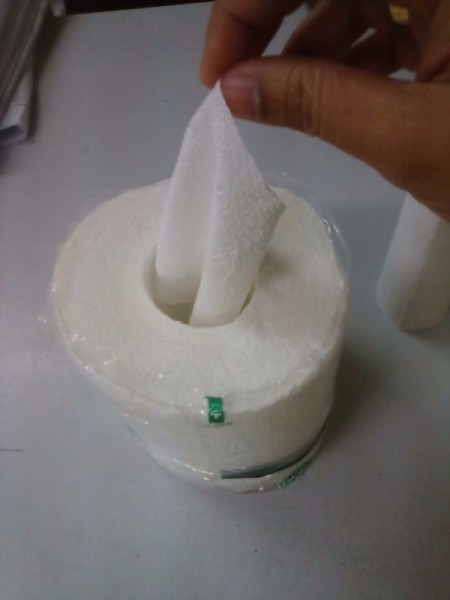 Pulling tissue from the middle of a roll of toilet paper. Removing the hard middle roll from toilet paper. First, do not pull the tissue from the cellophane because you don't have a tissue holder, right? Can you see in the middle of the tissue? There is a round, hard, cardboard at the center. So, here's the idea, slowly pull that round, hard cardboard at the center, just pull it outside the tissue. After pulling it, you can see the end cut of the tissue and that's the one you will pull out every time you get your tissue. And you can cover it back with the cellophane. Clean, simple and not messy at all. If you ever had a smoker in your house, chances are that there are some empty tobacco tins under some work bench. By sheer coincidence ;-) a roll of TP just fits inside. Many fine outhouses and camp site biffys have a screw top lid tobacco tin holding a roll of nice and dry toilet paper.
| | |
| --- | --- |
| | How far back in time can one go and still understand English |
____________________________________________________ In a small town, farmers of the community had gotten together to discuss some important issues. About midway through the meeting, a wife of one of the farmers stood up and spoke her piece. One of the old farmers stood up and said, "What does she know about anything? I would like to ask her if she knows how many toes a pig has?" Quick as a flash, the woman replied, "Take off your boots, Bobo, and count them yourself!" ___________________________________________________
| | |
| --- | --- |
| | Caves of art in New Mexico. |
Five doctors went duck hunting one day. Included in the group were a general practice (GP) physician, a pediatrician, a psychiatrist, a surgeon and a pathologist. A bird came winging overhead. The first to react was the GP who raised his shotgun, but then hesitated. "I'm not quite sure it's a duck," he said, "I think that I will have to get a second opinion." And of course by that time, the bird was long gone. Another bird appeared in the sky thereafter. This time, the pediatrician drew a bead on it. He too, however, was unsure if it was really a duck in his sights and besides, it might have babies. "I'll have to do some more investigations," he muttered, as the creature made good its escape. Next to spy a bird flying was the sharp-eyed psychiatrist. Shotgun shouldered, he was more certain of his intended prey's identity. "Now, I know it's a duck, but does it know it's a duck?" The fortunate bird disappeared while the fellow wrestled with this dilemma. Finally, a fourth fowl sped past and this time the surgeon's weapon pointed skywards. BOOM!! The surgeon lowered his smoking gun and turned nonchalantly to the pathologist beside him. "Go see if that was a duck, will you?"
Ophelia Dingbatter's News
No sermon and not suitable for church, just jokes and fun for grownups. Read it on-line or subscribe. If you subscribe, look for the double opt-in confirmation request.

____________________________________________________

Today on March 22
1457 Gutenberg Bible became the first printed bible. The
first books printed with movable type were done by Bi Sheng
in China about 500 years earlier.

1622 Indians attacked a group of colonists in the James
River area of Virginia. 347 colonists were killed. 

1630 The first legislation to prohibit gambling was enacted.
It was in Boston, MA. 

1638 Anne Hutchinsoon, a religious dissident, was expelled
from the Massachusetts Bay Colony. 

1719 Frederick William abolished serfdom on crown property
in Prussia. 

1733 Joseph Priestly invented carbonated water (seltzer). 

1765 The Stamp Act was passed. It was the first direct
British tax on the American colonists. It was repealed on
March 17, 1766. 

1794 The U.S. Congress banned U.S. vessels from supplying
slaves to other countries. 

1841 Englishman Orlando Jones patented cornstarch. 

1871 William Holden of North Carolina became the first
governor to be removed by impeachment. 

1872 Illinois became the first state to require sexual
equality in employment. 

1873 Slavery was abolished in Puerto Rico. 

1874 The Young Men's Hebrew Association was organized in New
York City. 

1882 The U.S. Congress outlawed polygamy. 

1888 The English Football League was established. (Soccer)

1894 The first playoff competition for the Stanley Cup
began. Montreal played Ottawa. 

1895 Auguste and Louis Lumiere showed their first movie to
an invited audience in Paris. 

1901 Japan proclaimed that it was determined to keep Russia
from encroaching on Korea. 

1902 Great Britain and Persia agreed to link Europe and
India by telegraph. 

1903 Niagara Falls ran out of water due to a drought. 

1903 In Columbia, the region near Galera De Zamba was
devastated by a volcanic eruption. 

1904 The first color photograph was published in the London
Daily Illustrated Mirror. 

1905 Child miners in Britain received a maximum 8-hour
workday. 

1907 Russians troops completed the evacuation of Manchuria
in the face of advancing Japanese forces. 

1907 In Paris, it was reported that male cab drivers dressed
as women to attract riders. 

1910 In Liberia, a telegraph cable linked Tenerife and
Monrovia. 

1915 A German zeppelin made a night raid on Paris railway
stations. 

1933 U.S. President Franklin D. Roosevelt signed a bill
legalizing the sale and possession of beer and wine
containing up to 3.2% alcohol. 

1935 In New York, blood tests were authorized as evidence in
court cases. 

1935 Persia was renamed Iran. 

1941 The Grand Coulee Dam in Washington began operations. 

1943 The Dutch workweek was extended to 54 hours. 

1943 Obligatory work for woman ends in Belgium. 

1945 The Arab League was formed with the adoption of a
charter in Cairo, Egypt. 

1946 The British granted Transjordan independence. 

1946 The first U.S. rocket to leave the earth's atmosphere
reached a height of 50-miles. It was a confiscated German V2
rocket without an explosive head.

1947 The Greek government imposed martial law in Laconia and
southern Greece. 

1948 The United States announced a land reform plan for
Korea. 

1954 The first shopping mall opened in Southfield, Michigan.

1954 The London gold market reopened for the first time
since 1939. 

1960 A.L. Schawlow & C.H. Townes obtained a patent for the
laser. It was the first patent for any laser. 

1965 U.S. confirmed that its troops used chemical warfare
against the Vietcong. 

1974 The Viet Cong proposed a new truce with the U.S. and
South Vietnam. The truce included general elections. 

1977 Comedienne Lily Tomlin made her debut on Broadway in
"Lily Tomlin on Stage" in New York. 

1977 Indira Ghandi resigned as the prime minister of India. 

1978 Karl Wallenda, of the Flying Wallendas, fell to his
death while walking a cable strung between two hotels in San
Juan, Puerto Rico. 

1979 The National Hockey League (NHL) voted to accept 4 WHA
teams, the Oilers, Jets, Nordiques & Whalers. 

1980 People for Ethical Treatment of Animals (PETA) was
founded by Ingrid Newkirk and Alex Pacheco. 

1981 RCA put its Selectra Vision laser disc players on the
market. 

1981 The first Mongolian entered space aboard the Russian
Soyuz 39. 

1982 The Space Shuttle Columbia was launched into orbit on
mission STS-3. It was the third orbital flight for the
Columbia. 

1987 A barge loaded with 32,000 tons of refuse left Islip,
NY, to find a place to unload. After being refused by
several states and three countries space was found back in
Islip. 

1990 A jury in Anchorage, Alaska, found Captain Hazelwood
not guilty in the Valdez oil spill. 

1991 Pamela Smart, a high school teacher, was found guilty
in New Hampshire of manipulating her student-lover to kill
her husband. 

1992 A Fokker F-28 veered off a runway at New York's
LaGuardia airport and into Flushing Bay, killing 27 people. 

1993 Intel introduced the Pentium-processor (80586) 64 bits-
60 MHz-100+ MIPS. 

1995 Russian cosmonaut Valeri Polyakov returned to Earth
after setting a record for 438 days in space. 

1997 Tara Lipinski, at 14 years and 10 months, became the
youngest women's world figure skating champion. 

2017  smiled.


[ view entry ] ( 10 views ) | permalink | print article |
( 3.1 / 599 )
---
<<First
<Back
| 23 | 24 | 25 | 26 | 27 | 28 | 29 | 30 | 31 | 32 |
Next>
Last>>