Good Morning, ,
Today is Friday, March 24
Time to wear a bit of red to show your support for the troops!


Have FUN!
DearWebby

Todays Bonehead Award:
Oregon man arrested for stealing street sweeper
Details at  Boneheads
______________________________________________________
Today, March 24 in
1545 German Parliament opened in Worms.

 
See More of what happened on this day in history.
______________________________________________________

| | |
| --- | --- |
| If you can help with the cost of the Humor Letter, please donate what you can! | |
______________________________________________________ Defining and analyzing humor is a pastime of humorless people. --- Robert Benchley (1889 - 1945) Golf and sex are about the only things you can enjoy without being good at. --- Jimmy Demaret "The amount of sleep required by the average person is about five minutes more." --- Max Kauffmann ______________________________________________________ If you like the Humor Letter, please vote!
______________________________________________________ >From Rick I had put in an 18-hour day at work and was upset to find my four-year-old Zack asleep in bed with my wife when I got home. Zack squirms so much it is impossible to get a decent night's sleep when he is with us. Exhausted, I collapsed into his bed instead, where I slept better than I had in years. The next morning, I asked my wife, "Why was Zack in bed with you?" "Oh," she replied, shrugging, "he wet his bed, and I was too tired to change his sheets." ______________________________________________________
______________________________________________________ >From David My mother once gave me two sweaters for Christmas. The next time we visited, I made sure to wear one. As we entered her home, instead of the expected smile, she said, "What's the matter? You didn't like the other one?" ______________________________________________________
From FB ______________________________________________________

If you like the Dear Webby Daily Humor Letter, please vote for it at the

Ezine Finder:
Thanks for your votes!

______________________________________________________ Reported by the Bausell Sailor
An INTERNATIONAL BONEHEAD AWARD has been earned by
Tyler HaguewoodTyler Haguewood, 33, Hillsboro, Oregon Oregon man arrested for stealing street sweeper An Oregon man did not make a clean getaway early Sunday after stealing a street sweeper and leading police on a 10- mile chase. According to cops, Tyler Haguewood, 33, jumped into the street sweeper around 3:45 AM after the driver, a private contractor, exited the running vehicle to "use a handheld blower in order to clean an area where the street-sweeper could not reach." Haguewood then drove off in the Isuzu street sweeper. Upon learning of the theft, cops in Hillsboro, a city 20 miles outside Portland, quickly located the vehicle on the deserted pre-dawn streets. "Officers activated their overhead emergency lights. The street-sweeper failed to yield," cops say. For 10 miles, officers pursued the street sweeper, which topped out at 65 mph. The chase ended after Haguewood drove over spike strips placed in the roadway by Washington County Sheriff's Office deputies. Pictured above, Haguewood was taken into custody without incident and charged with multiple counts, including auto theft and attempting to elude police. He is also facing a parole violation charge in connection with a prior conviction for aggravated harassment. Haguewood is being held in the Washington County jail. ______________________________________________________ Tech Support Pits From: Vera Re: Cant copy from Windows calculator Dear Webby How come I can't copy from the calculator in Windows by using the mouse ? Vera /i> Dear Vera The Windows calculator always had that shortcoming, even in Windows 3.0 because basically it is a DOS program. Just treat it like a DOS program and imagine you had no mouse. When done calculating, type ALT E C Then with ALT TAB jump back to the program you were using before using the calculator. CTRL V pastes the result that you have copied from the calculator. It is actually a lot faster than taking a hand off the keyboard and mousing around. There are a number of calculator programs available that let you copy with the mouse, however, my recommendation is to use a spreadsheet like Calc or Excel, whether you are a mouse addict or prefer hot-keys. With a spreadsheet you see all your entries, you can correct typos no matter how far back they are, do sorting, searching, show numbers below or above a limit that you set in a different color, and thousands of other tricks. I normally have a spreadsheet open and narrowed to about 1/10 of the screen on the left side, and I use that as a calculator, scratch-pad and even calculating calendar. You really get spoiled once you get comfortable with spreadsheets. Have FUN! DearWebby
's colleague at a package-processing center was trapped in a small rest room by a faulty lock. When he was finally discovered, and another worker were able to open the door with some difficulty. The lock was still jammed, so they blocked the door open while a maintenance worker was called. A bit later, noticed the door was closed again. He jiggled the doorknob and an unfamiliar voice from inside called, "Get me outa here!" "Don't worry," replied, "Maintenance should be sending somebody shortly." "They did," said the voice.
| | |
| --- | --- |
| If you can help with the cost of the Humor Letter, please donate what you can! | |
Daily tip from Thriftyfun.com Mustard Green Soup with Chicken By 15mhhm15 [56 Posts, 137 Comments] This is a healthy and delicious staple soup in our household and I wanted to share it with you all.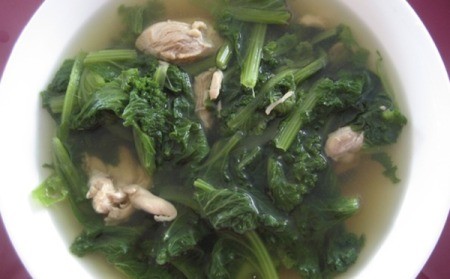 Prep Time: 10 Cook Time: 15 Total Time: 35 Yield: 2 Ingredients: 1/2 bundle mustard greens 1/2 white onion 1/2 lb chicken breasts 2 cups water 2 Tbsp fish sauce dash salt dash sugar Steps: Prep your ingredients. Wash mustard green and cut into 3" in pieces or your desire. Slice onions. Slice chicken breast to your desire. Boil water in a pot, throw your onions in and sliced chicken breast. Add fish sauce, dash of sugar and salt then boil for 15 minutes. Throw in your vegetables and turn off the heat. Cover for 10 more minutes with the stove off. Ready to serve. Optional: Garnish with black pepper on top of the soup.
| | |
| --- | --- |
| | Funny Horse Scout |
____________________________________________________ The artist tried to concentrate on his work, but the attraction he felt for his model finally became irresistible. He threw down his palette, took her in his arms, and kissed her. She pushed him away. "Maybe your other models let you kiss them," she said, "but I'm not that kind!" "Actually, I've never tried to kiss a model before," he protested. "Really?" she said, softening. "Well, how many models have there been?" "Four so far," he replied, thinking back. "A jug, two apples, a tractor, and a vase." ___________________________________________________
| | |
| --- | --- |
| | Dead Sea dress. |
Three rabbinical students were caught by the Rabbi gambling and drinking in the company of undesirable characters before the sun set on the evening of the Sabbath. The Rabbi called them into his study the next day. They all confessed to having given in to weakness, and admitted that they deserved punishment. The Rabbi thought for a moment, then went into his kitchen and brought back three bags of dried peas. "Put these in your shoes," he told them, "and walk on them for a week, to remind yourself how hard life can be when you turn away from your faith." A few days later the three students met. One was limping terribly, had dark circles under his eyes, and looked very tired. The others seemed much as he had been the week before. The first student said, "How is it that you are walking so freely? Didn't you do as the Rabbi told us and put the peas in your shoes?" "Of course I did," said the second. "How could I disobey the Rabbi? I just chose to wear a different pair of shoes." The third student interrupted, "The rabbi expressly stated that we were to WALK on the peas." The first student inquired how he could be walking so well if he was walking on the peas. The third student smiled and said, "I boiled them first."
Ophelia Dingbatter's News
No sermon and not suitable for church, just jokes and fun for grownups. Read it on-line or subscribe. If you subscribe, look for the double opt-in confirmation request.

____________________________________________________

Today on March 24
1379 The Gelderse war ended. 

1545 German Parliament opened in Worms. 

1550 France and England signed the Peace of Boulogne. 

1629 In Virginia, the first game law was passed in the
American colonies. 

1664 A charter to colonize Rhode Island was granted to Roger
Williams in London. 

1720 In Paris, banking houses closed due to financial
crisis. 

1765 Britain passed the Quartering Act that required the
American colonies to house 10,000 British troops in public
and private buildings. 

1828 The Philadelphia & Columbia Railway was authorized as
the first state owned railway. 

1832 Mormon Joseph Smith was beaten, tarred and feathered in
Ohio. 

1837 Canada gave blacks the right to vote 

1848 A state of siege was proclaimed in Amsterdam. 

1868 Metropolitan Life Insurance Company was formed. 

1878 The British frigate Eurydice sank killing 300. 

1880 The first "hail insurance company" was incorporated in
Connecticut. It was known as Tobacco Growers' Mutual
Insurance Company. 

1882 In Berlin, German scientist Robert Koch announced the
discovery of the tuberculosis germ (bacillus). 

1883 The first telephone call between New York and Chicago
took place. 

1900 Mayor Van Wyck of New York broke the ground for the New
York subway tunnel that would link Manhattan and Brooklyn. 

1900 In New Jersey, the Carnegie Steel Corporation was
formed. 

1904 Vice Adm. Tojo sank seven Russian ships as the Japanese
strengthened their blockade of Port Arthur. 

1905 In Crete, a group led by Eleutherios Venizelos claimed
independence from Turkey. 

1906 In Mexico, the Tehuantepec Istmian Railroad opened as a
rival to the Panama Canal. 

1906 The "Census of the British Empire" revealed that
England ruled 1/5 of the world. 

1911 In Denmark, penal code reform abolished corporal
punishment. 

1920 The first U.S. coast guard air station was established
at Morehead City, NC. 

1924 Greece became a republic. 

1927 Chinese Communists seized Nanking and break with Chiang
Kai-shek over the Nationalist goals. 

1932 Belle Baker hosted a radio variety show from a moving
train. It was the first radio broadcast from a train. 

1938 The U.S. asked that all countries help refugees fleeing
from the Nazis. 

1946 The Soviet Union announced that it was withdrawing its
troops from Iran. 

1955 Tennessee Williams' play "Cat on a Hot Tin Roof"
debuted on Broadway. 

1955 The first oil drill seagoing rig was put into service. 

1960 A U.S. appeals court ruled that the novel "Lady
Chatterly's Lover" was not obscene and could be sent through
the mail. 

1972 Great Britain imposed direct rule over Northern
Ireland. 

1976 The president of Argentina, Isabel Peron, was deposed
by her country's military. 

1980 In San Salvador, Archbishop Oscar Arnulfo Romero was
shot to death by gunmen as he celebrated Mass. 

1982 Soviet leader Leonid L. Brezhnev stated that Russia was
willing to resume border talks with China. 

1985 Thousands demonstrated in Madrid against the NATO
presence in Spain. 

1989 The Exxon Valdez spilled 240,000 barrels (11 million
gallons) of oil in Alaska's Prince William Sound after it
ran aground. 

1989 The U.S. decided to send humanitarian aid to the
Contras. 

1990 Indian troops left Sri Lanka. 

1991 The African nation of Benin held its first presidential
elections in about 30 years. 

1993 In Israel, Ezer Weizman, an advocate of peace with
neighboring Arab nations, was elected President. 

1995 Russian forces surrounded Achkoi-Martan. It was one of
the few remaining strongholds of rebels in Chechenia. 

1997 The Australian parliament overturned the world's first
and only euthanasia law. 

1998 In Jonesboro, AR, two young boys open fire at students
from woods near a school. Four students and a teacher were
killed and 10 others were injured. The two boys were 11 and
13 years old cousins. 

1999 NATO launched air strikes against Yugoslavia (Serbia,
Montenegro, Kosovo and Vojvodina). The attacks marked the
first time in its 50-year history that NATO attacked a
sovereign country. The bombings were in response to Serbia's
refusal to sign a peace treaty with ethnic Albanians who
were seeking independence for the province of Kosovo. 

1999 The 7-mile tunnel under Mont Blanc in France became an
inferno after a truck carrying flour and margarine caught
fire. At least 30 people were killed. 

2001 Apple Computer Inc's operating system MAC OS X went on
sale. 

2005 The government of Kyrgyzstan collapsed after opposition
protesters took over President Askar Akayev's presidential
compound and government offices. 

2006 In Spain, the Basque separatist group ETA announced a
permanent cease-fire. 

2014 It was announced that the U.S. and its allies would
exclude Russia from the G8 meeting and boycott a planned
summit in Sochi in response to Russia's takeover of Crimea. 

2017  smiled.


[ view entry ] ( 8 views ) | permalink | print article |
( 3 / 548 )
---
<<First
<Back
| 23 | 24 | 25 | 26 | 27 | 28 | 29 | 30 | 31 | 32 |
Next>
Last>>