Good Morning, ,
Today is Saturday, March 25

Have FUN!
DearWebby

Todays Bonehead Award:
Deltona woman arrested after toddler shoots out 
car window at school
Details at  Boneheads
______________________________________________________
Today, March 25 in
1655 Christian Huygens discovered Titan. 
Titan is Saturn's largest satellite. 

 
See More of what happened on this day in history.
______________________________________________________

| | |
| --- | --- |
| If you can help with the cost of the Humor Letter, please donate what you can! | |
______________________________________________________ Americans detest all lies except lies spoken in public or printed lies. --- Edgar Watson Howe (1853 - 1937) The reason why worry kills more people than work is that more people worry than work. --- Robert Frost (1874 - 1963) The only thing that saves us from the bureaucracy is inefficiency. An efficient bureaucracy is the greatest threat to liberty. --- Eugene McCarthy ______________________________________________________ If you like the Humor Letter, please vote!
______________________________________________________ An interoffice softball game was held every year between the marketing and support staff of one company. The support staff whipped the marketing department soundly. To show just "how" the marketing department earns their keep, they posted this memo on the bulletin board after the game: "The Marketing Department is pleased to announce that for the 2016 Softball Season, we came in second place, having lost only one game all year. The Support Department, however, had a rather dismal season, as they won only one game and came in second-last overall." ______________________________________________________
______________________________________________________ A nurse was showing some student nurses through the hospital. "This will be the most hazardous section in the hospital for you. The men on this floor are almost well." ______________________________________________________ Thanks to Lillemor for this picture:
Sweden ______________________________________________________

If you like the Dear Webby Daily Humor Letter, please vote for it at the

Ezine Finder:
Thanks for your votes!

______________________________________________________ Reported by the Bausell Sailor
An INTERNATIONAL BONEHEAD AWARD has been earned by
Abbie Maldonado, 30, Deltona, Floriduh Deltona woman arrested after toddler shoots out car window at school A 30-year-old Deltona woman was arrested Monday afternoon after a 3-year-old boy grabbed her loaded gun and shot out the window of a car parked at a church school, the Volusia County Sheriff's Office said. Abbie Maldonado had the toddler in the car with her when she drove to the Good Shepherd Academy on Howland Boulevard to pick up her son from school shortly before 3:45 p.m., Sheriff's Office spokesman Gary Davidson said. "Maldonado got out to walk around and left the boy unsecured in the back of the vehicle with the rear passenger door propped open so she could keep an eye on the child," Davidson said. Maldonado told investigators she was walking in the parking lot with some other parents when she heard a loud bang, deputies said. She said she didn't immediately realize it was gunfire. "She went to the vehicle to check on the child and then walked around the parking lot some more," Davidson said. "Maldonado then returned to the vehicle and took the child into the school to go to the bathroom, still not realizing anything was wrong." When Maldonado returned to her car, she said she heard glass crackling and noticed the front driver's side window shattered, Davidson said. Deputies said Maldonado walked toward the front of the church to see if anyone had seen someone by her vehicle, and upon returning to the vehicle, she noticed that her loaded gun wasn't in the driver's side door pocket where she had left it. "It was on the front seat," Davidson said. "Maldonado told deputies that she normally keeps the gun locked in the trunk." Maldonado received a valid concealed-carry weapon permit from the state last month, deputies said. Maldonado's boyfriend picked up the children, and she was arrested and charged with child neglect. She was freed from jail after paying bail. No one was injured in the incident. "I'm like shaking right now to think that... just a child to grab it. Thank God he didn't get hurt," said parent Mary Justino. The Department of Children and Families told Channel 9's Mike Springer that it's investigating the incident. ------------- There are book size gun safes with fingerprint recognition available, and have been for a long time. I bought one for my dad about 15 years ago. You just stick a finger into a hole on it, it checks the fingerprint, and if it recognizes the finger, it unlocks. Simple, easy, and costs less than a handgun. With kids on the loose it is indeed criminal to leave loaded guns within reach of the kids. ______________________________________________________ Tech Support Pits From: Ann S Re: Is it OK to delete all downloads? Dear Webby Is it okay to delete all the files I downloaded??? Thanks Ann S /i> Dear Ann That is like asking if ALL women or all men are bad. Some are good and worth keeping. If you know that all files you downloaded are in the download directory, and they are all just uTube and similar stuff, that keep coming around again anyway, yes, then it would be safe to delete them all. You might have some program downloads in there too. Those you can always get again, if you ever need them. Just browse that folder and sort by type to get all pictures together, then check those. There might be a few valuable keepers in there. Also check the folders, that you have set as the default folders for email attachments and embedded files. If some of your friends use Incredimail, then those will be polluted with all the little butterflies and flowers and stuff attached to Incredimail. There could be many thousands unless you weed out that stuff occasionally. Also browse the directory where Skype saves pictures and transfers. Most of those pictures and movie clips were probably fun or important at the time, but are no longer useful. You can gain quite a bit of space there. Have FUN! DearWebby
Some guy is claiming that a tonic of beer and urine will improve your garden. That might explain why the lawns around frat houses always seem to be in desperate need of mowing.
| | |
| --- | --- |
| If you can help with the cost of the Humor Letter, please donate what you can! | |
Daily tip from Thriftyfun.com Best Ever Lemon-Coconut Squares By Jackie H. [228 Posts, 108 Comments] A sweet coconut twist on the ever popular lemon squares. Total Time: 20 minutes prep time 50 minutes cooking time Yield: Serves 24 Source: A little taken from a few recipes, the coconut and confectioners topping was my idea. Something different!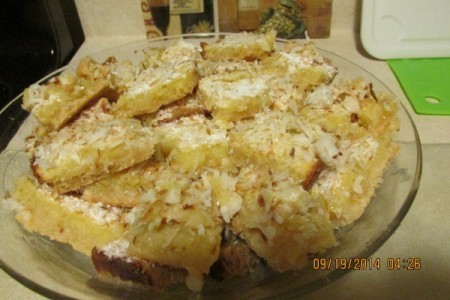 Ingredients: 2 cups all purpose flour 1 cup confectioners' sugar 1 cup melted butter 4 eggs, beaten with mixer 2 cups white sugar 1 tsp baking powder pinch salt 1/4 cup all-purpose flour 5/8 cup Real Lemon juice 1/4 cup sifting confectioners' sugar 1/3 cup flaked coconut Steps: Preheat oven to 350 degrees F. Grease (I spray oil) and flour a 9x13 inch pan. In a medium bowl, stir together 2 cups of flour and 1 cup confectioners' sugar. Blend in melted butter. Press into the bottom of the prepared pan. Bake in preheated oven for 15 minutes, or until golden. In a large bowl, beat eggs with mixer until light. Combine the white sugar, baking powder, salt, and 1/4 cup of flour so there will be no flour lumps. Stir the sugar mixture into the eggs. Finally, stir in the lemon juice. Pour over the prepared crust and return to the oven. Bake for an additional 30-40 minutes or until bars are set. Allow to cool completely before cutting into squares. Using a sifter, sift accross the squares with a light coating of confectioners' sugar and scatter a light coating of flake coconut. Then put in the broiler for 3-5 minutes, just to toast the coconut. Watch it carefully! Enjoy!
| | |
| --- | --- |
| | Funny Horse Scout |
____________________________________________________ Before Linda became engaged, she was quite the beauty, and didn't mind letting her boyfriend know it, too. "A lot of men are gonna be totally miserable when I marry," she told him. "Really?" asked the boyfriend, "And just how many men are you planning to marry?" ___________________________________________________
| | |
| --- | --- |
| | Cute melting animals.... |
A teacher was winding up a discussion in her fourth grade class on the importance of curiosity. Teacher: "Where would we be today if no one had ever been curious?" Lucy: "In the Garden of Eden?"
Ophelia Dingbatter's News
No sermon and not suitable for church, just jokes and fun for grownups. Read it on-line or subscribe. If you subscribe, look for the double opt-in confirmation request.

____________________________________________________

Today on March 25
0421 The city of Venice was founded. 

1306 Robert the Bruce was crowned king of Scotland. 

1634 Lord Baltimore founded the Catholic colony of Maryland.


1655 Puritans jailed Governor Stone after a military victory
over Catholic forces in the colony of Maryland. 

1655 Christian Huygens discovered Titan. Titan is Saturn's
largest satellite. 

1669 Mount Etna in Sicily erupted destroying Nicolosi.
20,000 people were killed. 

1774 English Parliament passed the Boston Port Bill. 

1776 The Continental Congress authorized a medal for General
George Washington. 

1802 France, Netherlands, Spain and England signed the Peace
of Amiens. 

1807 The first railway passenger service began in England. 

1807 British Parliament abolished the slave trade. 

1813 The frigate USS Essex flew the first U.S. flag in
battle in the Pacific. 

1814 The Netherlands Bank was established. 

1820 Greece revolt against Ottoman attack 

1821 Greece gained independence from Turkey. 

1856 A. E. Burnside patented Burnside carbine. 

1857 Frederick Laggenheim took the first photo of a solar
eclipse. 

1865 The SS General Lyon caught fire at Cape Hatteras and
sank. 400 people were killed. 

1865 During the American Civil War, Confederate forces
captured Fort Stedman in Virginia. 

1879 Japan invaded the kingdom of Liuqiu (Ryukyu) Islands,
formerly a vassal of China. 

1895 Italian troops invaded Abyssinia (Ethiopia). 

1900 The U.S. Socialist Party was formed in Indianapolis. 

1901 55 people died when a Rock Island train derailed near
Marshalltown, IA. 

1901 The Mercedes was introduced by Daimler at the five-day
"Week of Nice" in Nice, France. 

1901 It was reported in Washington, DC, that Cubans were
beginning to fear annexation. 

1902 Irving W. Colburn patented the sheet glass drawing
machine. 

1902 In Russia, 567 students were found guilty of "political
disaffection." 95 students were exiled to Siberia. 

1904 E.D. Morel and Roger Casement formed the Congo Reform
Association in Liverpool. 

1905 Rebel battle flags that were captured during the
American Civil War were returned to the South. 

1905 Russia received Japan's terms for peace. 

1907 Nicaraguan troops took Tegucigalpa, the capital of
Honduras. 

1909 In Russia, revolutionary Popova was arrested on 300
murder charges. 

1911 In New York City, 146 women were killed in fire at the
Triangle Shirtwaist Company in New York City. The owners of
the company were indicted on manslaughter charges because
some of the employees had been behind locked doors in the
factory. The owners were later acquitted and in 1914 they
were ordered to pay damages to each of the twenty-three
families that had sued. 

1915 21 people died when a U.S. F-4 submarine sank off the
Hawaiian coast. 

1919 The Paris Peace Commission adopted a plan to protect
nations from the influx of foreign labor. 

1923 The British government granted Trans-Jordan autonomy. 

1931 Fifty people were killed in riots that broke out in
India. Gandhi was one of many people assaulted. 

1931 The Scottsboro Boys were arrested in Alabama. 

1936 The Detroit Red Wings defeated the Montreal Maroons in
the longest hockey game to date. The game lasted for 2 hours
and 56 minutes. 

1940 The U.S. agreed to give Britain and France access to
all American warplanes. 

1941 Yugoslavia joined the Axis powers. 

1941 The first paprika mill was incorporated in Dollon, SC. 

1947 A coalmine explosion in Centralia, IL, killed 111
people. 

1947 John D. Rockefeller III presented a check for $8.5
million to the United Nations for the purchase of land for
the site of the U.N. center. 

1953 The USS Missouri fired on targets at Kojo, North Korea.


1954 RCA manufactured its first color TV set and began mass
production. 

1957 The European Economic Community was established with
the signing of the Treaty of Rome. 

1960 A guided missile was launched from a nuclear powered
submarine for the first time. 

1965 Martin Luther King Jr. led a group of 25,000 to the
state capital in Montgomery, AL. 

1966 The U.S. Supreme Court ruled that the "poll tax" was
unconstitutional. 

1970 The Concorde made its first supersonic flight. 

1971 The Boston Patriots became the New England Patriots. 

1972 Bobby Hull joined Gordie Howe to become only the second
National Hockey League player to score 600 career goals. 

1975 King Faisal of Saudi Arabia was shot to death by a
nephew. The nephew, with a history of mental illness, was
beheaded the following June. 

1981 The U.S. Embassy in San Salvador was damaged when
gunmen attacked using rocket propelled grenades and machine
guns. 

1982 Wayne Gretzky became the first player in the NHL to
score 200 points in a season. 

1983 The U.S. Congress passed legislation to rescue the U.S.
social security system from bankruptcy. 

1985 It was reported that a U.S. Army Major stationed in
East Germany had been shot and killed by a Soviet Border
Guard. 

1986 U.S. President Ronald Reagan ordered emergency aid for
the Honduran army. U.S. helicopters took Honduran troops to
the Nicaraguan border. 

1988 Robert E. Chambers Jr. pled guilty to first-degree
manslaughter in the death of 18-year-old Jennifer Levin. The
case was known as New York City's "preppie murder case." 

1989 In Paris, the Louvre reopened with I.M. Pei's new
courtyard pyramid. 

1990 A fire in Happy Land, an illegal New York City social
club, killed 87 people. 

1990 Estonia voted for independence from the Soviet Union. 

1991 Iraqi President Saddam Hussein launched a major
counter-offensive to recapture key towns from Kurds in
northern Iraq. 

1992 Soviet cosmonaut Sergei Krikalev returned to Earth
after spending 10 months aboard the orbiting Mir space
station.

1993 President de Klerk admitted that South Africa had built
six nuclear bombs, but said that they had since been
dismantled. 

1994 United States troops completed their withdrawal from
Somalia. 

1995 Boxer Mike Tyson was released from jail after serving 3
years. 

1996 An 81-day standoff by the antigovernment Freemen began
at a ranch near Jordan, MT. 

1996 The U.S. issued a newly redesigned $100 bill for
circulation. 

1998 A cancer patient was the first known to die under
Oregon's doctor-assisted suicide law. 

1998 The FCC nets $578.6 million at auction for licenses for
new wireless technology. 

1998 Quinn Pletcher was found guilty on charges of
extortion. He had threatened to kill Bill Gates unless he
was paid $5 million. 

2004 The U.S. Senate voted (61-38) on the Unborn Victims of
Violence Act (H.R. 1997) to make it a separate crime to harm
a fetus during the commission of a violent federal crime.

2017  smiled.


[ view entry ] ( 8 views ) | permalink | print article |
( 3.1 / 709 )
---
<<First
<Back
| 23 | 24 | 25 | 26 | 27 | 28 | 29 | 30 | 31 | 32 |
Next>
Last>>