Good Morning, ,
Today is Wednesday, March 29
Have FUN!
DearWebby

Todays Bonehead Award:
Texas pastor caught with child porno
Details at  Boneheads
______________________________________________________
Today, March 28 in
1867 The British Parliament passed the North America 
Act to create the Dominion of Canada.

 
See More of what happened on this day in history.
______________________________________________________

| | |
| --- | --- |
| If you can help with the cost of the Humor Letter, please donate what you can! | |
______________________________________________________ The most dangerous strategy is to jump a chasm in two leaps. --- Benjamin Disraeli (1804 - 1881) Truly great madness cannot be achieved without significant intelligence. --- Henrik Tikkanen Nobody outside of a baby carriage or a judge's chamber believes in an unprejudiced point of view. --- Lillian Hellman (1905 - 1984) A mother takes twenty years to make a man of her boy, and another woman makes a fool of him in twenty minutes. --- Robert Frost ______________________________________________________ If you like the Humor Letter, please vote!
______________________________________________________ Two Irish mothers were talking about their sons. The first said, "My Patrick is such a saint. He works hard, doesn't smoke, and he hasn't so much as looked at a woman in over two years." The other woman said, "Well, my Francis is a saint himself. Not only hasn't he not looked at a woman in over three years, but he hasn't touched a drop of liquor in all that time." "My word," the first Irish mother said. "You must be so proud." "I am," the second mother replied. "And when he's paroled next month, I'm going to throw him one heck of a big party." ______________________________________________________
______________________________________________________ My mother taught me TO APPRECIATE A JOB WELL DONE - "If you're going to kill each other, do it outside - I just finished cleaning!" My mother taught me about TIME TRAVEL - "If you don't clean up your act, I'm going to knock you into the middle of next week!" My mother taught me about JUSTICE - "One day you will have kids, and I hope they turn out just like YOU.. THEN you'll see what it's like." MOM TAUGHT ME RELIGION "You better pray that will come out of that carpet!" MOM TAUGHT ME LOGIC "Because I said so, that's why!" MOM TAUGHT ME IRONY "Keep laughing and I'll give you something to cry about!" MOM TAUGHT ME ABOUT THE SCIENCE OF OSMOSIS "Shut your mouth and eat your supper!" MOM TAUGHT ME ABOUT CONTORTIONISM "Will you look at the dirt on the back of your neck?" MOM TAUGHT ME ABOUT STAMINA "You'll sit there until all that spinach is gone!" MOM TAUGHT ME ABOUT WEATHER "It looks like a tornado went through your room!" MOM TAUGHT ME HOW TO SOLVE PHYSICS PROBLEMS "If I yelled because I saw a meteor coming toward you, would you listen then?" MOM TAUGHT ME ABOUT HYPOCRISY "If I told you once, I've told you a million times-don't exaggerate!" MOM TAUGHT ME ABOUT BEHAVIOR MODIFICATION "Stop acting like your father!" And most of all..... MOM TAUGHT ME THE CIRCLE OF LIFE "I brought you into this world, I can take you out!" ______________________________________________________
______________________________________________________

If you like the Dear Webby Daily Humor Letter, please vote for it at the

Ezine Finder:
Thanks for your votes!

______________________________________________________
An INTERNATIONAL BONEHEAD AWARD has been earned by
James Rankin, 78, Hurst, Texas Texas pastor caught with child porno A Texas pastor is claiming that child pornography images allegedly found on his computer were "to remind himself of what other people like to look at," according to an affidavit for a search warrant. Local police disagree. "That explanation did not really pan out for us," police Sgt. Lonnie Brazzel told The Huffington Post. Authorities on Friday seized computers, digital storage devices and cameras belonging to 78-year-old James Rankin, of Hurst, Texas. Rankin was arrested after employees at a Best Buy alerted police to suspected child pornography allegedly found Thursday on an Apple iMac that Hurst brought in for repair. When investigators examined the computer, they allegedly found about 50 images of nude children, some of which they described as having a "'home-made' quality." Rankin told police he'd discovered the images seven or eight years ago "and saved these images because he had researched a possible lesson involving Cupid, love, and human trafficking," according to the search affidavit. However, authorities say some of the images have dates as recent as February associated with them. "This is now a matter of whether this a downloaded collection or photos he's taken," Brazzel said. A forensic analysis of the images is pending. At the time of his arrest, Rankin told police he was an associate pastor at Bellevue Baptist Church in Hurst. A now- defunct page on the church's website states that Rankin is a married father of two who served in churches in Tennessee, Fort Worth and Amarillo. He also served as a chaplain in the U.S. Army. The church did not respond to a request for comment. Rankin also allegedly said the photos served as a reminder of "how bad human trafficking is." However, it appears his concern didn't motivate him to take any further action. Court documents do not indicate that Rankin ever notified authorities or the National Center for Missing and Exploited Children of the existence of the alleged child porn images, or the website from which he allegedly downloaded them. Rankin, who faces a charge of possession of child pornography, is jailed in lieu of $5,000 bond. The forensic analysis of the alleged evidence is expected to take five to six weeks, Brazzel said. ______________________________________________________ Tech Support Pits From: Olaf Re: Hard to read font colors Dear Webby Some people use very difficult to read font colors, like for example silver on white, or dark blue on black. Is there a way to make that easier to read ? Thanks Olaf /i> Dear Olaf Why ? Have you ever found anything worth reading on a site whose writer was afflicted with that type of insanity ? I haven't, and I don't waste my time on that kind of site. There are plenty of sites with good content presented in easy to read color combinations. However, if you think you HAVE to read a site like that, hit CTRL A to select and highlight All. Have FUN! DearWebby
"It's no good, sir," said the hopeless pupil to his English teacher. "I try to learn, but everything you say goes in both ears and out the other." "Goes in both ears and out the other?" asked the puzzled teacher. "But you only have two ears, boy." "Guess I'm no good at math, either!"
| | |
| --- | --- |
| If you can help with the cost of the Humor Letter, please donate what you can! | |
Daily tip from Thriftyfun.com Italian Lentil and Swiss Chard Soup Recipe By Jess [166 Posts, 971 Comments] Total Time: approximately 2 hours Yield: 8 Source: I adapted my friend Lisa's basic recipe for lentils. Ingredients: 1 Tbsp olive oil 2 cups lentils 1 onion, chopped 3 cloves garlic, minced 2 stalks celery, finely chopped 1 cup mushrooms, chopped 2 carrots, chopped 1 cup spaghetti sauce or 1 can diced tomatoes 1 qt vegetable broth salt, pepper and Italian seasoning to taste 1 bunch Swiss chard, chopped This recipe used what I had on hand. You could substitute or leave out pretty much any of these ingredients to suit your family's taste. I often make a similar soup with noodles instead of lentils and call it Spaghetti Soup. Steps: Heat olive oil in a heavy bottomed pot, over medium heat. Add onions, then garlic. Cook until slightly softened. Add lentils and sauté for a couple of minutes. Add celery and stir, then add mushrooms after a minute or two, then carrots. Allow to cook off the excess moisture for a few minutes. Add in spaghetti sauce, vegetable broth and seasonings. Increase heat to bring soup to just a boil, then turn to low and simmer until lentils are cooked. I cooked my soup for about two hours on low but I'm sure it would have been ready sooner. Add more water to give the soup the right consistency. Just before serving, check seasonings and make adjustments as necessary. Add Swiss chard and cook for about 5 more minutes before serving. Cheese would have been a wonderful garnish to this soup. I served it with a green salad but it would have been nice to have bread too.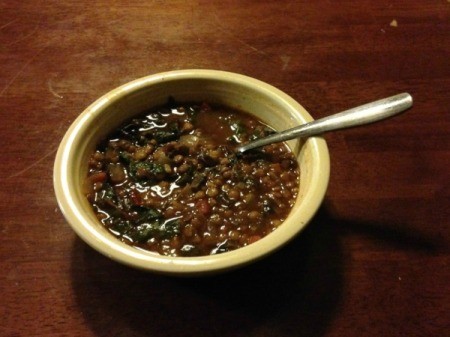 ____________________________________________________ While talking with my semi-deaf uncle one evening, I noticed that his "hearing aid" was actually an earphone from a transistor radio. The wire had been cut and was sticking out of his shirt. "How does that help your hearing?" I asked. "Don't help my hearing none," he replied. "Makes people talk louder." ___________________________________________________
| | |
| --- | --- |
| | Best of the month-People Are Awesome! |
>From Bill While riding the bus, my mother noticed a young man, who was holding onto the same pole, staring at her. Eventually, he said, "Excuse me. This is my stop." Since she wasn't blocking his way, she was confused. "Well," she said,"go ahead." "And this is my pole," he said. My mother was completely perplexed until the young man added, "I just bought it at the hardware store to hold up my shower curtain." And with that, he picked up his pole and carried it off the bus.
Ophelia Dingbatter's News
No sermon and not suitable for church, just jokes and fun for grownups. Read it on-line or subscribe. If you subscribe, look for the double opt-in confirmation request.

____________________________________________________

Today on March 29
1461 Edward IV secured his claim to the English thrown by
defeating Henry VI's Lancastrians at the battle of Towdon. 

1638 First permanent European settlement in Delaware was
established. 

1847 U.S. troops under General Winfield Scott took
possession of the Mexican stronghold at Vera Cruz. 

1848 Niagara Falls stopped flowing for one day due to an ice
jam. 

1867 The British Parliament passed the North America Act to
create the Dominion of Canada. 

1901 The first federal elections were held in Australia. 

1903 A regular news service began between New York and
London on Marconi's wireless. 

1906 In the U.S., 500,000 coal miners walked off the job
seeking higher wages. 

1913 The Reichstag announced a raise in taxes in order to
finance the new military budget. 

1916 The Italians call off the fifth attack on Isonzo. 

1936 Italy firebombed the Ethiopian city of Harar. 

1941 The British sank five Italian warships off the
Peloponnesus coast in the Mediterranean. 

1943 In the U.S. rationing of meat, butter and cheese began
during World War II. 

1946 Gold Coast became the first British colony to hold an
African parliamentary majority. 

1951 The Chinese reject MacArthur's offer for a truce in
Korea. 

1951 In the United States, Julius and Ethel Rosenberg were
convicted of conspiracy to commit espionage. They were
executed in June 19, 1953. 

1962 Cuba opened the trial of the Bay of Pigs invaders. 

1966 Leonid Brezhnev became the First Secretary of the
Soviet Communist Party. He denounced the American policy in
Vietnam and called it one of aggression. 

1967 France launched its first nuclear submarine. 

1971 Lt. William Calley Jr., of the U.S. Army, was found
guilty of the premeditated murder of at least 22 Vietnamese
civilians. He was sentenced to life imprisonment. The trial
was the result of the My Lai massacre in Vietnam on March
16, 1968. 

1971 A jury in Los Angeles recommended the death penalty for
Charles Manson and three female followers for the 1969 Tate-
La Bianca murders. The death sentences were later commuted
to live in prison. 

1973 The last U.S. troops left South Vietnam. 

1974 Mariner 10, the U.S. space probe became the first
spacecraft to reach the planet Mercury. It had been launched
on November 3, 1973. 

1974 Eight Ohio National Guardsmen were indicted on charges
stemming from the shooting deaths of four students at Kent
State University on May 4, 1970. All the guardsmen were
later acquitted. 

1975 Egyptian president Anwar Sadat declared that he would
reopen the Suez Canal on June 5, 1975. 

1979 The Committee on Assassinations Report issued by U.S.
House of Representatives stated the assassination of
President John F. Kennedy was the result of a conspiracy. 

1983 Erno Rubik was granted a patent for his Magic Cube.
(U.S. Patent 4,378,116) 

1986 A court in Rome acquitted six men in a plot to kill the
Pope. 

1987 Hulk Hogan took 11 minutes, 43 seconds to pin Andre the
Giant in front of 93,136 Wrestlemania III fans at the
Silverdome in Pontiac, MI. 

1992 Democratic presidential front-runner Bill Clinton said
"I didn't inhale and I didn't try it again" in reference to
when he had experimented with marijuana. Nobody believed
him.

1993 The South Korean government agreed to pay financial
support to women who had been forced to have sex with
Japanese troops during World War II. 

1995 The U.S. House of Representatives rejected a
constitutional amendment that would have limited terms to 12
years in the U.S. House and Senate. 

1999 At least 87 people died in an earthquake in India's
Himalayan foothills. 

2004 Bulgaria, Estonia, Latvia, Lithuania, Romania, Slovakia
and Slovenia became members of NATO. 

2010 In Japan, the Tokyo Skytree tower became the tallest
structure in Japan when it reached 1,109 feet. 

2017  smiled.


[ view entry ] ( 16 views ) | permalink | print article |
( 3 / 1007 )
---
<<First
<Back
| 23 | 24 | 25 | 26 | 27 | 28 | 29 | 30 | 31 | 32 |
Next>
Last>>