Good Morning, ,
Today is Tuesday, April 18
Have FUN!
DerWebby

Todays Bonehead Award:
Police impersonator pulls over uniformed 
Miami-Dade police detective
Details at  Boneheads
______________________________________________________
Today, April 18 in
1521 Martin Luther confronted the emperor Charles V in the
Diet of Worms and refused to retract his views that led to
his excommunication.
See More of what happened on this
day in history.
______________________________________________________

| | |
| --- | --- |
| If you can help with the cost of the Humor Letter, please donate what you can! | |
______________________________________________________ In the part of this universe that we know there is great injustice, and often the good suffer, and often the wicked prosper, and one hardly knows which of those is the more annoying. --- Bertrand Russell (1872 - 1970) I told my psychiatrist that everyone hates me. He said I was being ridiculous - everyone hasn't met me yet. --- Rodney Dangerfield (1921 - 2004) What would men be without women? Scarce, sir .... mighty scarce. --- Mark Twain "True happiness comes from the joy of deeds well done, the zest of creating things new." -- Antoine de Saint-Exupery ______________________________________________________ If you like the Humor Letter, please vote!
______________________________________________________ "Honey," said a husband to his wife, "I invited a friend home for supper." "What? Are you crazy? The house is a mess, I didn't go shopping, all the dishes are dirty, and I don't feel like cooking fancy meal!" "I know all that," said the husband. "Then why did you invite a friend for supper?" the wife demanded. "Because the poor fool's thinking about getting married." _____________________________________________________
______________________________________________________ Hmmm, interesting! Penguins are found in the Antarctic, not Arctic. Penguins can jump as high as 2 feet in the air. Penguins only have sex once a year. Is that because they walk like a punk with oversize pants haf-way down the hips, exposing rear cleavage ? ______________________________________________________
______________________________________________________

If you like the Dear Webby Daily Humor Letter, height="26" border="0"> Thanks for your votes!

______________________________________________________
An INTERNATIONAL BONEHEAD AWARD has been earned by
Marcos Pacheco-Bustamante 46, Miami-Dade, Floriduh Police impersonator pulls over uniformed Miami-Dade police detective A police impersonator chose the wrong person to mess with on Friday when he pulled over a Miami-Dade police detective, authorities said. According to an arrest report, the detective was driving north on Interstate 95 in a county-issued unmarked vehicle when he was pulled over shortly before 7:30 a.m. by Marcos Pacheco-Bustamante. Police said Pacheco-Bustamante, 46, of Miami, who was driving a Ford Crown Victoria, pulled up behind the detective's vehicle and activated police sirens, causing the detective to change lanes. Police said the suspect continued to follow the detective, so the detective pulled over to the shoulder of the road near Northwest 119th Street. The detective, who was in full uniform, got out of his vehicle and realized that he was dealing with a police impersonator, the report said. The detective arrested Pacheco-Bustamante and searched his vehicle, finding an H&K BB gun replica and a blue police light, authorities said. Pacheco-Bustamante was interviewed by detectives, who said he confessed to pulling over other drivers. Pacheco-Bustamante is being held at the Turner Guilford Knight Correctional Center on a charge of impersonating a police officer. ______________________________________________________ Tech Support Pits From: Rhonda Re: Clean temp files and obsolete stuff Dear Webby Which of the hundreds of programs available for cleaning old temp files and other useless stuff is the most bang for the buck ? Thanks Rhonda Dear Rhonda Try CrapCleaner. It does the same as programs costing over $100, but it's free, fast, easy to use and reliable.. You can get it from http://www.piriform.com/ccleaner They now have a Cloud version that lets you clean a whole bunch of computers with one click. Personally, I prefer the classic version and do one machine at a time. Have FUN! DearWebby
A man goes to a doctor for a physical checkup. The nurse starts with certain basic items. "How much do you weigh?" she asks. "One-seventy." he says. The nurse puts him on the scale. It turns out that his weight is 183. The nurse asks, "Your height?" "Five-eleven." he says. The nurse checks and sees that he's only 5' 8 1/2". She then takes his blood pressure, and it's very high. The man explains, "Of course it's high. When I came in here, I was tall and wiry. Now, I'm short and fat!"
| | |
| --- | --- |
| If you can help with the cost of the Humor Letter, please donate what you can! | |
Daily tip from Thriftyfun.com Pineapple Cream Cheese Frosting By lalala... [818 Posts, 103 Comments] This pineapple cream cheese frosting is a fun twist on traditional cream cheese frosting. Source: Recipe by Lady Behind the Curtain Ingredients: 8 oz cream cheese, softened 1/2 cup butter, softened 1/2 tsp vanilla 1/2 cup crushed pineapple, with juice 2 lb powdered sugar Steps: In a medium bowl, combine cream cheese and butter, creaming until fluffy. Add vanilla and pineapple, mixing well. Add powdered sugar, 1 cup at a time. Frost cupcakes and enjoy! NOTE: Store frosted cupcakes in the refrigerator, as this frosting is quite soft.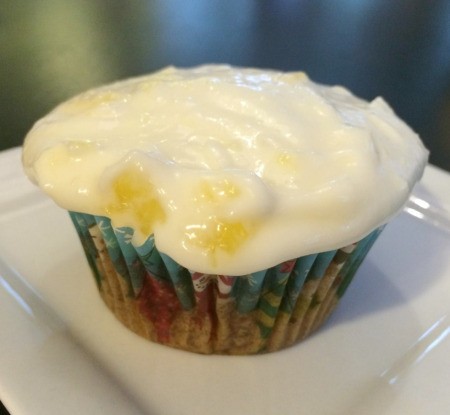 | | |
| --- | --- |
| | The strange case of twins |
____________________________________________________ >From Robert: The doctor told me: I have good news and bad news. The good news is that you are not a hypochondriac. ___________________________________________________
| | |
| --- | --- |
| | These cakes are too pretty to eat! |
A nervous taxpayer was unhappily conversing with the IRS Tax auditor, who had come to review his records. At one point the auditor exclaimed, "Mr. Carr, we feel it is a great privilege to be allowed to live and work in the USA. As a citizen you have an obligation to pay taxes, and we expect you to eagerly pay them with a smile." "Thank goodness," returned Mr. Carr, with a giant grin on his face from ear to ear, "I thought you were going to want me to pay with money."
Ophelia Dingbatter's News
No sermon and not suitable for church, just jokes and fun for grownups. Read it on-line or subscribe. If you subscribe, look for the double opt-in confirmation request.

____________________________________________________

Today, on April 18
1521 Martin Luther confronted the emperor Charles V in the
Diet of Worms and refused to retract his views that led to
his excommunication. 

1676 Sudbury, Massachusetts, was attacked by Indians. 

1775 American revolutionaries Paul Revere, William Dawes and
Samuel Prescott rode though the towns of Massachusetts
giving the warning that the Regulars were coming out. Later,
the phrase "the British are coming" was attributed to Revere
even though it is unlikely he used that wording. 

1791 National Guardsmen prevented Louis XVI and his family
from leaving Paris. 

1818 A regiment of Indians and blacks were defeated at the
Battle of Suwann, in Florida, ending the first Seminole War.

1838 The Wilkes' expedition to the South Pole set sail. 

1846 The telegraph ticker was patented by R.E. House 

1847 U.S. troops defeated almost 17,000 Mexican soldiers
commanded by Santa Anna at Cerro Gordo. (Mexican-American
War) 

1853 The first train in Asia began running from Bombay to
Tanna. 

1861 Colonel Robert E. Lee turned down an offer to command
the Union armies during the U.S. Civil War. 

1877 Charles Cros wrote a paper that described the process
of recording and reproducing sound. In France, Cros is
regarded as the inventor of the phonograph. In the U.S.,
Thomas Edison gets the credit. 

1895 New York State passed an act that established free
public baths. 

1906 San Francisco, CA, was hit with an earthquake. The
original death toll was cited at about 700. Later
information indicated that the death toll may have been 3 to
4 times the original estimate. 

1910 Walter R. Brookins made the first airplane flight at
night. 

1924 Simon and Schuster, Inc. published the first "Crossword
Puzzle Book." 

1934 The first Laundromat opened in Fort Worth, TX. 

1937 Leon Trotsky called for the overthrow of Soviet leader
Josef Stalin. 

1938 Superman made his debut when he appeared in the first
issue of Action Comics. (Cover date June 1938) 

1942 James H. Doolittle and his squadron, from the USS
Hornet, raided Tokyo and other Japanese cities. 

1942 The Vichy government capitulated to Adolf Hitler and
invited Pierre Laval to form a new government in France. 

1943 Traveling in a bomber, Japanese Admiral Isoroku
Yamamoto, was shot down by American P-38 fighters. 

1945 American war correspondent Ernie Pyle was killed by
Japanese gunfire on the Pacific island of Ie Shima, off
Okinawa. He was 44 years old. 

1949 The Republic of Ireland was established. 

1950 The first transatlantic jet passenger trip was
completed. 

1954 Colonel Gamal Abdel Nasser seized power in Egypt. 

1956 Actress Grace Kelly and Prince Rainier of Monaco were
married. The religious ceremony took place April 19. 

1978 The U.S. Senate approved the transfer of the Panama
Canal to Panama on December 31, 1999. 

1980 Rhodesia became independent nation of Zimbabwe. 

1983 The U.S. Embassy in Beirut was blown up by a suicide
car-bomber. 63 people were killed including 17 Americans. 

1984 Daredevils Mike MacCarthy and Amanda Tucker made a sky
dive from the Eiffel Tower. The jump ended safely. 

1985 Ted Turner filed for a hostile takeover of CBS. 

1985 Tulane University abolished its 72-year-old basketball
program. The reason was charges of fixed games, drug abuse,
and payments to players. 

1989 Thousands of Chinese students demanding democracy tried
to storm Communist Party headquarters in Beijing. 

1999 Wayne Gretzky (New York Rangers) played his final game
in the NHL. He retired as the NHL's all-time leading scorer
and holder of 61 individual records. 

2002 Actor Robert Blake and his bodyguard were arrested in
connection with the shooting death of Blake's wife about a
year before. 

2002 The Amtrack Auto Train derailed in a remote area of
north Florida. Four people were killed and 133 were injured.


2002 The city legislature of Berlin decided to make Marlene
Dietrich an honorary citizen. Dietrich had gone to the
United States in 1930. She refused to return to Germany
after Adolf Hitler came to power. 

2017  smiled.


[ view entry ] ( 16 views ) | permalink | print article |
( 3 / 501 )
---
<<First
<Back
| 22 | 23 | 24 | 25 | 26 | 27 | 28 | 29 | 30 | 31 |
Next>
Last>>