Good Morning, ,
Today is Thursday, April 20
Have FUN!
DerWebby

Todays Bonehead Award:
NY woman in drunkards t-shirt in 
drunk driving bust
Details at  Boneheads
______________________________________________________
Today, April 20 in
1653 In England, Oliver Cromwell expelled the Long
Parliament for trying to pass the Perpetuation Bill that
would have kept Parliament in the hands of only a few
members. 
See More of what happened on this
day in history.
______________________________________________________

| | |
| --- | --- |
| If you can help with the cost of the Humor Letter, please donate what you can! | |
______________________________________________________ Don't part with your illusions. When they are gone you may still exist, but you have ceased to live. -- Mark Twain ______________________________________________________ If you like the Humor Letter, please vote!
______________________________________________________ A nice girl brings home her fiancé to meet her parents. After dinner, her mother tells her father to find out about the young man. He invites the fiancé to his study for a chat. "So, what are your plans?" the father asks the fiancé. "I am a Biblical scholar," he replies. "A Biblical scholar. Admirable, but what will you do to provide a nice home for my daughter to live in, as she's accustomed to?" "I will study," the young man replies, "and God will provide for us." "And how will you buy her a beautiful engagement ring, such as she deserves?" "I will concentrate on my studies, God will provide for us." "And children? How will you support children?" "Don't worry, sir, God will provide." The conversation proceeds like this, and each time the father questions, the fiancé insists that God will provide. Later, the mother asks, "So? How did it go?" "He has no job and no plans, but he thinks I'm God." _____________________________________________________
______________________________________________________ Woman on cell phone at mall parking lot: "Hello, psychic hotline? Where did I park my car?" ______________________________________________________
______________________________________________________

If you like the Humor Letter, please vote!
Thanks for your votes!

______________________________________________________
An INTERNATIONAL BONEHEAD AWARD has been earned by
Ladion Logan, 31 Queens, New York City NY woman in drunkards t-shirt in drunk driving bust A New York City woman wearing a "Support Your Local Bartender" t-shirt was arrested yesterday for driving drunk with her six-year-old son in the car. Ladion Logan, a 31-year-old Queens resident, was collared by Long Island cops after she slammed into a parked vehicle in Uniondale, a Nassau County hamlet. When police arrived at the accident scene, Logan reportedly began screaming and cursing at them. Following a brief struggle, Logan was handcuffed and placed into a police cruiser. Seen above, Logan was charged with drunk driving, resisting arrest, and endangering the welfare of a child. Logan's son- -who was not injured in the crash--was released into the custody of family members, police reported. ______________________________________________________ Tech Support Pits From: Craig Re: Privacy and domain registrations Dear Webby Is it true that registering a domain causes a lot of spam unless you pay a lot of extra money for those rip-off proxy or private registrations? Craig Dear Craig That depends entirely on where you register your domain, Proxy and private registrations are indeed a rip-off, and cause a lot of unnecessary rigmarole. I don't advise them. I have been registering domains for our clients for 25 years and know all the tricks. If you want privacy and eliminate all the spam associated with being listed as a domain owner, I make you a special address for just that. Then you set up a filter in MailWasher or your mail program to filter all mail, that comes to that address, straight to the trash. If you ever do need access to that address, for example to acknowledge an application for some address changes, then you simply disable that filter for half a day. For the billing address of your domain I always use our billing address and pay for your annual renewal on your behalf. It then just shows up as a line item on your next, regular invoice. And we deal with the spam that is trying to get to your name registration billing address. Have FUN! DearWebby
>From Ines Last week my wife and I purchased a new computer. We ran into some difficulties while setting it up so we decided to call the customer support phone number we found in the manual. I picked up the phone and called the number. A man answered the phone and I explained the problem to him. He began rattling off computer jargon. This confused us even more. "Sir," I said politely, "Can you explain what I should do as if I were a small child?" "Okay," the computer support guy said, "Son, could you please put your mommy on the phone?"
| | |
| --- | --- |
| If you can help with the cost of the Humor Letter, please donate what you can! | |
Daily tip from Thriftyfun.com Best Ever Brownies By Holly805 [12 Posts, 10 Comments] These are so rich and chocolatey! The recipe calls for cocoa powder, which lasts longer and is a little less expensive than baking chocolate. Use Dutch-processed cocoa powder when possible. Great for any time, any season! Total Time: 45 minutes Yield: at least a dozen Source: Recipe courtesy of my mom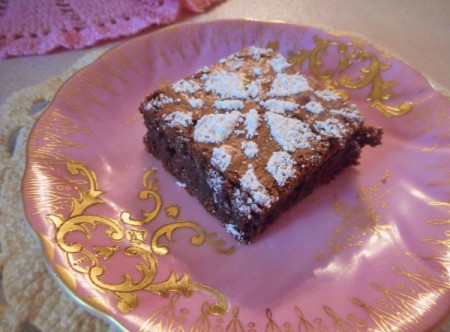 Ingredients: 1 cup butter 1/4 cup shortening 3/4 cup cocoa powder 4 eggs 2 cups sugar 2 tsp vanilla 1 1/2 cup flour 1 cup walnuts (optional) 1/4 cup powdered sugar for dusting (optional) Steps: Melt butter and shortening over low heat. As soon as it is completely melted, whisk in the cocoa powder and beat till smooth. Stir in the sugar and remove the mixture from the heat. Break four eggs into a separate bowl, to catch any bits of shell, and then thoroughly beat into the sugary mixture. It should become smooth and glossy. Stir in the vanilla, and then stir in the flour and nuts (nuts optional). Pour into a greased and lightly floured 13 X 9 inch pan. Gently push the batter to fill the edges of the pan and make light swirls over the top. This is what creates that nice, paper-thin crisp on the top. Bake for 25-30 minutes. If you want to dress up the brownies, Sift a little powdered sugar over small templates. You can also cut out a snowflake/flower pattern from a small circle of paper (which is what I did). Hold the template in place on each individual brownie while you sift the powdered sugar 1-2 tablespoons at a time over their tops. Gently lift off the templates, making sure not to displace any sugar. Enjoy!
| | |
| --- | --- |
| | Smack the Penguin |
____________________________________________________ Two priests are vacationing in Hawaii. They don't want to stand out, so they decide to buy casual clothes. They've just hit the beach in loud Hawaiian print T- shirts and sandals when they spot this hot blonde in a tiny bikini walking their way. As she walks past them, she politely says, "Good afternoon, fathers." Well, the men are amazed, because they can't understand how the woman knew they were priests. They decide to go out and buy even wilder clothes, so they buy tie- died T-shirts, surfer shorts, and dark sunglasses. The next day, they hit the beach in their wild new clothes, and the same blonde passes them in a string bikini. As she passes, she says, "How do you do, fathers?" Well, the two priests are really confused, so they ask the blonde, "Excuse me, ma'am. We're not ashamed of being priests, but how in the world did you know who we were?" The blonde replies "Father, don't you recognize me? I'm Sister Catherine from the convent!" ___________________________________________________
| | |
| --- | --- |
| | This street art is a little different. |
With all the new technology regarding fertility, a 65-year- old woman was able to give birth to a baby recently. When she was discharged from the hospital and went home, her relatives came to visit. "May we see the new baby?" one asked. "Not yet," said the mother. "I'll make coffee and we can visit for awhile first." Thirty minutes had passed, and another relative asked, "May we see the new baby now?" "No, not yet," said the mother. After another half hour had elapsed, they asked again, "Can we see the baby now?" "No, not yet," replied the mother. Growing very impatient, they asked, "Well, when CAN we see the baby?" "WHEN HE CRIES!" she told them. "WHEN HE CRIES??" they demanded. "Why do we have to wait until he CRIES??" "BECAUSE, I forgot where I put him."
Ophelia Dingbatter's News
No sermon and not suitable for church, just jokes and fun for grownups. Read it on-line or subscribe. If you subscribe, look for the double opt-in confirmation request.

____________________________________________________

Today, on April 20
1139 The Second Lateran Council opened in Rome. 

1534 Jacques Cartier, a French explorer, set sail from St.
Malo to explore the North American coastline. 

1653 In England, Oliver Cromwell expelled the Long
Parliament for trying to pass the Perpetuation Bill that
would have kept Parliament in the hands of only a few
members. 

1657 English Admiral Robert Blake fought his last battle
when he destroyed the Spanish fleet in Santa Cruz Bay. 

1689 The siege of Londonderry began. Supporters of James II
attacked the city. 

1769 Ottawa Chief Pontiac was murdered by an Illinois Indian
in Cahokia. 

1775 American troops began the siege of British-held Boston.


1792 France declared war on Austria, Prussia, and Sardinia.
It was the start of the French Revolutionary wars. 

1809 Napoleon defeated Austria at Battle of Abensberg,
Bavaria. 

1832 Hot Springs National Park was established by an act of
the U.S. Congress. It was the first national park in the
U.S. 

1837 Erastus B. Bigelow was granted a patent for his power
loom. 

1841 In Philadelphia, PA, Edgar Allen Poe's first detective
story, "The Murders in the Rue Morgue," was published in
Graham's Magazine. 

1861 Robert E. Lee resigned from U.S. Army. 

1865 Safety matches were first advertised. 

1879 First mobile home (horse drawn) was used in a journey
from London to Cyprus. 

1902 Scientists Marie and Pierre Curie isolated the
radioactive element radium. 

1916 Sir Roger Casement landed in Ireland to incite
rebellion against the British. Casement, a British diplomat,
was captured within hours and was hanged for high treason on
August 3. 

1919 The Polish Army captured Vilno, Lithuania from the
Soviets. 

1940 The First electron microscope was demonstrated by RCA. 

1942 Pierre Laval, the premier of Vichy France, in a radio
broadcast, establishes a policy of "true reconciliation with
Germany." 

1945 Soviet troops began their attack on Berlin. 

1945 During World War II, Allied forces took control of the
German cities of Nuremberg and Stuttgart. 

1953 Operation Little Switch began in Korea. It was the
exchange of sick and wounded prisoners of war. Thirty
Americans were freed. 

1953 The Boston marathon was won by Keizo Yamada with a
record time of 2:18:51. 

1961 FM stereo broadcasting was approved by the FCC. 

1962 The New Orleans Citizens' Council offered a free one-
way ride for blacks to move to northern states. 

1967 U.S. planes bombed Haiphong for first time during the
Vietnam War. 

1971 The U.S. Supreme Court upheld the use of busing to
achieve racial desegregation in schools. 

1972 The manned lunar module from Apollo 16 landed on the
moon. 

1977 Woody Allen's film "Annie Hall" premiered. 

1981 A spokesman for the U.S. Navy announced that the U.S.
was accepting full responsibility for the sinking of the
Nissho Maru on April 9. 

1984 Britain announced that its administration of Hong Kong
would cease in 1997. 

1985 In Madrid, Santiago Carillo was purged from the
Communist Party. Carillo was a founder of Eurocommunism. 

1987 In Argentina, President Raul Alfonsin quelled a
military revolt. 

1988 The U.S. Air Forces' Stealth (B-2 bomber) was
officially unveiled. 

1989 Scientist announced the successful testing of high-
definition TV. 

1991 Mikhail Gorbachev became the first Soviet head of state
to visit South Korea. 

1992 The worlds largest fair, Expo '92, opened in Seville,
Spain. 

1998 Kenyan runner Moses Tanui, 32, won the Boston Marathon
for the second time. He also registered the third fastest
time with 2 hours 7 minutes and 34 seconds.

2017  smiled.


[ view entry ] ( 14 views ) | permalink | print article |
( 3 / 806 )
---
<<First
<Back
| 22 | 23 | 24 | 25 | 26 | 27 | 28 | 29 | 30 | 31 |
Next>
Last>>