Good Morning, ,
Today is Sunday, April 30

Have FUN!
DerWebby

Todays Bonehead Award:
Three charged after Freeport home invasion
Details at  Boneheads
______________________________________________________
Today, April 29 in
0030 Jesus of Nazareth was crucified. 
See More of what happened on this
day in history.
______________________________________________________

| | |
| --- | --- |
| If you can help with the cost of the Humor Letter, please donate what you can! | |
______________________________________________________ A cult is a religion with no political power. --- Tom Wolfe (1931 - ) I will never be an old man. To me, old age is always 15 years older than I am. --- Bernard M. Baruch (1870 - 1965) Tradition is what you resort to when you don't have the time or the money to do it right. --- Kurt Herbert Alder ______________________________________________________ If you like the Humor Letter, please vote!
______________________________________________________ Tony went to the doctor and told him that he couldn't hear himself fart. So the doctor gave Tony some pills. Tony asked him, "Will these make me hear better?" Doc replied, "No, but they will make you fart louder." _____________________________________________________
______________________________________________________ >From Bill Jr I think my Grandson best summed up my feelings about abstract art. We were looking at a painting with a wild mish-mash of colors and he asked, "What's that?" I said, "It's supposed to be a cowboy on his horse." "Well," he continued, "Why isn't it? If he's not good enough that you can reckonize it wifout reading the label, then he should practise at home and not hang it up here!" ______________________________________________________ From my dad. He is getting crowded out of his breakfast nook.
______________________________________________________

If you like the Humor Letter, please vote!
Thanks for your votes!

______________________________________________________ Reported by the Bausell Sailor
An INTERNATIONAL BONEHEAD AWARD has been earned by
Muhammad Abdul-Haq, 18, Harun Abdul-Haq, 19, Zaakir Abdul-Haq, 23, Freeport, Illinois Three charged after Freeport home invasion Three men arrested on several charges stemming from a Sunday morning home invasion, Freeport Deputy Chief Matt Summers said. Harun Abdul-Haq, 19, of the 900 block of East Shawnee Street, and Muhammad Abdul-Haq, 18, of the 1300 block of West Elm Street, were charged with armed robbery, aggravated battery, residential burglary, conspiracy to commit a home invasion and theft under $500. Their bonds were set at $100,000 each. Summers said the two, who police believe to be brothers, knocked at the door of a home in the 1200 block of South Blackhawk Avenue around 3:45 a.m. They used an undescribed ruse before a resident to let them inside and then they threatened to shoot the victim. They stole about $50 and a cell phone. Summers said the resident told police he knew one of the men was related to a particular family. During the course of their investigation, police also arrested Zaakir Abdul-Haq, 23, of the 1400 block of West Beach Street on a charge of aggravated unlawful use of a weapon and two alleged firearm owner's identification card violations. His bond was set at $40,000. ______________________________________________________ Tech Support Pits From: FranticFran Re: Diskeeper Dear Webby You used to promote Diskeeper as the best defrag program. But I have not seen your links to it for some time. Did they not keep up with the times? FranticFran Dear FranticFran That is exactly what happened. First they had issues with high resolution monitors, then when they got that almost fixed by using a huge, klutzy font, then they fell down on USB connected external drives. If you have USB connected external drives, then Diskeeper is a total waste of installation time. Nowadays, when almost everybody has a big external drive attached, you simply need a better program than Diskeeper. There are many available, and experts fight lengthy religious battles about which one is better. I will ask Moe for his recommendation. He does comparison tests of defrag programs. Look for his report right here later in the week. Have FUN! DearWebby
>From Paulie According to a CBS poll, women are much better liars than men. At least that's what THEY say . . . so, how will we ever know?
| | |
| --- | --- |
| If you can help with the cost of the Humor Letter, please donate what you can! | |
Daily tip from Thriftyfun.com Making Soda Can Plant Labels By EllenB [810 Posts, 1 Comment] One of my favorite garden crafts is making homemade plant labels from aluminum cans and wire clothes hangers. Not only are they inexpensive and durable, but these labels are actually attractive and fun to make. They are designed to dangle freely on their supports, so when the wind blows their movement makes a gentle clinking noise, turning your tiny reflective plant labels into a collective army of rabbit repellents. Materials: assorted aluminum soda/beer cans wire clothes hangers gloves (to protect hands when cutting cans) old steak knife scissors needle-nose pliers paper punch ball-point pen embellishment tools used (from Michaels craft store): scrapbooking scissors (Fiskars) 3 in 1 corner punch (Fiskars) flower-shaped decorative brads (Provo Craft) Directions: Put on your gloves. Use the tip of your scissors to punch a small hole on the side of each end of the can. If your scissors isn't sharp enough, use a steak knife or screwdriver to get the hole started. Using your scissors, cut off the top and bottom of the can and discard the ends in your recycling bin. If you need to, trim off any excess sharp edges from the remaining piece of aluminum and finesse it a bit until it lays pretty flat. Cut individual labels from the remaining piece of aluminum according to the desired size. The shape and style of your labels is highly personal. Cut them into circles, triangles, rectangles, even flowers. To add some decorative flair, use fancy corner punches or try trimming the edges with scrapbooking scissors. I add color-coded brads to my labels (I found some in the shape of flowers). This helps me organize my plantings and remember what color flower is coming up where. You're only limited by your imagination so have fun with it! Just don't forget to leave room to punch a hole for hanging and space to write down the name of the plant. To write names of plants on your labels, lay them on top of a notebook or thick stack of newspaper and press down hard with a ball point pen. Make sure to press hard enough so that when the ink wears off, the name stays imprinted in the metal. Create a hole for hanging using a paper punch (or a hammer and nail). Finally, use a wire cutter or tin snips to cut 7-8 inch long support pieces from wire coat hangers. Make an "S" hook at one end using a needle-nose pliers, hang the label on the hook, and pinch the "S" shut to keep it from falling off. Voila! You've got durable, inexpensive plant labels!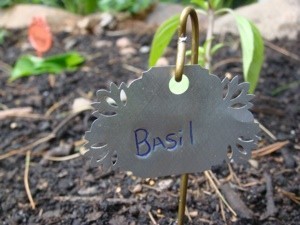 | | |
| --- | --- |
| | guilty dogs |
____________________________________________________ Little had been to a birthday party at a friend's house. Knowing 's sweet tooth the mother looked straight into 's eyes and said, "I hope you didn't ask for a second piece of cake!" "No," replied , "but I asked Mrs. Smith for the recipe so you could make some like it, and she gave me two more pieces without me asking." ___________________________________________________
| | |
| --- | --- |
| | She's super talented.....but this is just weird. |
A woman stood inside the front door, her arms full of coats. Four small children scurried around her. Her husband, coming down the stairs, asked why she was standing there. "Here," she said, handing him the coats. "This time you put the kids into their coats, and I'll go honk the horn."
Ophelia Dingbatter's News
No sermon and not suitable for church, just jokes and fun for grownups. Read it on-line or subscribe. If you subscribe, look for the double opt-in confirmation request.

____________________________________________________

Today, on April 30
0030 Jesus of Nazareth was crucified. 

0313 Licinius unified the whole of the eastern Roman empire
under his own rule. 

1250 King Louis IX of France was ransomed for one million
dollars. 

1527 Henry VIII and King Francis of France signed the treaty
of Westminster. 

1725 Spain withdrew from Quadruple Alliance. 

1789 George Washington took office as first elected U.S.
president. 

1803 The U.S. purchased the Louisiana Territory from France
for $15 million. 

1812 Louisiana admitted as the 18th U.S. state. 

1849 The republican patriot and guerrilla leader Giuseppe
Garabaldi repulsed a French attack on Rome. 

1864 Work began on the Dams along the Red River. The work
would allow Union General Nathaniel Banks' troops to sail
over the rapids above Alexandria, Louisiana. 

1900 Casey Jones was killed while trying to save the runaway
train "Cannonball Express." 

1930 The Soviet Union proposed a military alliance with
France and Great Britain. 

1938 Happy Rabbit appeared in the cartoon "Porky's Hare
Hunt." This rabbit would later evolve into Bugs Bunny. 

1939 The first railroad car equipped with fluorescent lights
was put into service. The train car was known as the
"General Pershing Zephyr." 

1943 The British submarine HMS Seraph dropped 'the man who
never was,' a dead man the British planted with false
invasion plans, into the Mediterranean off the coast of
Spain. 

1945 Adolf Hitler and Eva Braun committed suicide. They had
been married for one day. One week later Germany surrendered
unconditionally. 

1947 The name of Boulder Dam, in Nevada, was changed back to
Hoover Dam. 

1948 The Organization of American States (OAS) held its
first meeting in Bogota, Colombia. The institution's goal
was to facilitate better relations between the member
nations and to help prevent the spread of communism in the
Western Hemisphere. 

1952 Mr. Potato Head became the first toy to be advertised
on network television. 

1953 The British West Indian colonies agreed on the
formation of the British Caribbean Federation that would
eventually become a self-governing unit in the British
Commonwealth. 

1964 The FCC ruled that all TV receivers should be equipped
to receive both VHF and UHF channels. 

1968 U.S. Marines attacked a division of North Vietnamese in
the village of Dai Do. 

1970 U.S. troops invaded Cambodia to disrupt North
Vietnamese Army base areas. The announcement by U.S.
President Nixon led to widespread protests. 

1972 The North Vietnamese launched an invasion of the South.


1975 Communist North Vietnamese troops entered the
Independence Palace of South Vietnam in Saigon. 11 Marines
lifted off of the U.S. Embassy were the last soldiers to
evacuate. 

1980 Terrorists seized the Iranian Embassy in London. 

1984 U.S. President Reagan signed cultural and scientific
agreements with China. He also signed a tax accord that
would make it easier for American companies to operate in
China. 

1991 An estimated 125,000 people were killed in a cyclone
that hit Bangladesh. 

1993 CERN put the World Wide Web software in the public
domain. 

1993 Monica Seles was stabbed in the back during a tennis
match in Hamburg, Germany. The man called himself a fan of
second-ranked Steffi Graf. He was convicted of causing
grievous bodily harm and received a suspended sentence. 

1998 NATO was expanded to include Poland, Hungary and the
Czech Republic. The three nations were formally admitted the
following April at NATO's 50th anniversary summit. 

1998 United and Delta airlines announced their alliance that
would give them control of 1/3 of all U.S. passenger seats. 

1998 In the U.S., Federal regulators fined a contractor
$2.25 million for improper handling of oxygen canisters on
ValuJet that crashed in the Florida Everglades in 1996. 

2002 Pakistani President Pervez Musharraf was overwhelmingly
approved for another five years as president.

2012 One World Trade Center became the tallest structure in
New York when it surpassed the height of the Empire State
Building. 

2015 NASA's Messenger spacecraft crashed into the surface of
Mercury. The space probe sent back more than 270,000
pictures to earth.

2017  smiled.


[ view entry ] ( 12 views ) | permalink | print article |
( 3 / 792 )
---
<<First
<Back
| 22 | 23 | 24 | 25 | 26 | 27 | 28 | 29 | 30 | 31 |
Next>
Last>>